Electric vehicle registrations in Thailand rose 380% in 2019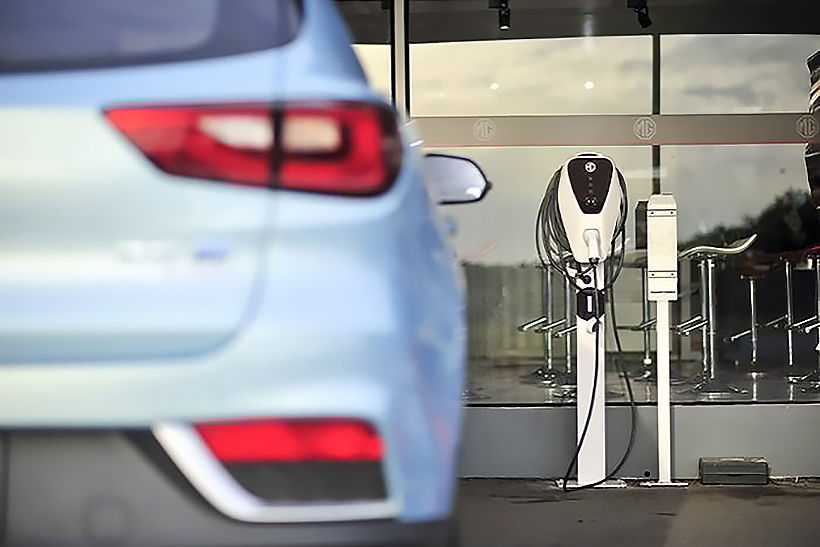 Electic cars (EVs) are on the rise in Thailand. The Electric Vehicle Association of Thailand (EVAT) reports a sharp increase in the number of electric vehicles registered in 2019. Department of Land Transport statistics show that, as of December 31, there were 2,854 electric vehicle registrations, including 1,572 new cars, up 380% from 2018 when only there were only 325 registered.
Hybrid electric vehicles and plug-in hybrid electric vehicles reached a total of 153,184 vehicles. (Hybrids are electric vehicles with a back-up conventional petrol engine, and switches between the two power trains)
EVAT's president says that the growth of PHEV and EV is up more than 51% from a year earlier.
"The increase in electric vehicle registration will have an effect shortly as the need for charging stations will increase as well. Therefore, this year may see full model commercial charging stations, with the private sector playing an increasingly important role."
EVAT promotes and supports the exchange of information about technology and innovation for all types of electric vehicles for the development of EV technology in Thailand. There are more than 200 members from the private sector, educational institutions, state enterprises and individuals.
SOURCE: The Nation
Keep in contact with The Thaiger by following our
Facebook page
.
Air purifiers to be added to the top of Bangkok buses. Really…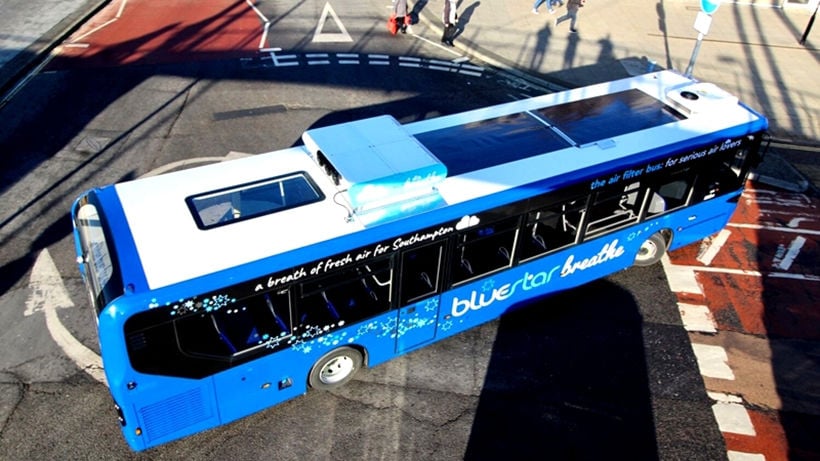 "It is like a single dead pixel on your phone, hardly noticeable"
Air purifiers sitting on tops of buses. Apparently this is another solution for Bangkok's air pollution problems. Sounds like the people selling the mobile bus-top air purifiers have a very convincing sales person!
But Bangkok's Mass Transit Authority director Surachai Eamvachirasakul says the department will go ahead with plans to install the air purifiers on top of Bangkok's public buses. The promise is that it will reduce dust pollution. The air-filtration systems which will be installed on top of some of the state-operated buses are said to be capable of sucking in polluted air and blowing out clear air behind it. The director cited several test runs of the system as "evidence".
"The device is capable of filtering 10,000 cubic metres of air per one trip. Scientific research indicated that an adult would breathe in an average 0.5 cubic metres per hour, so a bus would be able to provide clear air to more than 20,000 people on the road."
This fuzzy maths shows an appalling ignorance of the larger pollution problem, most of which comes from plantation fires to the north of the capital – little to do with any local city contributions.
Even Chulalongkorn University biologist Jessada Denduangboripant says the plan "will have a near-zero impact on the PM2.5 dust particles". Near zero. That's a much closer estimate of the effectiveness of strapping air purifiers to the tops of the buses. Better still, don't run the polluting old diesel buses in the first place which may cause more pollution per kilometre than the air purifiers could ever 'filter'.
"If it is working as claimed, I believe it will only be capable of cleansing just a pixel of Bangkok," Jessada said to Khaosod English.
Another scientist opined that the effectiveness of the air purifiers "would be trivial at best", given the amount of air in the capital city against what the machines could process.
Matipon Tangmatitham, a researcher at the National Astronomical Research Institute of Thailand got out his calculator.
"Based on the area of Bangkok and the height of dust particles from the ground, it gives out 1.568E+12 cubic metres of air that needed to be filtered. But the scheme would only produce 20,000 cubic meters of clean air, even when all the 500 buses are on the road."
(And how much pollution is caused by the 500 buses cruising around the city?)
But BMTA director Surachai hit back at the scientists with a test result he gathered, which compares PM2.5 level before entering the device at 48-52 AQI with 1-5 AQI after passing through the device.
In truth, the effectiveness of the system would be almost impossible to calculate on a city-wide situation. A few extra kilometres of wind strength from the north on a day of burn-offs in the north would blow the pollution readings off the scale, completely obliterating any tiny improvements made in the immediate vicinity of the passing bus.
SOURCE: Khaosod English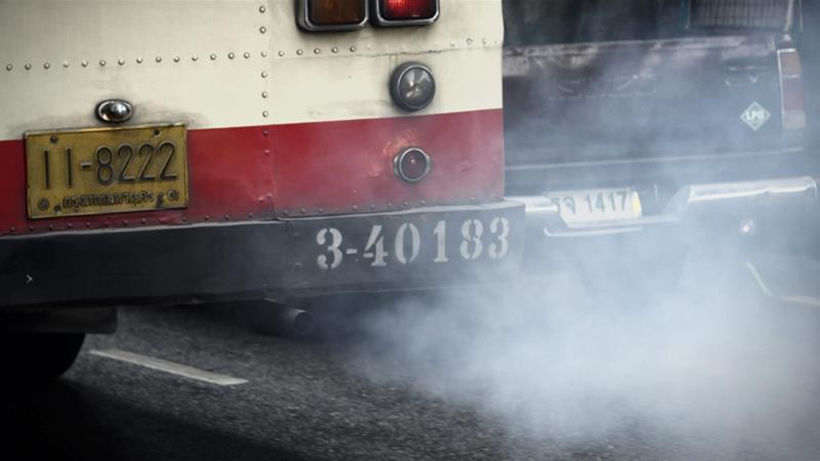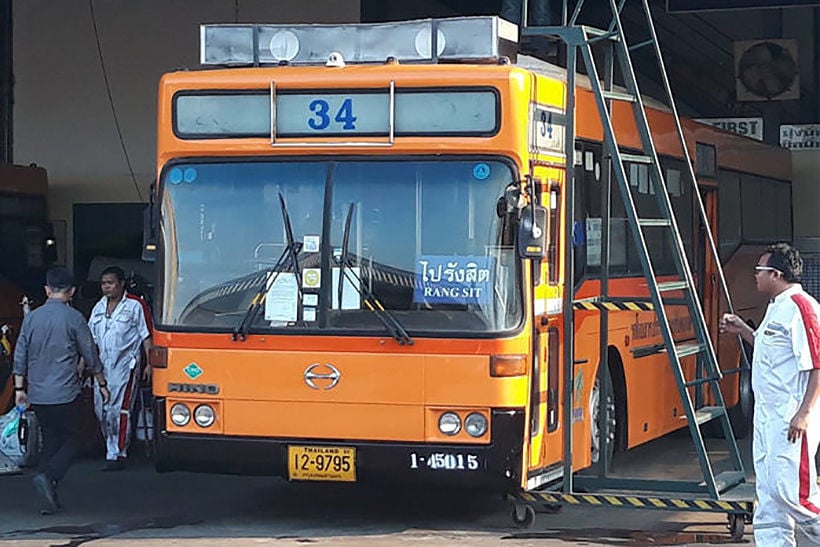 Keep in contact with The Thaiger by following our
Facebook page
.
From Star Trek to the Galaxy Z Flip phone – a new foldable comes to Thailand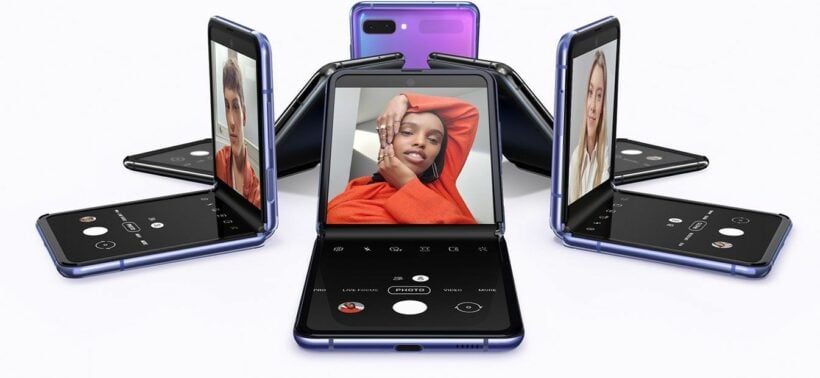 The $1,500 Motorola RAZR flip phone, a sort of 'smartphone' version of its original 2004 market favourite, was twice the cost of an iPhone 11, looked cool but had a small battery and plastic screen. It was a throwback to the earlier design but with a foldable screen, the latest 'thaeng' in the smart-phone world.
Now there's the new Galaxy Z Flip phone, a Samsung version that looks a lot more robust and has teeth to match. But before we check out Samsung's new flipper, let's go full retro to remember where the idea came from. And it's a journey all the way back to US 60s TV and the fertile mind of Gene Roddenberry, the creator of Star Trek.
The 'Communicator' was an ever-present part of every Star Trek TV show and the flip-screen space walkie-talkie would inspire Motorola to come up with its Razr phone in 2004. The crew of the Starship Enterprise would 'flip' it open to get themselves out of a myriad emergency situations or a hasty request to be 'beamed up'.
A few years ago someone even decided to make a real, working version of a Star Trek Communicator, HERE.
Motorola tried to reboot its 2004 Razr with its new 'smartphone' version last year but, well, it was a cute retro attempt but mostly panned by reviews and users.
But the Samsung Galaxy Z Flip 6.7-inch smartphone has all the feel of a smaller, foldable Razr-style phone, but packed with the power to match. It will fold into a square about half its size, with a small rectangular display on the front cover for notifications. It comes in three colours – gold, purple and black (surely Trekkies will buy the gold) – and goes on sale on February 14 in some countries, and March 9 in Thailand.
At US$1,380, the Z Flip is hardly affordable, but with its new, sturdier design, Samsung could have mastered the flip-phone design, coupled with the power its users demand.
David McQueen, research director at tech advisory firm ABI Research, says the smartphone business has gone through years of complacency, waiting for some design innovation.
"There is little doubt that foldable smartphones are set to become the next technology innovation trend."
"Foldable displays are set to become an important form factor in future product portfolios bringing much needed innovation into device design."

Beyond the nostalgia factor – back to 2004 and the 60s – there's a lot of appeal in a phone that shrinks in size and shuts close. Like the Motorola RAZR, the Samsung Z Flip features a small display on the front so you can still see notifications when they come through if closed.
Unlike the RAZR's plastic display, the Z Flip features a layer of ultra-thin glass that opens and snaps into place with ease. It packs a powerful processor and decent battery life and does most of what you'd expect from a smartphone these days.
Up to now the barrier to flip and folding phones has been the notorious hinge. Samsung seems to have solved that issue. The Z Flip features a small, internal brush-like system to push out debris and opens and snaps into place with ease. Samsung claims it can open up to 200,000 times without damage. The downside, in this design, is the noticeable crease that resides in the centre of the display, right in the middle where users are swiping and opening apps. You can see it and feel it.
It's rumoured that Apple might be working on a foldable concept, but nothing has been announced at this stage.
But could flip phones become the next big category of hand-held devices? It's not as if it's a new concept. For now, that may be a leap, sideways, from the common form factor. But if executed properly, Samsung's Z Flip's "wow" factor will probably entice early adopters and eventually a larger audience.
Get the price tag down below 30,000 baht, and things could get very interesting.
In Thailand the phone will cost 44,900 baht and be available from March 9, according to Samsung.

Keep in contact with The Thaiger by following our
Facebook page
.
Grab plans to be in 30 Thai provinces this year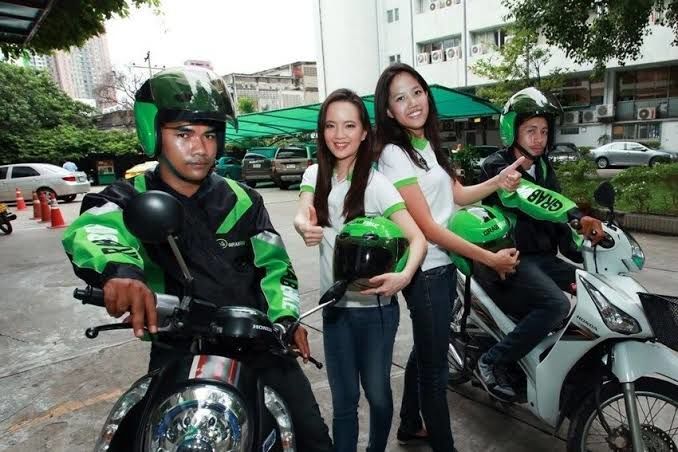 Grab, the everyday-everything-travel-food-delivery-super-app, has kicked off 2020 by announcing its expansion plan to second-tier cities and provinces across Thailand through a new, innovative business model using Mini-Grab Centres (Mini-GCs).
The move will see it extend its presence to 30 of Thailand's 76 provinces before the end of 2020 and help increase the benefits of Thailand 4.0 and the digital economy for millions of entrepreneurs and micro, small and medium-sized enterprises (MSMEs).
Tarin Thaniyavarn, country head of Grab Thailand, says Grab will welcome MSMEs to set up Mini-GCs and serve as agents to recruit, oversee and support drivers, delivery people and vendors.
"In 2019 we experienced phenomenal growth across all businesses, from on-demand ride-hailing to food and package delivery services. We are also playing our part in driving the cashless economy through our GrabPay mobile wallet.
"We have constantly innovated and introduced new services… including GrabCar Premium, which offers classy, comfy rides at affordable prices for business users; Grab Drive Your Car, a personal car driver service, and on-demand grocery delivery services through partnership with Tops Supermarket.
"Grab is currently operating in 20 provinces and we look forward to uplifting the livelihoods of more Thais with our expansion."
With Thailand's online food delivery industry valued at 35 billion baht, GrabFood has played a major role in helping MSMEs exploit growth opportunities. Last year Grab Thailand expanded GrabFood beyond Bangkok to reach 14 provinces.
GrabFood is popular in Chiang Mai, Khon Kaen, Udon Thani, Korat and Hat Yai. At present, about a third of GrabFood's total come from users in secondary cities.
"We believe the Mini-GC model will allow us to scale up our successful hyperlocal approach nationally. Thailand is the first country where Grab has introduced this model to create long-term, sustainable growth while offering better opportunities for MSMEs."
The key criteria for the selection of a Mini-GC owner are…
• Financial stability – possessing adequate capital to operate their own business
• Location – ability to source proper location and set up the centre
• Entrepreneurial mindset – strong business acumen that aligns with Grab's business philosophy
24 Mini-GCs are alerady operating on a trial basis in greater Bangkok and Grab plans to double that number this year.
Keep in contact with The Thaiger by following our
Facebook page
.