Head-on collision kills Austrian couple in Krabi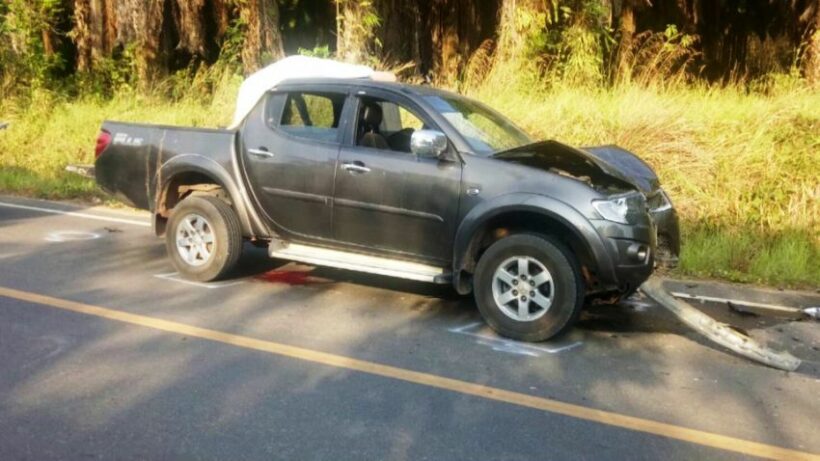 Two Austrian* tourists were killed in a collision with a truck in Thailand's southern Krabi province on Monday. The pair were riding motorbikes registered in Krabi and veered into the wrong lane while navigating a turn on the road to Krabi Hot Springs when they collided head-on with an oncoming Mitsubishi pickup truck at approximately 4pm.
Police and rescue workers arrived at the scene at around 4:30pm to find a brown Mitsubishi pickup truck in the left lane with significant damage to its front. The motorbikes had also sustained serious damage. Both riders of the motorbikes were confirmed dead at the scene. Krabi police identified the two as 54 year old Michael Benk De and 53 year old Hei Delin De.
The 29 year old driver of the truck was at the scene and suffered no injuries. He told police he was returning to the resort where he works when the two motorbikes rounded the corner, veered into his lane and hit him head on. A third tourist, a friend of the couple, who was riding close behind but was not involved in the collision, confirmed the driver's statement.
The pickup truck driver was tested for alcohol at the scene and police confirmed the result was negative, adding that they are unsure what charges, if any, the driver will face, as further investigations need to be conducted.
*The tourists killed in the accident were confirmed by the Tourist Police to be from Austria, not Australia, as earlier reported in local media.
SOURCES: The Phuket News | The Chiang Rai Times
Keep in contact with The Thaiger by following our
Facebook page
.
Countdown to reopening – contracts awards for new Maya Bay infrastructure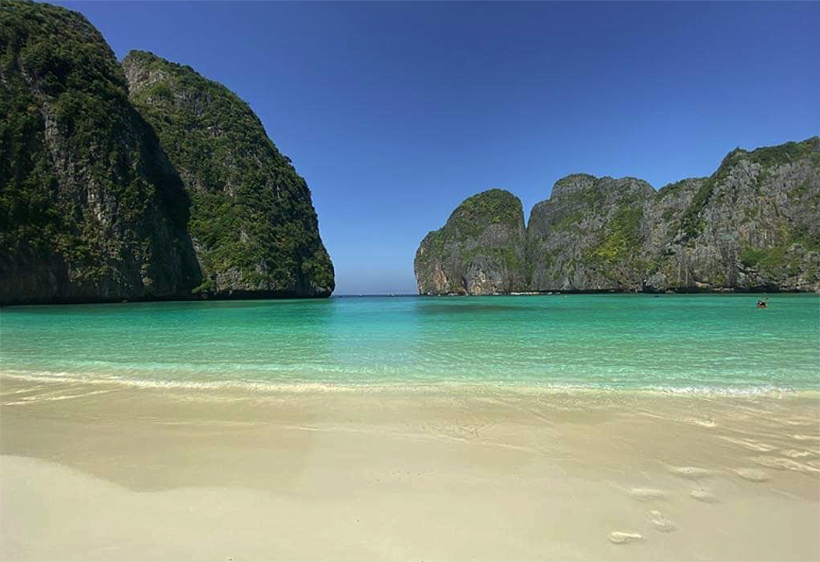 by Sawat, Five Star Thailand Tours
New plans are now being enacted which will lead to the re-opening of Maya Bay to tourism again. With a new development project in the works, it won't be long until visitors will once again be able to visit 'The Beach', according to sources with knowledge of the matter. Maya Bay was shut down to tourist traffic in June of 2018 by Thailand's Department for National Marine Parks. The Beach was initially closed to due concerns that unregulated mass-tourism was destroying the bay and the beach.
But as of now, construction plans are being put into motion in a bid to re-open the beach to tourists while preserving the hard work that has gone into the restoration project over recent years.
Thailand's DNP has brainstormed a number of creative solutions which will allow the famous, and highly popular, Maya Bay to begin welcoming tourists as early as November 2020.
"Sustainability is at the forefront of the re-opening in order to allow the bay to continue to recover."
The plans, which have recently been announced, will see new infrastructure built on Koh Phi Phi Leh. The new plans include a viewing platform that looks over the beach, and a new rigid pier to be built on the back-side of the beach, at Loh Samah Bay. A boardwalk will also be built which will allow tourists to move between the new pier at Loh Samah Bay and Maya Bay beach itself. To prevent further damage to the environment, tourist will be limited to the designated boardwalks when navigating the island – they won't enter the bay by boat, they won't walk on the beach.
Last month a development contract was awarded to improve the facilities at Maya Bay. Two projects have been commissioned and awarded to the Suchardti Karnchang Company (สุชาติการโยธาจำกัด).
The first project is called… 'THE MAYA BAY AREA FACILITY DEVELOPMENT PROJECT' and involves construction of a rigid wooden pier at Maya Bay's back entrance. The new pier will provide a safe area for speedboats and long-tail boats to moor. A ramp will then lead away from the soon-to-be-built pier which will extend out, into a ramp. The ramp will be a walkway, allowing access to Loh Samah Bay, in between cliffs of Koh Phi Phi Ley.
The new infrastructure will provide a more sustainable area for tour boats to park, in an essential bid to preserve the Maya Bay beach and bar area for future generations.
By utilising Loh Samah Bay as the new entry point to visit Maya Bay, the need for tour boats to enter the bay and dock on the beach will be eliminated.
Initial plans were to install a temporary floating pier, however, in order for the bridge over Loh Samah's Cliffs to remain stable and safe, a rigid structure fixed to the sea bed is necessary.
The Maya Bay pier will provide a proper and permanent mooring spot for Koh Phi Phi tour companies in order to further preserve the coral inside the bay. The new pier is expected to have the capacity to dock a maximum of eight boats at a time. This is part of the bid to limit visitor numbers and preserve the environment.
Thailand's Department for National Parks has invested 6,050,000 baht (around US$200,000) for the construction of the new pier. Work is about to begin and will be finished before the end of 2020, according to sources.
This 3D rendering shows the soon to be constructed rigid pier, which will be constructed at Loh Samah Bay incorporating a ramp elevating over the cliffs at Loh Samah Bay.
Boats will be able to dock on the rear of Maya Bay and tourists will be guided over the bridge, leading directly onto a new boardwalk. The boardwalk will pass through Loh Samah Bay and out onto a viewing platform at Ao Maya.
This 3D render shows designs for the new pier, set to be installed behind the bay. The new pier will make recording and limiting visitor numbers to Maya Bay, a much easier task for Thailand's Department of National Parks. The number of boats able to stop here each day will be limited. And only pre-registered, approved and licenced tour companies will have access to use the new facilities.
The second project also awarded to Suchardti Karnchang Co., Ltd. comes at a cost of ฿11,580,000THB (375,000USD)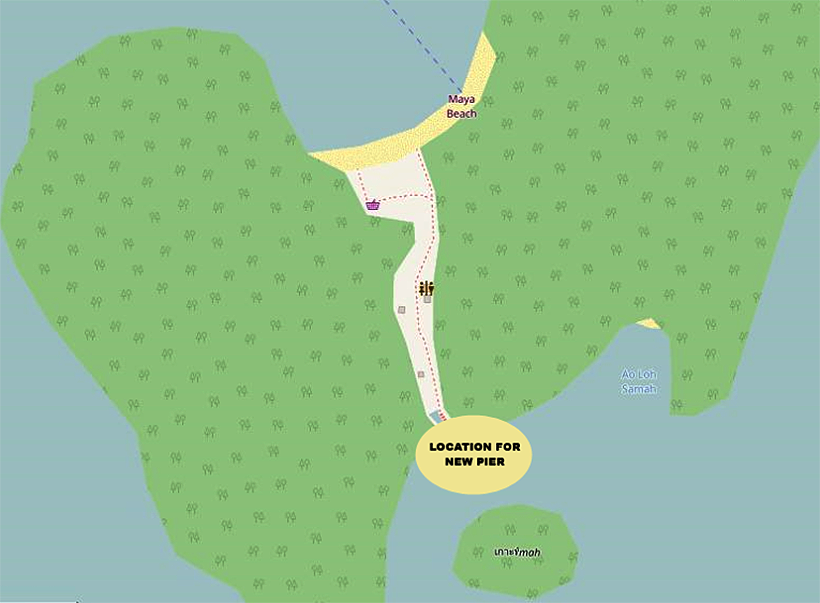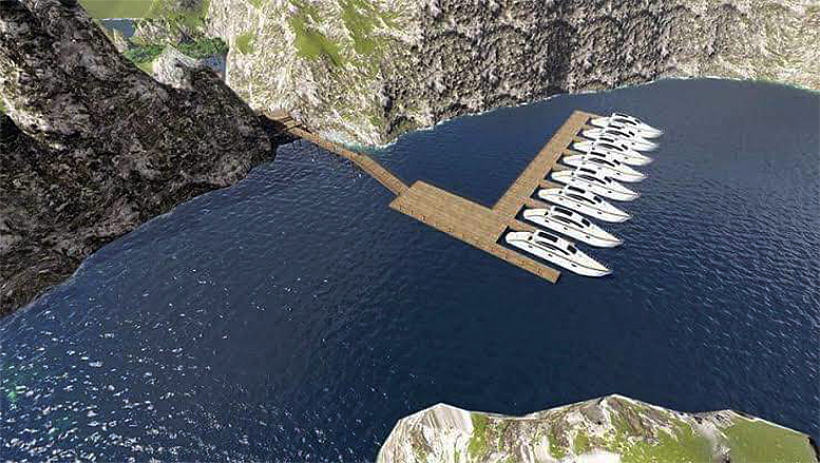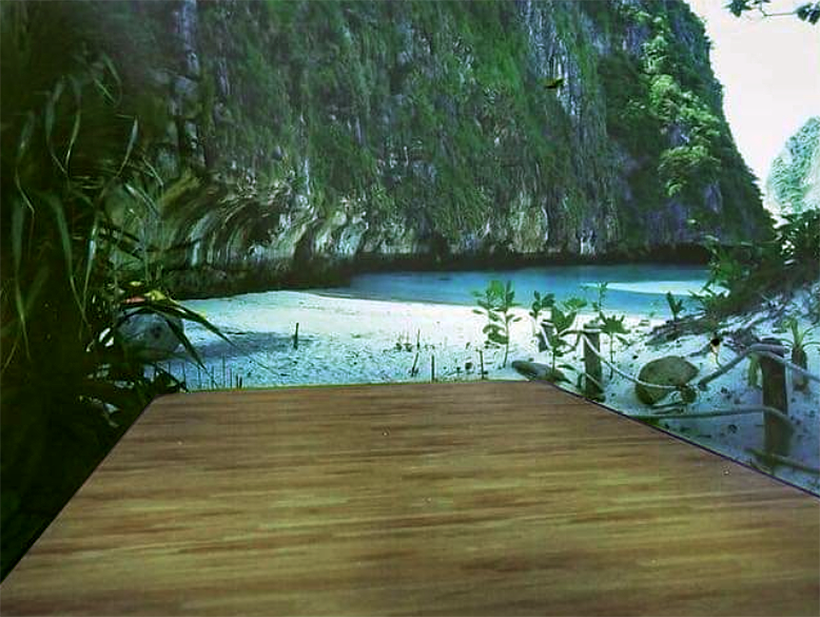 Codenamed the 'LANDSCAPE IMPROVEMENT PROJECT' the project will see the construction of an elevated boardwalk running right through from Loh Samah Bay, leading out onto Maya Bay beach, a large viewing platform will overlook the bay, and smaller terraces will look out over the beach, new seating areas, bathroom facilities and food and drink kiosks will be built.
This boardwalk will replace the existing infrastructure and, keeping all tourists on the designated walkways will ensure that nature in the area will not be destroyed and can continue to grow. It still remains unclear as to whether tourists will be allowed to swim in the ocean (potentially damaging corals) or have access to Maya Bay Beach.
An ideal scenario would see all tourists keeping to the boardwalks at all times, however, it is rumoured that a limited number of visitors will be allowed access onto the beach by paying an additional charge.
The new plans have been widely praised, the genius solution from the Department of National Parks should allow the beach to open again, alow their revenue to return (estimated at a whopping 35 million Thai Baht per month) and all whilst protecting the fragile beach, and maintaining preservation works.
3D rendered graphics show how the new boardwalk is predicted to look. The boardwalk will run from the pier on Loh Samah Bay all the way through the mangrove jungle before emerging at Maya Bay. Keeping tourists on the boardwalk will help to maintain the environment and will assist with the long-term preservation of the beach, while still allowing tourists to visit the famous tourist magnet.
It is unclear, and plans have not yet been revealed, on whether tourists will have full access to the beach, or if restrictions will be enforced to stay on the designated pathways and lookout points. Let's hope it's the former rather than the latter.
With thanks to Five Star Thailand Tours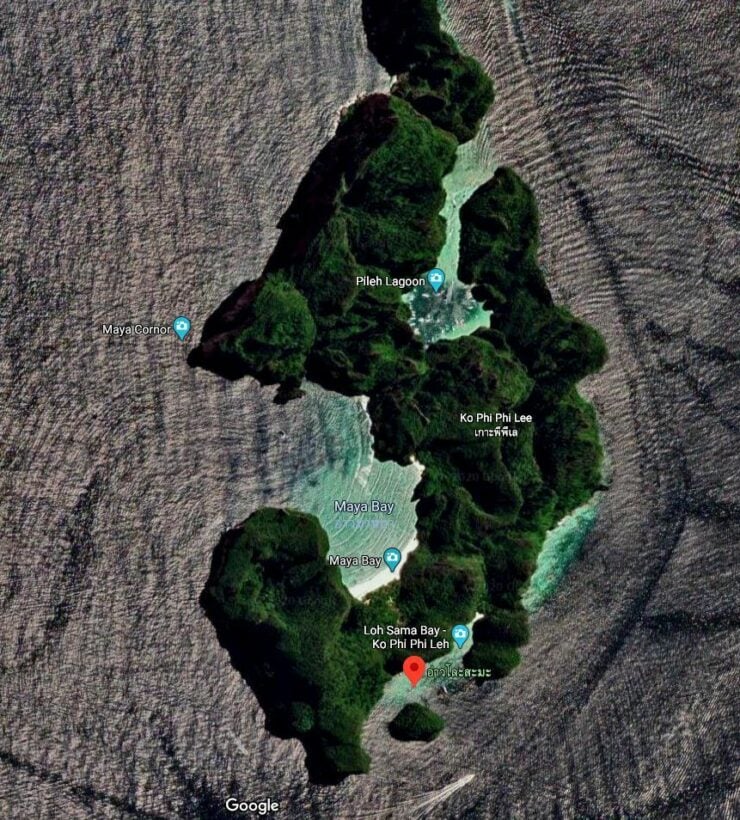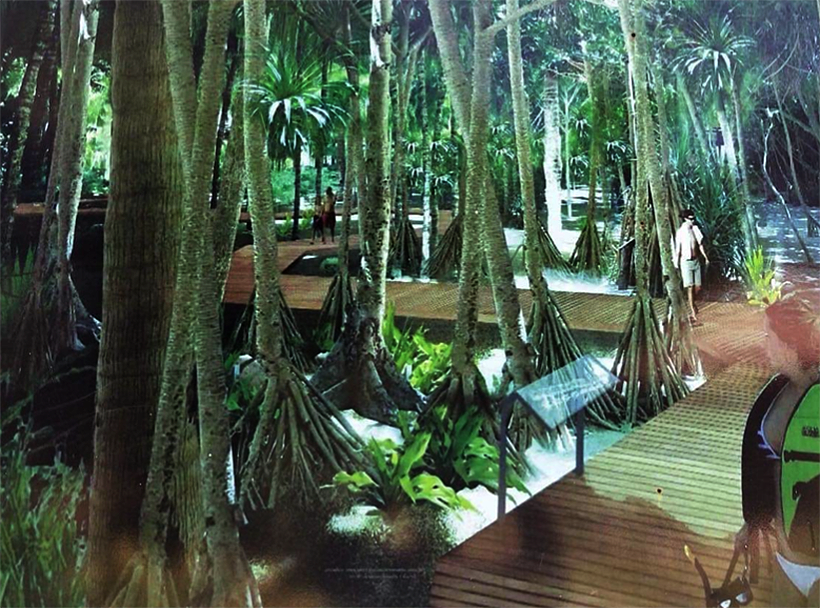 Keep in contact with The Thaiger by following our
Facebook page
.
No confirmed coronavirus cases in Phuket, six tourists under observation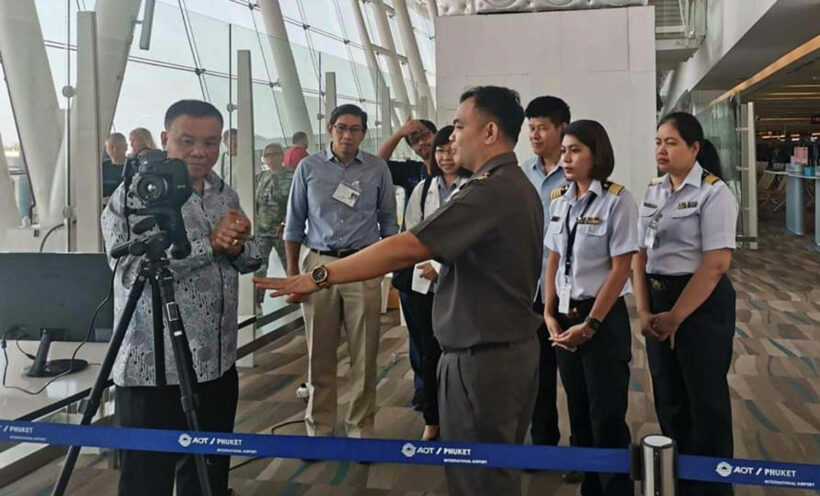 A this stage, no one in Phuket has been confirmed as infected with the coronavirus. Director of Vachira Hospital's Dr Chalermpong Sukontapol brought local media up to date in his media scrum at the hospital yesterday.
But he announced that 6 more tourists are currently under observation but are, as yet, unconfirmed to be carrying the novel coronavirus. One of latest 6 cases was held for precautionary observation when boarding a flight departing Phuket last Thursday.
"They are only suspected of being infected, and are under observation only."
29 people have been suspected of carrying the virus since the island's health officials started scanning airport arrivals for body temperatures when they walked off the plane on January 5. The screenings have included all flights out of mainland China, not including Hong Kong and Macau.
19 have been already discharged from hospitals…. the remaining 10 are in hospital care."
Eight patients are at Vachira Hospital, one at Patong Hospital and one at Thalang Hospital.
Officials have also confirmed that they are screening all passengers departing the island. On Thursday this week airport officials scanned 20,048 tourists flying out on 107 international flights, as well as 10,113 people taking 62 domestic flights.
One of the new six being held for observation was identified while boarding a flight departing Phuket on Thursday, Phuket Vice Governor Supoj Rotreuang Na Nongkhai confirmed at the meeting.
Phuket's Vice Governor has also confirmed that the Phuket Provincial Health Office is screening tourists coming ashore at Patong Beach from international cruises.
"So far no cruise liner tourist arrivals are suspected to be infected."
Meanwhile, the Krabi Provincial Public Health Office says they are monitoring more than 100 patients suspected of carrying the coronavirus. Five of them are currently awaiting additional blood tests, according to The Nation.
SOURCE: The Phuket News | The Nation
Keep in contact with The Thaiger by following our
Facebook page
.
Top 10 islands to visit in Thailand (2020)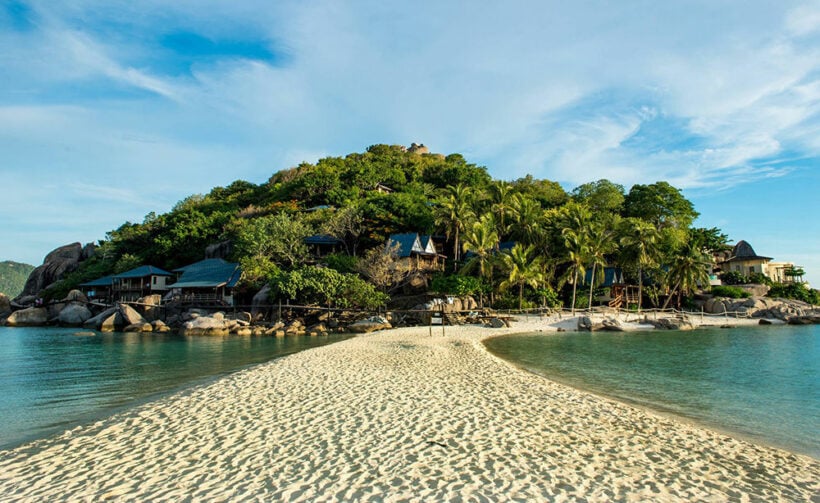 Thailand is famous for its outstanding island experiences and there are many to choose from. From sweeping stretches of clear golden sands to islands where you can dive, snorkel and stay, Thailand's islands and beaches are as diverse as they are plentiful. Let's count them down…
Koh Tao is an island that is well-known for being a great diving destination. It is also known as Turtle Island by the locals and boasts of various small and beautiful beaches that serve as the perfect holiday destinations. Diving is a pleasurable sport to be carried out on Koh Tao as it can be carried out more leisurely in a less crowded environment due to the availability of various diving spots around the island. As diving and snorkelling are the main activities to be experienced here on Koh Tao, one should be aware of the best period to travel to the island with the best conditions.
The best time to visit is during the dry season, between March and September, where the water is said to be calm, and high visibility for more fabulous diving and snorkeling experience. It is highly recommended for tourists to visit Koh Tao in October as the sea is the calmest, and water is the clearest. There are various locations that are worth visiting within reach from Koh Tao, with Koh Nang Yuan being one of those destinations. This island is unique in that three different islands are joined by white sand, making a unique experience to travel between islands or island hopping.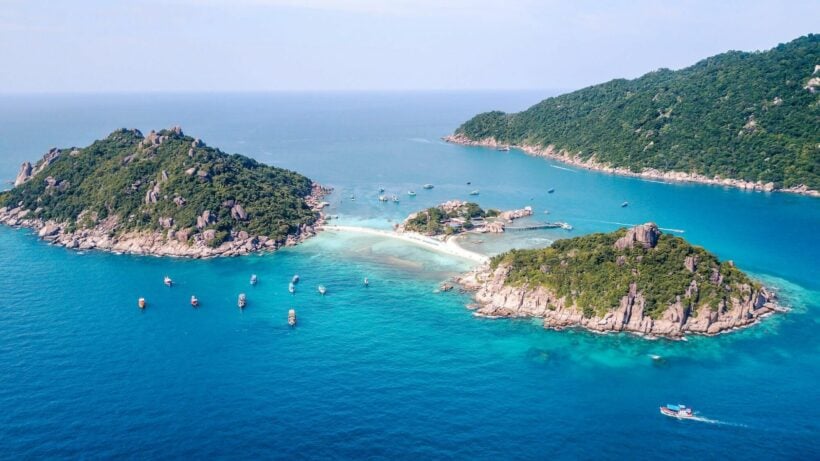 Koh Phangan is a unique destination that one should not miss, as seen in its unique blend of both natural beauty and exciting activities. The unspoiled beaches on Koh Phangan cater to the needs of tourists who wish to relax and escape from their busy lifestyle, while those seeking an exciting and unique experience should not give the Full Moon beach parties a miss. The Full Moon beach parties are according to the lunar calendar, where many party-goers gather and have a fun and exciting time. Altogether, one can experience a hippy vibe when traveling to Koh Phangan, and it is truly an experience that one can only find on this island.
Known as one of the destinations that aim to cater to the needs of all tourists alike, one can expect relaxing activities such as yoga and wellness retreats and not surprisingly, parties, which are what one would not expect from its many natural beauty. Tourists are often left amazed by the gorgeous sceneries that one can experience on the beautiful beaches on Koh Phangan, such as Haad Salad, Thong Nai Pan, Malibu, and Bottle Beach. The best time to visit Koh Phangan is during the dry weather, which falls between March and September, where one can simply relax while sunbathing under the sun on beaches and around the island.

Koh Samui is yet another wonder that most tourists would love to explore when choosing a destination for a holiday as known by its unique blend of beautiful nature and modernity. This tropical island boasts of a vast stretch of beautiful beaches often lined with tall coconut palms, which adds to the tropical vibe along with a massive land of rainforests. Koh Samui is a well-developed island with the tourism scene always on the bloom thanks to the adequate facilities available for the convenience of tourists such as an international airport, high-end resorts, and wellness retreats. Nevertheless, tourists can still experience the natural state of Koh Samui.
Perfect for those who wish to get closer to nature, one can find many choices of activities to be carried out on Koh Samui. The many viewpoints on the island promise great photographs, while those who are seeking for more adventurous activities can give hiking a try. There are also many hidden beaches and waterfalls that one can explore. Besides the fun and exciting night parties and events, Koh Samui is a favorite choice among honeymooners. Visitors often visit between March and October, where the seas are said to be calm, allowing many water activities. Diving is fun during this period, where you can even swim with the whale sharks.

Koh Lipe is a small island that does not disappoint despite being a tiny one. Do not be deceived by its size as this island provides the perfect destination for you to relax and put your hair down. The colorful coral reefs are one of the best, making the island to be one of the best diving destinations in the country. Koh Lipe has national parks and is under the protection of the marines. Therefore, tourists can experience the beauty of nature in an environment that is said to be raw and untouched. Although one can simply find pleasure by relaxing on the beach, many water activities will leave the more adventurous ones amazed where sports such as diving by beautiful coral reefs and magnificent marine creatures.
Tourists often visit Koh Lipe between November and April, but the peak season has to be in January, where many tourists come. Despite all that, Koh Lipe is still a favorite place for relaxation, as seen by its chill atmosphere. Those who are seeking more active pleasures can opt to visit the many neighboring islands around Koh Lipe, such as encountering the friendly yet cheeky monkeys on Monkey Island or rock climb on Koh Khai. Another beautiful destination that is within reach from Koh Lipe is Langkawi Island.

Koh Rok and Koh Haa are islands that offer the best experience when looking out for a holiday destination which is different yet does not disappoint. These small islands provide a lot of surprises despite the size, and they are untouched and undiscovered, appealing to those who wish for something different for a memorable holiday. The local government takes various initiatives in maintaining the underwater ecosystem here on Koh Rok and Koh Haa. Therefore, tourists can get the opportunity to encounter a variety of vibrant marine life and beautiful underwater topography with both soft and hard corals.
The best time to explore Koh Rok and Koh Haa is between November and April, where avid divers and snorkelers gather due to the best condition to explore the underwater world surrounding the islands. One such place for the best diving experience is on Koh Lanta. It is worth mentioning that the marine park is not open outside this period. Boasting as one of the most beautiful destinations in the country, one can experience gorgeous beaches and exciting water activities on Koh Rok and Koh Haa. Snorkeling on Koh Rok Noi to experience the majestic Koh Rok waterfall or diving while exploring the underwater caves and caverns are pleasurable activities to be carried out. Another place to snorkel with high visibility is Koh Haa Yai, where stunning pictures and the experience of swimming with marine creatures such as manta rays and whale sharks makes for a great underwater experience.

Check out the top 5 islands HERE
Keep in contact with The Thaiger by following our
Facebook page
.