White ribbons, black magic mark Isaan's biggest protests yet – VIDEO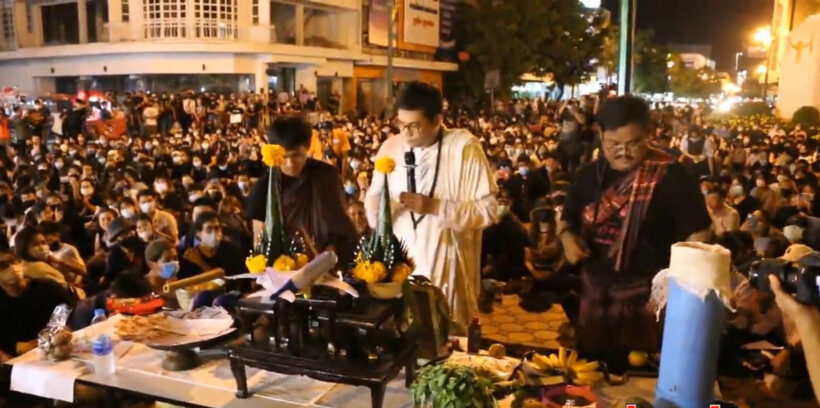 Thailand's northeastern provinces, also known as Isaan, saw 2 large-scale student protests attended mainly by high school students yesterday, one of them involving "black magic." The rallies which each drew about 1,000 people, were held in Korat city as well as at the Khon Kaen Democracy Monument.
Most of the Khon Kaen attendees wore white ribbons and called for PM Prayut Chan-o-cha to step down, except for protest leader Attapol Buapat, who wore Brahma robes and performed a cursing ceremony. Chanting a spell on Prayuth, Attapol used "holy water" made from Red Bull.
The group calling itself "Khon Kaen's Had Enough" held the "Chase them Out" protest attended by about 1,000 people. Sri Chant Road was closed for the protest. Activist leader Siwakorn Namnuadsaid that it was the first large-scale protest in the city centre.
"If our demands are not met, we will increase the scale of our operations. Students are ready to call for change; we are waiting for working age people to join us."
Siwakorn said the group supports pro-democracy demonstrators' 3 demands, including call a new election, a rewrite of Thailand's Constitution, and an end to state harassment of government critics, and are considering whether to endorse the 10 demands for reform of the Monarchy.
In Nakhon Ratchasima, at the "Korat Will Not Stand for This" protest at Thao Suranari Monument, students of various schools went onstage to speak against the government, wearing school uniforms and the white ribbons. Some students also rapped onstage, the same day 2 anti-government rappers were arrested and later released.
Metal barriers were set up to allow only a single exit and entrance for temperature screening purposes, and only those with masks were allowed to enter.
Activists also announced a "major rally" will take place at Thammasat University's Tha Prachan campus on Sepember 19, though no details are yet available.
ทำพิธีไล่แล้วก็แล้ว5555 #จัดม็อบไล่แม่งเลย #ขอนแก่นพอกันที pic.twitter.com/WCesZnoOz1

— Kun_Smile? (@kingsmile_hae) August 20, 2020
SOURCE: Khaosod English
Keep in contact with Thaiger by following our Facebook page.
Never miss out on future posts by following Thaiger.
5 killed, including 2 children, in north east Thailand bus disaster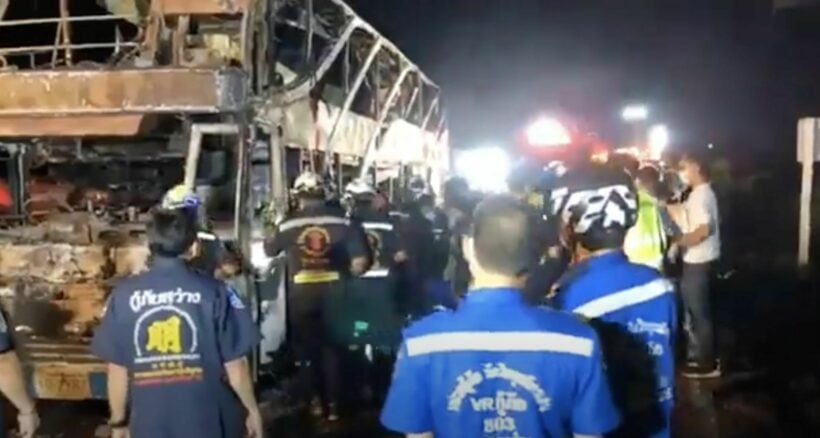 5 people are dead, including 2 children, and another 12 seriously injured after a double-decker interprovincial bus caught fire near Khon Kaen. It was heading to Bangkok. The bus erupted into flames just after midnight on the Mitrapap highway. There were 33 passengers on the bus. The bus driver was also injured.
The 407 Pattana Company bus left Bung Kan province on the Laos border, near Vientiane, last night, stopping in Udon Thani before making its way to Bangkok.
Witnesses say a rear tyre burst and then caught fire just after the bus had left Khon Kaen. The fire then spread to the engine compartment in the back of the bus. The bus soon became engulfed in flames, according to the Bangkok Post. Fire units got to the burning bus soon after but it took an hour to extinguish the flames.
12 people suffered serious burn injuries whilst 16 others were able to get out of the bus before it was engulfed in flames.
Police have spoken to the bus driver and will continue with their investigation.
SOURCE: Bangkok Post
Keep in contact with Thaiger by following our Facebook page.
Never miss out on future posts by following Thaiger.
Girl in a coma after being struck by skyrocket launched from temple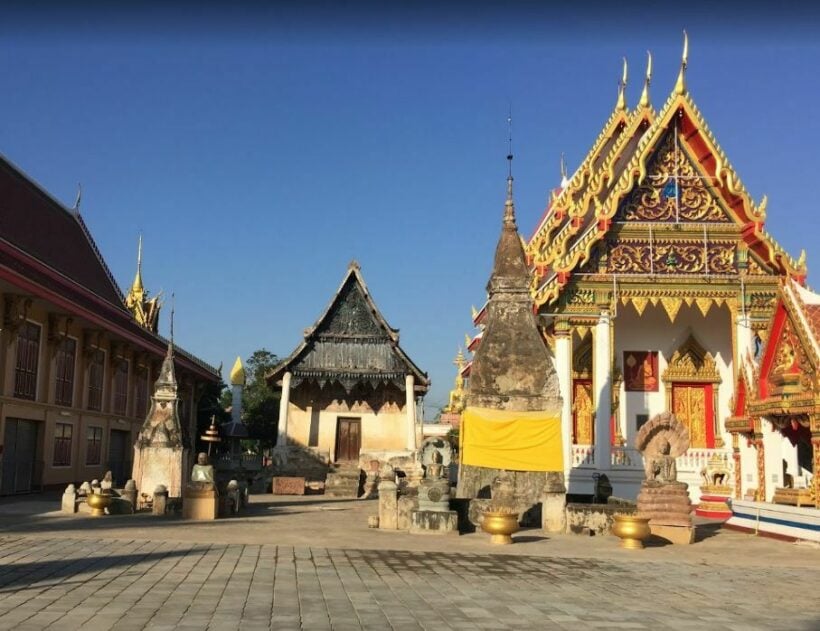 A 10 year old girl is in a coma and in critical condition after a piece of a wooden skyrocket struck the girl in the head. The firework was launched during a cremation ceremony at a temple in the Pak Thong Chai district of the Isaan province Nakhon Ratchasima. The girl was waiting to be picked up at the nearby Ardwitthaya School when part of the wooden firework hit her head.
Natcha "Nong Milk'' Sawasdee hit the ground, bleeding profusely. She was rushed to the local hospital and then transferred to the intensive care unit at Maharat Nakhon Ratchasima Hospital. The wood penetrated her skull about 10 centimetres deep, a recent scan shows.
Other students were hit by pieces of the exploded wooden skyrocket, but their injuries were minor.
The men who launched the skyrocket are facing charges for recklessness causing serious injury. They say they launched rockets at the cremation ceremony, but aimed toward rice paddy fields where there were no people. Due to the wind, pieces of the exploded rocket flew back into town, they say.
Wat Na Phrathat often lights fireworks during cremation ceremonies, residents say. But this time they used a different firework made from wood and PVC.
SOURCE: Bangkok Post
Keep in contact with Thaiger by following our Facebook page.
Never miss out on future posts by following Thaiger.
Senior official arrested in north-east Thailand on 2 million baht bribery charges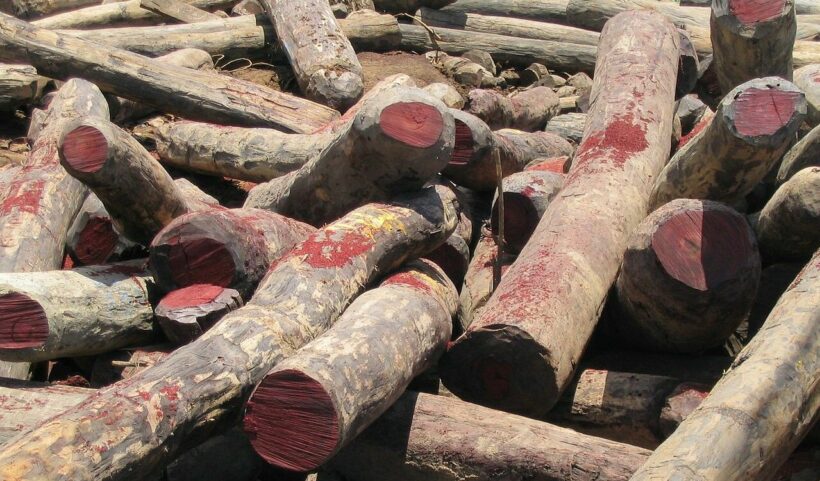 A senior Thai official in the north-eastern province of Mukdahan has been arrested, along with his assistant, on bribery charges. The provincial chief of the natural resources and environment office, Suradet Akkarach, and Ms Pan Saengviroon, are accused of receiving 2 million baht for facilitating the return of confiscated Siamese Rosewood timber to a merchant from Laos.
The timber, housed in 11 containers and valued at around 600 million baht, was impounded by the authorities in Mukdahan in 2006, on suspicion it had been illegally obtained. The case was heard in the provincial court, then the Appeals court, and then the Supreme court, which acquitted the defendants and ruled that the timber should be returned to its owner, EL Enterprise.
The arrests of 58 year old Suradet and Pan came about after a Laotian timber merchant filed a police report on February 24, accusing Suradet of offering to return the timber for a payment of 2 million baht.
The police subsequently set up a sting operation for when the merchant, named as Kamsavai Pommachan, arranged to meet Suradet and Pan to hand over the money. As soon as Pan took delivery of the cash, both suspects were arrested. According to a Thai PBS World report, Suradet insists he was not involved in the bribery, but Pan has confessed to the charges.
Panya Pinsuk from the Central Investigation Bureau, and Chivaparb Chivatham from the Royal Forestry Department, gave a press conference yesterday, in which they confirmed the arrests of both suspects and the seizure of 2 million baht in 1,000 baht notes, as well as 4 smartphones.
According to Chatupat Burupat from the Natural Resources and Environment Ministry, Suradet is an ex-employee of the Royal Forestry Department and would have known how to go about returning the confiscated timber.
Following the arrests, the Minister of Natural Resources and Environment, Varavut Silpa-archa, says he has ordered Suradet to be transferred to an inactive post while a committee investigates the case against him. The minister acknowledges that there is proof of bribery, but says an investigation is still required to ensure fairness. He says he expects the committee to report back within 15 days.
SOURCE: Thai PBS World
Keep in contact with Thaiger by following our Facebook page.
Never miss out on future posts by following Thaiger.