White ribbons, black magic mark Isaan's biggest protests yet – VIDEO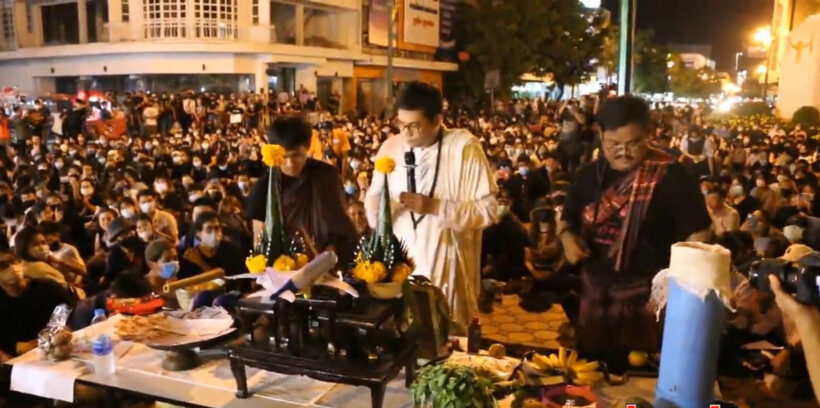 Thailand's northeastern provinces, also known as Isaan, saw 2 large-scale student protests attended mainly by high school students yesterday, one of them involving "black magic." The rallies which each drew about 1,000 people, were held in Korat city as well as at the Khon Kaen Democracy Monument.
Most of the Khon Kaen attendees wore white ribbons and called for PM Prayut Chan-o-cha to step down, except for protest leader Attapol Buapat, who wore Brahma robes and performed a cursing ceremony. Chanting a spell on Prayuth, Attapol used "holy water" made from Red Bull.
The group calling itself "Khon Kaen's Had Enough" held the "Chase them Out" protest attended by about 1,000 people. Sri Chant Road was closed for the protest. Activist leader Siwakorn Namnuadsaid that it was the first large-scale protest in the city centre.
"If our demands are not met, we will increase the scale of our operations. Students are ready to call for change; we are waiting for working age people to join us."
Siwakorn said the group supports pro-democracy demonstrators' 3 demands, including call a new election, a rewrite of Thailand's Constitution, and an end to state harassment of government critics, and are considering whether to endorse the 10 demands for reform of the Monarchy.
In Nakhon Ratchasima, at the "Korat Will Not Stand for This" protest at Thao Suranari Monument, students of various schools went onstage to speak against the government, wearing school uniforms and the white ribbons. Some students also rapped onstage, the same day 2 anti-government rappers were arrested and later released.
Metal barriers were set up to allow only a single exit and entrance for temperature screening purposes, and only those with masks were allowed to enter.
Activists also announced a "major rally" will take place at Thammasat University's Tha Prachan campus on Sepember 19, though no details are yet available.
ทำพิธีไล่แล้วก็แล้ว5555 #จัดม็อบไล่แม่งเลย#ขอนแก่นพอกันทีpic.twitter.com/WCesZnoOz1

— Kun_Smile? (@kingsmile_hae) August 20, 2020
SOURCE: Khaosod English
Keep in contact with The Thaiger by following our
Facebook page
.
Never miss out on future posts by
following The Thaiger
.
Border police find 160 kilograms of marijuana hidden in fertiliser sacks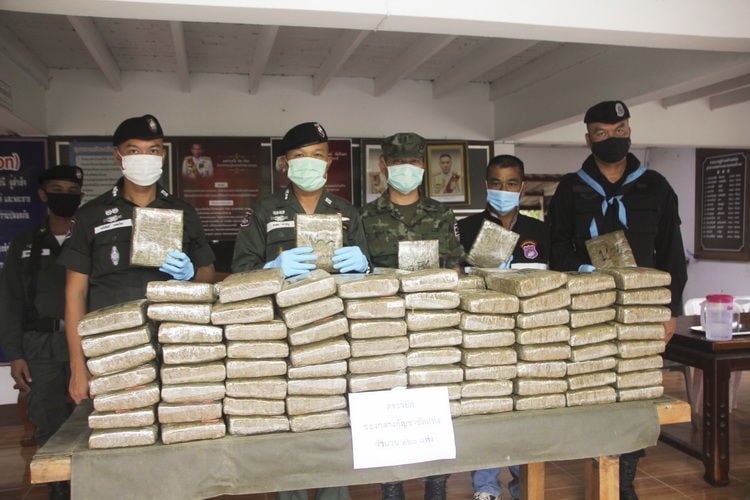 Border police found 160 kilograms of compressed marijuana near an Isaan roadside. Police say they believe the marijuana was trafficked across the Mekong River. No suspects were found and no arrests were made, at this stage.
Police suspect the marijuana was smuggled in on long tail boats from Laos to the Isaan province of Nakhon Phanom during the tropical storm Noul over the weekend. A Border Patrol Police commander, Apisit Rodnoy, says the marijuana was gradually brought across the Mekong River and onto the riverbank in the border district Tha Uthen.
Police say they found 4 fertiliser sacks near a road. The sacks had 200 packages of marijuana adding up to 160 kilograms. Police say it was ready to be picked up by traffickers.
Over the past month, more than a tonne of marijuana has been seized in the province. Police say the compressed marijuana is sold for 3,000 to 5,000 baht per kilogram along the border, but the cost goes up in inner provinces to around 15,000 to 20,000 baht per kilogram.
SOURCE: Bangkok Post
Keep in contact with The Thaiger by following our
Facebook page
.
Never miss out on future posts by
following The Thaiger
.
Veterinarian arrested for giving beauty treatments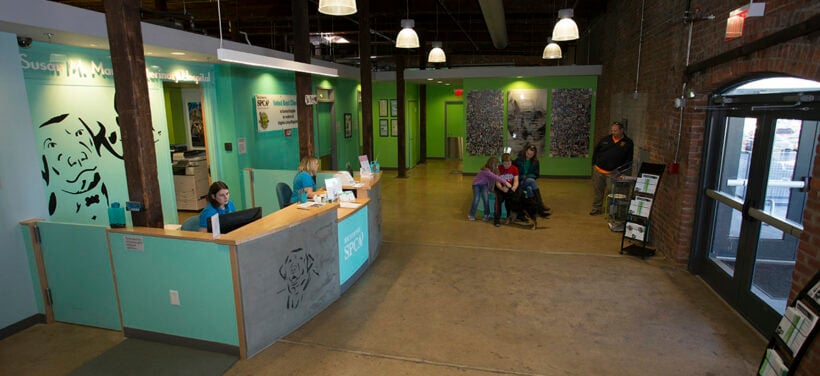 Dogs with breast augmentation? Cats with face lifts?
After customers reported some suspicious behaviour, a veterinarian in Sisaket province, in northeastern Thailand, has been arrested for giving cosmetic beauty treatments at a veterinary clinic in Phitsanulok, Central Thailand. The veterinarian, known as B, was allegedly giving botox and filler injections to customers despite not being licensed to do so. The veterinary clinic where he was allegedly giving treatments was inspected by the Phitsanulok Provincial Public Health Office where officials found many medications without proper serial numbers or sources.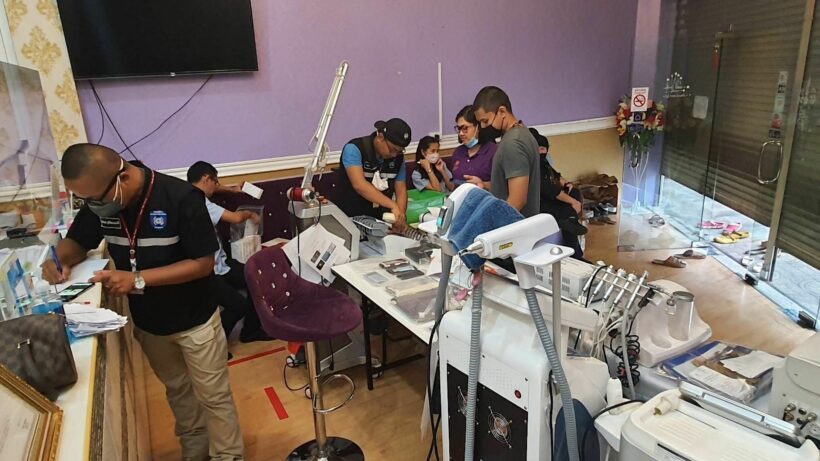 The clinic's registered doctor had cancelled the clinic's medical registration in July 2020, however, officials found the clinic to still be open and operating as normal. Health office officials have requested the clinic to report back on who is actually in charge of the establishment but have not received a response despite the clinic staying open.
SOURCE: Thai Residents
Keep in contact with The Thaiger by following our
Facebook page
.
Never miss out on future posts by
following The Thaiger
.
Heavy rain across the country this weekend – local forecasts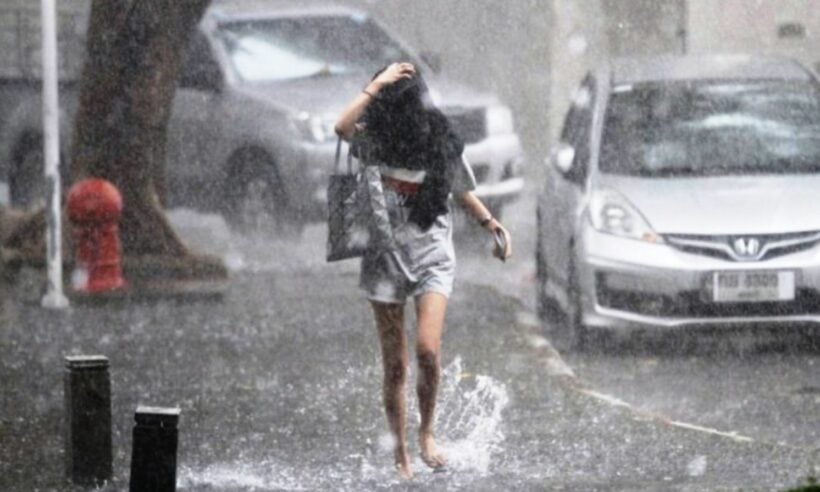 Heavy rain is expected across much of Thailand over the next few days, mostly as a result of the intensity of a tropical storm crossing into Vietnam today, 'Noul', from the South China Sea. The low pressure cell will help intensify the effects of the south west monsoon too. But the remnants of the storm won't "slam" into Northern Thailand as one news site claimed – rather it will be a lot of rain and increased winds. The storm is expected to cross into Thailand around the Mukdahan province some time early tomorrow,
Around the country, Saturday will be the worst with rains easing during Sunday. Thailand north east 'Isaan' provinces will be the worst affected as they are in the direct track of the storm as it crosses Vietnam, into Laos, and then crossing Thailand's borders in the upper north east in the early hours of tomorrow morning.
Whilst tropical storm 'Noul' has been packing winds from 80 – 120 kilometres per hour as it reaches the central Vietnam coast areas, including popular tourist locations like Da Nang and Hoi An, the storm will continue to dissipate as it moves inland. The storm has been tracking across the South China Sea this week, gathering strength, in a west northwesterly direction.
Residents in the coastal town of Hoi An report that it rained continuously last night, with strong winds, and that they expect widespread flooding to be reported during the day.
The forecast for heavy rain in Bangkok will probably dampen some of the enthusiasm for tomorrow's anti-government rally to be held in and around the Thammasat University Tha Prachan campus.
Here are the forecasts for Saturday and Sunday around the country…
Bangkok

Phuket

Chiang Mai

Pattaya

Khon Kaen

Koh Samui

Read more about Thailand's annual monsoons HERE.
SOURCE: weather.com
Keep in contact with The Thaiger by following our
Facebook page
.
Never miss out on future posts by
following The Thaiger
.