BBC Thai follows up Australian media claims about Thammanat's imprisonment in Sydney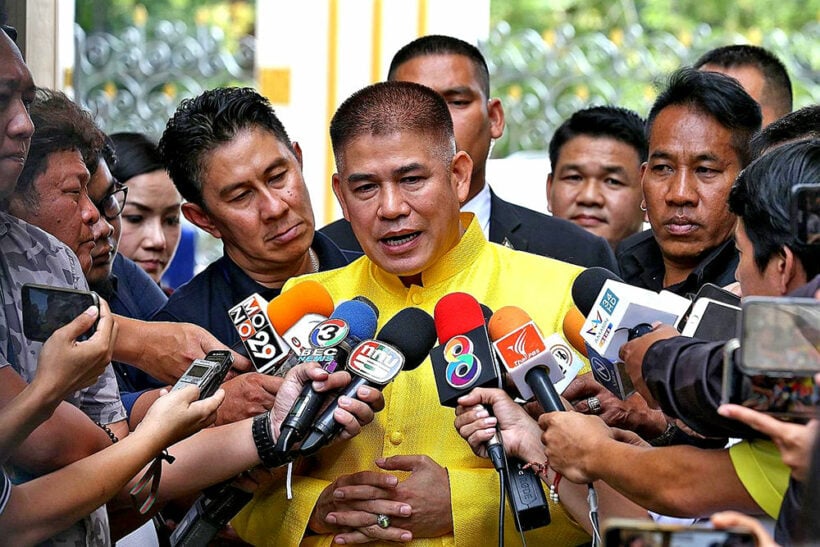 The BBC's Thai affiliate has published notes of an official document obtained from a visit to an Australian court, stating that Manat Bophlom one of the former names used by the Thai Deputy Minister of Agriculture and Cooperatives Thammanat Prompao, had served four years in jail for on charge of conspiring to import heroin to Australia.
Early in September, Australia daily newspaper, the well-respected Sydney Morning Herald, broke the news about Manat's jail term, prompting Thammanat to accuse some Thais and foreign journalists of creating a smear campaign against him.
The Nation reports that Thammanat has consistently denied the allegations made in the articles and threatened to sue the Sydney Morning Herald and media outlets carrying the story.
BBC Thai reported on Tuesday this week that Thammanat had said to the UK's world service that he was asking Thailand's Ministry of Foreign Affairs to contract Australia for a copy of the court verdict.
The story, covered by BBC Thai this week, has received scant coverage in Thai media, so far. Excepting Khaosod and the original report in the BBC Thai-language affiliate, the story is being largely ignored.
Reporters from BBC Thai went to the Downing Street court in Sydney last month to make notes from the court record and collect facts about the case with permission from court officials. They were allowed to use their laptop, but prohibited from photo-copying the document, according to BBC Thai.
The documents stated that 'Manat' was arrested by Australian police on April 15, 1993 at a guest room in Palage Hotel near Bondi beach. together with three persons including a Thai and two Australians, according to a report in The Nation.
The court record indicates that 'Manat Bophlom' had admitted to the charge of conspiring to import a commercial quantity of heroin to Australia on November 15, 1993. The presiding judge handed down the verdict on March 31, 1994 and sentencing 'Manat' to six years in jail. The court said he would be eligible for release after serving at least four years of his sentence.
'Manat' was deported from Australia after being imprisoned for four years in Sydney, according to the BBC Thai report.
BBC Thai cited that Thammanat said to BBC Thai via telephone on October 4, 2019 that he did not plead guilty to the charge, but instead asked for negotiations between his attorney and the court.
He said he had not been involved in drug smuggling. He said at the time of his arrest, he did not have much experience or enough money to fight the charge, BBC Thai quoted him as saying.
SOURCE: The Nation
Keep in contact with The Thaiger by following our
Facebook page
.
Professor: Military government too interested in tourism – not people's welfare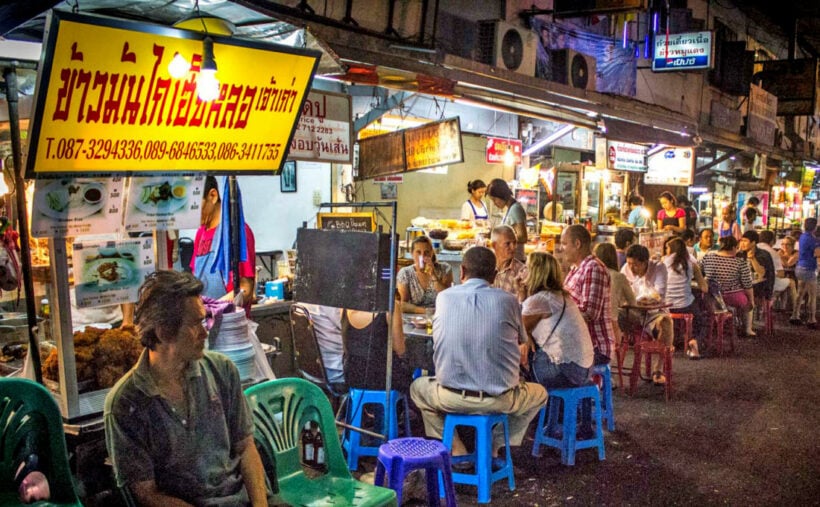 A professor of Rangsit University has criticised the previous military government for focusing too much on tourism and not enough on the welfare of the Thai people. The professor was speaking at Chulalongkorn University at a seminar discussing street stalls and urban development.
She questioned the National Council for Peace and Order's policy of clearing street vendors in all but a few areas such as Yaowarat and Khao San Road that mainly cater to tourists.
She claimed that the NCPO – in power since the coup of 2014 until this year's election – was more interested in economic development through tourism than in the welfare of the public.
Having affordable street food options was not just about tourism, she said, it was vital for poor workers who have migrated from the countryside, adding that it was part of an informal rather than a formal economy.
"For years people had earned their living from selling goods and services, including food, on the streets."
This in turn provided an affordable option to eat for workers who came to Bangkok on for large investment projects. The issue, she said, was not just about tourism but the wider economy that might benefit.
The professor noted that CNN had once called Bangkok the best place in the world for street food but this had changed with the sanitized food trucks that have appeared since stalls and vendors were banned from most areas.
The Thaiger notes that banning street vendors has divided the capital. Many are happy that the sidewalks are easier to navigate, but others – including tourists – have said that the lifeblood and character of the city has suffered.
SOURCE: Naew Na | ThaiVisa Forum
Keep in contact with The Thaiger by following our
Facebook page
.
Piyabutr warns Army Chief's remarks will deepen national divide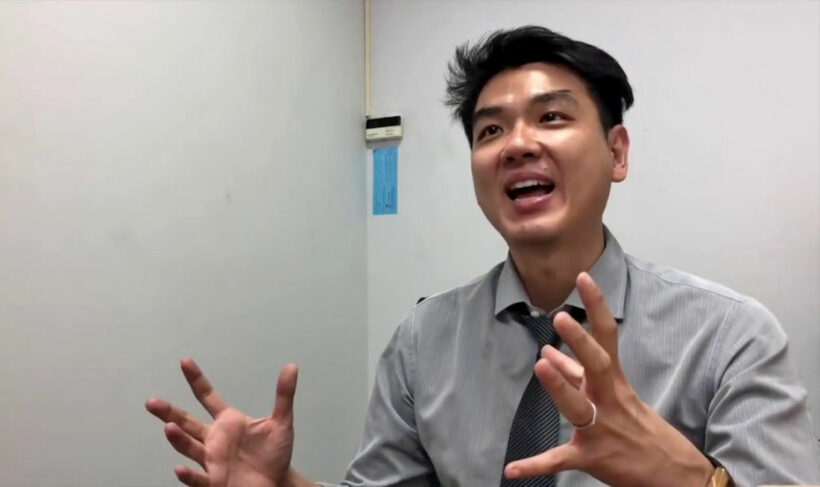 The Future Forward Party secretary-general says that Army chief General Apirat Kongsompong's remarks on politicians, academics and national security could deepen the political divide in the country and spark a "clash of generations".
Piyabutr Saengkanokkul made the remarks at a seminar where he spoke on "homeland from the democratic perspective and the role of the people in building the nation". The seminar was held in response to Apirat's special national security speech on Friday.
During his speech, Apirat warned of the continuing threat to Thailand from communism and dissidents. He claimed some former communists had become politicians, and some had become academics but the "communist ideology chips were still implanted in their heads".
He also cited threats from information warfare and propaganda, and the spread of fake news, which he saw as a collaboration between former communists and "foreign-graduated leftists and unethical scholars".
Meanwhile, in his speech Piyabutr emphasised respect for difference of opinion, human dignity, rights and liberty.
"National security is equal to the people's security".
SOURCE: The Nation
Keep in contact with The Thaiger by following our
Facebook page
.
Thailand is facing "hybrid warfare" by "ill-intentioned politicians" – Army chief Gen Apirat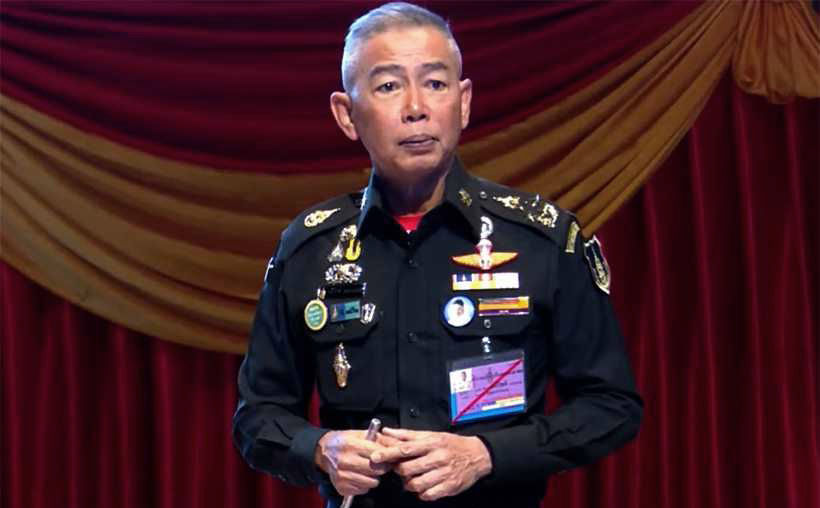 PHOTO: Screenshot – Matichon TV
Thailand's Army Commander-in-Chief Gen Apirat Kongsompong is warning that Thailand is facing what he described as a "hybrid warfare".
The ultra-loyalist Army chief says the 'war' is being waged by a collection of "ill-intentioned politicians", remnants of communist ideologues and "foreign forces" against the country's major establishments. His speech was aimed fairly and squarely at opposition politicians who he accused of "soliciting foreign interference in Thai domestic affairs".
His comments were heavily politically weighted for a man who is meant to represent the country's Army, a position usually associated with political neutrality.
General Apirat was speaking at the army's southern headquarters where he outlined what he claimed to be a conspiracy among several groups of people bent on "destroying the country and its major establishments."
General Apirat referred to a recent visit to Hong Kong by a leading Thai opposition politician during which he met with pro-democracy activist Joshua Wong, claiming it was an "illustration of how anti-government forces are trying to solicit foreign interference in Thai domestic affairs".
He did not mention names specifically but showed a picture of Wong taken with the silhouette of someone understood to be Thanathorn Jungroongruangkit, the fire-brand leader of Future Forward Party. Thanathorn admitted that he was in Hong Kong recently for a panel discussion and a picture he took with Wong wen tviral. He also admitted that he was inspired to enter politics by the fight for democracy in Hong Kong.
He accused opposition figures of targeting young people and trying to indoctrinate them with "destructive ideas."
"Joshua Wong visited Thailand and then this businessman-turned-politician went to Hong Kong. Were they up to something? I want to ask whether these young (Thai) people would go out on the streets if called upon one day," he said.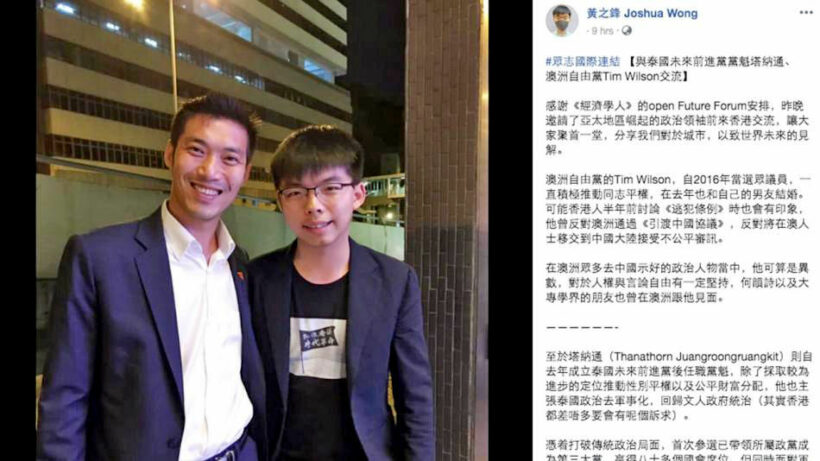 PHOTO: Future Forward's Thanathorn Jungroongruangkit and HK pro-democracy activist Joshua Wong
General Apirat, a key supporter of the Prayut government, took aim at politicians and academics who he said are trying to use the situation in southern Thailand for political gains. He singled out Dr. Chalita Bundhuwong from the Kasetsart University, who proposed, during a recent panel discussion in Pattani, that Article 1 of the Constitution which guarantees Thailand as a single and indivisible state, be amended.
General Apirat opined that the proposal has a "hidden motive that would threaten the country's security". "Amending Article 1 of the Constitution would pave the way for amendments of other articles concerning the monarchy," he said without elaborating but vowed to block any attempts to have the article in question amended. The general didn't outline the means by which he would be able to 'block' the process of amendments to Thailand's constitution.
The army chief also recalled the presence of a group of western diplomats who showed up at Pathumwan police station in April when Thanathorn was summoned to hear a sedition charge against him. He alleged that it was part of a larger plot to internationalise the issue.
The 'western diplomats' were staff from foreign embassies stationed in Bangkok whose governments had openly expressed concerns over the sedition charges against the Future Forward leader.
"All these incidents were not coincidental," he said, referring specifically to Thanathorn's meeting with Wong, the support shown by western diplomats to the Future Forward leader, the controversial panel discussion in Pattani and the frequent mobilising of anti-military rallies.
"They were orchestrated."
Gen Apirat also accused some of the "foreign educated" academics with leftist views of being "masterminds" behind many of the anti-government and anti-military activities.
He claimed, without evidence, that they had been working in cahoots with politicians "who harbour ill intentions toward the country's major establishments, foreign elements, and businessmen born with silver spoons in their mouths" to wage a "hybrid warfare" against the country.
Gen Apirat clarified that a "hybrid war" is a modern form of warfare that employs a range tools and players designed to destabilise and bring about changes in a society.
"They include inciting local unrests, propaganda, foreign interference, cyber-attacks, economic pressure, and discrediting of the executive and judiciary branches."
"Their ultimate aim is to win elections, seize executive power, and to change the Constitution."
The General's lecture was entitled "Our Land from Security Perspectives" and was full of theatre punctuating some of his points with a produced Power Point presentation and military music.
When challenged by the media if a dialogue with these groups of dissenting voices was possible, General Apirat said "I don't think so. They are bent on pushing their agenda regardless of what we say."
SOURCE: Thai PBS World
Keep in contact with The Thaiger by following our
Facebook page
.