"Nothing to worry about" – Thai Police clarify the collection of WIFI data at cafés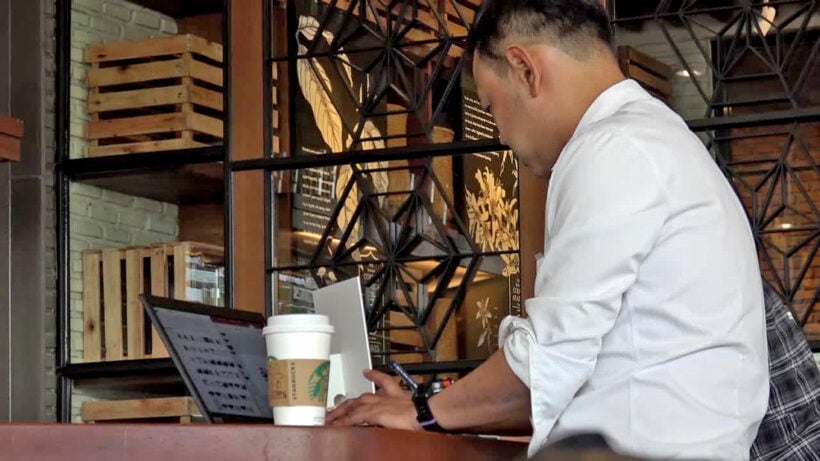 PHOTO: Yahoo
The Royal Thai Police have rushed in to clarify yesterday's story about the Minister of Digital Economy's Puttipong Punnakan commenting about the collection of restaurant and café wifi data.
The Thai Minister of Digital Economy Puttipong Punnakan says cafe and restaurant operators offering free wifi services, will have to collect internet traffic data used by their customers up to 90 days, or face punishment. The report didn't specify if they wanted to simply track usage data or track the actual traffic and sites visited.
Netizens hit back at the notion of their search and browsing history, and downloads, being subject to storage and investigation.
But RTP spokesman Lt-Col Krissana Pattanacharoen says that the public have nothing to fear.
"They can carry on as normal without worry."
He was referring to the collection of log file data held for 90 days announced by Minister of Digital Economy at a media conference on Tuesday. Lt-Col Krissana said that it was standard practice and had been law since 2007, but declined to address any of the concerns expressed by critics of the proposed collection of their browsing data.
"Such measures helped in the capture of serious criminals".
Yesterday's story HERE.
SOURCE: INN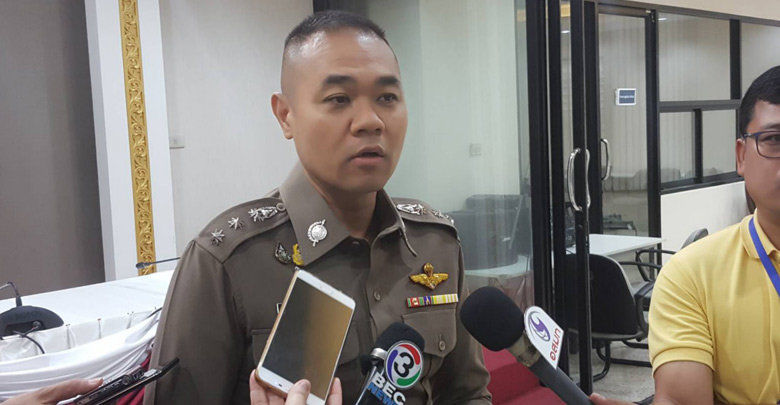 PHOTO: RTP spokesman Lt-Col Krissana Pattanacharoen – INN News
Keep in contact with The Thaiger by following our
Facebook page
.
Thailand rated near bottom for privacy protection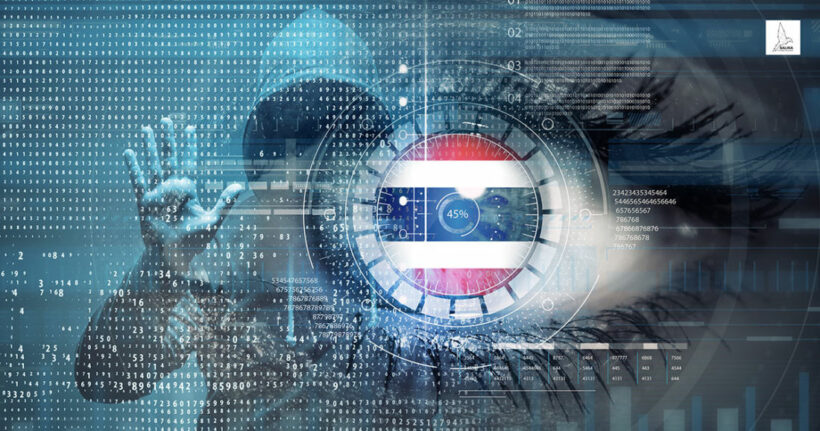 Thailand's new cybersecurity law could be used 'to silence critics', according to a new survey of 47 countries. Thailand placed in the bottom five out of 47 countries ranked for privacy protection, according to a study by Comparitech, a website that researches and compares technology services.
Thailand and Malaysia scored 2.6 out of 5, followed only by India (2.4), Russia (2.1) and China (1.8) in the first-time study, entitled "Surveillance States".
Ireland was at the top of the list, scoring 3.2, followed by Portugal, Norway, France and Denmark, all of which scored 3.1. The study takes into account categories ranging from use of biometrics and CCTV to data-sharing and retention laws. According to the study, biometrics are used for many day-to-day proceedings, such as biometric checks when buying a SIM card.
Thailand's Computer Crimes Act allows officers of the Digital Economy and Society Ministry to request documents and data from service providers without a warrant.
"With a warrant, they are able to request much more information. Many believe the new cybersecurity law will be used by the government to silence critics".
Local cafes offering WiFi are now required to keep a log of customers' browsing data for 90 days, it was abounded last week. According to the government, this is intended to help identify users who might abuse the laws.
SOURCE: Bangkok Post
Keep in contact with The Thaiger by following our
Facebook page
.
True to introduce 5G with help from China Mobile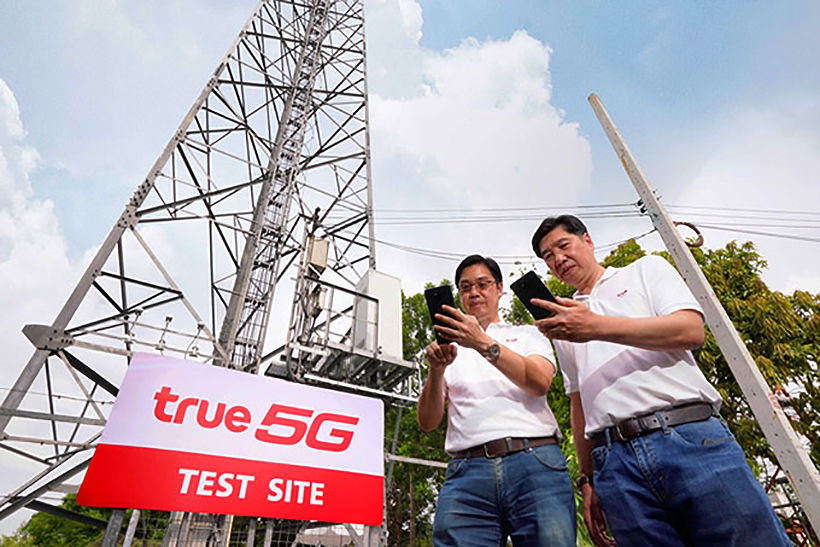 Kittinut Tikawan, president of Thai communication giant True Corporation, says True Move H Universal Communication plans a soft launch of 5G wireless broadband in Thailand within 2-3 months, through close collaboration with China Mobile, the world's largest mobile operator.
5G mobile communications will allow virtually 'instant' delivery of video and services with remarkable leaps in speeds, at least 10-fold. The new technology has also been embroiled in claims of health hazards relating to the new technology but studies remain ongoing without conclusive evidence of any danger. The US Federal Communication Commissions says… "the weight of scientific evidence has not linked cell phones with any health problems."
"China Mobile is a good role model for True, providing services to more than 900 million subscribers."
China Mobile, already a leading commercial 5G provider, has rolled out 5G cell sites in some 40 cities in China, including 3,000 in Chengdu, in south-west China, alone. Speaking in Chengdu at a partnership meeting with China Mobile's representatives, he said full 5G adoption in Thailand is expected by 2021, adding that 5G adoption would provide outstanding new experiences for consumers, including virtual reality and augmented reality, all in real time.
"5G adoption in the beginning stages will be seen in major cities with population and business density, as well as close proximity to industrial zones. The low cost of digital infrastructure for 5G would help promote 5G adoption throughout Thailand.
He said 5G adoption should be added to the Thai national agenda.
"The government is establishing a national 5G committee, which indicates they understand 5G is a critical issue for the country."
Source: Bangkok Post
Keep in contact with The Thaiger by following our
Facebook page
.
Thai immigration's biometrics nabs 3 more fake passport holders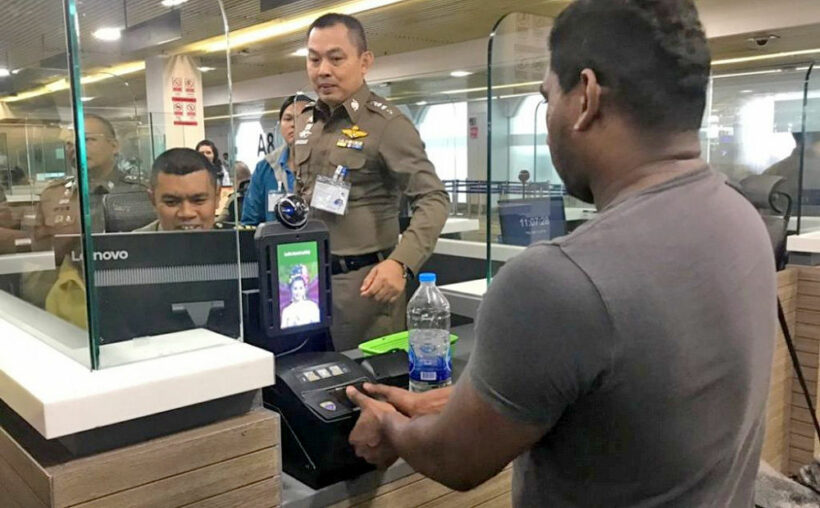 Thailand's Immigration Bureau commander says the biometric system at Bangkok's Suvarnabhumi Airport caught three foreigners carrying fake passports during the month of September.
"In the first case, immigration police arrested an Iranian man, aged about 47 years, holding a French passport and travelling from Germany to Thailand. The biometric scanning showed only a 19% match between his face and passport photo, so we took him into custody," said Pol Lt-General Sompong Chingduang.
The Nation reports that the man confessed to buying a fake passport in France for €520, in order to travel to Thailand and then on to Japan to seek employment. Sompong says the second person arrested was a Chinese man, in his fifties, and carrying a Burmese passport.
"The biometric scan identified that his passport's Machine Readable Zone had been altered. The suspect later confessed that he bought the counterfeit passport from Rangoon for 25,000 Burmese kyat (500 baht) to travel to Thailand."
The third arrest happened when a 28 year old Kenyan woman was detained while trying to leave Thailand. Sompong says she was trying to get away with having overstayed her visa.
"The biometric system alerted officials that she had overstayed in the country for two years. Her original visa allowed her to stay until September 15, 2017, and a fake stamp was used to give a new expiry date. She later confessed that she sent her passport to Kenya to have it altered at a cost of 10,000 baht."
SOURCE: The Nation
Keep in contact with The Thaiger by following our
Facebook page
.