Former Thai minister sentenced for forgery, faces murder, kidnapping charges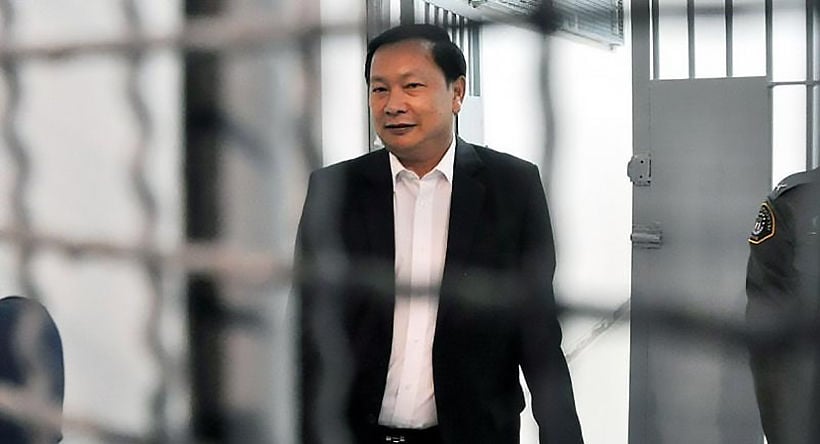 A former deputy commerce minister, police colonel and Member of Parliament has been sentenced to eight years in prison for forgery. The Bangkok South Criminal Court yesterday sentenced Banyin Tangpakorn for forging documents to transfer 263 million baht worth of shares to himself through two associates.
The ruling concludes the case believed to be behind Banyin's alleged decision to kidnap the brother of the judge hearing his case. It's believed the kidnapping in February was intended to influence the judge's verdict in the share scandal. 70 year old Wirachai Sakuntaprasoet was murdered by his abductors, forcing the judge to withdraw from the forgery trial.
The court found Banyin guilty of forgery, colluding with two associates, Kanthana Siwathanapol, a former caddie, and stockbroker Uracha Wachirakulton. They illegally transferred the assets of late billionaire contractor Chuwong Sae Tang to Kanthana and Uracha's mother Srithara Phromma. Kanthana and Uracha each got 4 years for forgery. The court acquitted Srithara due to insufficient evidence.
The verdict found that Uracha transferred 35 million baht worth of shares to her mother because stock market rules prohibited her from receiving transferred shares. Most of billionaire Chuwong's shares were illegally put in Kanthana's name, and the court found no evidence to support the defendants' claim that Chuwong had given them the shares willingly.
But the verdict concluded that there was evidence, including CCTV footage, showing that Banyin is close to both Kanthana and Uracha. The shares were transferred before Chuwong died in a car crash in Bangkok in 2015. The vehicle was driven Banyin, who only sustained minor injuries.
Chuwong's relatives believed he was murdered. Public prosecutors agreed in 2018 to indict Banyin for premeditated murder. The court has yet to rule on that charge.
SOURCE: Chiang Rai Times | Bangkok Post
Keep in contact with The Thaiger by following our
Facebook page
.
30 arrested for violating emergency decree, 18 teens jailed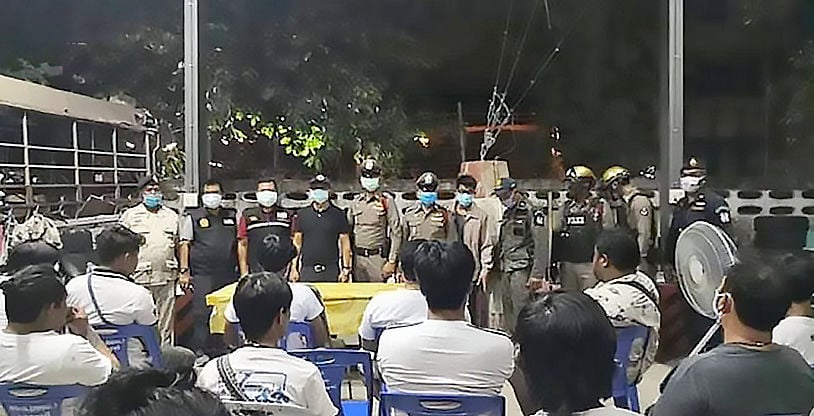 18 teenagers have been jailed for violating the Emergency Decree by holding a party and abusing drugs in Ayutthaya, north of Bangkok. Yesterday prosecutors indicted the teenagers for breaching the decree, taking part in a mass gathering and drug use.
The teens were arrested on Monday after officials got a tip off from local residents. Homeowners reported illegal drugs were being taken at a party held at a raft house on the Chao Phraya River. Authorities seized marijuana, ketamine, ecstasy pills and drug paraphernalia from the teens in the house.
The court sentenced two defendants to a month in jail for defying the Emergency Decree. The remainder got four month jail terms for violating the decree and drug abuse.
Meanwhile, police in in the northern Udon Thani province, near the Laos border, arrested 12 men yesterday for gathering and drinking in breach of thedecree on Thursday. Local officials went to a house Ban Na Sai after hearing about a group of men drinking together. Police say they were disturbing the neighbours by playing loud music from a car.
The men told officers that they were debt collectors but had been laid off due to the Covid-19 coronavirus outbreak. They said they were having a birthday party for a friend before they returned to their homes in Nakhon Ratchasima, Chaiyaphum, and Uthai Thani provinces .
The men at first resisted arrest, saying they only partied in the house, and didn't go out anywhere else. This prompted police to call for reinforcements to arrest them. They've now been charged with defying the emergency decree and face a jail term and/or a fine of no more than 40,000 baht each.
Source: Chiang Rai Times | Bangkok Post
Keep in contact with The Thaiger by following our
Facebook page
.
Phuket rooftop party busted, drugs seized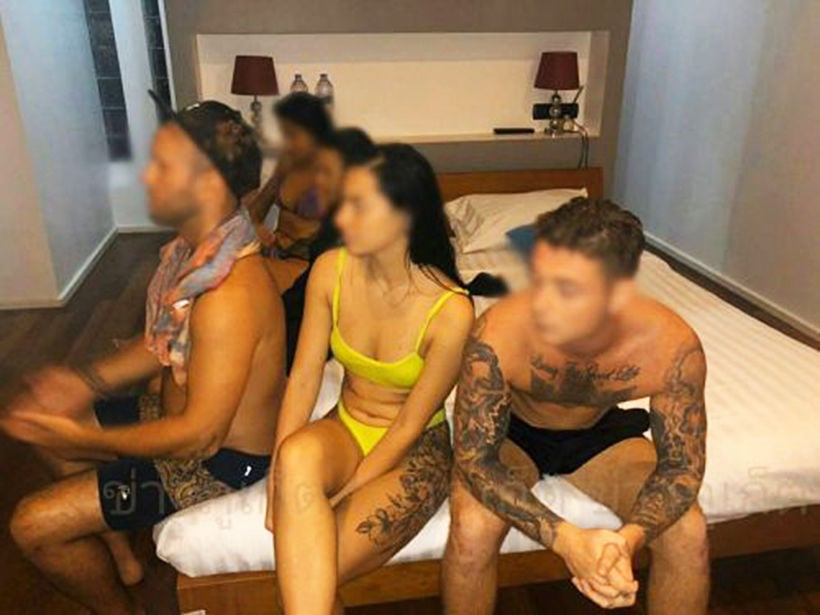 Police arrested 9 foreigners and 5 Thai women for partying in Patong in violation of orders against gathering in crowds, to control the spread of coronavirus disease. They were arrested on the rooftop of a rental house on Sirirat Road in tambon Patong of Kathu district last night after police received a complaint about a loud party. Those arrested included Australians, British, Americans, Ukrainians and Thais.
The arrested foreigners comprised 6 men and 3 women includes…
1 Australian male Al-Mouzafar Mohamad age 22.
3 British men Britons Oliver Hoskins aged 23, Alan Jones age 22, and Stuart McDonough age 29.
1 American male Russell Robertson age 32.
3 Ukrainian women Zakharov Andrii age 27, Petriv Tetiana age 22, Chala Anasiia age 22.
1 Ukrainian male Semko Iana age 31.
The five Thai women…
Nida Usen age 31 from Satun province.
Boonchanok Roongruang age 36 from Trang.
Supika Kitdee age 28 from Chon Buri.
Narumon Thuadaoage 23 from Nakhon Si Thammarat.
Wararin Jaidee ahe 33 from Satun.
Police officers discovered around 4 grams of cannabis and 0.94 gram of cocaine in their possession, and also seized several bottles of liquor and loudspeakers. They were initially charged with violating both the emergency decree and the Phuket governor's order banning crowd gatherings in Patong.
SOURCE: Phuket News
Keep in contact with The Thaiger by following our
Facebook page
.
Woman convicted for 2005 stabbings, allegedly kills 5 year old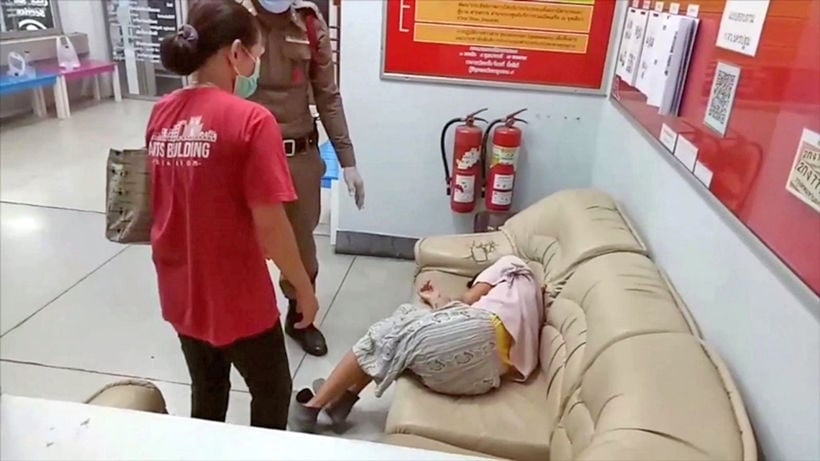 A mental patient who served prison time for the 2005 stabbings of 4 girls in Bangkok has turned herself in to police after allegedly stabbing a 5 year old girl to death.
50 year old Ms. Jitrlada Tantiwanitchasuk gave herself up to police in Nakhon Pathom province otside Bangkok yesterday. The 5 year old victim was pronounced dead on arrival at Nakhon Chaisri Hospital (NOTE: reports differ on the ages of the suspect and the victim)
Salee Uanmin, the girl's 49 year old grandmother, runs a food stall at a house which she rents from Jitrlada's mother.
A heartbroken Salee told police she was filling an order for six boxes of food from Jitrlada. She had put steamed rice into the boxes when she saw her 5 year old granddaughter, Tiprada Homsuwan, had fallen from her bed, and noticed her chest was bleeding.
Little Tiprada was rushed to hospital, but was pronounced dead. Shortly afterward Jitrlada surrendered herself at the local police station. Her family came to the station and told officers that she had just left a mental institution a week ago. Jitlada reportedly appeared to be in a trance and did not respond while being interrogated.
Her family said that she had been treated for mental illness for 20 years and was previously imprisoned for eight years after stabbing four Saint Joseph Convent School students .
In 2005, Jitrlada stabbed the 4 schoolgirls at Saint Joseph's Convent in Bangkok, and allegedly killed a four year old girl on March 29 the same year. She was found guilty of attempted murder and sentenced to eight years in prison. Upon release she was sent to Galaya Rajanagarindra Institute for mental treatment, and later discharged.
SOURCES: Chiang Rai Times | The Nation
Keep in contact with The Thaiger by following our
Facebook page
.