Former Thai minister sentenced for forgery, faces murder, kidnapping charges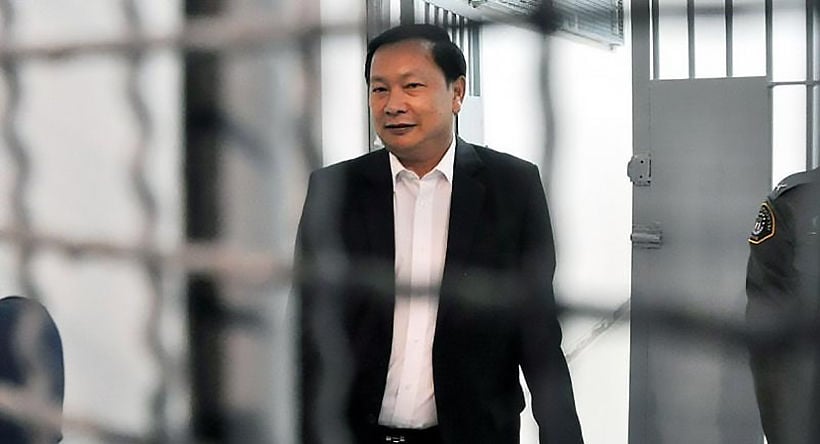 A former deputy commerce minister, police colonel and Member of Parliament has been sentenced to eight years in prison for forgery. The Bangkok South Criminal Court yesterday sentenced Banyin Tangpakorn for forging documents to transfer 263 million baht worth of shares to himself through two associates.
The ruling concludes the case believed to be behind Banyin's alleged decision to kidnap the brother of the judge hearing his case. It's believed the kidnapping in February was intended to influence the judge's verdict in the share scandal. 70 year old Wirachai Sakuntaprasoet was murdered by his abductors, forcing the judge to withdraw from the forgery trial.
The court found Banyin guilty of forgery, colluding with two associates, Kanthana Siwathanapol, a former caddie, and stockbroker Uracha Wachirakulton. They illegally transferred the assets of late billionaire contractor Chuwong Sae Tang to Kanthana and Uracha's mother Srithara Phromma. Kanthana and Uracha each got 4 years for forgery. The court acquitted Srithara due to insufficient evidence.
The verdict found that Uracha transferred 35 million baht worth of shares to her mother because stock market rules prohibited her from receiving transferred shares. Most of billionaire Chuwong's shares were illegally put in Kanthana's name, and the court found no evidence to support the defendants' claim that Chuwong had given them the shares willingly.
But the verdict concluded that there was evidence, including CCTV footage, showing that Banyin is close to both Kanthana and Uracha. The shares were transferred before Chuwong died in a car crash in Bangkok in 2015. The vehicle was driven Banyin, who only sustained minor injuries.
Chuwong's relatives believed he was murdered. Public prosecutors agreed in 2018 to indict Banyin for premeditated murder. The court has yet to rule on that charge.
SOURCE: Chiang Rai Times | Bangkok Post
Keep in contact with The Thaiger by following our
Facebook page
.
Never miss out on future posts by
following The Thaiger
.
9 arrested for allegedly embezzling more than 2.8 billion baht from Railway Club Cooperative funds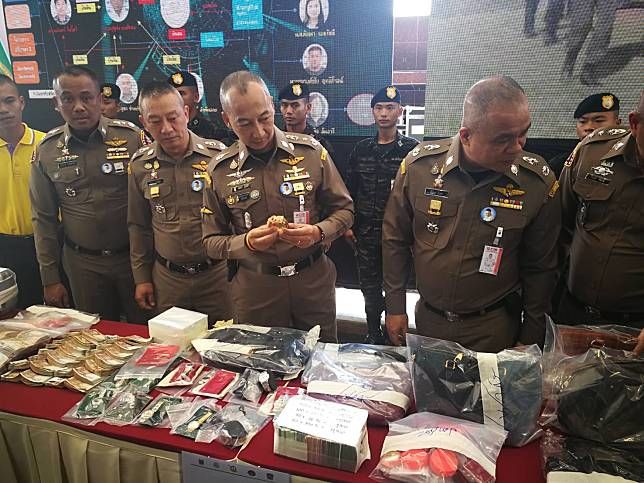 Police arrested 9 people involved in the Railway Club Cooperative, including the former chief, on collusion charges for allegedly approving loans behind closed doors to embezzle a total of 2.8 billion baht from members' funds.
Officers from the Central Investigation Bureau have been investigating since June 30 of last year. Investigators say the suspects approved loans without calling meetings for the roughly 2,300 cooperative members and used falsified documents to take out loans of about 15 million baht each.
When reviewing loan approvals made between January 2012 and November 2016, investigators say they found loans given to a hotel, housing estate, resort and property project. They say loans were also used to buy luxury cars and other valuables.
Officers from the bureau along with the Department of Special Investigation and the Anti-Money Laundering Office recently raided 26 locations in Bangkok, Phetchaburi, Samut Prakan and Nonthaburi. Officers seized a total of more than 10 million baht as well as luxury cars.
The 9 suspects face charges of colluding in theft, falsifying documents, using fake documents and money laundering. Along with arresting the cooperative's former chief executive, 70 year old Boonsong Hongthong, police arrested committee members 49 year old Pimpa Rodrassamee, 31 year old Orchanok Sa-ngadsap, 59 year old Weerachai Srisawat, 69 year old Surat Srisawat, 37 year old Prapat Srisawat, 44 year old Supakit On-aree, 63 year old Preecha Thanapairin and 40 year old Natyanit Mahachot.
SOURCE: Bangkok Post
Keep in contact with The Thaiger by following our
Facebook page
.
Never miss out on future posts by
following The Thaiger
.
Bangkok woman arrested for allegedly stealing 1 million baht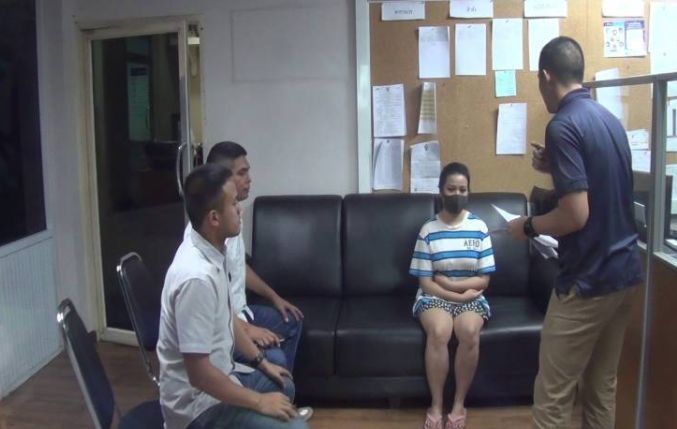 A Bangkok woman was arrested on fraud charges for allegedly stealing a company checkbook and withdrawing 1 million baht. The 29 year old woman, identified as Krissadee, worked in accounting for a clothing design firm in the city's Ekkamai area.
Apparently, shortly after she was hired, Krissadee suddenly stopped showing up for work. The company then noticed the checkbook was missing as well as a million baht from the company account.
In an investigation, Khlong Tan police found Krissadee made cash withdrawals. She allegedly told police that she used the money to pay for trips and gambling expenses.
SOURCE: Thai Visa
Keep in contact with The Thaiger by following our
Facebook page
.
Never miss out on future posts by
following The Thaiger
.
Monk arrested for alleged involvement in large methamphetamine delivery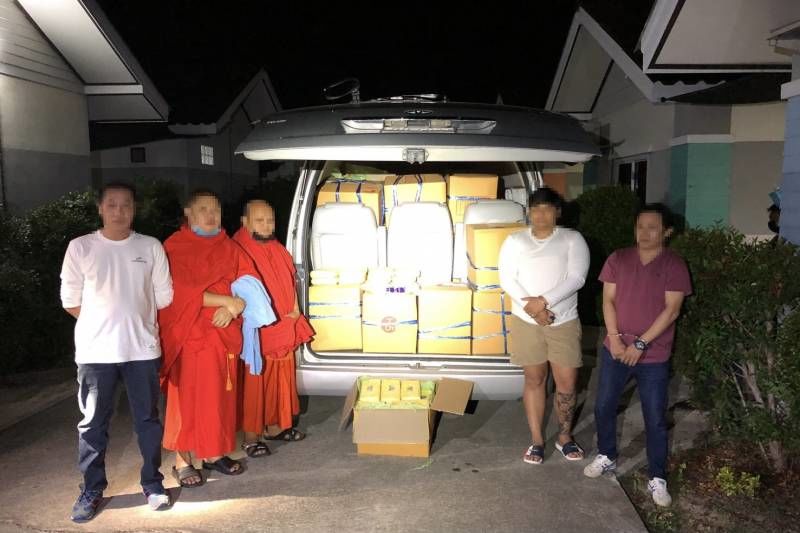 Police arrested a monk on drug charges and seized 4.8 million methamphetamine pills from a resort in the Central Thailand province Chai Nat. The man, a senior monk from Chiang Rai, was allegedly hired to help deliver large qualities methamphetamine 3 times and paid 300,000 baht per delivery. The monk allegedly told police that he needed the money to enroll in a master's degree program.
A photo shows the monk standing in front of a van packed with boxes. Along with the 4.8 million methamphetamine pills, police found a gun with 14 bullets and 11 mobile phones. According to Thai media, it was a significant drug trafficking bust, cracking down on a large network in the Chiang Dao and Chai Nat area. The monk allegedly sat in the van during deliveries to "trick" police and avoid getting searched at police checkpoints.
SOURCES: Chiang Rai Times | Thairath
Keep in contact with The Thaiger by following our
Facebook page
.
Never miss out on future posts by
following The Thaiger
.