Covid-19 Coronavirus UPDATE: Global pandemic, Italy cases soar, new Chinese cases plummet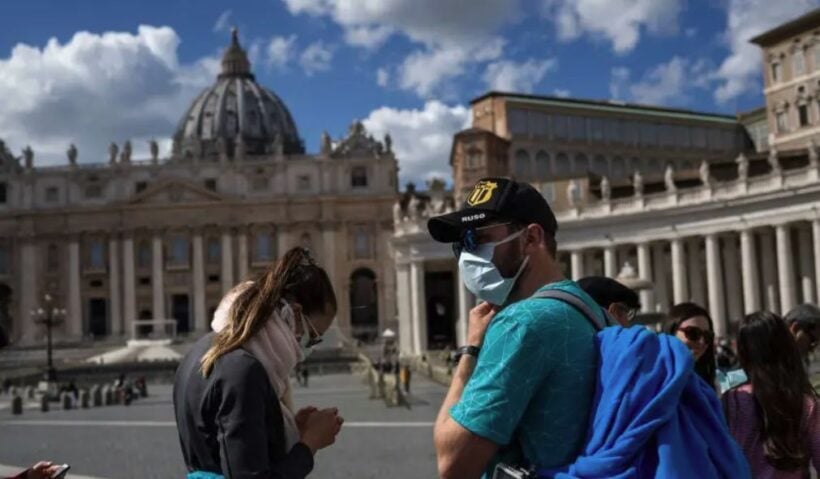 As the World Health Organisation declares the Covid-19 coronavirus a global pandemic, there are now 126,380 cases, resulting in 4,634 deaths, with 68,310 people fully recovered. The focus of new outbreaks has moved away from China and to the European continent and the US. The current death rate is 3.7%.
Here are snippets of the latest news from around the world…
• Thailand now has a total of 70 Covid-19 Coronavirus cases with the announcement yesterday of six new confirmed patients and another 11 announced this morning. In their daily briefings the Thai Ministry of Public Health added that 34 cases had now fully recovered. One person has died of the disease in Thailand.
And Thailand confirmed eleven more cases of the virus today at a press conference from the Ministry of Public Health and the Department of Disease Control. The eleven were at a party in a single closed room sharing drinks and cigarettes with a Hong Kong national who has since returned to Hong Kong, officials stated to the press today. The party occurred around February 21. Officials are tracing and quarantining all contacts from the group.
• China's National Health Commission announced there were 15 new confirmed cases yesterday, with 8 of them in Hubei province. Across the country there was only a total of 18 new cases in the past 24 hours and 11 new deaths
• Malaysian authorities are trying to track down 5,000 citizens who could have been exposed to the coronavirus at a religious event in the suburbs of Kuala Lumpur. A 53 year old man from neighbouring Brunei, who had attended the event, was confirmed this week to have been infected by the virus. The religious event took place at a mosque between February 27 and March 1.
• Italy's confirmed cases reached 12,462, with a worrying death toll of 827. The country is now in a self-imposed quasi-lockdown, mainly focussing on the movement and behaviours of Italians around the country. But many countries have already
• France (2,281 cases) and Spain (2,277 cases) have both announced additional measures to try and curb the spread of the virus.
• Belgium and Ireland reported their first deaths.
• India has now banned most foreign travellers until at least April 15. India has so far only confirmed 62 cases. The Indian government has suspended almost all visas and closed land borders with neighbouring Myanmar. Incoming visitors, including Indian nationals, who arrive or have visited China, Italy, Iran, South Korea, France, Spain, and Germany after February 15 will be quarantined for at least 14 days.
• At least 1,329 people in the US have tested positive for the virus, and at least 38 have died. The Governor of Washington has banned gatherings of 250 or more people in the Seattle area.
• Britain's health minister confirmed she tested positive, two days after she attended a reception at the official residence of UK PM Boris Johnson.
• European stick indexes fell yesterday. So did shares in Asia and on Wall Street. Asia stocks fell sharply in afternoon trade after the Dow Jones Industrial Average plunged into bear market territory overnight.
In Japan, the Nikkei 225 declined 3.3% while the Topix index fell 3.27%. South Korea's Kospi Index also plummeted 3.04%. Hong Kong's Hang Seng index fell 3.81%.
• US President Donald Trump said the USA is suspending all travel from Europe to the US for 30 days, and that the new rules come into effect on Friday night.
• Actor Tom Hanks and his wife Rita Wilson have tested positive for the coronavirus, Hanks confirmed via Instagram yesterday. They were in Australia for the pre-production of Baz Luhrmann's currently untitled Elvis Presley film from Warner Bros. Hanks is set to play Presley's longtime manager Colonel Tom Parker.
• Tech company Twitter has sent its 4,900 person workforce home. Employees from around the world have been told to work from home from now on. The move is "mandatory". Twitter says it has a "responsibility to support our communities, and those who are vulnerable." Twitter says they will continue to pay contractors and hourly workers who are not able to perform their duties while working from home.
• Australia unveiled a A$17.6 billion (US$11.4 billion) stimulus package to tackle the economic impact of the global pandemic on the Australian economy. Meanwhile, Australia's S&P/ASX 200 was down 5.51%.
• Guatemala has banned Europeans from entering the country.
Keep in contact with The Thaiger by following our
Facebook page
.
Did an Issan woman get coronavirus for a second time?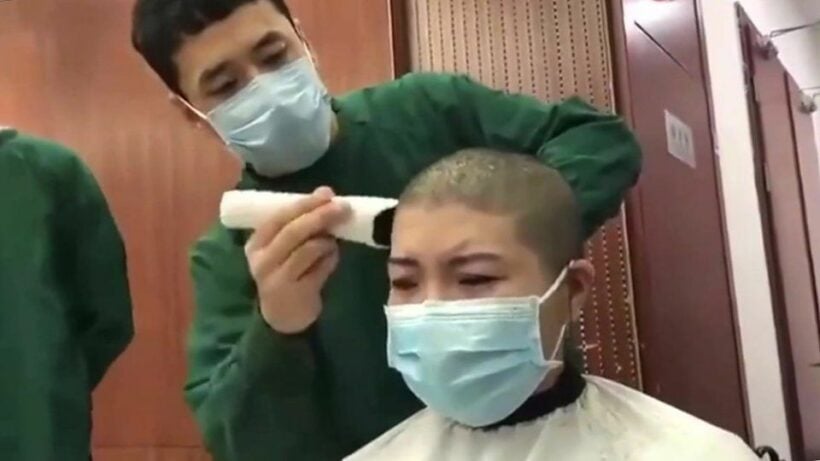 A 38 year old woman from Thailand's northeastern Chaiyaphum province in the Issan region appears to have contracted the Covid-19 coronavirus for a second time, after she was 'cured' of the virus in Bangkok in the middle of March.
The woman, who in March had only recently returned from overseas, was found to be infected with the virus and was admitted to Phyathai 2 Hospital in Bangkok. She apparently made a full recovery and was discharged, and soon returned to her hometown.
But somewhere around April 3-5, she became sick again and went for a test. The result showed that her throat was infected with Covid-19.
A similar case involved a 42 year old construction worker who returned from Qatar on April 2.
Both cases are now under treatment in local hospitals, and authorities are trying to trace people who might have been in close contact with them. Doctors in New York now believe its possible for the virus to lie dormant in patients who've been treated
A report yesterday showed that Chaiyaphum currently has 109 Covid-19 patients. 8 were new cases. The local government has asked its residents to strictly follow curfew directives to limit the spread of the virus.
Testing remains the core of identifying patients with Covid-19 but there have been cases of false positives that may lead to apparent re-infections.
SOURCE: The Nation
Keep in contact with The Thaiger by following our
Facebook page
.
Trang province to ban entry, exit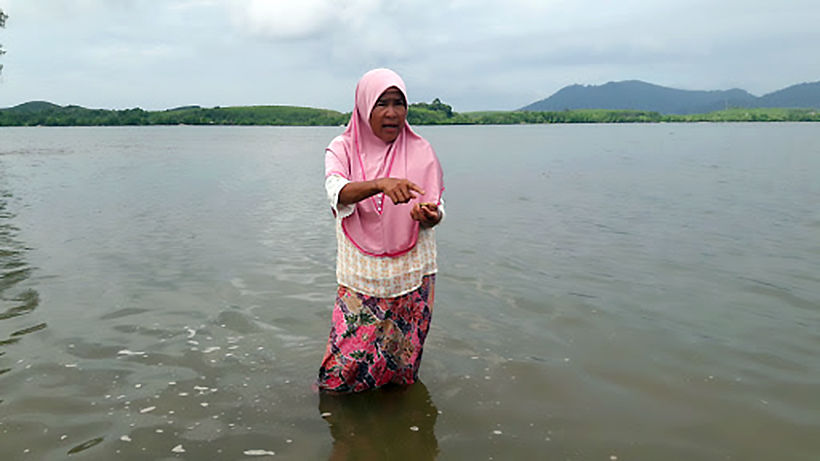 Joining other provinces such as Pattaya and Phuket, the southern province of Trang will ban entry and exit from tomorrow until April 30. The decision was announced by the province' Communicable Disease Committee today.
No one will be allowed to enter or leave the province, except for the transport of medical personnel, goods, fuel, and parcels. It will also close most retail outlets, except supermarkets, pharmacies, banks and telecom shops.
Trang residents who return to the province will be allwed to enter but will be quarantined for 14 days.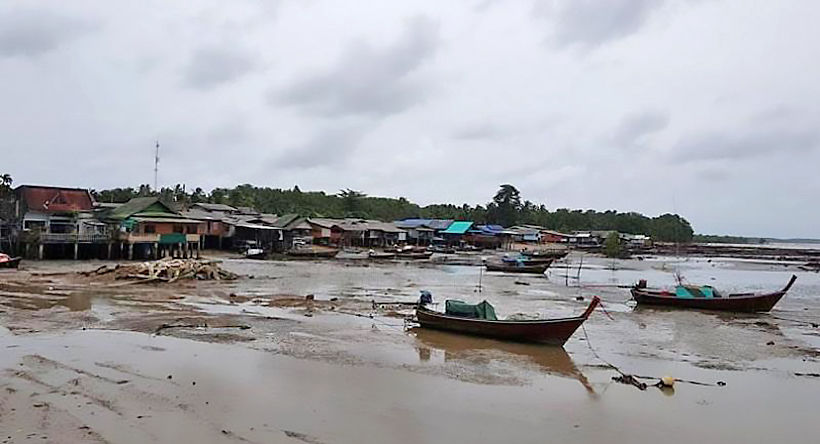 Phuket sealed its land and sea borders two weeks ago and will close its airport tomorrow. Pattaya went under a state of "restricted access" as of this afternoon.
SOURCE: The Nation
Keep in contact with The Thaiger by following our
Facebook page
.
Phuket will launch door-to-door coronavirus checks across the island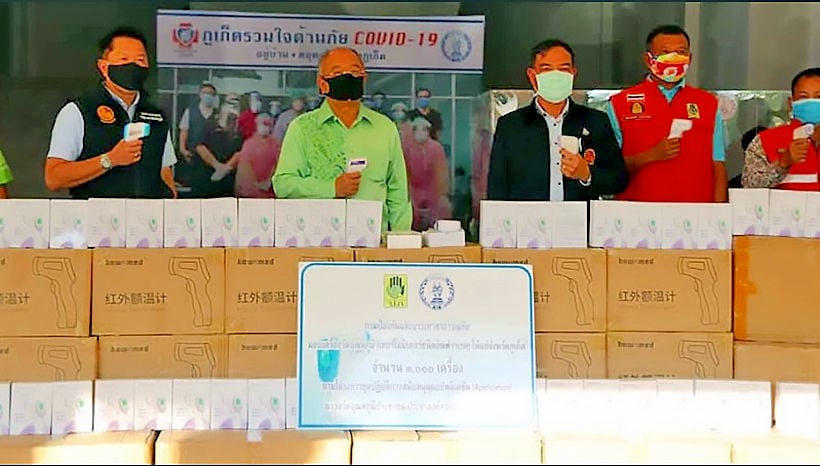 Even as it prepares to restrict travel between its 17 tambon (subdistricts), the southern island province of Phuket is set to become Thailand's first to launch door-to-door checks of body temperature. The aim is to identify infected people early so they can seek treatment before their symptoms become severe, and potentially end up infecting other Phuketians with the Covid-19 coronavirus.
Phuket's Governor Phakaphong Tavipatan announced the news during a ceremony where he was given 3,000 infrared thermometers from the Department of Disaster Prevention and Mitigation.
In Phuket to present the devices to was the depatment's regional director Udomsak Khao Nuna.
The governor thanked Udomsak for the delivery, and said Phuket will be the first province where every household will be checked for possible infection of the deadly virus, which as of today has infected 2,423 people across Thailand, resulting in a total of 32 deaths so far.
"The 3,000 infrared thermometer that we received will be given to teams of volunteers comprising health volunteers, civil defense volunteers, members of the public and village headmen, who will knock on every household door to check people's temperatures to help prevent the spread of COVID-19."
The thermometers will be used together with a mobile phone application to report the teams' findings.
SOURCE: The Phuket News
Keep in contact with The Thaiger by following our
Facebook page
.