9 new Covid-19 cases in quarantine, 2 reinfections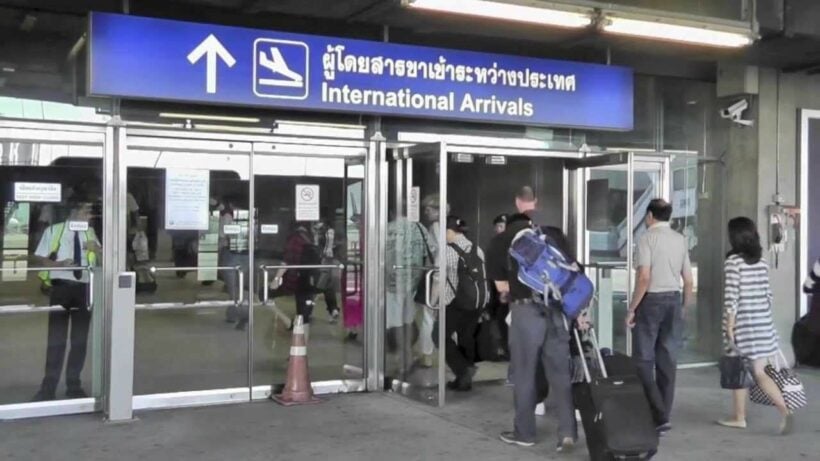 9 new Covid-18 cases were detected in quarantine, according to the Centre for Covid-19 Situation Administration. All the cases are asymptomatic and 2 cases are apparent reinfections. The total number of confirmed Covid-19 cases is raised to 3,861 with 3,697 recoveries with 60 deaths. 104 people are currently receiving medical treatment for the coronavirus.
3 people travelling from Switzerland tested positive for Covid-19. A 52 year old Thai woman and 2 Swiss men, ages 74 and 76, arrived on November 6 and tested positive 5 days later while at an alternative state quarantine hotel in Bangkok.
A 37 year old Indian engineer travelling from the Philippines with a layover in Hong Kong tested positive for Covid-19. He arrived to Thailand on November 6 and tested positive 5 days later.
A 45 year old Indian woman travelling from India tested positive for Covid-19. She arrived on November 7 and tested positive 4 days later.
A 43 year old Kuwaiti man travelling from Kuwait tested positive for Covid-19. He arrived on November 7 and tested positive 3 days later.
A 43 year old French man travelling from France tested positive for Covid-19. He arrived on October 30 and tested positive 12 days later. The man was previously infected with the coronavirus in September.
A 66 year old British man travelling from the United Kingdom tested positive for Covid-19. He arrived on November 6 and tested positive 5 days later while at an alternative quarantine facility in Bangkok. He was previously diagnosed with the coronavirus on October 16.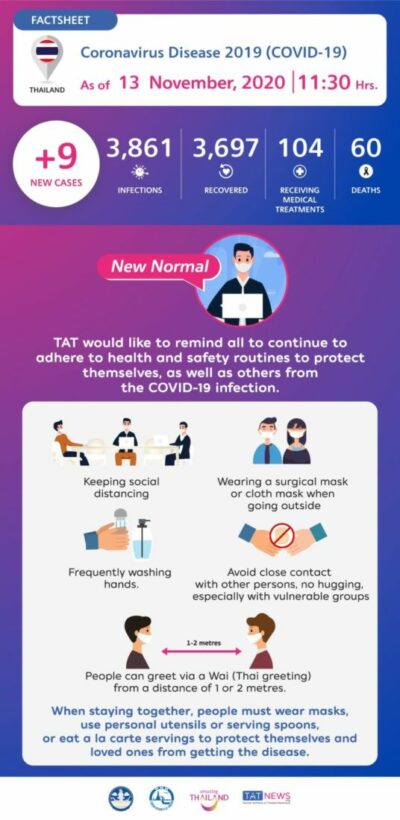 SOURCES: Bangkok Post | Nation Thailand
Catch up with the latest daily "Thailand News Today" here on The Thaiger.
Keep in contact with The Thaiger by following our
Facebook page
.
Never miss out on future posts by
following The Thaiger
.
Thailand eyes first half of 2021 for production of AstraZeneca vaccine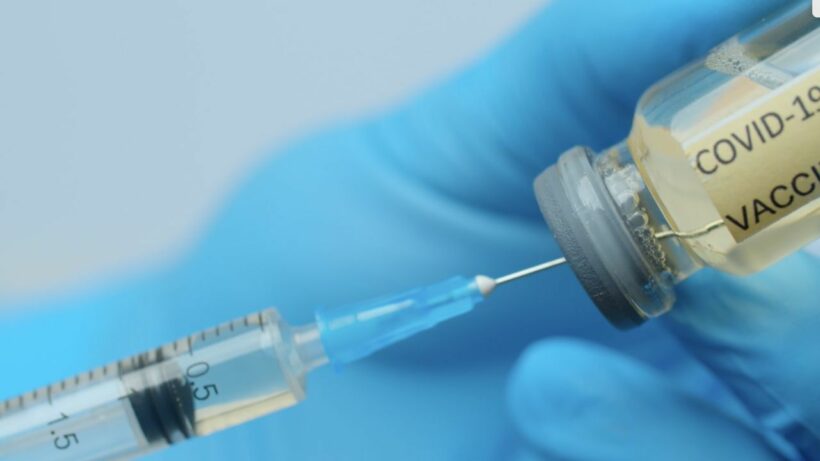 Thailand hopes to begin production and administration of AstraZeneca's Covid-19 vaccine during the first 6 months of 2021. As part of a technology-transfer agreement signed by the Thai government, Siam Bioscience will be provided with the information for vaccine production. It then hopes to register the vaccine with Thailand's Food and Drug Administration within the next 6 months.
The pharmaceutical group hopes to manufacture sufficient doses for Thailand and its ASEAN neighbours during the first half of next year. Nation Thailand reports that the initial plan is to produce 26 million doses for 13 million Thais. It's understood the company has the means to manufacture 180 – 200 million doses a year, or 15 million a month. Opas Karnkawinpong from Thailand's Disease Control Department says the country will need around 2 million doses a month, with the rest being exported to neighbouring countries.
Next month, the Vaccine Board is expected to confirm the priority groups who will receive the vaccine first. They are thought to be the elderly and those with underlying conditions, the same categories prioritised for the flu vaccine, and those most at risk of developing serious complications from Covid-19.
Research released this week shows that the AstraZeneca vaccine, developed in conjunction with Oxford University in the UK, has an efficacy rate of 70%, which increases to 90% if it's administered first as a half-dose, then a full dose. The pharmaceutical giant is now in the process of submitting its results for approval by the Food and Drug Administration, both in the UK and Europe. The company says it wants to be able to distribute the vaccine to the world, at a rate of 3.1 billion doses a year.
Meanwhile, Australian carrier Qantas has confirmed it will require passengers to show proof of vaccination, once international travel resumes.
SOURCE: Nation Thailand
Keep in contact with The Thaiger by following our
Facebook page
.
Never miss out on future posts by
following The Thaiger
.
No vaccine, no entry – the world's next travel challenge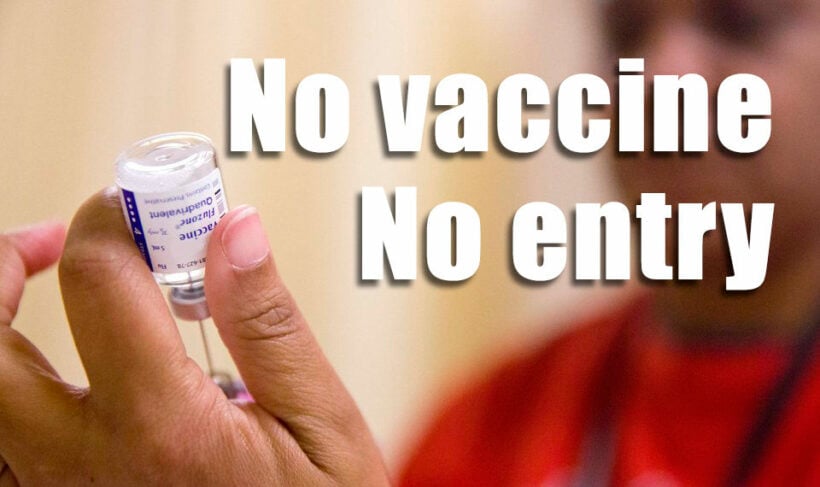 OPINION
UPDATE: Australia's national airline has already said it will impose "proof of vaccine" on all inbound and outbound international flights, a situation that IATA says they are likely to follow. Read more HERE.
ORIGINAL POST: With the announcements this week about several vaccine candidate trials, either being completed or at the end of their Phase 3 testings, and the applications to government bodies for 'emergency approval', we now have to face the next question.
What restrictions will be imposed on those people who don't have the vaccine, or even actively choose not to have the vaccine?
And more locally…
Will Thailand allow people to enter Thailand without first having the Covid-19 vaccine?
Given the Thai Government's low-risk strategy, well almost zero-risk strategy, and reluctance to take any chances with a second wave of Covid 19, it is highly likely there will be a stipulation that anyone entering Thailand will need a vaccine certificate or stamp in their passports.
Couple this with the Thai population's continued fear of allowing foreigners back into the country at this time, in poll after poll, and it's a safe bet there will be a "no vaccine, no entry" restriction imposed.
On a positive note, the Thai government may drop the 14 day quarantine for people that have had the vaccine (but not in the early days).
At this stage we know that most of the vaccine trials have had a 95% efficacy. We also know that the leading BioNTech/Pfizer vaccine needs an original jab plus a booster and has to be transported at extremely low temperature.
To complicate matters, there is not yet sufficient evidence that having had a bout of Covid-19, whether asymptomatic or not, guarantees you immunity. Or, if it does, for how long?
All these factors will mean that some level of quarantine will probably be in force as the Thai government slowly re-opens its borders to a wider groups of vaccinated travellers. This would remain in force until the world has a better knowledge of both the proven efficacy of the vaccine, or vaccines, and the re-infection rates.
So, even if we start getting groups of the world's populations vaccinated before the end of the year, and that's still a very big IF, there's a lot more water to pass under the bridge until a coherent, reliable vaccine strategy can be understood and implemented.
Then there will be a rump of people, either hard core anti-vaxxers, or others who are at least skeptical of a new vaccine, who will want to wait or not want the vaccine at all. Public education, some strong science and a successful roll out of the early vaccines will be a key to winning over a lot of the world's population.
Somehow governments and health authorities are going to have to wind back much of the disinformation floating around the internet about vaccines that is so factually out of whack with reality, it's going to be one of the greatest public health challenges of all time, to reassure people about the science of vaccines and vaccination.
All this, in the middle of a pandemic that, for now, is still on the ascendency as far as new cases and deaths are concerned.
But there is little doubt rejoining the world of international travel, even local travel, could become restricted to only those who are vaccinated. The rest will be stuck roaming around their own countries, or states, for… years with a raft of restrictions on their lives. Who knows.
Will shopping centres or public buildings also impose a "no vaccine, no entry" policy? Hotels? Public buildings? Job applications?
On top of the economic stress which has fallen on a lot of the world, with so many governments now facing the headwinds of deep recession, the vaccine 'haves' and 'have nots' will add even more public disquiet.
At this stage nobody is sure how the vaccine will be rolled out in Thailand. The Thai government has already signed up for several of the leading vaccine candidates and will most likely provide the vaccine for free to citizens under its public health system.
What does that mean for foreigners living here? If you are covered, with a work permit, under the country's public health, are you able to get the vaccine for free too? Will the thousands of foreigners on private health insurance be covered?
Surely the insurers will want its customers to be vaccinated. Sick customers cost them money. So, will insurance renewals be limited to only people who have been vaccinated? Will visas be renewed only if you have been vaccinated?
At this stage there are no firm answers to any of these questions.
Added to all this confusion, there is more than one vaccine, and some of the vaccines work in a different way than others. So do airlines and governments and shops and hotels and bowling alleys allow one vaccine through their doors but not another?
We're certainly now entering a new phase of this pandemic. New challenges, new questions. The rising numbers of cases throughout 2020 is only the first chapter of a book that will be many more years in the making.
Keep in contact with The Thaiger by following our
Facebook page
.
Never miss out on future posts by
following The Thaiger
.
Thailand may have to wait for US vaccines from Pfizer and Moderna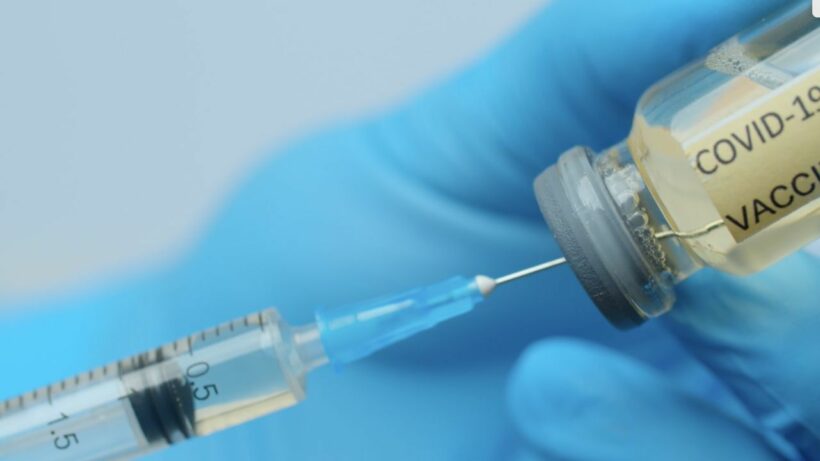 As news that US may acquire its first shipment of Covid vaccines in mid-December, Thailand may have to wait to share the vaccines as they will likely be made available to the US and Japan first, before the rest of the world. Pfizer and Moderna recently announced their vaccines were about 95% effective, with some countries starting to preorder the vaccines despite shipment challenges that include maintaining a low temperature during transport.
Already, the US and Japan have preordered 300 and 120 million doses respectively, according to Kiat Ruxrungtham, the director of Covid-19 vaccine research and development project of the Faculty of Medicine at Chulalongkorn University. But Thailand may have other options as Kiat said 11 other pharmaceutical companies are developing the vaccine that could be distributed on a large scale. Out of Thailand's 7 potential Covid-19 vaccines, 2 have successfully completed the animal testing stage and will proceed to human testing starting in April 2021.
However, Kiat says BioNet-Asia Co's vaccine may be lagging behind due to the short supply of vaccine precursors, as many have been bought by bigger companies. He adds that a team has been testing Cu-Cov19, an mRNA vaccine, on macaques at Chulalongkorn University's National Primate Research Centre in Saraburi with BioNet-Asia being the centre's partner.
He said the project does not had sufficient funding from the government, but the state is finding ways to preorder vaccines from Covax, a company working with the World Health Organization and cooperating with AstraZeneca and Oxford University.
Today, Thailand's CCSA reports 2 new imported cases of Covid, 1 of which is a 5 month old Indian baby girl, bringing the total number of cases to 3,922 with 0 new deaths. The Centre for Covid Situation Administration reported that the girl arrived on November 11 on the same flight as 2 previously confirmed cases. The baby tested positive 5 days later, while displaying symptoms such as a fever and vomitting.
SOURCE: The Phuket News
Keep in contact with The Thaiger by following our
Facebook page
.
Never miss out on future posts by
following The Thaiger
.