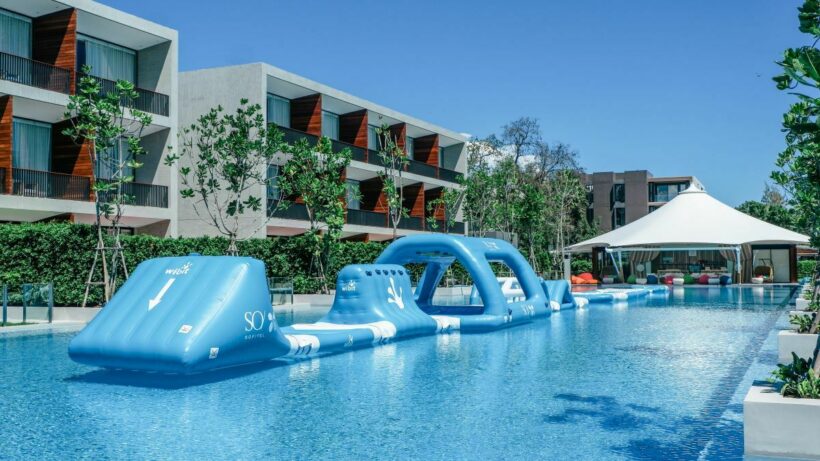 Sponsored Article
Escape with your better half and stay sequestered away in a pool villa world of your own. Escape with the family for a lively weekend of fun and games. Make it the great escape with friends for exclusive events and parties. SO Sofitel Hua Hin affords a mix of quiet seclusion along Cha-Am Beach as well as some captivating diversions just 2.5 hours from Bangkok.
The newly launched SO Explorer guest experience programme highlights two nearby attractions – Khao Nang Phanturat and Nayang Bat Cave – located 12 and 10 minutes respectively from the resort.
Take a break from the beach and head up to Khao Nang Phanturat, a forest park named after the mythical giantess whose hands can be seen reaching out of the sand on the beach in front of SO Sofitel Hua Hin. The lush forest park offers two trails – a 300 metre lower trail that takes just 15 minutes to complete, and a full 3.5 km trail looking out over limestone mountains and sparkling sea.
Accommodation
There are 109 rooms, suites, and villas, each one designed in either the SO Arty or SO Nature style and, with depending on location in the resort, offering the ultimate escape for couples of families. All guestrooms are equipped with full facilities to provide maximum comfort such as rainshowers, MyBed™ with sleep menu for a fabulous night's sleep, plus the latest cutting-edge technology sound system, complimentary Wi-Fi and a complimentary in-room private bar.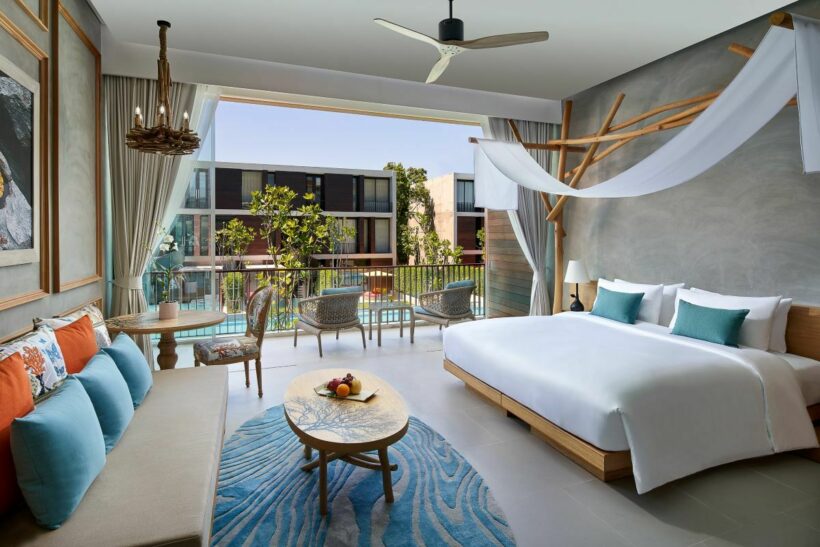 Well-being
SO/ SPA
At SO/ SPA, SO Sofitel Hua Hin invites guests to experience the quintessential spa experience. Here, guests experience the power of ancient wellness traditions and new-generation skin care cosmetology to recharge and refresh before emerging as beautiful, and free, as a butterfly.
Signature treatments include the SO Rejuvenating Facial, a luxurious facial treatment which combines a specially blended formula and the latest French skincare techniques; and the SO Exhilarating Body massage, a euphoric and soothing body massage to shape and tone the silhouette.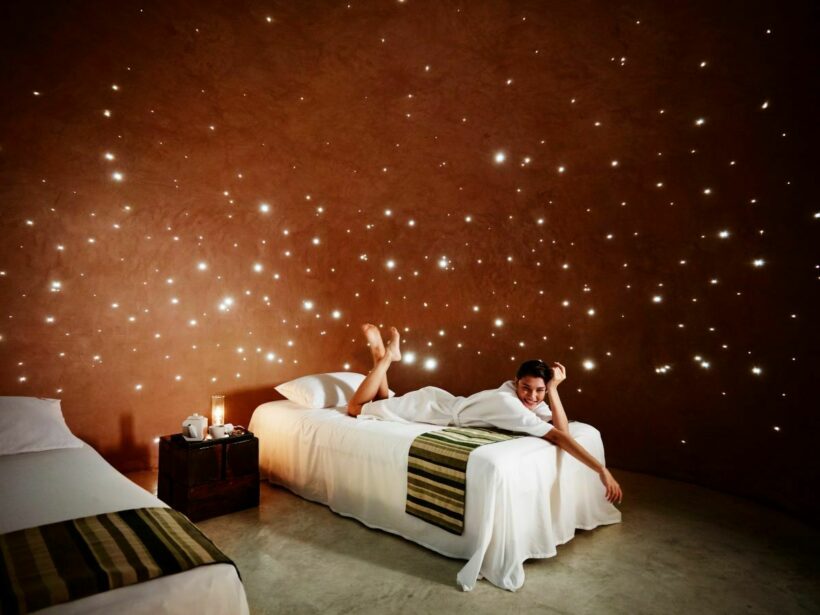 Open daily from 9AM to 9PM
SO/ FIT
This compact fitness center is engineered for maximum wellbeing and features state-of-the-art equipment from Technogym and a modern holistic approach to traditional exercise. Located next to SO/ SPA, the gym is open around the close to ensure that guests always look and feel their best. Release all tension and experience a breath of fresh air for your mind and body.
Yoga by the Beach
The morning yoga class is available at Beach Lawn every weekend at 8AM by well-trained instructor. Yoga mats are provided in every guestroom.
Activities
Pools
SO Pool – A spacious outdoor swimming pool located right on the beach front with sun beds and cabanas for your sunshine day or a playful and fun family time. Solarium Pool – An outdoor picturesque swimming pool located in the center of the resort with colorful umbrellas perfect for one fine day with your loved one. Signature Pool – SO Sofitel Hua Hin's main pool is a large 16 by 60 meter watery playground anchored by a Wibit inflatable water pool adventure course running down the middle of the pool and overseen by trained lifeguards. A dedicated 5 by 5 meters shallow kid's pool area on one end is bordered by SO Sundae poolside ice cream and snack bar to ensure a splashtastic time for all.
Tennis & Basketball Court
The multipurpose tennis and basketball court located next to SO Sundae and SO Wonderland Adventure Golf, the challenge is depending on the level of game you bring, equipment are provided free-of-charge.
Pickleball Court
Bounce and hit, Pickleball is the combination of badminton, tennis, table tennis together to create funs activities which surely sweat you away.
Bicycle Tracks
Feel the wind through your hair as you explore the resort on two wheels on a dedicated 2.2 kilometer-long bike path which goes around the mini golf adventure and around the resort. Adult and children bikes are available for rent.
SO Wonderland Adventure Golf
Double, double, toil and trouble – enchantments burn and good times bubble! Players follow the bunny down the rabbit hole and escape to the 3,600 sqm SO Wonderland Adventure Golf. Styled as an enchanted forest, golfers are sent on a mission to help Viola the Witch gather ingredients at each of the 18 holes to bring the stone animals back to life.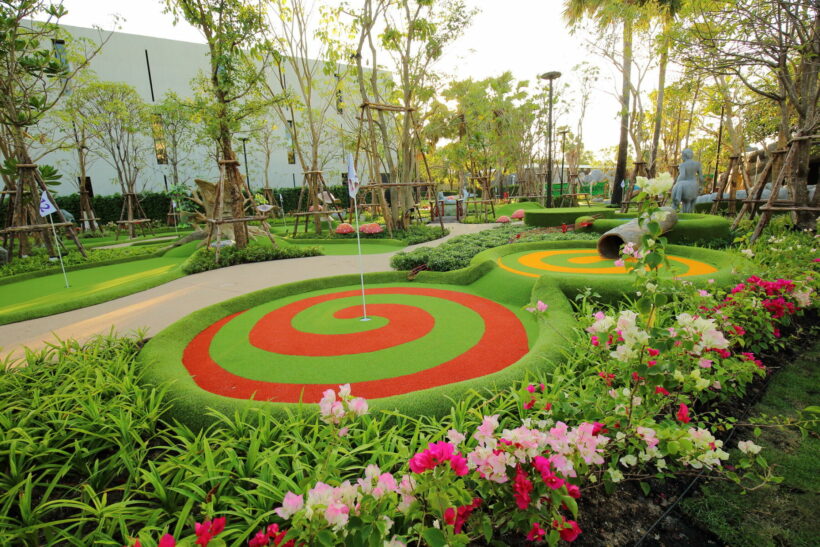 Dining and Parties
Beach Society
Discover new beach dining experiences at Beach Society. Beach club by day and refined restaurant by night, Beach Society offers two distinct vibes for lunch and dinner. With open-air seating steps from the sea, gentle breezes and stunning views over the Gulf of Thailand, Beach Society is the perfect destination for a leisurely lunch date or a sophisticated dinner experience.
White Oven
Designed around its eponymous white oven, the comfort dining restaurant serves international breakfast buffets and authentic Thai cuisine exquisitely revisited to showcase the gifts of the garden, the sea, and the artistry of the chefs.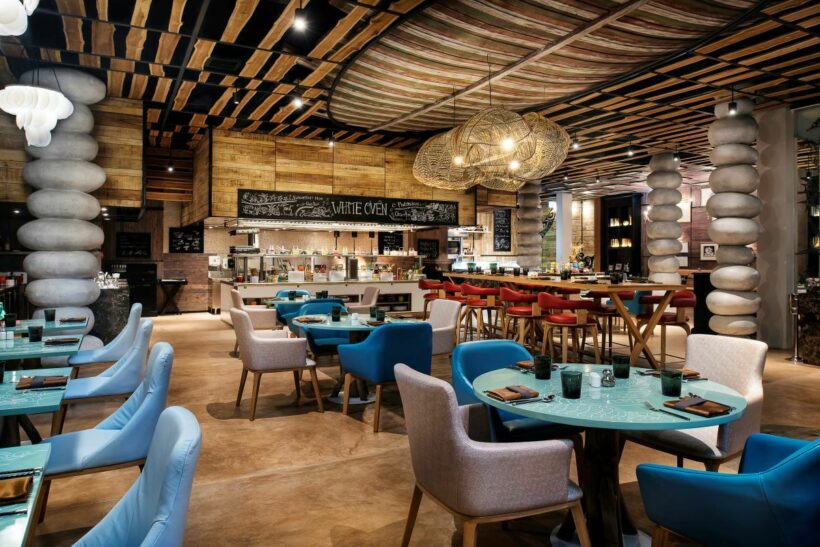 SO Sundae
Cool off at the tent of happiness next to the Signature Pool, where light bites, dessert, imaginative flavored ice cream and for-adults-only popsicles provide the perfect refreshments for a fun day in the sun.
HI-SO Bar
The picturesque and panoramic rooftop bar is a place to chill, socialize and takes Instagram photos of the magnificent view while sipping cocktails crafted by the master mixologist. Take your time to challenge your friends on a party game with fusbal, pool or air hockey.
Signature Parties
SO Sofitel Hua Hin's playful and audacious brand character extends to surprising events and social experiences. SO Beach Party attracts high profile movers and shimmiers from around the country, while monthly parties offer a winning combination of happy vibes.
Highlight event – Fisherman at SO
SO Sofitel Hua Hin showcases the fruits of the sea, offering guests a glimpse into the region's traditional livelihood with "Fisherman at SO".
At the unique boat-to-table experience, a local fisherman from a nearby villa presents fresh fish, squid, crabs, and other catch of the day, sustainably caught fresh from the waters of the Gulf of Thailand. Resort guests take their pick of live seafood from the fisherman's beachfront stand, after which they have the choice to have it prepared to their liking. The talented chefs at White Oven and Beach Society gently coax the subtle flavours of the fresh seafood whether guests prefer their dish steamed, grilled, red curry, or pepper sauce.
Kids Entertainment
Bring the whole family and share in the joys of a creative escape. SO Family rooms, SO Family Kids Houses, and SO Family Suites all come with a fun bunk bed for fun-loving children, while pool access rooms make it easy to keep an eye on the kids from the private terrace. A dedicated kids menu available in the room service menu keeps little taste buds happy and provides the fuel for endless mini adventures.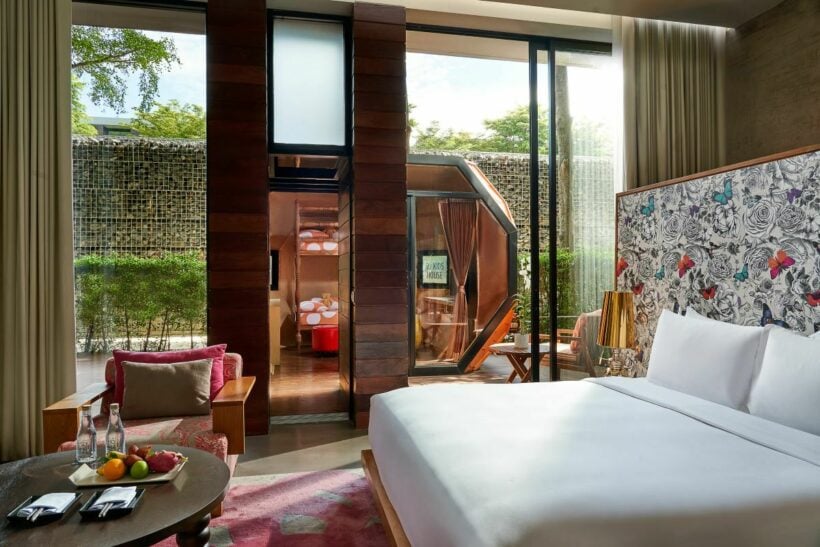 Kids Tent
The 74 m2 kids club near the Signature Pool provides a gathering place for the playful creatures around the resort to meet and mingle with little guests. Fun activities and entertainment are offered in a safe setting under watchful supervision. Inside the air-conditioned space, safari styling and plush seating invite little escapists to join in a led crafts activity, dive into the ball pit, play PS4 or Nintendo Switch games, or sit back and enjoy an age-appropriate movie. A program of activities tailored for kids include recycle crafts projects, kids' yoga, and sand painting. Outside, a purpose-built playground outside features slides, swings, and a rubber surface floors for ouch-less spills, while older kids can battle it out on the life-sized chess board at the Rabbit Lawn.
For kids 4 – 10 years old (kids under 4 must be accompanied by a parent or guardian)
Seasonal Events
The destination boasts many cultural and leisure events, including an annual Jazz Festival with famous international and local artists, the Cha-Am International Kite Festival and Vintage Car Festival. Every December, SO Sofitel Hua Hin also hosts SO Beach Fest, a celebration event of arts, craft beer and music.
Airports
Hua Hin Airport is at 25 km from the hotel with capability of landing private propeller plan or private jet. The resort can also arrange airport transfers to and from both Suvarnabhumi International Airport (Bangkok International Airport) and Don Mueang International Airport in Bangkok, which are located 200 and 195 kilometers away respectively.
Address:
115 Moo 7 Tambol Bangkao, Amphur Cha Am, Phetchaburi 76120 Thailand
Tel: +66 (0) 32 709 555 Fax: +66 (0) 32 473 190
Email: H9649@sofitel.com
Website: www.so-sofitel-huahin.com
Facebook: www.facebook.com/SOSofitelHuaHin
Instagram: www.instagram.com/SOSofitelHuaHin
YouTube: www.youtube.com/SOSofitelHuaHin
LINE: @sosofitelhuahin