Monk builds Buddhist pagoda on Koh Pha Ngan out of beer bottles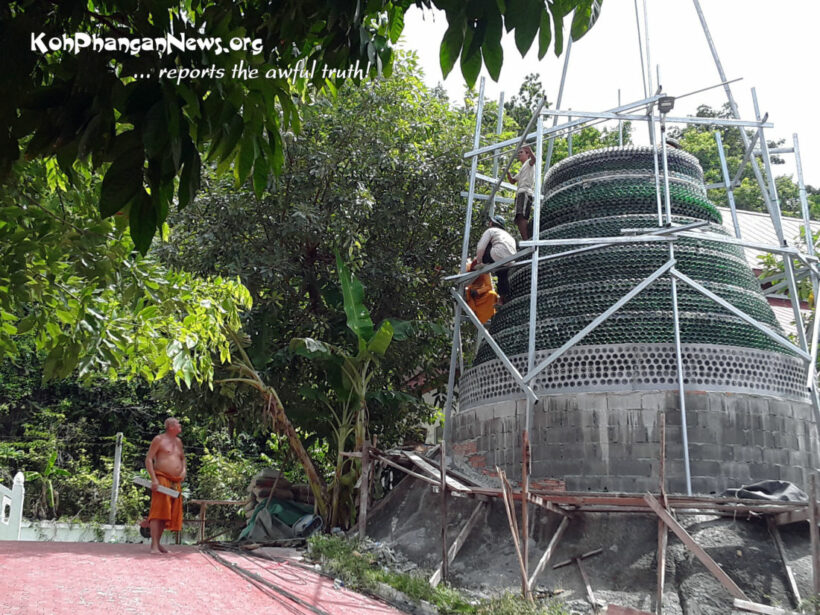 PHOTO: kohphangannews.com
When Buddhist monks have to figure out the gritty engineering problems to construct a pagoda for their spiritual enlightenment, they have to consider using bricks, timber, concrete, or maybe even beer bottles. When you're building a pagoda on Koh Pha Ngan you have a ready supply of beer bottles from the monthly influx of tourists for the Full Moon Party.
According to kohphangannews.com, many bars and resort owners on the Gulf island donated them happily to a monk at buddhist temple Thong Nai Pan. The monk now in the middle of constructing a 10 metre tall pagoda out of them, along with plenty of concrete to glue them all together.
The beer pagoda project will be completed in a few months and will be a display of what the island's party crowd unwittingly contributed to the culture and spiritual enlightenment of the locals, along with the other "spiritual enlightenment" tourists consume during the monthly Full Moon festivities.
SOURCE: kohphangannews.com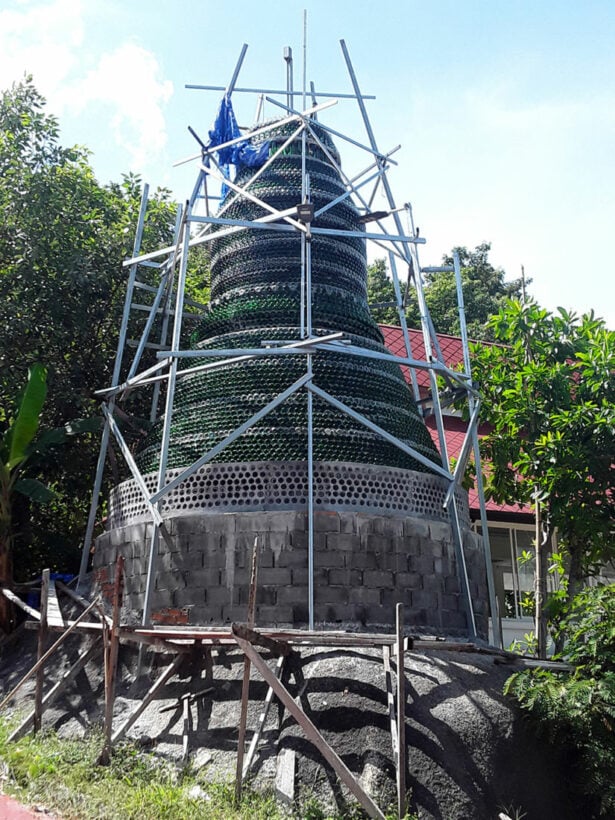 📱 Download our app on Android or iOS for instant updates on your mobile
📧 Subscribe to our daily email newsletter
👍 Like/Follow us on Facebook
🔔 Subscribe to or Join our YouTube channel for daily video updates
Thailand's Gulf islands not immune to 3rd wave as infections rise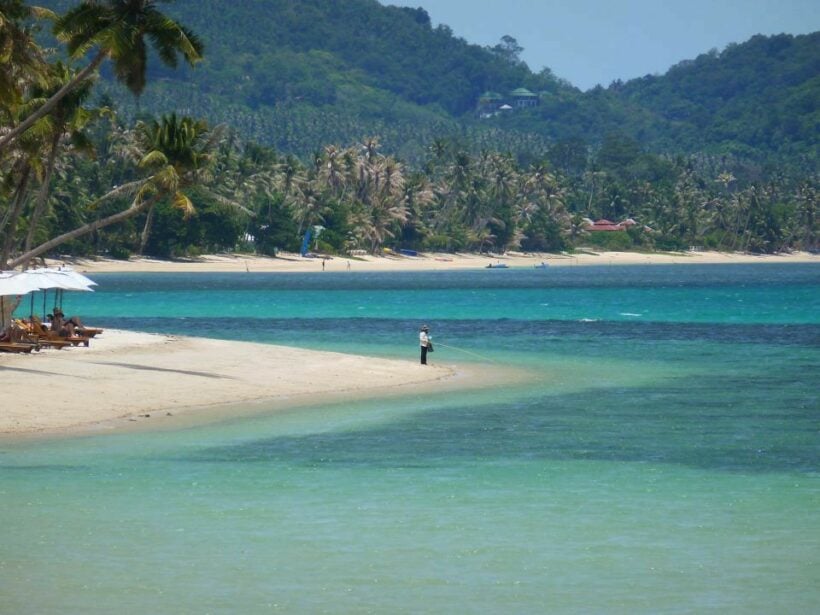 Thailand's 3rd wave of Covid is leaving no stones unturned, as it has recently spread to the Gulf Islands of Koh Samui, Koh Pha Ngan, and Koh Tao. The Ministry of Public Health is reporting 83 new infections as of yesterday, April 16. A local blogger, Samui Info By Nicha's Facebook page, has also detailed the new infections as the daily numbers are rising.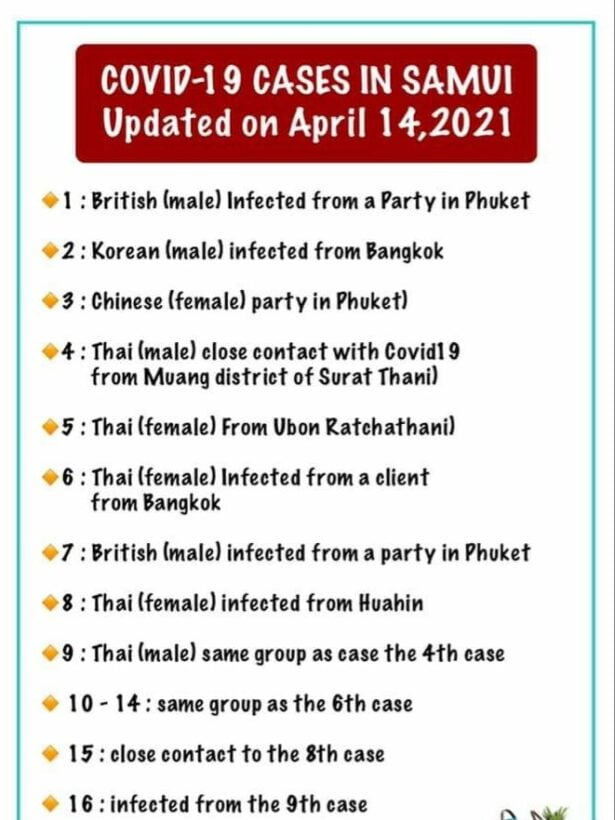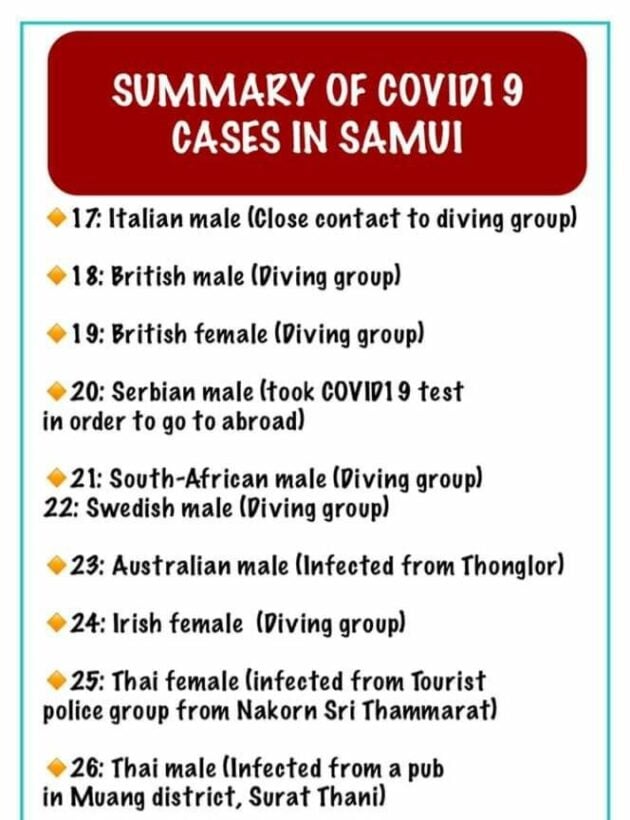 The other popular Gulf Islands of Koh Pha Ngan and Koh Tao are reporting 2 and 3 new infections respectively. All of the new infections on those 2 islands have been admitted to Koh Pha Ngan Hospital.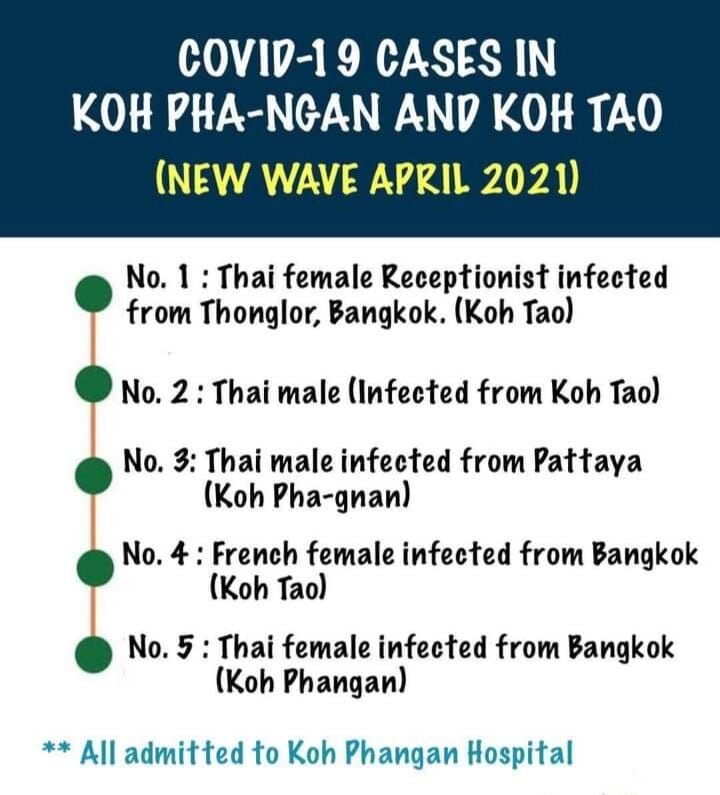 The CCSA has placed Surat Thani province in the Orange Zone category, along with the rest of the provinces that are not listed in the Red Zone. Those provinces in the Orange Zones must adhere to nationwide restrictions along with closing restaurants by 11pm.
• No curfew but reduced travel and movements, particularly at night time from 23.00 hr to 04.00 hr
• No alcohol may be sold or consumed in restaurants
• The closure of all entertainment places, such as pubs and bars
• Any gathering of more than 50 people is prohibited
• All educational institutions will be closed for in-class learning, as well as amusement parks and indoor playgrounds
• All shopping malls must close at 21.00 hr
The Public Health Ministry in Surat Thani has also detailed a timeline of the new infections in Koh Samui. Popular places as The Secret Garden, Karma Beach Resort, Treehouse Restaurant, FitKoh gym, and The Shack, have seen visitors test positive for the Covid-19 virus. Details from the Public Health Ministry are below in Thai language.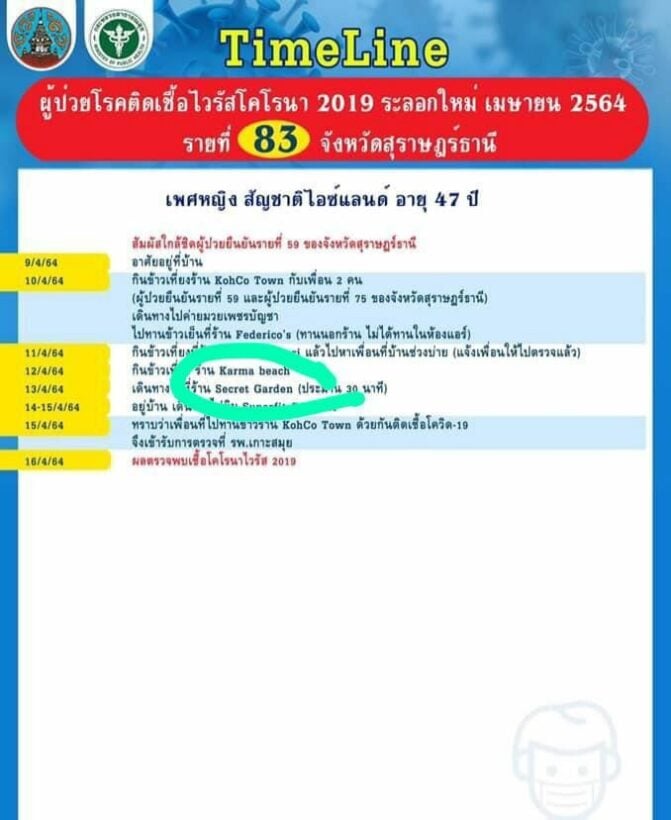 Meanwhile, despite Koh Samui planning on following Phuket's Sandbox July reopening model, it looks like any reopening plans are being delayed due to the 3rd wave that has hit nationwide. Authorities say the 3rd wave's epicentre is that of Bangkok's nightlife venues, which have seen visitors to those areas spread the virus throughout the Kingdom.
Now, the health service is setting up emergency covid beds, a total of 90 in Surat Thani, 40 Samui and 50 Pha Ngan.
SOURCE: PR Surat Facebook/Samui Info By Nicha Facebook
📱 Download our app on Android or iOS for instant updates on your mobile
📧 Subscribe to our daily email newsletter
👍 Like/Follow us on Facebook
🔔 Subscribe to or Join our YouTube channel for daily video updates
25,000 people injected with Covid-19 vaccine this week in Koh Samui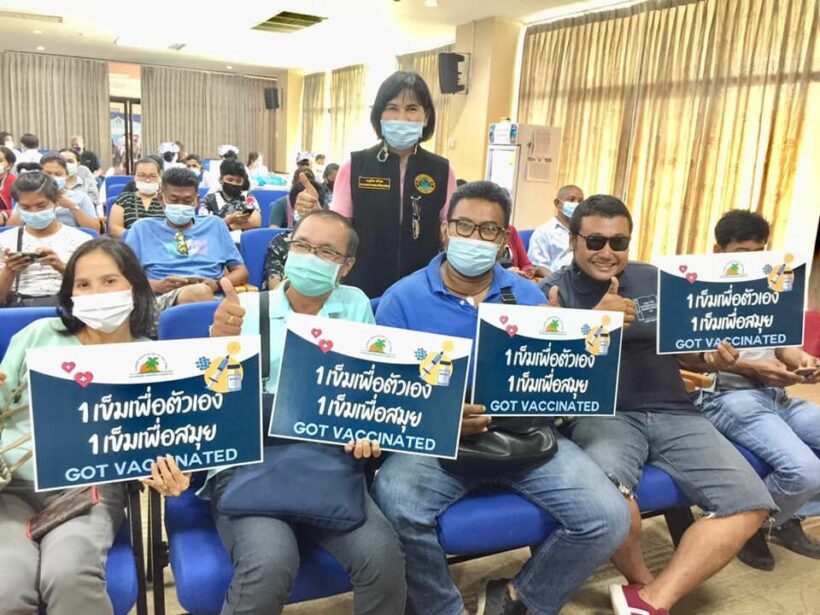 This week, 25,000 people in Koh Samui have been injected with the Covid-19 vaccine. The island plans to vaccinate 70% of its population by July to reach 'herd immunity' and reopen the tourist destination to vaccinated travellers, following the Phuket 'sandbox' model.
The vaccines were offered to the general public, including expats, at Rajabhat University, Bangkok Hospital Samui, Central Festival and Koh Samui Hospital. Yesterday was the last day for this round of injections, according to a post on the Koh Samui district Facebook page.
Reports from late last month say 50,000 doses were allocated to Koh Samui and a recent report from Pattaya News says another 50,000 doses would be distributed this week, vaccinating another 25,000 people on the island.
One expat, an English teacher on the island, says he waited 12 hours to get a vaccine at Rajabhat. He says luckily his school registered him and set him up with a queue ticket. But things were hectic, the queue numbers were called out in a random order and little to no information was given in English, he says.
The Tourism Association of Koh Samui plans to open up the island to foreign visitors in July, if everything goes to plan. Ideas for promotions are still up in the air, but the latest plan called "Samui Silk" would welcome vaccinated tourists who undergo a 7 day quarantine, the president of the Tourism Association of Koh Samui said, according to Pattaya News.
"Both tourists and locals can be reassured that the reopening is safe under the Samui Silk route. The plan will allow foreign tourists to arrive in Koh Samui and to perform state quarantine for 7 days.
If the tourists are proved negative, then they are allowed to leave the local alternative state quarantine and to travel at designated locations in Samui while locals can be reassured that all tourists are disease-free."
SOURCES: Koh Samui City Government | Pattaya News
📱 Download our app on Android or iOS for instant updates on your mobile
📧 Subscribe to our daily email newsletter
👍 Like/Follow us on Facebook
🔔 Subscribe to or Join our YouTube channel for daily video updates
Has the full moon set on Koh Pha Ngan's Full Moon Party?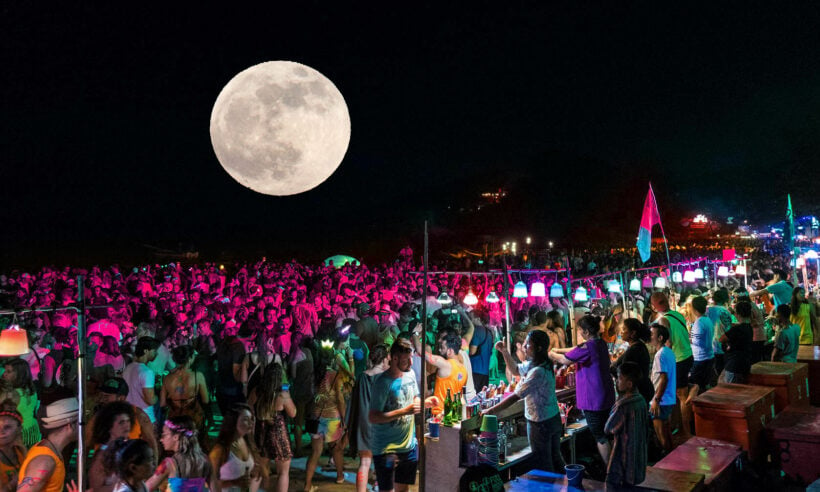 A full moon used to mean a full beach of party-goers along the Haad Rin strip on Thailand's Koh Pha Ngan. But it hasn't been like that for a year now as the Gulf of Thailand island waits out the restrictions and border closures caused by the Covid-19 pandemic.
The crowds of backpackers and revellers aren't flocking to the monthly event and the shops, bars and cheap accommodation along the tourist strip are shuttered and locked – some of the shop owners and staff will never return.
What started as a back-packer and hippy off-the-beaten-track adventure in the 1980s, in recent years attracted a broader clientele. It's still a difficult place to get to – either flying in to Koh Samui on the monopolised flights of Bangkok Airways and catching a ferry, or catching a ferry from the mainland of Surat Thani. Koh Pha Ngan now has a lot more to offer than just it's monthly party of bass-thumping beats and buckets full of…. well we don't really know what's in them (neither did the people who drank them).
The sound system was loud, but not very good, security is almost non-existent, good DJs are patchy and there's a general "it will be OK" attitude that pervades the organisation of the Full Moon Party. There have been different proposals put to the organisers over the years to bring the event up to international standard beach parties, but they've fallen by the wayside as the organisers argue "it it ain't broke, don't fix it". Koh Pha Ngan's monthly beach rave had its own special attraction despite any perceived or real quality lapses.
The south-east corner of the island actually has 2 Haad Rin beaches, one facing east for sunrises and the more famous, and longer, beach that hosts the monthly beach party.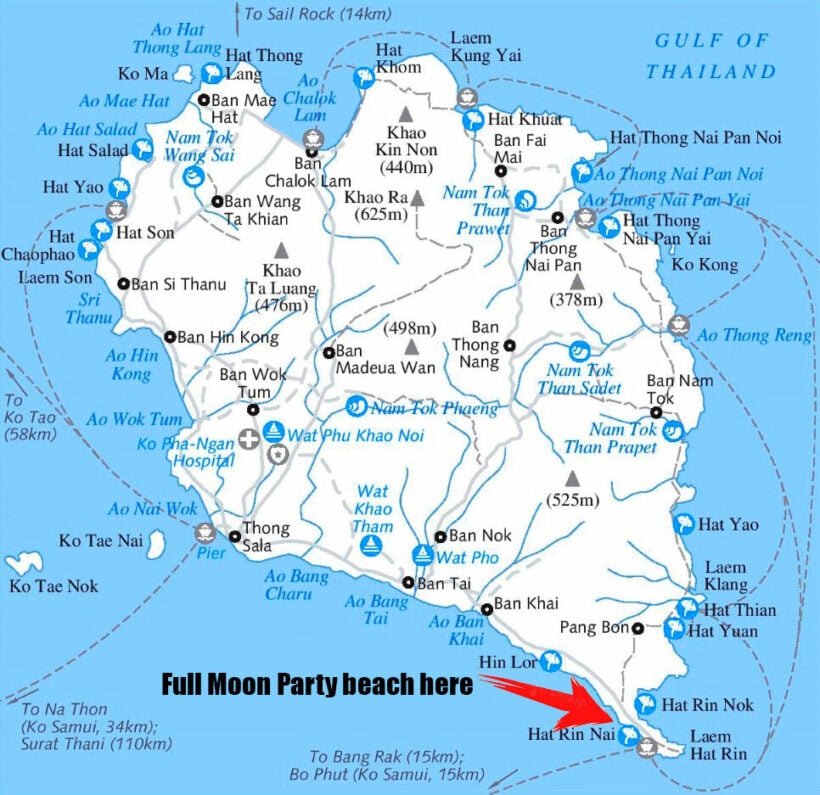 There's still a hippy vibe on the island with its numerous yoga and spa retreats but the businesses that remain are barely hanging on without the feature act that would book out most of the accommodation for the BIG night. The Full Moon Party attracted more than 50% of the one million visitors that headed to Koh Pha Ngan every year.
The party has also attracted plenty of bad publicity, as any huge beach party would – illicit drugs, alcohol abuse, sex crimes, the garbage left after each event. And even some cases of violence. But the vast majority of visitors to Thailand's Full Moon Party just had a damn good time!
A year-long break has allowed some reflection after nearly 4 decades of growth and popularity of the party. Locals and local businesspeople are wondering if there could be a Koh Pha Ngan without the Full Moon Party. Has the island outgrown the one-trick-pony that WAS the monthly beach rave? Could a more sustainable economy be built around wellness, spas and diving?
The island is part of a trio off the coast of Surat Thani. Koh Samui is the largest and most popular. But Koh Tao and Kho Pha Ngan have had their own share of publicity. Koh Tao with its diving and, latterly, some bad world publicity surrounding a high profile murder case and other mysterious misadventures to tourists. Koh Pha Ngan had its big party, and in the last decade or so, some excellent retreats concentrating on wellness, yoga and relaxation.
But the three islands all suffer the same core problem – an airline monopoly that makes trips to the archipelago expensive. Sure, there are ferry services but they are not 100% reliable and can take day out of your itinerary with delays, blah blah. The 3 islands have thrived despite the tyranny of distance and inconvenience. But they could have become much more mainstream if there was an open skies policy for flights to the island or the ferry infrastructure was improved. Perhaps one of the allures of the 3 islands is that they ARE hard to get to?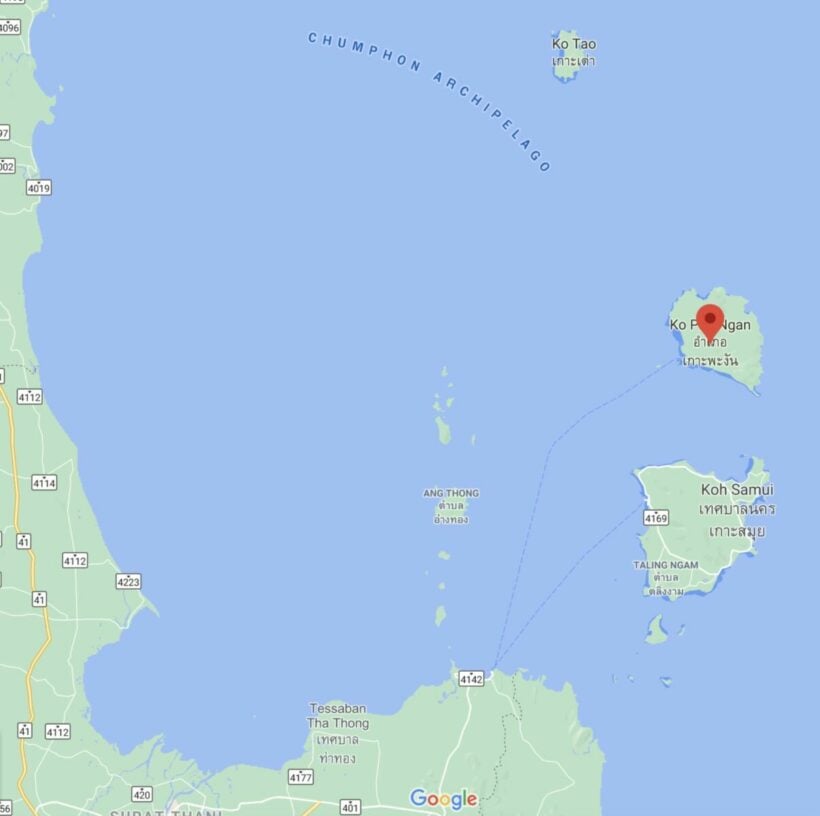 MAP: Google Maps
But despite the retrospection from townsfolk and businesspeople on Koh Pha Ngan, the needs of the many outweigh the needs of the few – the island simply cannot survive without the monthly tourist invasion, despite the challenges. Cutting off 20-30,000 monthly visitors, who usually stay for a few more days either side of the party, would be a fatal blow to the island's economy in the long term.
But the 12 month's rest for Haad Rin and the organisers will certainly bring some changes to the event. In the short term there will be mask-wearing and social distancing guidelines, a challenge for any alcohol-fuelled social gathering. And the problems of getting there will remain. But Koh Pha Nganians are sure that the event will not only survive but thrive once the tourists start coming again.
The locals are also sure there will be a greater appreciation for the island's natural beauty and the other tourist assets that need the same amount of investment and attention as the monthly beach party. Cutting off the island's main economic lifeline proved that Koh Pha Ngan needed to diversify its economy.
For now they're not sure when the tourists will start flowing back and the party resume, maybe later this year or 2022, but the beach will still be there.
And the full moon will again set in the Gulf of Thailand as the partygoers glance westwards.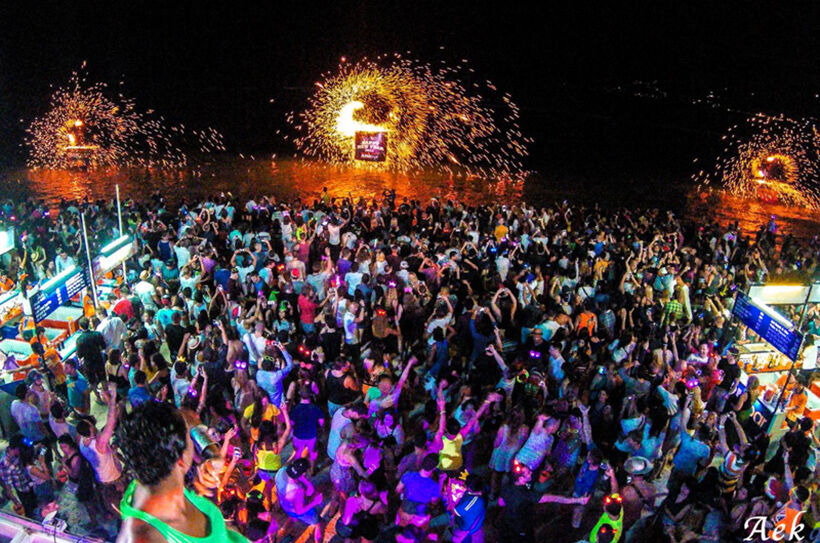 PHOTO: Koh Samui Travel
📱 Download our app on Android or iOS for instant updates on your mobile
📧 Subscribe to our daily email newsletter
👍 Like/Follow us on Facebook
🔔 Subscribe to or Join our YouTube channel for daily video updates