Koh Samui
Monk builds Buddhist pagoda on Koh Pha Ngan out of beer bottles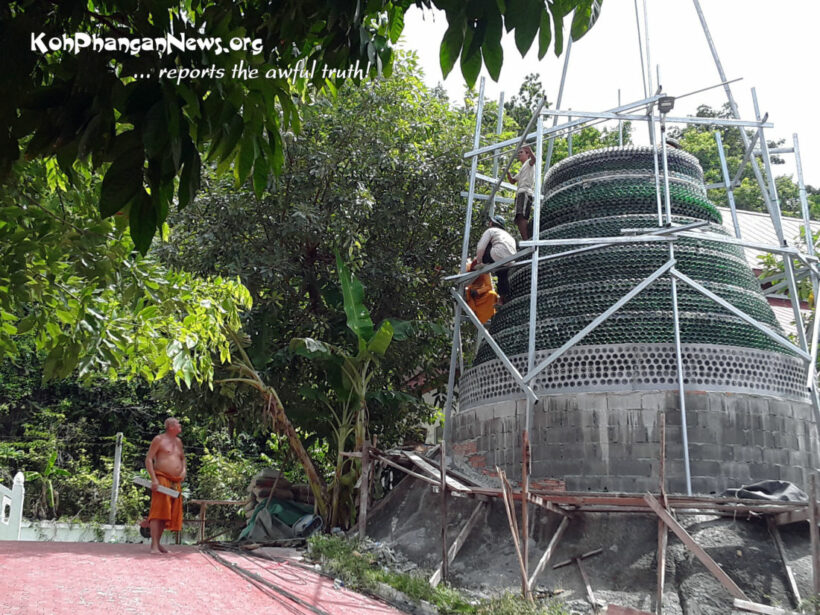 PHOTO: kohphangannews.com
When Buddhist monks have to figure out the gritty engineering problems to construct a pagoda for their spiritual enlightenment, they have to consider using bricks, timber, concrete, or maybe even beer bottles. When you're building a pagoda on Koh Pha Ngan you have a ready supply of beer bottles from the monthly influx of tourists for the Full Moon Party.
According to kohphangannews.com, many bars and resort owners on the Gulf island donated them happily to a monk at buddhist temple Thong Nai Pan. The monk now in the middle of constructing a 10 metre tall pagoda out of them, along with plenty of concrete to glue them all together.
The beer pagoda project will be completed in a few months and will be a display of what the island's party crowd unwittingly contributed to the culture and spiritual enlightenment of the locals, along with the other "spiritual enlightenment" tourists consume during the monthly Full Moon festivities.
SOURCE: kohphangannews.com