14 dead, 75 injured in southern Philippines suicide bomb attacks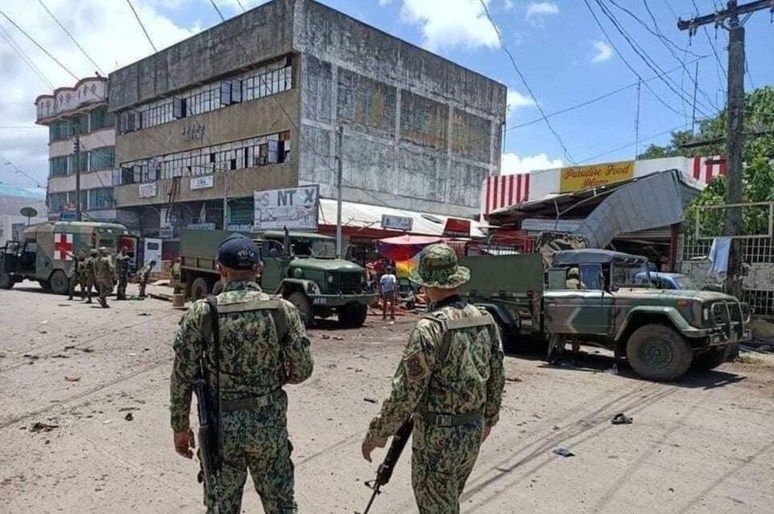 More violence in the southern Philippines as Islamic militants exploded powerful bombs in the region yesterday. At least 14 soldiers and civilians were killed, and another 75 injured, despite all the additional security – Islamic State militants have made threats in recent weeks.
At least 5 soldiers and 4 civilians were killed as a result of the first attack near a town plaza and a Roman Catholic cathedral. A bomb, attached to a motorcycle exploded around midday near 2 parked army trucks parked in front of retail shops in Jolo, Sulu province in the far south of the archipelago. The area is a predominantly Muslim province, amongst the predominantly Catholic country.
Then a second blast, reportedly from a female suicide bomber, occurred an hour later killing the bomber and a soldier.
A third unexploded bomb was found in a Jolo market. The entire town was then placed in a security lockdown by troops.
Nearly 40 soldiers, police and civilians were wounded in the bomb attacks, military and police officials said. There has been no claim of responsibility for the attacks, but the Philippines military are blamed an Abu Sayyaf militant commander for the sequence of bombs.
Like the southern part of Thailand, southern Philippines have been racked by decades of violence inspired by religious and ethnic tensions.
Military officials reported last week that Hatib Hajan Sawadjaan, a Filipino militant affiliated with the Abu Sayyaf, was planning to launch bombings in Sulu using 2 female suicide attackers. Army troops were trying to locate and capture Sawadjaan and the 2 bombers 2 months ago when 4 army personnel were stopped at a Jolo checkpoint and then shot and killed by police personnel. The army believe the encounter may have been a misunderstanding between the army and police forces but has ramped up the violence and the rhetoric ever since. The army has been unable to apprehend Sawadjaan.
Military officials are speculating that yesterday's bombings may have been staged as a retaliation for the arrest and detention of one of the groups' key leaders.
The Abu Sayyaf are a violent group that have aligned themselves with the Islamic State and been branded by the US and the Philippines as a terrorist group. They've been responsible for bombings, ransom kidnappings and beheadings in the southern region of the country.
Army officials believe that participant fighters of Abu Sayyaf have dwindled to a few hundred over the past few years. One of the key leaders of the group has been blamed for kidnappings and beheadings of hostages, including foreign tourists.
SOURCE: Thai PBS World
Keep in contact with Thaiger by following our Facebook page.
Never miss out on future posts by following Thaiger.
Vamco weakens into tropical storm, misses northern Thailand altogether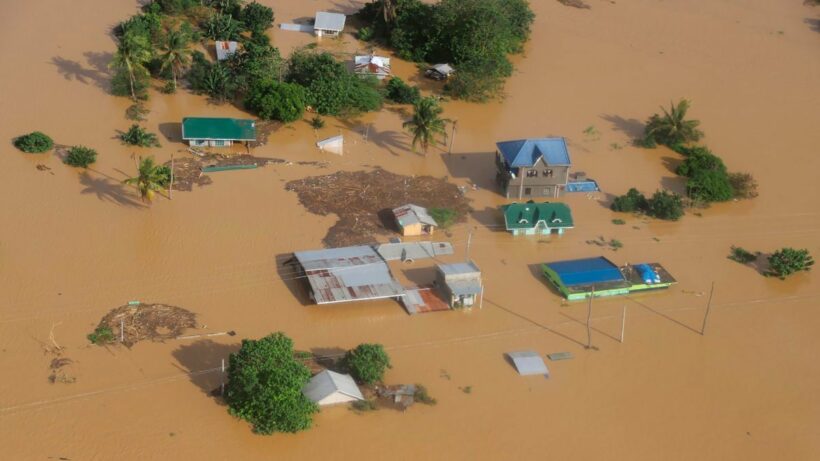 Typhoon Vamco, which killed some 67 people when it stormed through the middle of Luzon island late last week, has turned into a tropical storm which will have minor effects on Thailand's weather over the next few days. Isolated light to moderate rains will be likely over the Northeast and the North today as a result… Vamco will track on through northern Laos.
Category 2 tropical depression has been declined as the active low pressure over Pakxan, Laos. It is forecast to be dispersed upward. There remains isolated light to moderate rains likely over the Northeast and the North in the following next day. Farmers should prevent for crop damage.
Typhoon Vamco made landfall over Dong Hoi, central Vietnam yesterday, already weakened after its trip westwards across the South China Sea, becoming a tropical storm. The storm is forecast to continue to dissipate as the eye crosses Laos and may track north, completely missing Thailand.
Typhoon Goni swept across The Philippines just 10 days before Vamco cut its way through many of the same communities, bringing storm surges and destruction through low-lying mid-Luzon communities. Evacuations have dislodged over 500,000 people during the past 2 typhoons.
Watch a video of Vamco as it cut through The Philippines HERE.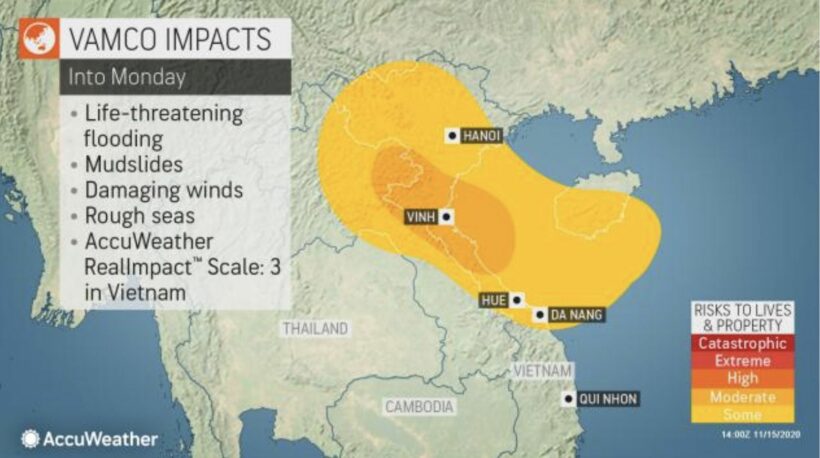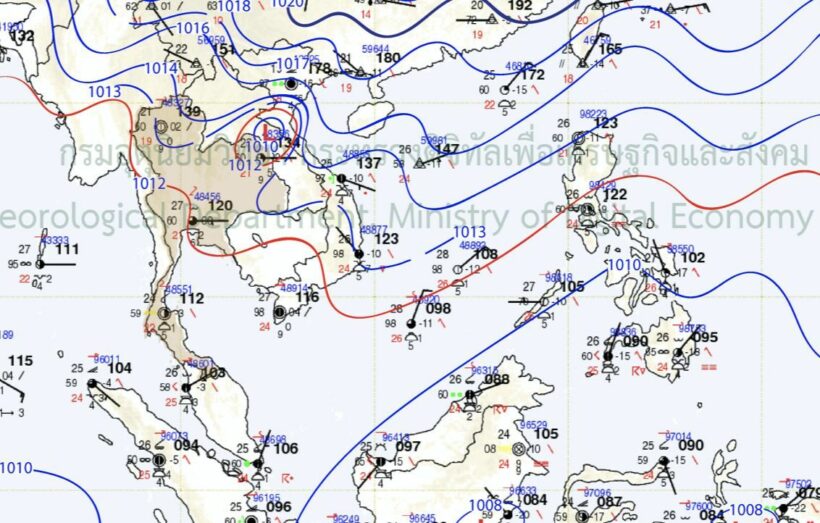 SOURCES: AccuWeather | TMD
Keep in contact with Thaiger by following our Facebook page.
Never miss out on future posts by following Thaiger.
Fair weather for Thailand's north east this weekend despite incorrect warnings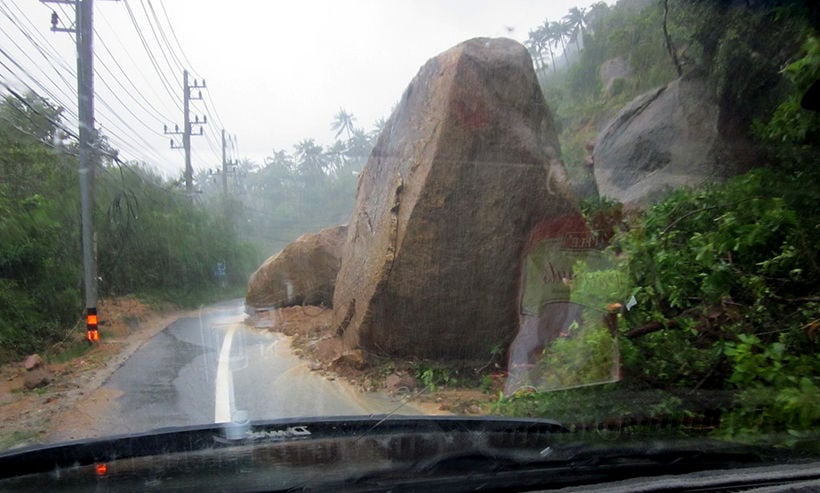 The Thai Meteorological Department has incorrectly forecast the tracking of the tropical storm 'Vamco', instead warning Thais to "brace for the impact of Typhoon Vamco over the weekend", according to Bangkok Post.

But the track of the storm is not even forecast to reach the far north of Thailand until late Monday or Tuesday, although there could be some rain and higher-than-usual winds in some locations. Indeed, the reliable forecast for many of the north eastern and northern Thai provinces for the forecast period is for mostly sunny conditions, according to AccuWeather (below).
As of yesterday, the Typhoon Vamco had killed at least 42 people in The Philippines, as residents returned to devastated homes following the worst flooding in years around Manila and nearby provinces. The typhoon cut a path similar to another typhoon just 10 days before, through the middle of the northern Luzon island.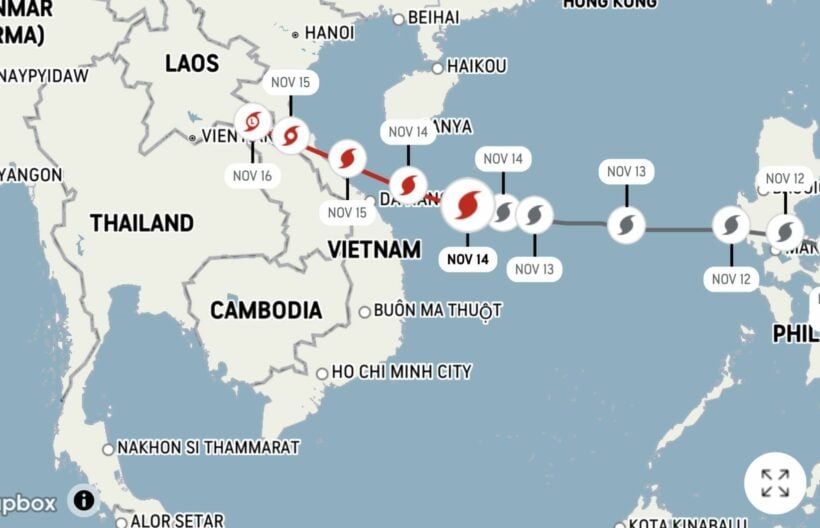 Tracking Vamco – AccuWeather

Weather.com – Khon Kaen

Weather.com – Chiang Mai
The Thai Meteorological Department noted that the eye of the storm yesterday was in the South China Sea, about 500 kilometres east of Da Nang in Vietnam and is expected to make landfall early morning Sunday. But the tropical depression will lose a lot of its impact once it crosses the Vietnamese coastline and tracks north westwards through Vietnam and Laos.
"It is expected to make landfall over Vietnam by 15 November 2020 and then downgrade, respectively. Isolated light to moderate rain is likely over the Northeast and the North, during 15-16 November 2020."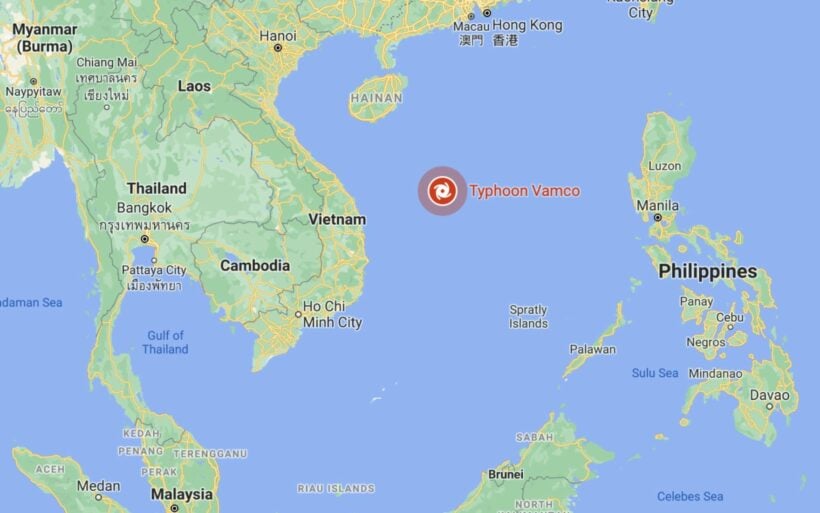 Meanwhile, heavy rain and have featured in the central south, including Koh Samui and Chumpon, flooding many areas. Areas in all eight districts of Chumpon province have been effected. Parts of the Asia Highway, running north-south, have been under water.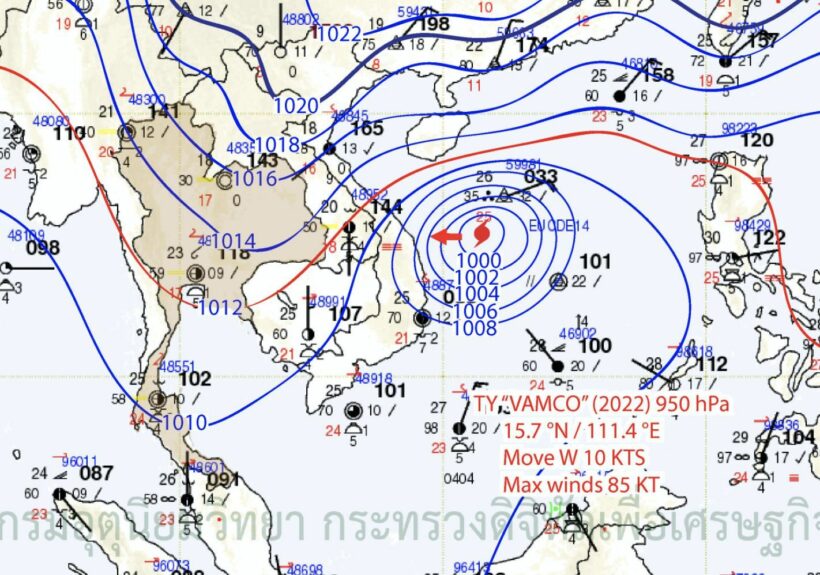 SOURCES: AccuWeather |weather.com | Bangkok Post | TMD
Keep in contact with Thaiger by following our Facebook page.
Never miss out on future posts by following Thaiger.
Vamco kills 7 as typhoon-weary communities mop up in northern Philippines | VIDEO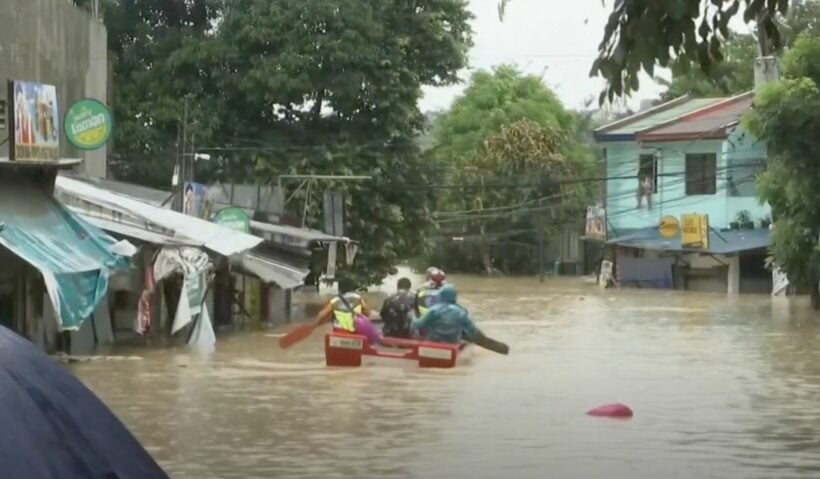 'Vamco', aka Ulysses in The Philippines, is now a severe tropical storm heading westward towards the central Vietnamese coastline after making landfall on The Philippines yesterday as the latest typhoon. At least 7 people have died and 12 others missing after Vamco made landfall on Wednesday night.
A 68 and 70 year old are among those killed. More than 180,000 people were evacuated before the typhoon battered the countryIn one of the worst typhoon years on record, Vamco barrelled into communities that were devastated by Super Typhoon Goni just 10 days before.
Typhoon Vamco was equivalent in force to a Category 2 hurricane or cyclone. It made landfall at 11pm Philippines time near Patnanungan, Quezon, then kept tracking westward, making another landfall in Luzon. The storm again caused flooding and 2-3 metres of storm surge and local landslides.
Philippine President Duterte cut short his attendance of an online meeting of south east Asian leaders to visit some of the damaged areas hit by Typhoon Vamco. His inspection followed a speech where he urged his fellow ASEAN leaders to urgently combat the effects of climate change.
The major typhoon, the 8th to hit The Philippines over the past 2 months and the 21st tropical storm of the year, pushed residents higher ground or to scramble onto rooftop of their houses awaiting rescue after 10s of thousands of homes were submerged.
People killed across The Philippine's main north island of Luzon, home to over half of the country's 109 million population, included people who drowned in the storm surges and flooding. Vamco struck areas still recovering from Typhoon Goni, the most powerful typhoon in the world this year. It killed 25 people and destroyed thousands of homes 10 days ago when it slammed into the same communities.
Vamco now heads towards the Vietnamese coast and is situated in the middle of the South China Sea, but has lost a lot of its power and is now rated as a sever tropical storm.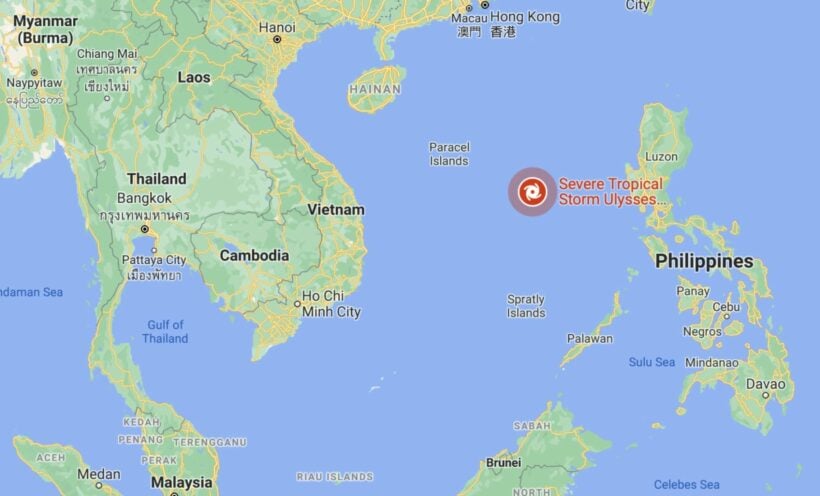 Keep in contact with Thaiger by following our Facebook page.
Never miss out on future posts by following Thaiger.