3 year old drowns at Blue Tree water park, Phuket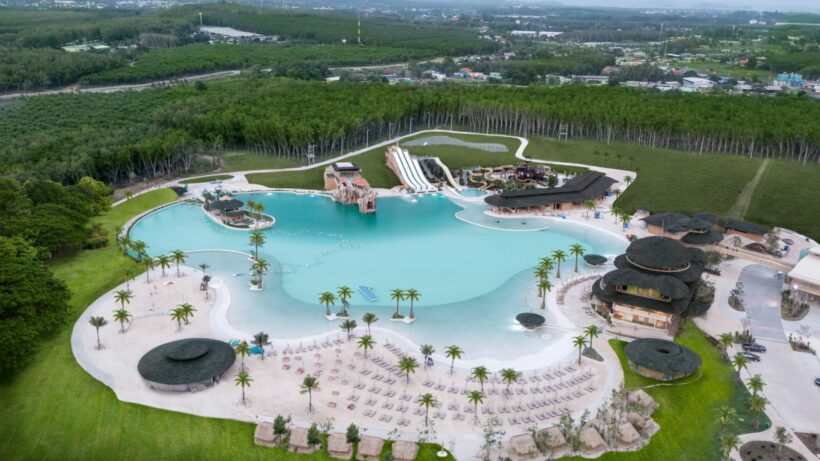 A three year old drowned yesterday at the recently opened Blue Tree water park and entertainment facility in Cherngtalay, Phuket. Although details are sketchy at this stage it appears the young boy, with a British father and Thai mother, wandered into one of the pools unattended yesterday afternoon.
The incident is said to have happened in the Landing Pool, an area at the bottom of the water slides.
Efforts to revive the boy were unsuccessful. It's also understood that the distraught parents visited the Thalang Police Station last night.
This is the state released by the management of Blue Tree Phuket, published in full…
"We are deeply distressed to say that there was a tragic accident today, February 23, at Blue Tree, Phuket. 
A three year old boy wandered into the Landing Pool area of the busy slide area this afternoon. He stumbled and fell under water after which he was spotted by one of the lifeguards on duty who came to his immediate assistance.
He was given mouth-to-mouth resuscitation and rushed to Talang Hospital by an ambulance that arrived promptly after being called. Sadly he could not be revived. 
The Landing Pool area is strictly for those coming down the slides. Sunday is a very busy day. There are highly-trained life guards positioned at the bottom of the slides to watch people coming down for the purpose of ensuring their safety.
His parents are understandably devastated and we continue to offer our support in any way possible. We are all deeply upset by this extremely sad incident.
Keep in contact with The Thaiger by following our
Facebook page
.
Jungceylon Phuket commences food ordering and deliveries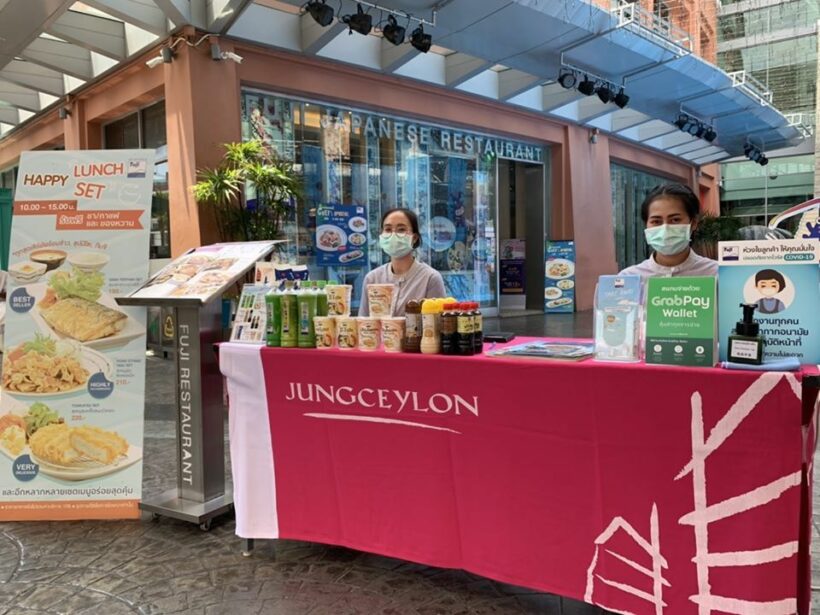 Jungceylon shopping mall, in Patong Phuket has established a 'food ordering & pick up' service point for all its restaurants and fast food outlets to increase convenience and safety for local residents in the Patong district. The mall is offering the service in partnership with 30 restaurants and chains, including…
AKA Japanese Restaurant, Baskin-Robbins, Dunkin 'Donuts, Four Seasons Restaurant, Fuji Japanese Restaurant, Haagen-Dazs, Jeffer Steak & Seafood, KFC, Kin Japanese Buffet Restaurant, Le Siam, MK Gold Restaurants. , On the table, Pizza Hut, Shabushi, Spice House, Starbuck's Coffee, Subway, Sushibox, Sweet Coconut, Sweet Mango, The Coffee Club, Wine Connection and Yayoi.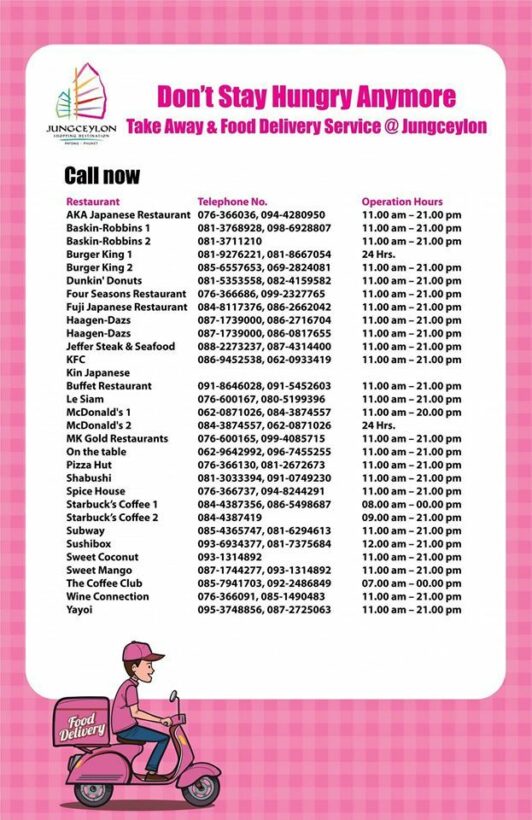 In addition, the mall is still open for necessities and services such as…
• Supermarkets (Big C Extra) from 09am – midnight
• Pharmacy (Boots and Watsons) from 11am – 9pm
• 7-Eleven convenience store, Burger King and McDonald's are also open 24 hours a day, for now
Measures to prevent exposure to Covid-19 are being implemented at Jungceylon.
For more information contact Juncylon on their web page HERE, or call 076-600-111
SOURCE: Andaman News Phuket
Keep in contact with The Thaiger by following our
Facebook page
.
Phuket reports 9 new coronavirus cases (Tuesday)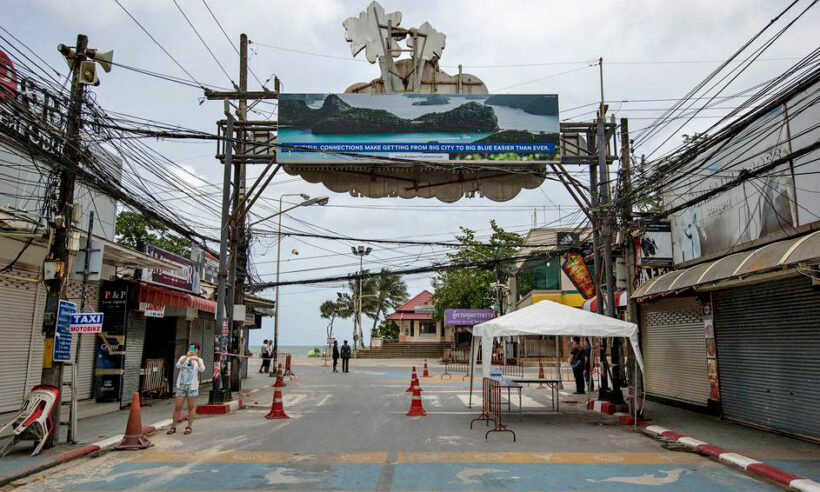 Local media outlet Newshawk Phuket today reported 9 new cases of the Covid-19 coronavirus on the southern resort island of Phuket, bringing the total to 26, up from 17 yesterday.
• Case 18 is a 33 year old Thai woman, a waitress at Soi Bangla in Patong district. She fell sick on March 16.
• Case 19 is a 56 yeaar old Frenchman who arrived in Phuket Mach 15 and fell ill on march 18
• Case 20 is a 25 year old Swedish air hostess who arrived in Phuket on Friday.
• Case 21 is a Thai woman, aged 35, who "had contact with foreigners." She became ill on March 20th
• Case 22 is 26 year old Thai woman, also believed to have caught the disease at Soi Bangla Bangla, and also became sick on March 20.
• Case 23 is 27 year old Thai dancer at Soi Bangla Bangla. She fell sick on March 22.
• Case 24 is a 28 year old Thai man, a bouncer in Soi Bangla, who became sick on March 19.
• Case 25 is a Thai woman, aged 62, who recently traveled to Switzerland and got sick abroad. She returned to Thailand to seek treatment.
• Case 26 is a Frenchman, aged 62, a golf teacher who recently traveled to Germany and Spain.
SOURCE: Newshawk Phuket
Keep in contact with The Thaiger by following our
Facebook page
.
Natcha from Phuket crowned Miss Hooters Thailand 2020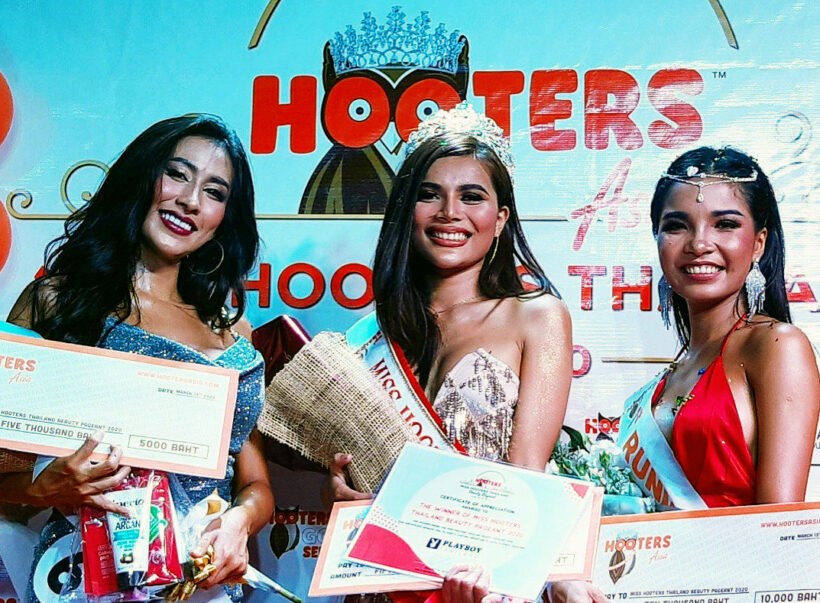 Meanwhile, somewhere in Phuket…
Beauty Pageant was recently held at Hooters Pattaya, for the fifth year running. This is event is one of Hooters biggest events that attracts audiences from across the world. Khun Ekasit Ngampichet, President of Pattaya Business and Tourism Association, came to give an opening speech and wished Hooters Asia for every success in helping together to promote Pattaya's tourism industry.
Winners from the heats held around Thailand competed for the title of "Miss Hooters Thailand 2020" at the Grand Final. A title where the winner will represent Hooters Thailand in the "Miss Hooters International Pageant 2020". Winner of that pageant gets to globally represent the franchise as a brand ambassador.
The winner, Natcha Nunoochan – earlier a month prior to the Grand Finale won the heat of Miss Hooters Phuket also went on to win the title of Miss Hooters Thailand 2020.
Natcha will represent the Kingdom in the 24th Annual Hooters International Pageant at Lake Tahoe in the US this coming June.
"Winning this is an honour. I'm so grateful and I wish to thank everyone for the support," said Natcha, who is a Hooters Girl at Hooters Phuket.
"The girls are like my family and we work hard everyday to serve our guests with the best experience of coming to Hooters. I am very proud to represent Hooters Thailand in the Annual International Pageant at Lake Tahoe this year. I will take that task on with pride and honour to represent my beautiful country.
"Being a Hooters Girl is more than just being a waitress," said Gary Murray, CEO of Destination Eats, which franchises Hooters Asia.
"They are fun, beautiful and smart, they are hardworking and good entertainers"
The final contestants were evaluated based on responses to interview questions, their personality and overall contribution to the iconic Hooters brand, including beauty and dance coordination in three separate rounds. The rounds represented Hooters uniform, evening gowns and swim wear.
The heats and the Grand Final supported The Destination Kids Foundation. All money raised from voting sales was donated to the charity who supports orphanage children with education, medical support and guidance for a brighter future.
(The event was held before the closure of all entertainment venues in Phuket)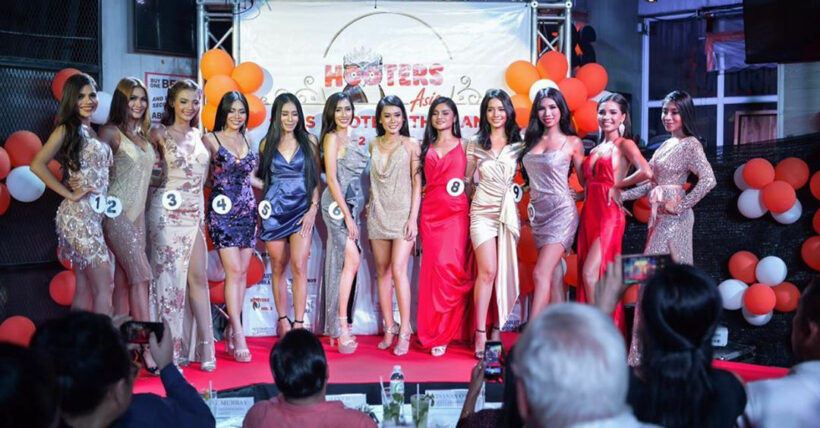 Keep in contact with The Thaiger by following our
Facebook page
.