Pattaya curfew breaker drowns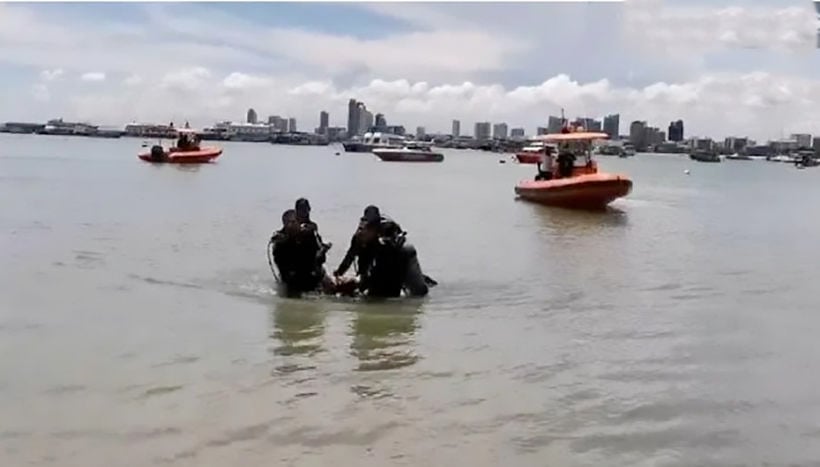 A 41 year old Thai man in Pattaya has drowned, apparently attempting to avoid arrest for breaking Thailand's national curfew. He was pronounced dead after being found by local fishermen floating off the shore of Pattaya Beach yesterday morning. Pattaya City Police were notified of the incident near the Bali Hai Pier around noon.
Police, emergency responders and reporters arrived on the scene to find the body of a Thai man, later identified as Boontin Donhao, 100 metres from the shoreline near the pier. No signs of a struggle or trauma were found on the body, which was taken to a local hospital for a post mortem examination to confirm the cause of death.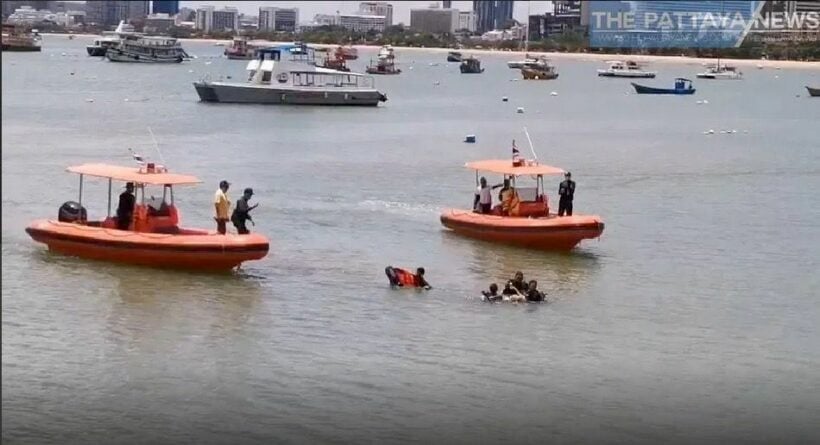 A relative told police that Boontin went out at about at 3am for squid fishing, knowing that he was breaking the curfew, as he didn't have legal authorisation to leave his home during curfew hours.
Police believe Boontin saw coast officers on routine patrol. Being afraid of being arrested and fined, he jumped into the water to hide and subsequently drowned.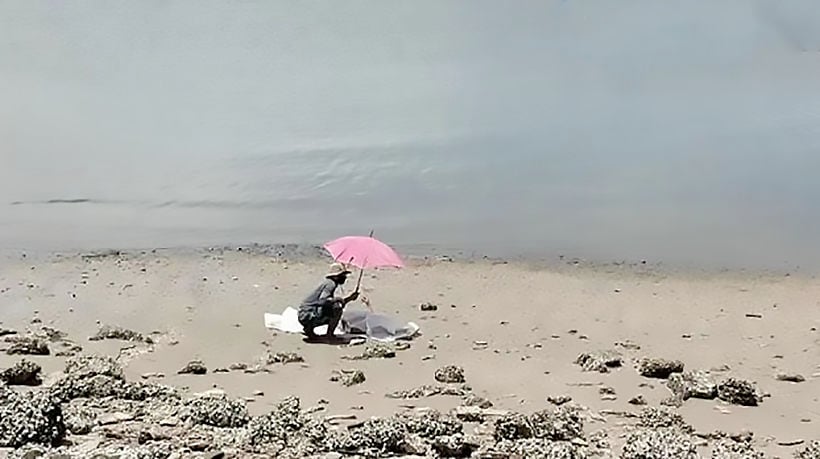 Pattaya Police say they are investigating the incident further.
SOURCE: The Pattaya News
Keep in contact with The Thaiger by following our
Facebook page
.
Body of unidentified Asian man found floating off Pattaya's Koh Sak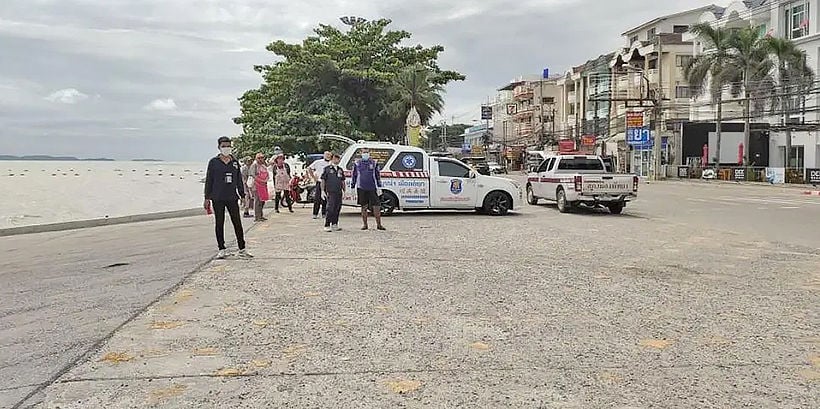 The body of an unidentified man has been found floating floating off Koh Sak in Pattaya Bay yesterday afternoon. Pattaya City Police were notified of the gruesome discovery about 2pm. Police and emergency responders arrived at the scene, 2 kilometres from Koh Sak.
The man, of Asian descent but unknown nationality, appeared to be in his thirties, and was wearing short jeans and a black T-shirt. There was no sign of a struggle found on his body. Police believe that the man had been dead for at least 3 days before the body was discovered.
A local fishing boat captain told The Pattaya News that that he believes that the man might be a missing sailor, who reportedly fell off a boat 2 days ago while drinking. The incident was reported to police. The unidentified body was taken to a local hospital to determine the cause of death.
SOURCE: The Pattaya News
Keep in contact with The Thaiger by following our
Facebook page
.
Woman survives 4 storey fall in Pattaya – VIDEO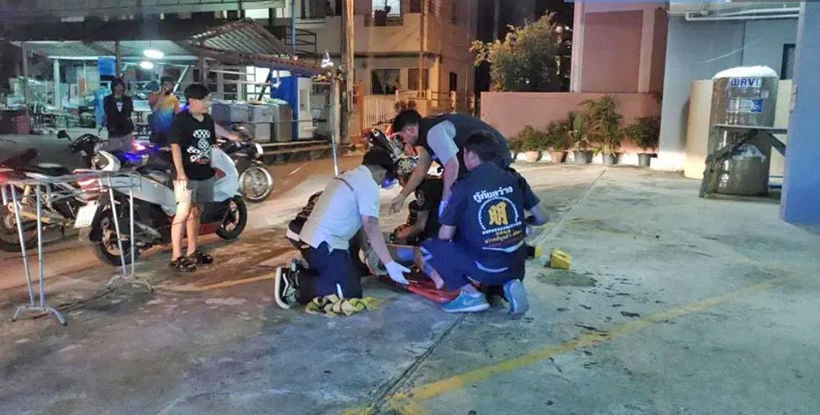 A young woman who fell from a 4th floor balcony in Pattaya early this morning has survived with only minor injuries. Police and rescue workers were notified of the incident at an apartment in Soi South Pattaya 1 at around 3am.
Emergency responders and reporters arrived at the scene to find the injured woman, 22 year old Natarika Wongkalasin from Isaan's Nakhon Panom province, on the ground. She had suffered only minor injuries and was concious and alert. She was taken to hospital for a full evaluation.
A friend told The Pattaya News that they had been drinking together in the apartment and both were "heavily intoxicated". Natarika walked onto the balcony while drinking before accidentally falling.
Natarika reportedly confirmed to rescue workers that the fall was accidental, and Pattaya police reported there was no sign of a dispute or struggle in the aprtment.
Investigations continue.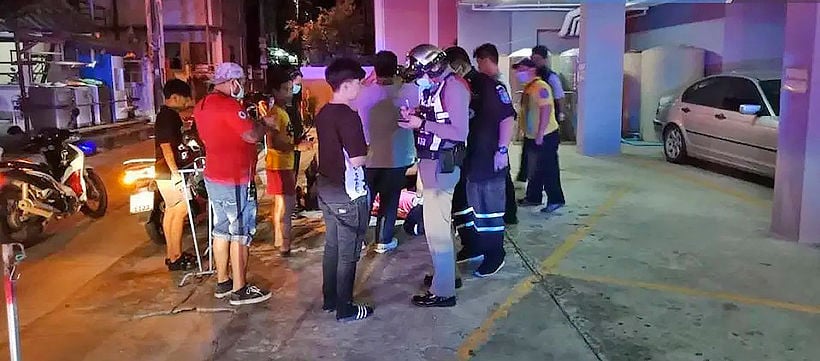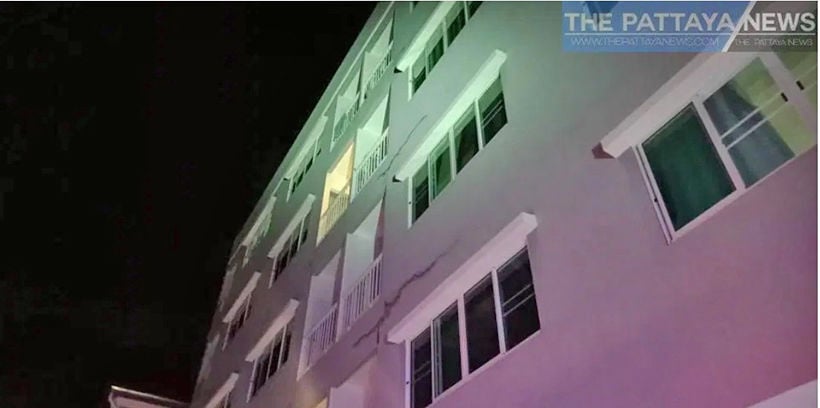 SOURCE: The Pattaya News
Keep in contact with The Thaiger by following our
Facebook page
.
Chon Buri police hire a steam roller to destroy over 700 illegal motorbike exhausts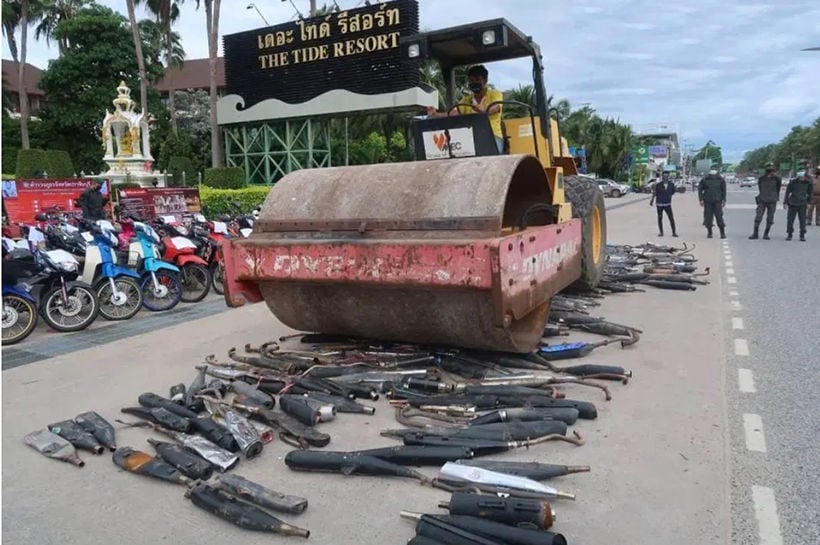 Since the national curfew was lifted last month, illegal motorbike racing has returned to Thailand's streets with increased popularity. From June 20-30, police arrested more than 5,600 racers and seized more than 17,700 motorcycles nationwide.
Chon Buri Police yesterday used a steam roller to very publicly crush more than 700 illegal exhaust pipes seized from road racers, known locally as "dek waen" or "vanz boys," in the Pattaya area. The media were invited along to capture the public shaming.
Police told that Pattaya News that over 11 days, Chon Buri police arrested 11 reckless drivers and held 1,307 inspections at motorcycle shops and repair shops, 8 of which face further legal charges relating to the illegal modifications. 761 illegal exhaust pipes were seized, 11 cars and 2,157 motorbikes were seized, and 3,075 road users were arrested. A spokesman said this is part of national Thai Government measures to crack down on road racing and the noisy modifications made to standard motorcycles, most of them less than 150cc in power.
PM Prayut Chan-o-cha has publicly warned that curfew or not, those violating the recently extended Emergency Decree will face stern penalties, and even threatened a renewed curfew if such illegal activities aren't brought under control.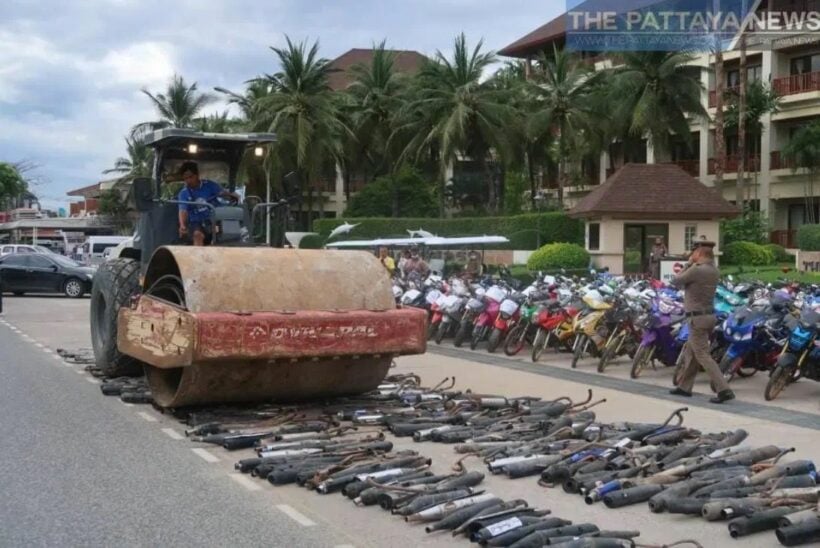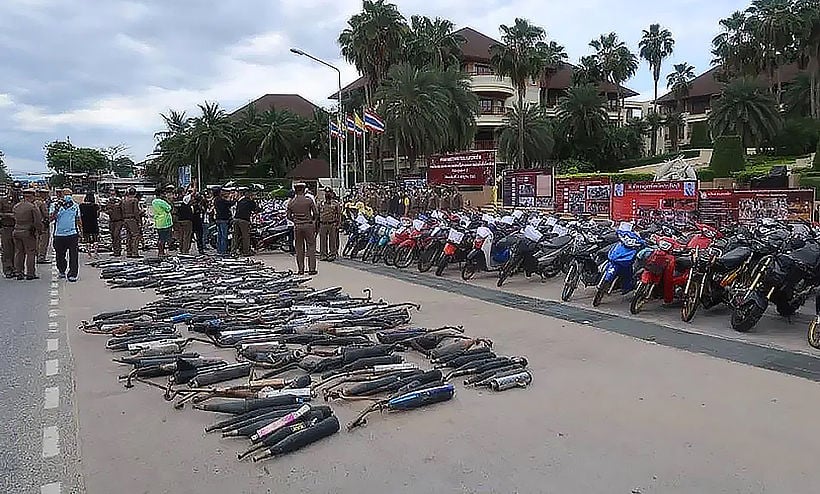 SOURCE: The Pattaya News
Keep in contact with The Thaiger by following our
Facebook page
.