14 yo allegedly raped at knifepoint in Pattaya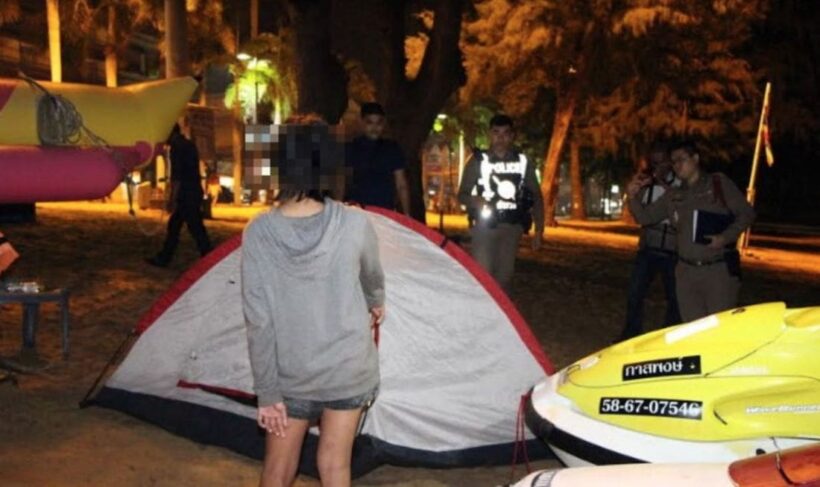 Police in Jomtien are investigating the alleged rape of a 14 year old girl at a beach south of Pattaya last night. Police say it is a well lit area but only have information that the rapist was a 20 – 25 year old with facial tattoos.
Sanook is reporting that the incident happened in a water sports zone where there are five jetskis kept.
The 14 year old says she was with friends when the man offered them 500 baht for sex. They group refused but the man then allegedly grabbed "Yui" and dragged her away to a nearby tent.
Her friends claim the man had a knife so they felt powerless to intervene. After the alleged rape took place the group reported the matter to the police.  Sanook reports that a tent had already been put away when they arrived at the scene.
Investigating policeman, Capt Weerayut Kangkala, says that the victim was raped without a condom and given 40 baht after the encounter.
CCTV is being studied to help identify the man responsible.
SOURCE: Sanook


Read more headlines, reports & breaking news in Pattaya. Or catch up on your Thailand news.
16 year old praised for rendering first aid at an accident in Pattaya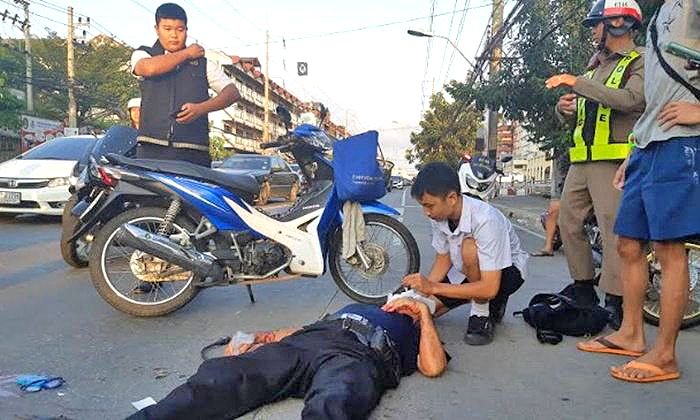 Sanook reports that Jiraphon Madeua, an M4 student at the Photisamphan Pitthayakarn school in Pattaya, was on his way home and was first to respond to a to man who had come off his motorcycle. He was judiciously applying his first aid knowledge to assist the stricken man.
The 16 year old says that he received first aid training at school and knew what to do until professional assistance arrived at the scene.
68 year old Amnuay was taken to hospital after suffering facial injuries in the crash. At this stage police say he appeared to have been side swiped by a car as he rode his motorcycle along Theppasit Road in Bang Lamung. Police are studying CCTV to try to find out what happened.
Well done Jiraphon!
SOURCE: Sanook
Three year old savaged by local dogs in Chon Buri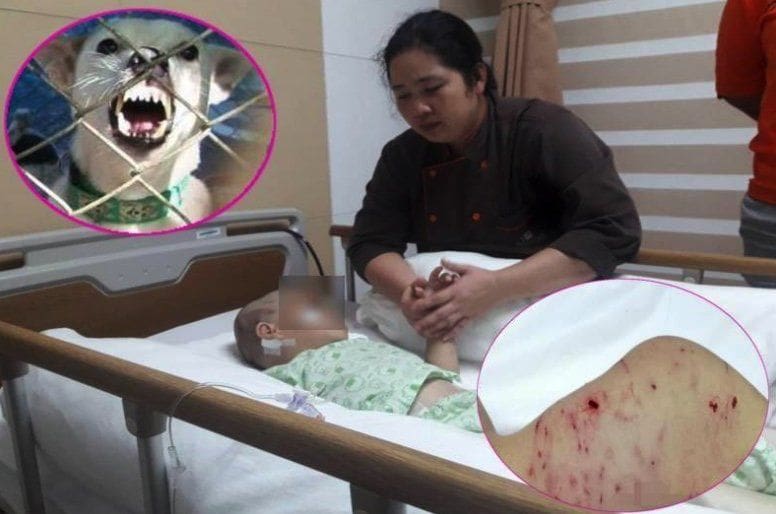 The overly-dramatic photo montage was compiled by Daily News
Daily News is reporting that a 3 year old child remains in a serious condition in the Sri Racha hospital in Chon Buri after being attacked by a pack of ten dogs.
It is the second attack reported in two days in Thailand. On Wednesday afternoon a young Finnish boy was attacked by stray dogs at Ao Nang Beach in Krabi and remains in the local hospital recovering from his ordeal.
65 year old Jitpirom Phoonpatanassuk says she was taking her grandson Namning to look at some coffee plants growing next door but he then ran back home without her.
Next she heard Namning screaming after being attacked by at least ten local soi dogs. He suffered cuts and bites to his entire body and was covered in blood when his grandmother got to him.
He had cuts around his head, waist, back, and left and right side of his body.
She took him to Phayathai Sri Racha hospital where doctors have been attending to his wounds. As of this morning he was still unable to move.
The neighbour initially blamed the toddler for entering his property then agreed to settle with a 100,000 baht compensation payment.
The grandmother has made an official report about the attack with Sri Racha police.
SOURCE: Daily News
Foreign tourists being tracked down for driving dangerously in Pattaya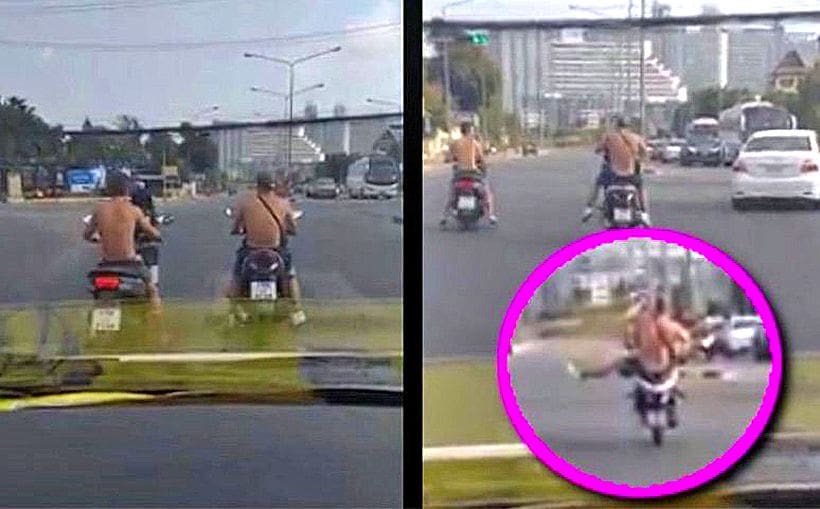 Daily News reports that Pattaya Police are tracking down two foreigners caught on video riding recklessly in the Jomtien area, south of Pattaya.
The video clip shows the two men waiting at traffic lights before racing each other with one man splaying his legs and doing a "wheelie".
Neither of the pair were wearing a helmet or shirts.
The Pattaya police chief, Pol Col Apichai Krobpetch, spoke to Daily News Online and said he had ordered officers to find the tourists. CCTV at the intersection and along Jomtien Sai 2 is being checked to better identify the bikes and help track down the pair.
He said they will be charged with reckless endangerment of the public and not wearing helmets. The reckless endangerment charge carries the possibility of a jail term.
Earlier this week it was announced that three Thai motorbike riders had been jailed for doing wheelies along the highway. The jail terms were suspended by the court.
SOURCE: Daily News