Thailand News Today | Protests to escalate, Domestic violence, Tourist visa exemptions? | Nov 19
Just a reminder that it is still safe to travel to Thailand. The protests are in very small pockets around Bangkok and well publicised in advance. If you can, and are prepared to go through all the hoops and paperwork, it's still a great place to visit.
Bangkok police blame insufficient manpower for failure to control Parliament road clashes
Police in Bangkok have admitted they had insufficient manpower to handle clashes that erupted at protests on Tuesday.
Anti-government activists clashed with pro-establishment groups at the Kiakkai intersection outside the new Thai Parliament, leading to at least 55 people being injured, including 6 who were shot, according to medical officials at the Erawan Medical Centre who attended to the wounded.
The police have come in for heavy criticism for their failure to prevent violence breaking out between rival protest groups.
Anti-government activists condemn rejection of iLaw draft, vow to fight on
Meanwhile, protests look set to continue following Parliament's decision yesterday to reject a draft charter amendment submitted by human rights non-profit group iLaw, with the backing of over 100,000 signatures.
Protest leaders say the decision has left activists with no choice other than to continue with more, and larger, protests. The Free Youth group accuses parliamentarians of serving a "dictator", and ignoring the demands of the Thai people.
Last night, protesters ended their rally in central Bangkok just before 9pm. There was quite a lot of graffiti damage around the area as slogans were written on footpaths and BTS train pylons. The front gate of the adjacent police HQ was covered in paint.
Domestic violence on the rise amid falling incomes and rising alcohol consumption
The Thai Health Promotion Foundation says the Covid-19 pandemic may be causing a spike in domestic violence, as incomes fall, debt rises, and more people turn to alcohol.
The foundation claims incidents of domestic abuse have risen by 66% since March, when Covid restrictions were introduced. The biggest rises are in the south of the country, with cases jumping by 48%. Bangkok recorded the lowest rise in incidents, at 26%.
Some Thai embassies dropping 500,000 baht requirement for 60 day tourist visa
Reports are circulating on social media that some Thai embassies are no longer insisting on proof of funds of 500,000 baht for a 60 day tourist visa (not to be confused with the Special Tourist Visa).
Posts in various media groups about the 60 day tourist visa, including some emails to The Thaiger, indicate that some embassies and consulates are no longer listing the requirement for proof of the equivalent of 500,000 baht in an applicants bank account for at least 6 months.
But any applicants on any visa still have to get all the required paperwork together… multiple Covid tests, a fit-to-fly certificate, a certificate of entry from your local embassy, and insurance cover of at least US$100,000. You also have a 14 day quarantine awaiting you when you arrive, at your expense.
Government aims to offer work permits to foreigners who invest at least US$1 million
Probably the most expensive Work Permit in the world. The Thai government is considering offering work permits to foreigners who invest at least US$1 million in Thai property or businesses.
The Centre for Economic Situation Administration has approved a proposal to grant work permits to eligible Thailand Elite Card holders. In order to qualify, they must have the top-tier Thailand Elite membership. They must also be prepared to invest their funds for at least 5 years.
Just another 'proposal' we have to keep track of as the visa situation in Thailand becomes increasingly complex.
Apirat Kongsompong appointed deputy director of Crown Property Bureau
His Majesty King Vajiralongkorn has appointed former army chief Apirat, an ardent royalist, as deputy director of the Crown Property Bureau.
Apirat Kongsompong's appointment has been announced in the Royal Gazette and is effective immediately.
The Crown Property Bureau is the quasi-government agency responsible for managing the property of the Monarchy of Thailand. The bureau is legally defined as a separate juristic agency and not a government agency.
Apirat has caused some controversy in the past by stating his belief that military intervention is necessary when political unrest gets out of control. He has also in the past denounced politicians and academics he considers, "communist" or "extreme left".
He's also expressed his devotion to the Thai monarchy and describes himself as a hard-line royalist.
Want more from the Thaiger family?
📱 Download our app on Android or iOS for instant updates on your mobile
📧 Subscribe to our daily email newsletter
👍 Like/Follow us on Facebook
🔔 Subscribe to or Join our YouTube channel for daily video updates
Man arrested for allegedly exchanging fake US bills for 1.2 million baht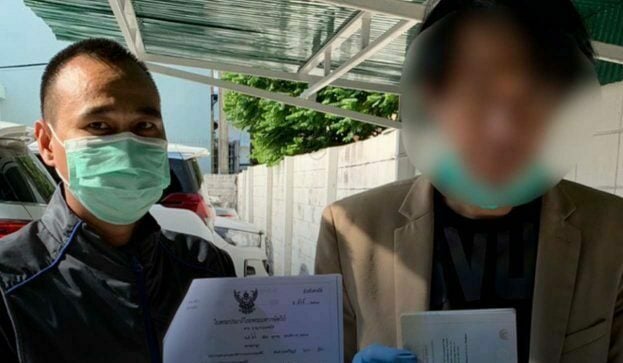 A man was arrested in Bangkok for allegedly exchanging counterfeit foreign bank notes at a currency exchange kiosk, taking off with 1.2 million baht.
Police say Thanat Amatawimut, a 42 year old building contractor, exchanged 360 fake $100 USD bills for 1.2 million baht at a kiosk in Bangkok back in 2019. The staff accepted the cash, but later realised the bills were fake and attempted to contact Thanat. A complaint was later filed at the Lumpini police station. The Criminal Court issued an arrest warrant last October.
Thanat was arrested in Bangkok's Chatuchak district yesterday. He denied the charges.
SOURCE: Bangkok Post
Want more from the Thaiger family?
📱 Download our app on Android or iOS for instant updates on your mobile
📧 Subscribe to our daily email newsletter
👍 Like/Follow us on Facebook
🔔 Subscribe to or Join our YouTube channel for daily video updates
Covid UPDATE: 2,473 new infections and 35 deaths, provincial totals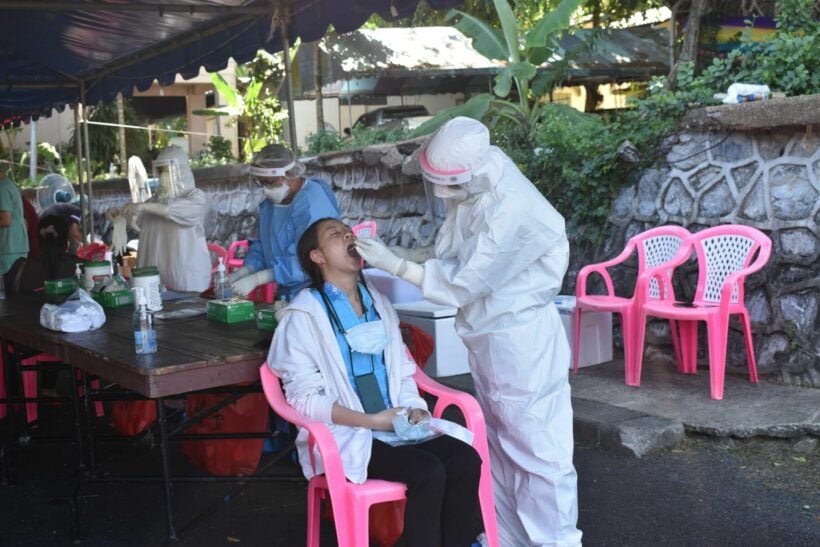 2,473 new Covid-19 cases and 35 coronavirus-related deaths were reported today in the Centre for Covid-19 Situation Administration's daily briefing. The majority of the new cases are local transmissions, primarily in Bangkok. 680 of the new cases were detected in prisons.
Thailand now has 42,988 active Covid-19 cases, a record high for the country. Out of those cases, more than 10,000 are linked to outbreaks at prisons. Since the start of the pandemic last year, the CCSA has reported a total of 113,555 Covid-19 infections.
35 deaths involving Covid-19 patients were reported today, raising the pandemic's death toll in Thailand to 649. Most of the new fatalities were reported in Bangkok.
Bangkok remains the epicentre in the latest wave of infections. The capital reported 873, raising the total since April 1 to 28,658.
There are now 29 Covid-19 clusters in 19 districts in Bangkok. The government has set up several locations for active case finding to contain the spread of the virus.
Foreign Ministry spokesperson Natapanu Nopakun, who gives the CCSA report in English, adds that Thai authorities are taking border breaches very seriously and security has tightened at land and sea borders as there have been a number of illegal entries involving those coming from neighbouring countries. Heightened border patrol has been an effort to prevent Covid-19 from being imported into Thailand.
Provinces with the highest number of new Covid-19 infections…
| | | |
| --- | --- | --- |
| Province | New cases | Total since April 1 |
| Bangkok | 873 | 28,658 |
| Nonthaburi | 155 | 4,757 |
| Samut Prakan | 121 | 4,329 |
| Pathum Thani | 117 | 2,467 |
| Samut Sakhon | 63 | 1,930 |
| Phetchaburi | 43 | 645 |
| Chon Buri | 33 | 3,768 |
| Nakhon Si Thammarat | 30 | 757 |
| Songkhla | 29 | 1,041 |
| Phra Nakhon Si Ayutthaya | 28 | 936 |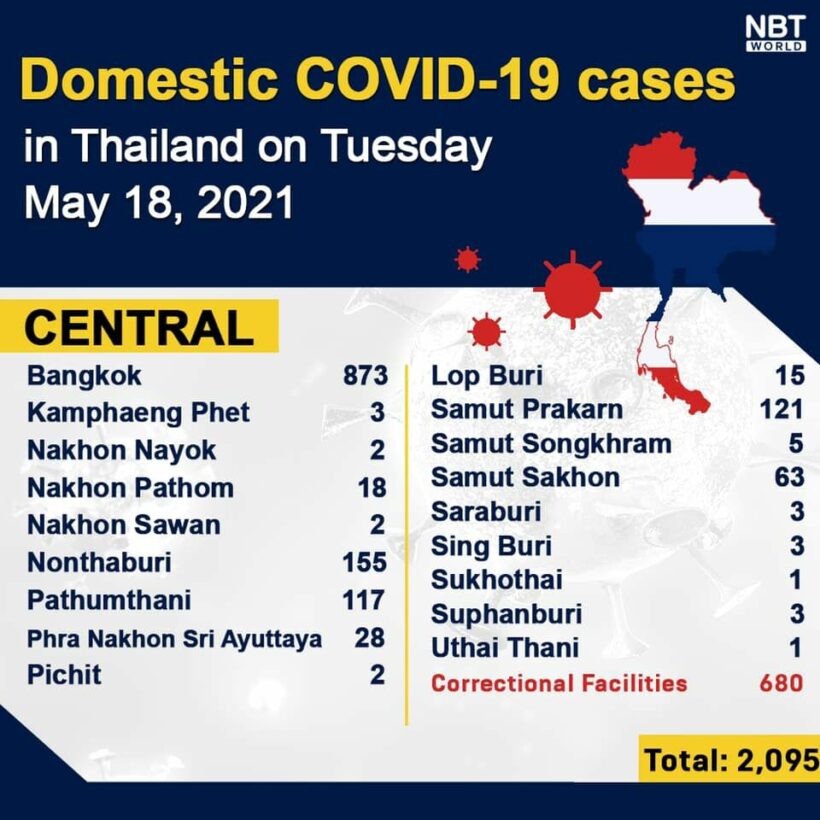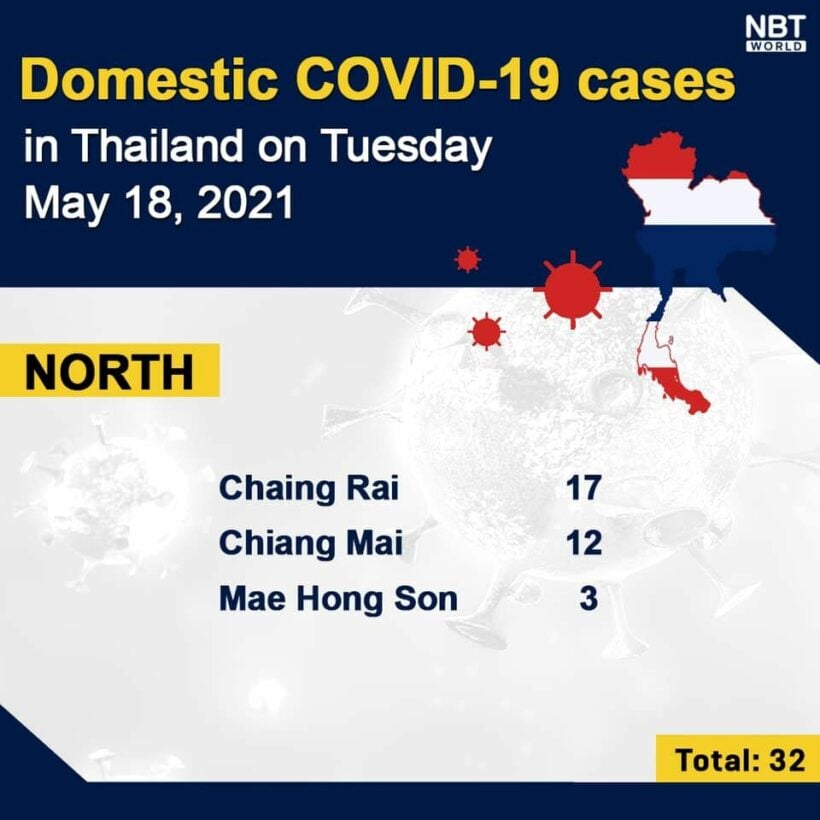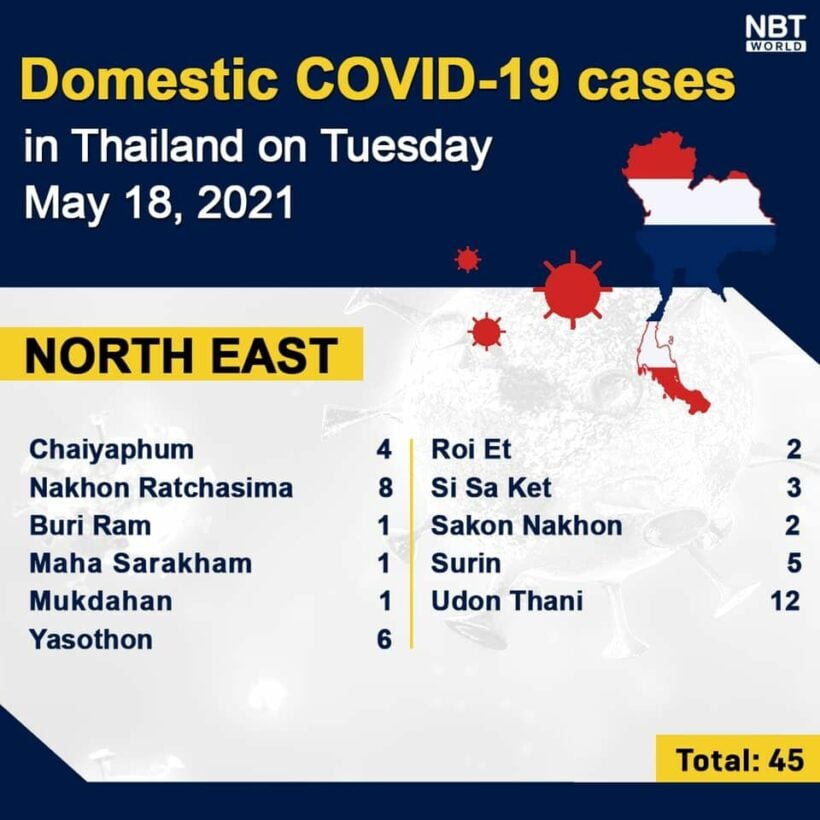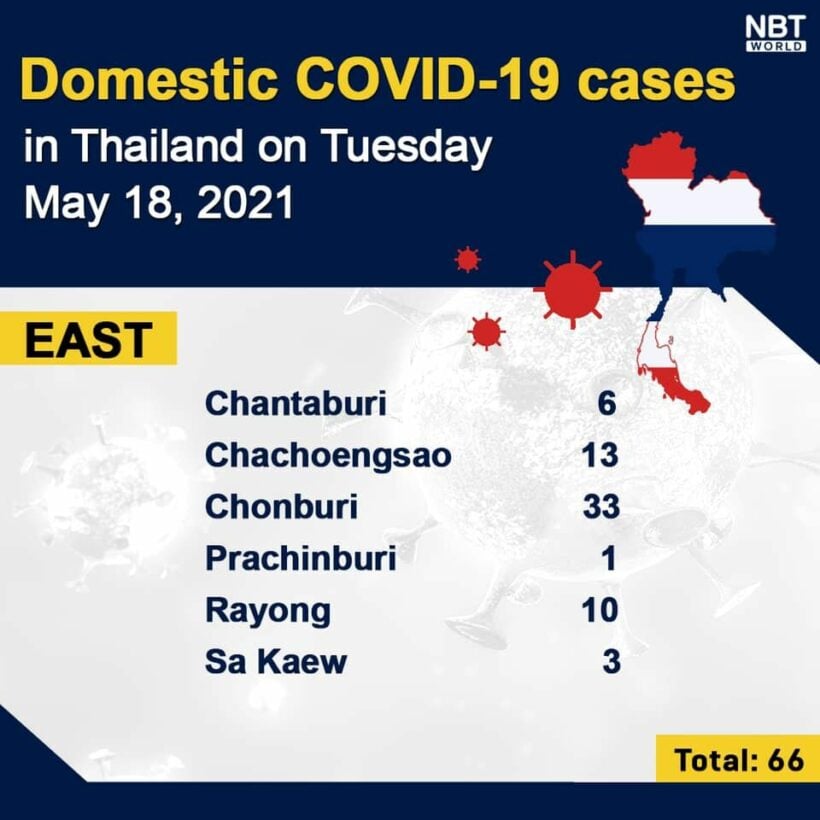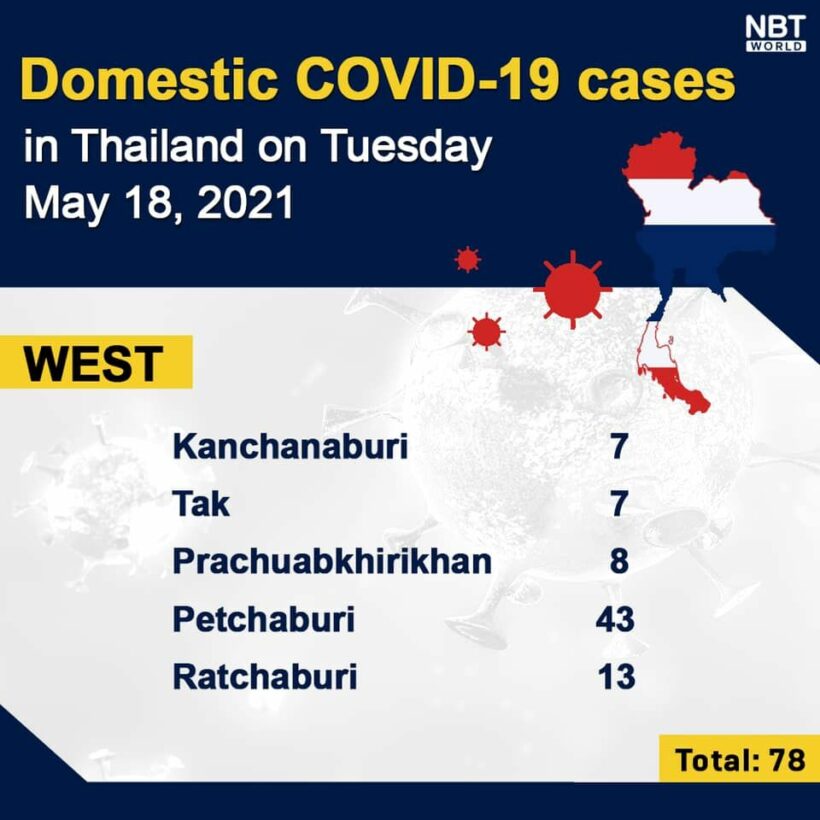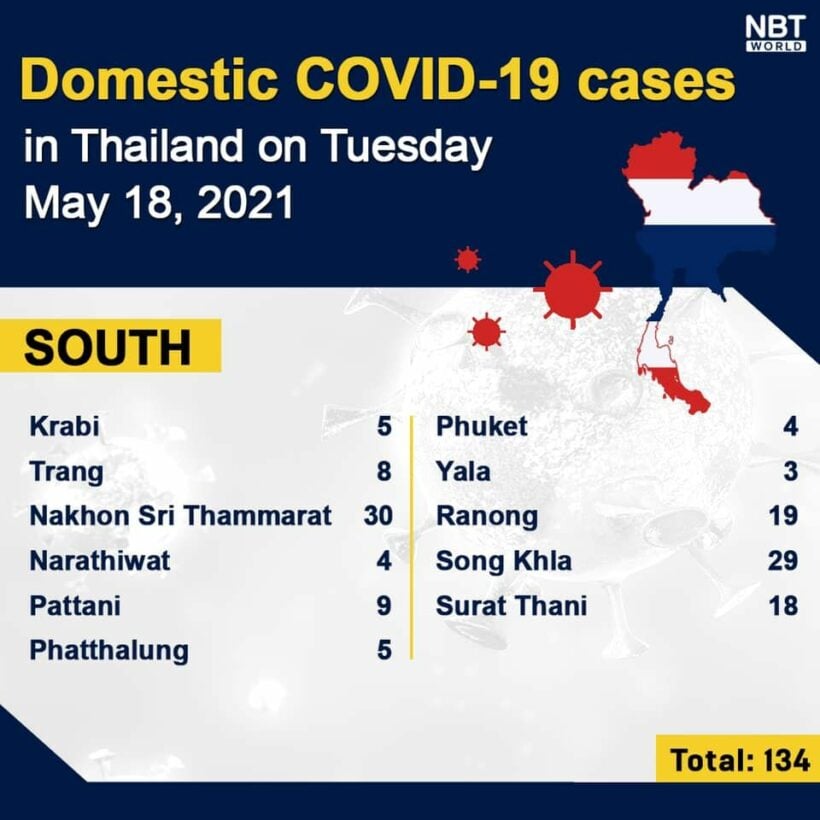 Want more from the Thaiger family?
📱 Download our app on Android or iOS for instant updates on your mobile
📧 Subscribe to our daily email newsletter
👍 Like/Follow us on Facebook
🔔 Subscribe to or Join our YouTube channel for daily video updates
Education Ministry launches online platform as schools' reopening plans delayed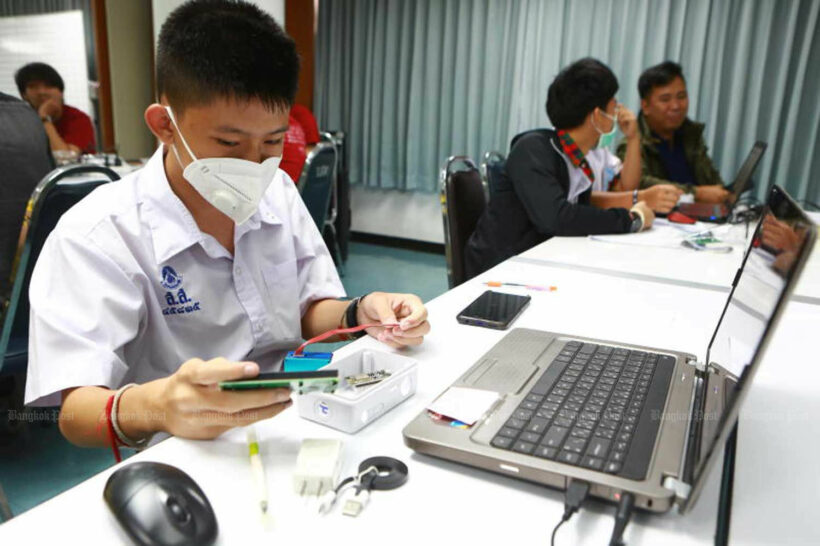 Thailand's Education Ministry is launching an online platform for public school students who are, once again, being forced to learn at home due to restrictions and limitations imposed by the government.
The third wave of the virus has prompted authorities to postpone the reopening of government schools from May 17 (yesterday) to June 1. However, as daily infections keep rising, that date may be amended again.
As the future of the pandemic is unclear, the Ministry has launched www.ครูพร้อม.com, an online platform titled Kru Prom or Teachers Ready in English. The portal features content under 6 categories featuring the word "Wanna" in reference to the more grammatically correct English words of "Want to." The Wanna Know page, is dedicated to educators as it features e-books to help them boost their skills.
Wanna Learn, Wanna Know, Wanna Teach, Wanna Do, Wanna Watch, and Wanna Share are the categories that students can choose from. Each category has a wide range of choices for students that includes different types of media for each lesson.
Students or teachers are not required to use the new Kru Prom platform, as the Education Ministry says it is just an alternative for those who are interested in learning more. Likewise, teachers are not being told they must compile reports over the platform and it won't be included in their performance evaluations.
The Ministry has also noted that the platform can be used, even while physically attending school, as a supplement to students' learning.
Prominent education academic, Athapol Anunthavorasakul, is not impressed with the idea as he says children are exhausted from online/offline classes. He says children should be allowed to play during the break, even if it is extended. He says the most schools should require over the break, is for the students to share what they had learned.
But the Ministry already has released plans that include online learning – once schools are allowed to reopen. The classes will be conducted using onsite, on air, on demand, online, on hand, and hybrid formats. The Ministry is also offering free internet packages to students to help them make the move to online learning. Meanwhile, the Education Minister says the website's recent launch has proved popular on the first day, gaining thousands of hits.
SOURCE: Thai PBS World
Want more from the Thaiger family?
📱 Download our app on Android or iOS for instant updates on your mobile
📧 Subscribe to our daily email newsletter
👍 Like/Follow us on Facebook
🔔 Subscribe to or Join our YouTube channel for daily video updates