Authorities fear 1000% rise in meth shipments just the tip of the iceberg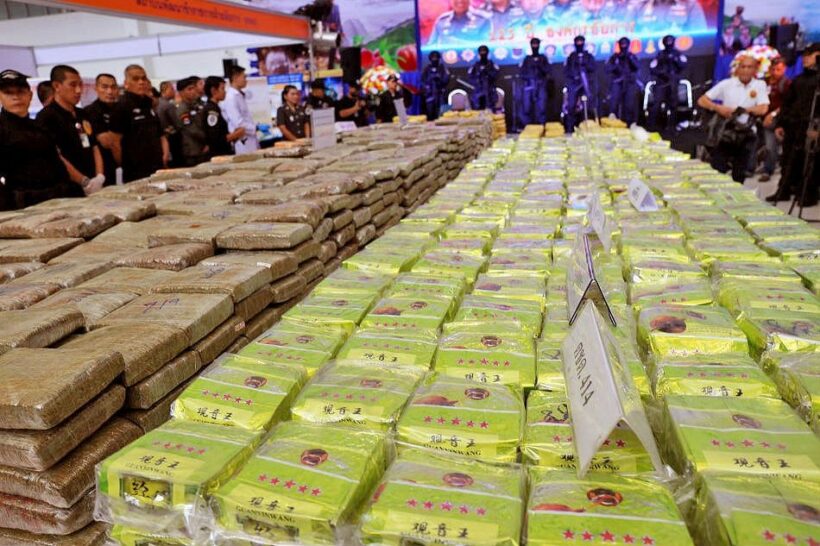 The number of seizures of high-purity crystal methamphetamine continues to surge in northern Thailand. The demand rises and the methods of detection and enforcement also improve. It's a vicious circle.
Authorities say the number of drug seizures have risen 1000% in just the past 2 years, a stark indication of the growth in industrial-scale production in neighboring Myanmar.
Some 18.4 tonnes of crystal methamphetamine or 'ice', was seized in Thailand last year, according to preliminary statistics from the Thai Office of the Narcotics Control Board. They know it's a tiny proportion of the amounts produced and shipped out undetected.
That figure is up from 5.2 tonnes in 2017 and 1.6 tonnes in 2016. It's more than three times the amount captured across all of Southeast Asia five years ago – a staggering rise in production and distribution.
Thailand remains a major trafficking route for the artificial drug manufactured in Myanmar's Shan and Kachin states – the north-eastern states of Myanmar that border China, Laos and Thailand.
Police say organised crime groups work with local pro-government militias and armed rebels to set-up "super labs" and allow transport through the regions to borders beyond.
The same mega-labs are also pumping out 'cocktail' tablets of methamphetamine, mixed with caffeine and other 'fillers'. The drug is nicknamed 'yaba' in Thailand. Specialist chemists and 'cooks' are brought in from Taiwan and China to run the meth labs in Myanmar, while the ingredients and lab equipment mostly come from China.
The methamphetamine tablets are a low-grade recreational drug, inexpensive and popular with blue-collar workers and low-end recreational drug users across South East Asia. The price for a 'yaba' pill has plummeted from around 200 baht to 80 baht in the past five years.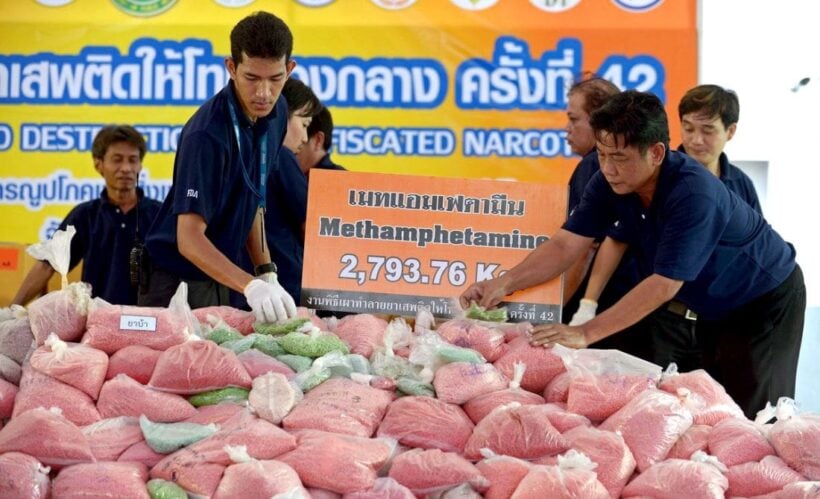 But the Golden Triangle, bordering north-eastern Myanmar, Laos and Thailand, has a long history of illicit drug trafficking.
It came to the West's notice as a cultivation hub for opium and heroin refining but those, now, easily detected crops are being replaced with methamphetamine production. The factories are easily hidden underneath the jungle canopy, and with the assistance of 'co-operative' local authorities, armed gangs and state-sponsored militias, the precursor drugs and final product move in and out with little trouble.
Once the drugs have made their way through Thailand the drug syndicates use "motherships" that intercept the drugs off the Andaman coast and distribute them to other parts of South East Asia, Australia and New Zealand.
Whilst the growth in production and purity of the drugs is alarming authorities, they are also intercepting and detecting a lot more of the road shipments making their way across the Thai borders. But they readily admit they are only netting a tiny part of the larger iceberg.
Despite the frequent showcasing of large drug hauls by Thai police, the vast majority of the drugs coming out of the back-doors of Myanmar's meth labs are getting through undetected.
Want more from the Thaiger family?
📱 Download our app on Android or iOS for instant updates on your mobile
📧 Subscribe to our daily email newsletter
👍 Like/Follow us on Facebook
🔔 Subscribe to or Join our YouTube channel for daily video updates
Saturday Covid UPDATE: 2,419 new infections and 19 deaths, provincial totals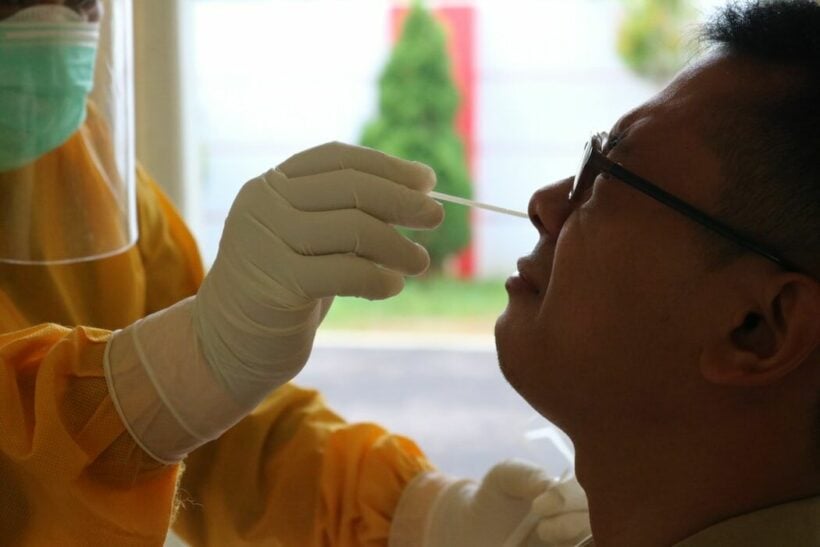 The tally for Covid-related infections and deaths reported over the past 24 hours reports 19 new deaths and 2,419 cases. There have been 52,411 confirmed Covid-19 infections in the recent outbreak with more than 16,000 cases in Bangkok, the epicentre of infections. Since the start of the pandemic last year, the Centre for Covid-19 Situation Administration has reported a total of 81,274 Covid-19 infections and 382 coronavirus-related deaths.
Thailand now has 29,473 active Covid-19 cases. Most patients with Covid-19 are asymptomatic or have mild symptoms. More than 1,000 Covid-19 patients are in critical condition including 380 people on ventilators.
Out of the 2,419 new cases, more than 1,000 cases were detected in Bangkok. Most cases were local transmissions or detected through active case finding.
Of the 19 new coronavirus-related deaths, most were in Bangkok and surrounding provinces. The majority of deaths were the elderly and many of them contracted the virus from infected family members or friends.
Over the past week, new clusters of Covid-19 infections have been detected in crowded Bangkok neighbourhoods, including the Klong Toey slum, Ban Khing and Bang Kae districts. Poor communities in Bangkok have been seen as vulnerable to coronavirus outbreaks as people live in close proximity to each other and many cannot afford to stop working to abide by stay-at-home orders. CCSA spokesperson Natapanu Nopakun says active case finding in Bangkok clusters have been "beefed up."
With cases in Bangkok still on the rise, the current disease control measures imposed in the capital will be extended until May 17. Schools and entertainment venues must remain closed.
Provincial totals, thanks to the NBT…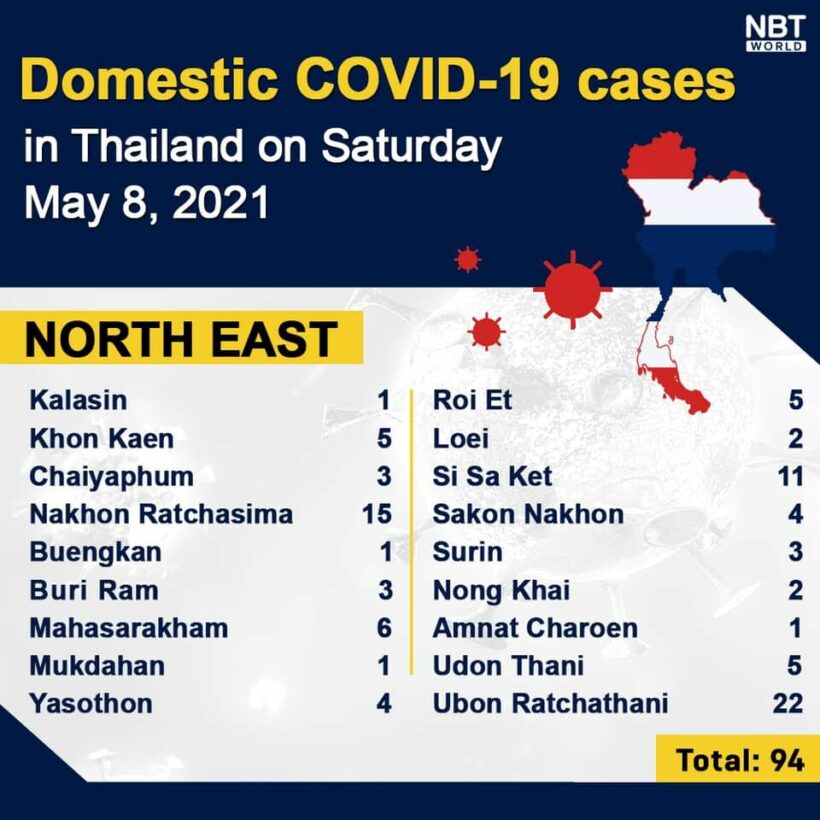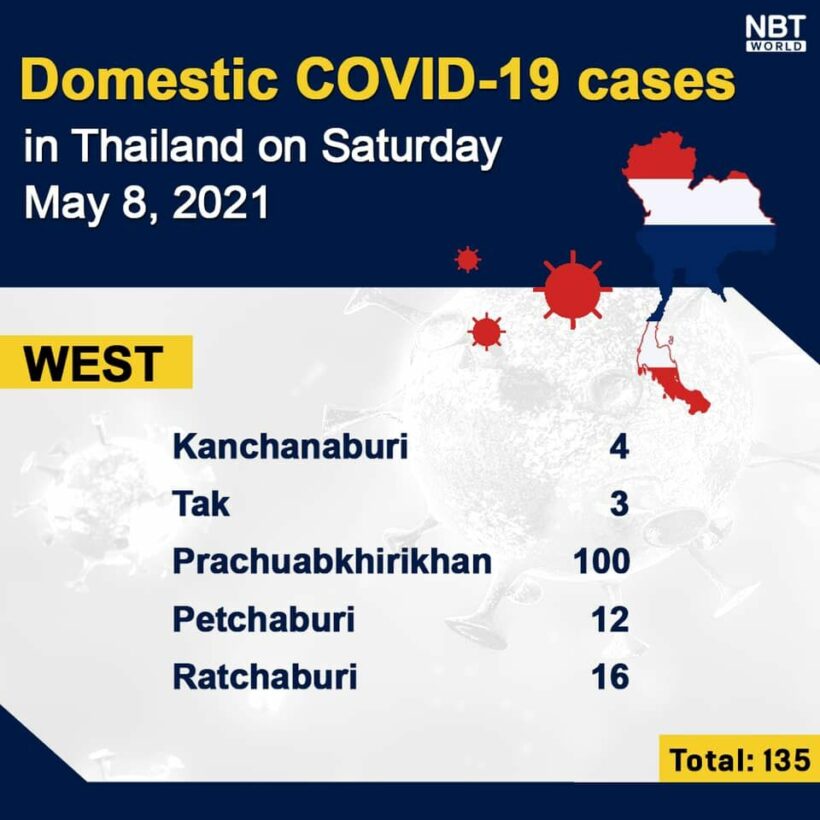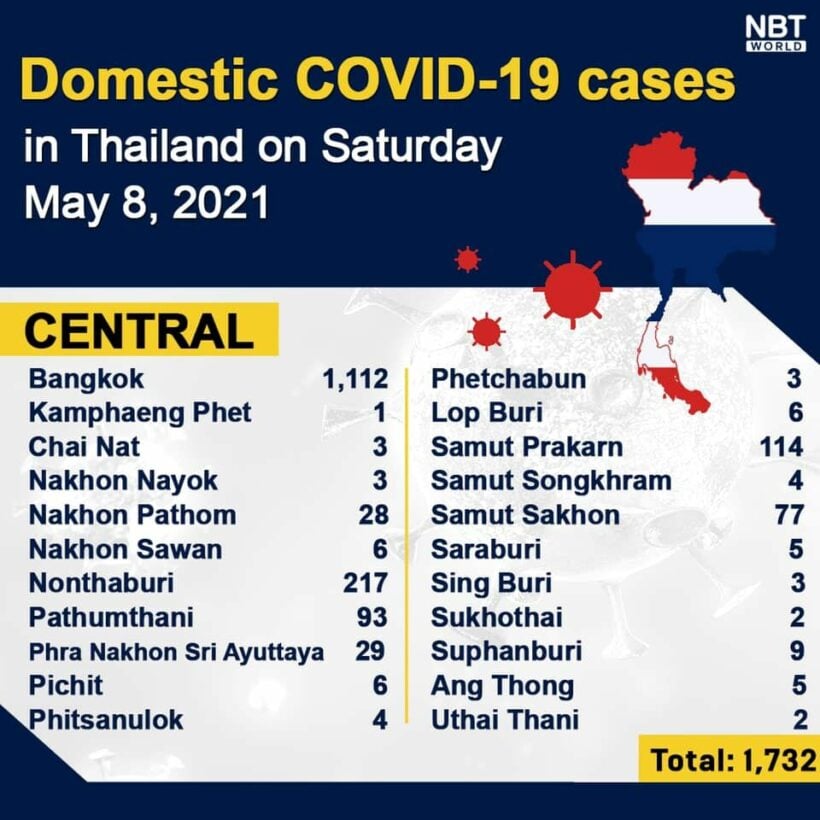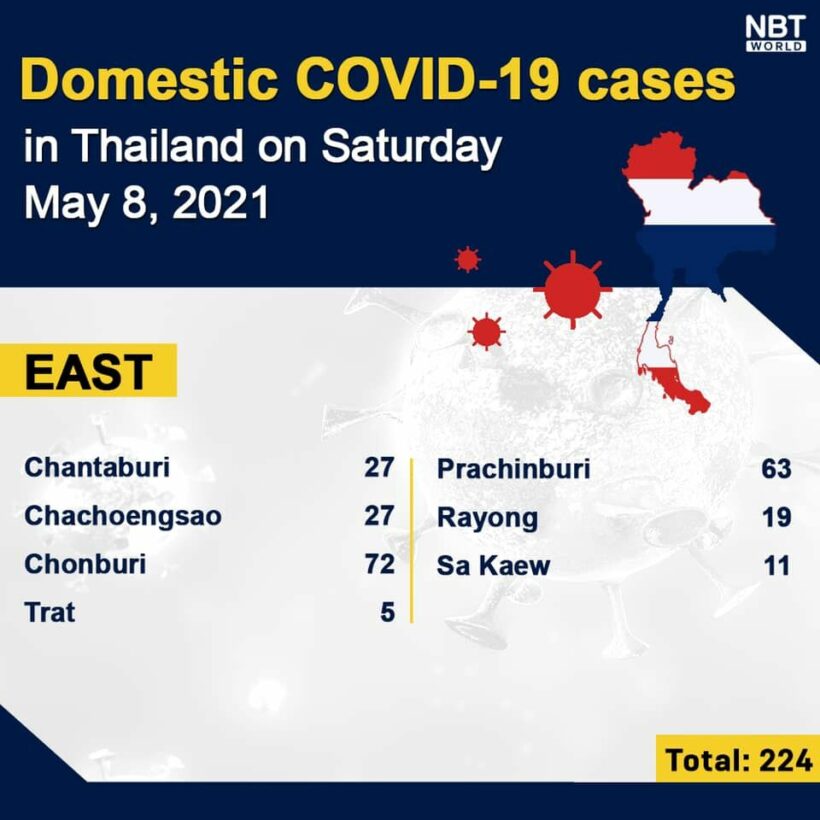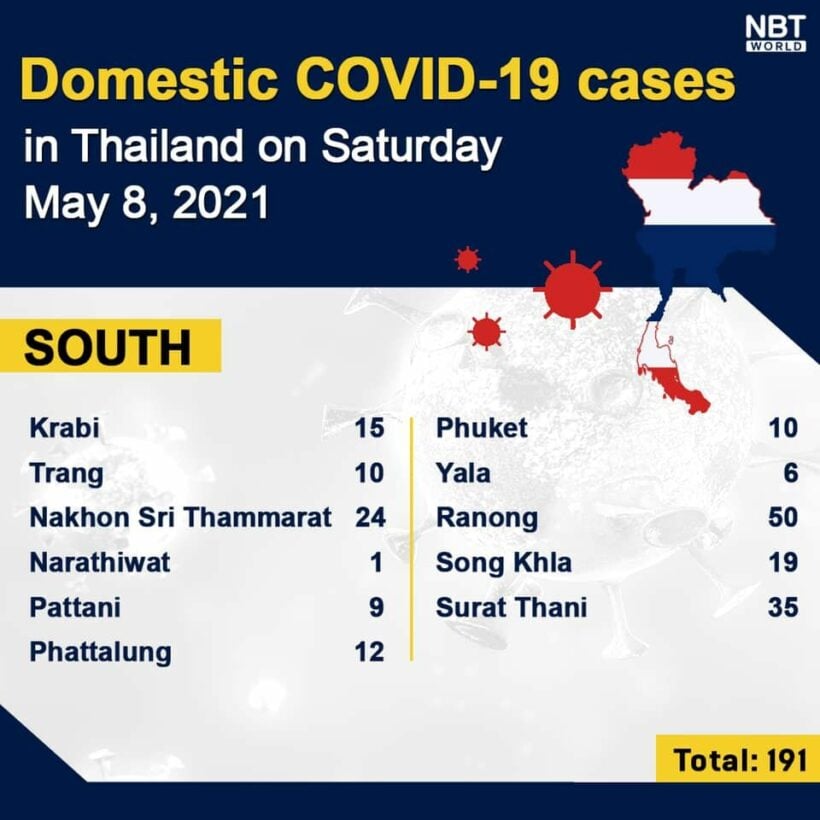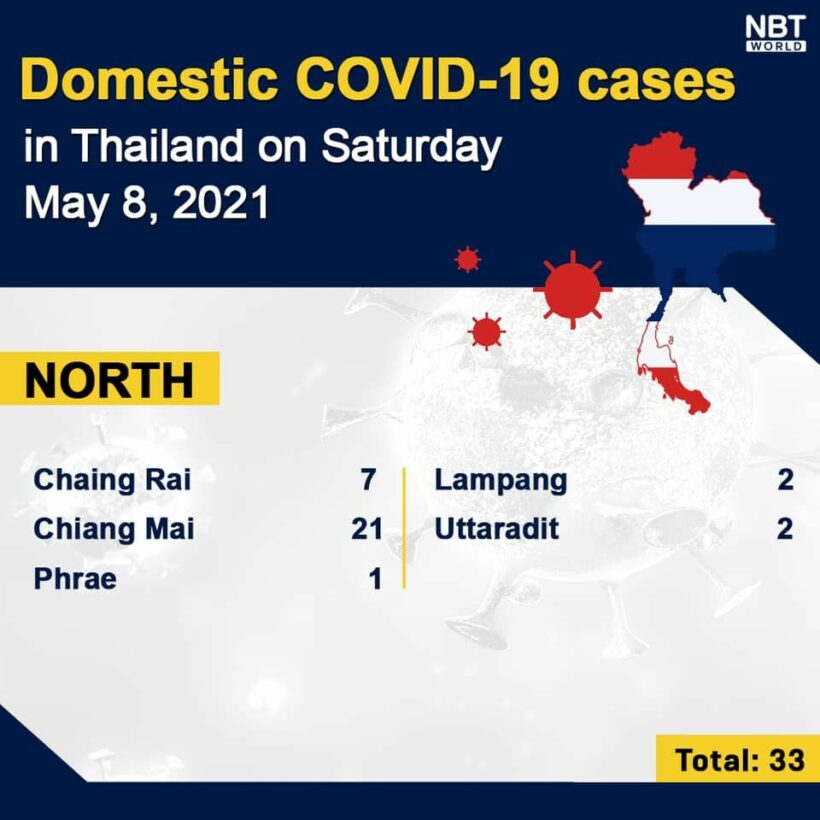 Districts in Bangkok with the highest number of confirmed cases…
| | |
| --- | --- |
| District | New cases |
| Khlong Toey | 37 |
| Ratchathewi | 26 |
| Pathumwan | 24 |
| Bang Kapi | 13 |
| Chatuchak | 11 |
| Don Mueang | 9 |
| Lat Phrao | 9 |
| Dusit | 8 |
| Yan Nawa | 7 |
| Wang Thonglang | 7 |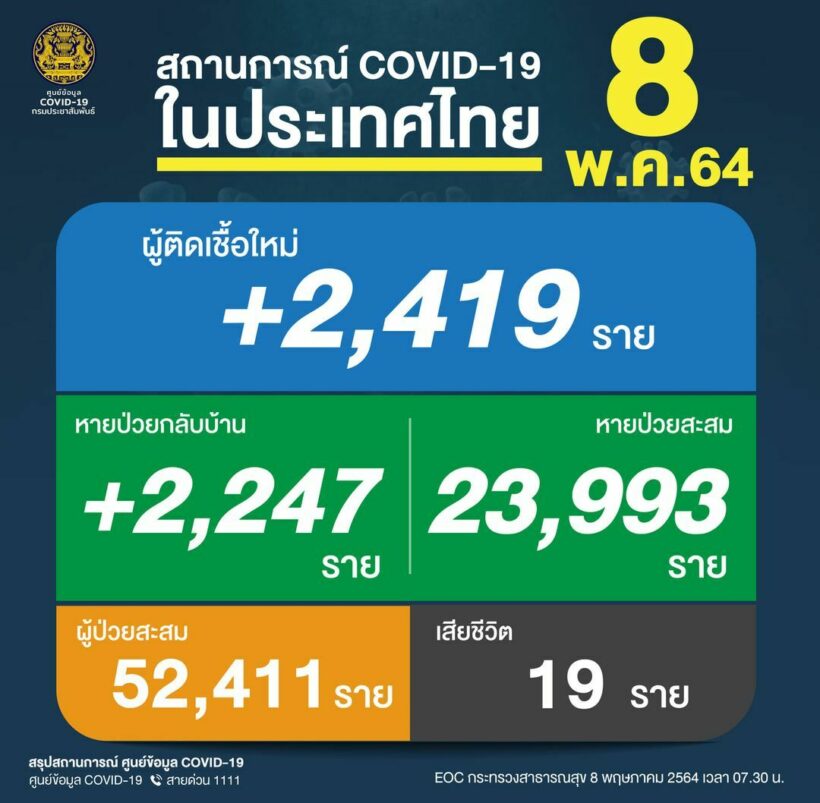 Want more from the Thaiger family?
📱 Download our app on Android or iOS for instant updates on your mobile
📧 Subscribe to our daily email newsletter
👍 Like/Follow us on Facebook
🔔 Subscribe to or Join our YouTube channel for daily video updates
Covid-19: Thailand struggles with South and Southeast Asia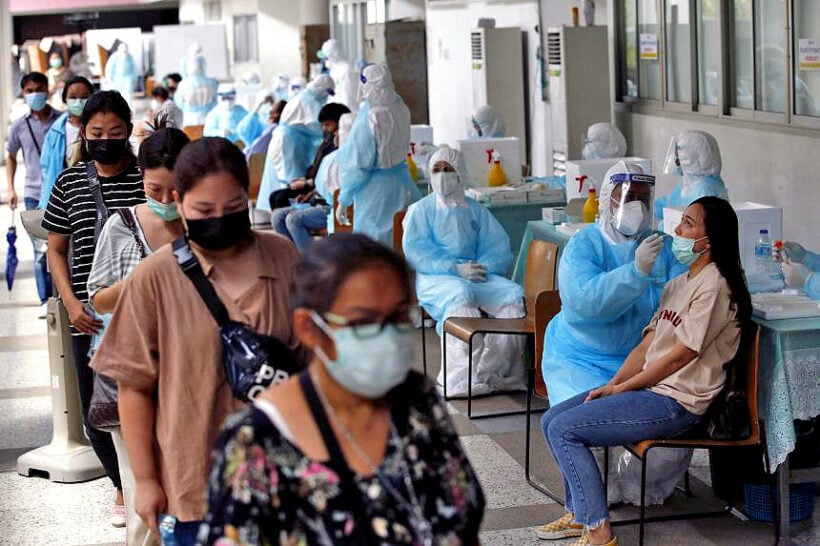 In 2020, Thailand was hailed worldwide for its iron-fisted lockdown that curbed Covid-19 spread almost completely. Thailand was the second country in the world after China to identify a Covid-19 infection in January of last year but managed to keep its numbers impressively low, at least until December's second wave of outbreaks. That wave drove the numbers up to nearly 29,000 Covid-19 infections in a nation of more than 69 million people, from the onset of Covid-19 in 2020 to the end of March 2021. But its devastating third wave struck in April and in just 5 weeks that number has more than doubled to above 76,000 Covid-19 infections.
Daily infection rates are now hovering around 2,000 per day with 1,911 reported yesterday. When a new Covid-19 cluster was identified in the elite nightclub scene of Bangkok's Thonglor district, 196 entertainment venues were closed for 2 weeks. But as the virus spread throughout the nation the closures followed too and soon all nightlife venues were closed indefinitely. As infections grew, the Thai New Year came and while most Songkran activities and events were cancelled, many people still went on holiday to cities or beaches or travelled to be with their families in their hometowns. Despite warnings and attempts at contact tracing and testing, Covid-19 infections surged in Thailand after the holiday.
With the influx of new infections, hospitals began to fill up quickly and waiting lists formed to obtain a hospital bed. The government required anyone in Thailand who tested positive for Covid-19 to be immediately admitted to hospital for observation and treatment. This may have done more harm than good as there were reports of Bangkok hospitals refusing to administer Covid-19 tests because they didn't have the capacity to take in any patient that came back positive.
Field hospitals have been set up using conference centres and sports arenas, and the country launched a plea for hotels to convert into "hospitels" – a hospital-hotel hybrid that could treat asymptomatic and low-needs patients and free up space for those in need of more intense medical care.
Vaccination has been slow and the government has come under frequent fire for their inefficient roll out. Confusion is constant with conflicting reports of deals being reached with vaccine manufacturers, delays in shipments and domestic manufacturing, questions about how to get a vaccine, and whether or not foreigners and expats in Thailand are even eligible for Covid-19 vaccination and at what cost.
This week the government push to vaccinate 50,000 people in core and dense areas in Bangkok after an outbreak of 300 new cases in the neighbourhood. But as of now, only 2 out of every 100 people have been vaccinated for Covid-19 in Thailand, a discouraging statistic when even India, in the midst of its catastrophic outbreak, has vaccinated 12 people out of every 100.
Here's how Thailand compares to ASEAN members and neighbouring countries:
| | | |
| --- | --- | --- |
| COUNTRY | CASES PER 1M (Wikipedia) | AT LEAST 1 DOSE |
| Worldwide | 20,072 | 8.11% |
| Brunei | 515 | 2.45% |
| Cambodia | 1,153 | 9.61% |
| India | 15,796 | 9.5% |
| Indonesia | 6,359 | 4.76% |
| Laos | 165 | 1.73% |
| Malaysia | 13,071 | 2.83% |
| Maldives | 89,035 (pop. < 1m) | 55.53% |
| Myanmar | 2,629 | 1.84% |
| Nepal | 12,287 | 7.18% |
| Philippines | 9,957 | 1.63% |
| Singapore | 10,745 | 23.32% |
| Sri Lanka | 5,477 | 4.33% |
| Thailand | 1,186 | 1.72% |
| Vietnam | 32 | 0.69% |
Read about the current Covid-19 situation in countries around South and Southeast Asia: Cambodia, India, Indonesia, The Maldives, Nepal, Sri Lanka and Thailand.
SOURCE: CNN
Want more from the Thaiger family?
📱 Download our app on Android or iOS for instant updates on your mobile
📧 Subscribe to our daily email newsletter
👍 Like/Follow us on Facebook
🔔 Subscribe to or Join our YouTube channel for daily video updates
American arrested for alleged murder in Chiang Mai has past record of abuse in Colorado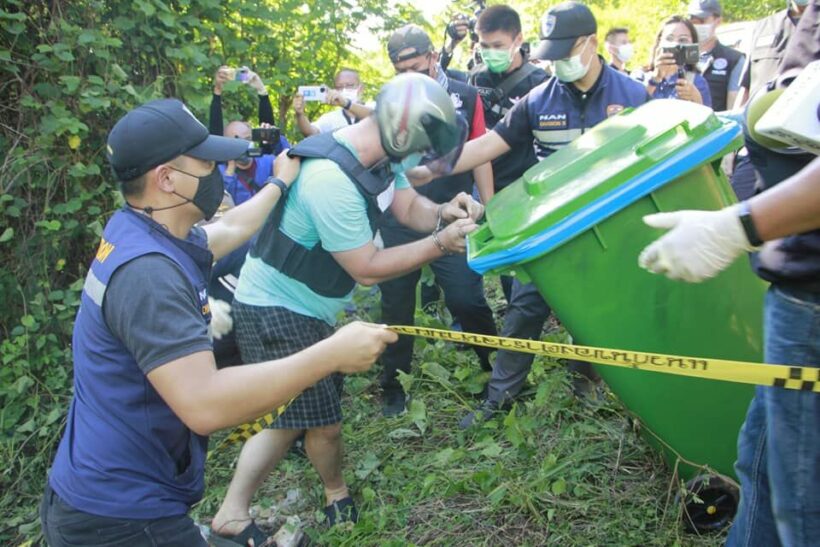 The American man who was recently arrested for allegedly murdering his pregnant Thai wife in Chiang Mai had been sentenced to 2 years of probation back in 2019 on assault charges after his gun went off while he was threatening a woman in Colorado. A report from the Associated Press says it appears to be the same woman.
Jason Matthew Balzer, 32, had initially faced attempted murder charges for assaulting a woman in Longmont, Colorado, but those charges were dropped. A Boulder District Attorney's Office spokesperson told a local reporter in a previous report that "in every case, we need witnesses to testify at a trial. Unfortunately, due to issues with the victim's availability, the higher charge had to be dismissed."
The victim had called the police saying Jason had asked to have sex and then assaulted her when she said "no," according to the arrest report. She told police he hit her face and slammed her head onto the bed's headboard several times before taking out a revolver and threatening to kill her, the report says. The woman told police she pushed the gun and it went off near her head.
Balzer pled guilty to third-degree assault in December 2019 and was sentenced to 2 years of probation. In December 2020, Jason was arrested in Colorado after police allegedly found 73 guns in his van. Possession of firearms is a violation of probation. It's unclear when Jason travelled to Thailand.
Since the case in Colorado involved a victim of domestic violence, the name was redacted in public court records, but a spokesperson for the District Attorney's Office told AP reporters that the victim has the same name as the woman killed in Thailand. Based on photographs, the spokesperson says they appear to be the same person.
On Thursday, Jason was arrested in Chiang Mai. Reports say he confessed to stabbing and killing his wife, 32 year old Pitchaporn Kidchop, who was 3 months pregnant. Police say Jason sealed his wife's body in a garbage bin before taking it to the woods about 5 kilometres away. In Thailand, a murder charge carries a maximum penalty of death.
Local police posted photos of the crime reenactment on Facebook. In Thailand, it is common for suspects to admit to crimes and reenactment the crimes to law enforcement officers and the press.

SOURCE: Time Call | Associated Press
Want more from the Thaiger family?
📱 Download our app on Android or iOS for instant updates on your mobile
📧 Subscribe to our daily email newsletter
👍 Like/Follow us on Facebook
🔔 Subscribe to or Join our YouTube channel for daily video updates