California's Fresno Police release video of the difficult recovery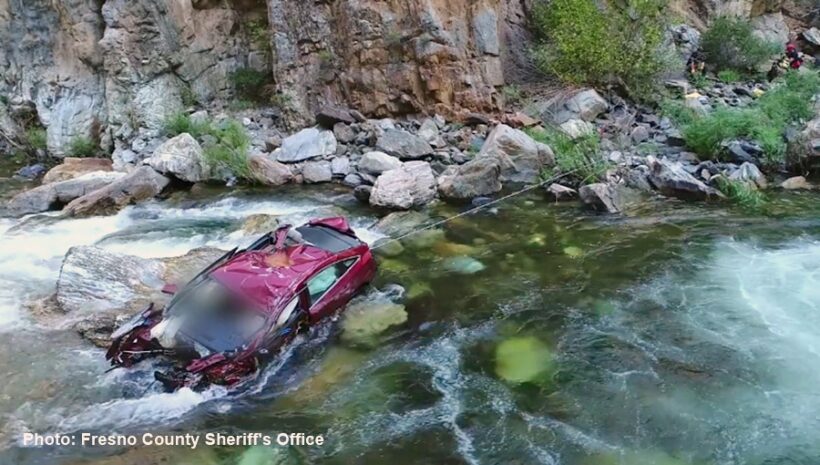 Fresno County has released video clip of the September 1 operation to retrieve bodies of two Thai students who died in a road accident at the King River in California.
The 5 minute video shows different stages of the recovery operation conducted by the Fresno County Sheriff's Search and Rescue team.
They say it took a total of eight hours to successfully move the car and remove the two bodies. The victims were later identified to be 28 year old Pakapol Bhakapon Chairatnathrongporn and 24 year old Thiwadee Saengsuriyarit.
The two were driving on a highway on July 26 to Kings Canyon National Park when their rental car plunged off a 150-metre cliff and came to rest partially submerged in a river.
Read more about this story HERE.
FSO SAR Kings River Recovery Operation

This video shows different stages of the recovery operation conducted by the Fresno County Sheriff's Search and Rescue (SAR) team in the Kings River on September 1, 2017. It took a total of eight hours for SAR and the California Highway Patrol's Air Support Unit to successfully move the car and remove two bodies from it. The victms were later identified to be Pakapol Bhakapon Chairatnathrongporn, 28, of Thailand and Thiwadee Saengsuriyarit, 24, of Thailand.This is a summary of the operation. One of our SAR deputies made his way out to the car and secured it by attaching a cable to the car from a device called a Griphoist, which is basically a manual winch system. Deputies on the side of the river tethered the Griphoist to a rock and then slowly ratcheted it, pulling it a short distance into slower moving water. This made conditions much safer for deputies to access the car. The team then used tools to get inside the car and were able to free both bodies. Deputies hoisted each body up to the crew aboard H40 and they flew the bodies to the road side where a coroner transportation unit was stationed. Family members have since taken possession of the bodies and held memorial services.

Posted by Fresno County Sheriff's Office on Monday, September 11, 2017
VIDEO: Fresno County Sheriff's Office


Can't get enough Thaiger? Try Thaiger Radio with music, weather, traffic, news & local programming or view some Thailand Top 10s lists.

Read more headlines, reports & breaking news in Thailand. Or catch up on your Thailand news.
Mitsubishi testing their new regional jet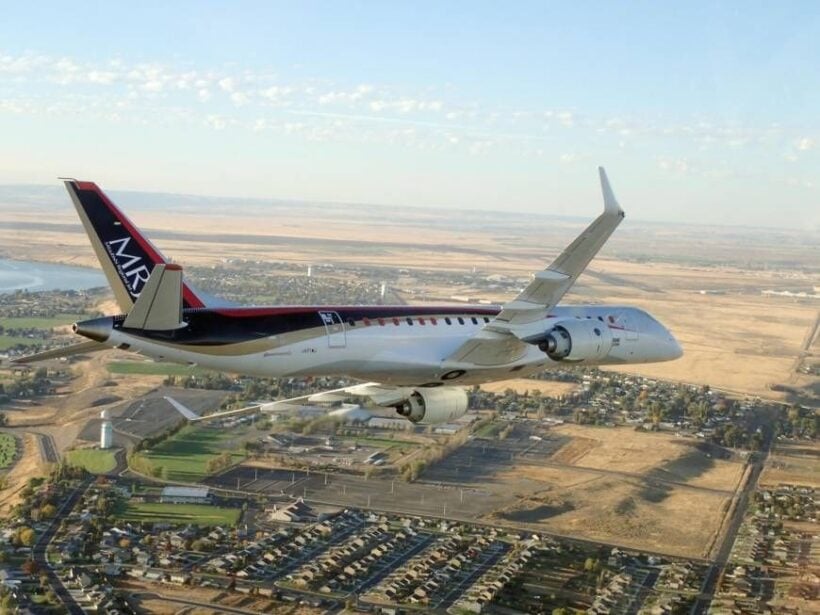 PHOTO: The Japan Times
Mitsubishi Heavy Industries' new 88-passenger Mitsubishi Regional Jet is testing the skies just as rivals Embraer and Bombardier are moving to sell off their manufacturing operations for jets with up to 160 seats to Boeing and Airbus.
At stake, particularly in the market for jets with fewer seats, is US$135 billion in sales in the two decades through 2037, according to industry group Japan Aircraft Development.
More cities in Asia and Europe are seeking to link up with each other and the Mitsubishi Regional Jet, the first airliner built in Japan since the 1960s, began certification flights last month in Moses Lake, Washington.
With fewer seats and smaller fuselages, regional jets are a different class of aircraft from larger narrow-body planes such as Boeing's 737 or Airbus's A320. The MRJ has a range of about 3,220 kilometres. The seating is 2+2 instead of 3+3 in a small Airbus or Boeing single-aisle jet.
After spending at least US$2 billion over more than a decade, the manufacturer is looking to get its jet certified and start deliveries to launch partner ANA Holdings.
Mitsubishi initially planned test flights in 2012 but blew past that deadline because of production difficulties. Now, the company, which makes ships, nuclear power plants and aerospace components, expects to have the plane ready for customers next year, a timetable that will test the company, said Mitsubishi Aircraft president Hisakazu Mizutani.
Mitsubishi Heavy is not the only Asian manufacturer betting that it can build aircraft cheaper and more efficiently. Commercial Aircraft of China (Comac) has a new regional jet in service, while Korea Aerospace Industries is studying whether to develop a 100-passenger aircraft.
"The aviation market in Asia is expected to grow further in the coming years and there will be demand for these aircraft," said analyst Lee Dong-heon at Daishin Securities in Seoul.
"The shift in the regional aviation segment we have seen over the last year or so has opened opportunities."
"The MRJ is fully capable of competing in the market."
Na-Oh, taking off daily into a brand new culinary adventure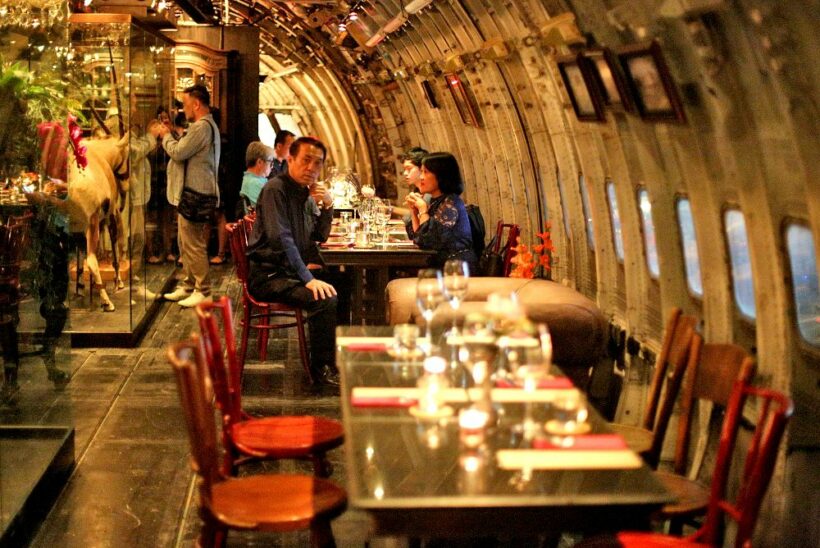 PHOTOS: The Nation | Na-Oh
A restaurant with a theme, a grand gothic theme – a flying vessel taking survivors of a post-apocalyptic world to a safe zone.
Na-Oh (a play on Noah and his journey-to-safety story) promises that its menu will constantly change to reflect a new theme set by the restaurant every three or four months, usually reflective of the various destinations the 'journey' will take you.
This flight of fancy is an old Lockheed L10-11, an 80s domestic flyer in the US now re-imagined as a restaurant in Bangkok's Thonburi district as part of the Chang Chui Bangkok Plane Night Market, on the west side of the Chao Phraya.
The 55 metre, 150 tonne former jet that's been permanently parked at ChangChui since 2017 is finally whisking passengers off on culinary adventures.
Formerly flying for Thai Sky Airlines fleet, the L10-11 was about to be scrapped when Somchai, the celebrated clothing designer and founder of fashion label FlyNow, flew to its rescue.
Upon boarding for what's billed as a "futuristic food journey", guests have five and five-course dinners to choose among – ranging from 1800 – 2800 baht.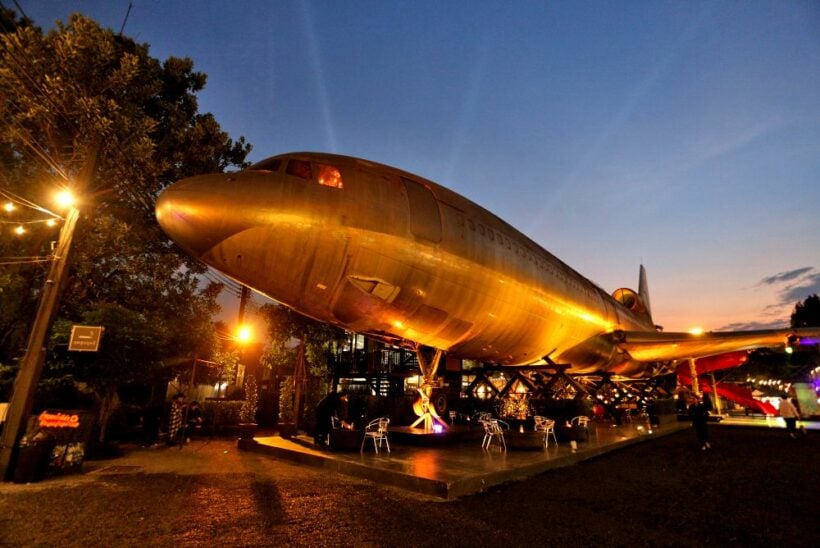 But when boarding the plane this time you're entering a whole new world of imagination – the look is gothic, sumptuous, art-deco, eclectic and lush.
The restaurant owners have replaced the 400 airline seats with vintage sofas and chairs and added fancy chandeliers. Old steamer trunks serve as tables.
And adding to the 'weird' is a range of taxidermy hanging on the sides of the old plane –  all are certified legal and ethical, meaning they died of natural causes.
Once upon a time surly baggage handlers would hurl your luggage onto a waiting trolley at an airport, but here the former luggage compartment is now a 10 seat lounge with high-backed maroon sofas.
The cockpit is a private dining room with a classic chesterfield.
You get the idea, Na-Oh is high on style, but what about the food? It's fine dining with a thematic twist. Mostly Asian-inspired simple flavours, the owners describe the culinary experience as a futuristic food journey. So, expect the unexpected. Check out the current menu at Na-Oh HERE.
Compared to the dramatic interior and wow-factor, the degustation menu-style offerings are a secondary matter. But if you're looking for that different dining experience in Bangkok strap yourself in, stow your tray table, open up your window covers and open up your mind to a new culinary experience.
Na-Oh is open daily, except Wednesday, from 6 to 11pm.
Bookings on 02 007 7070 or find out more HERE.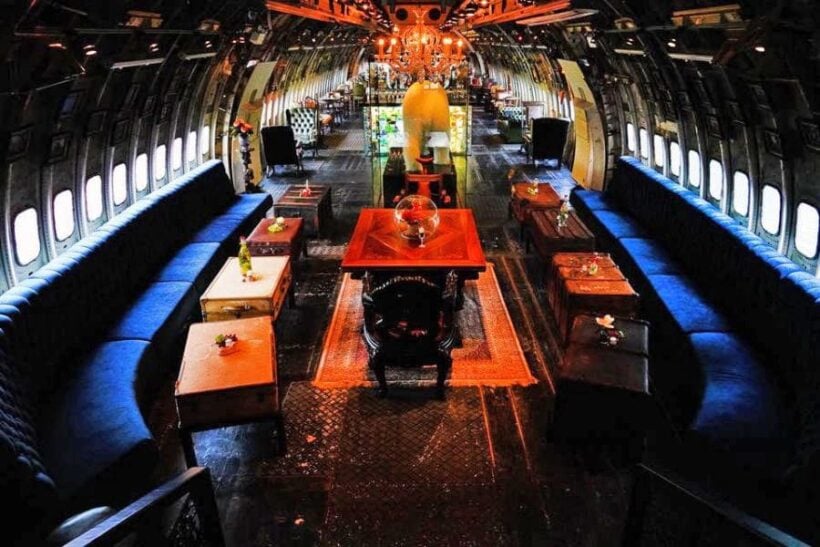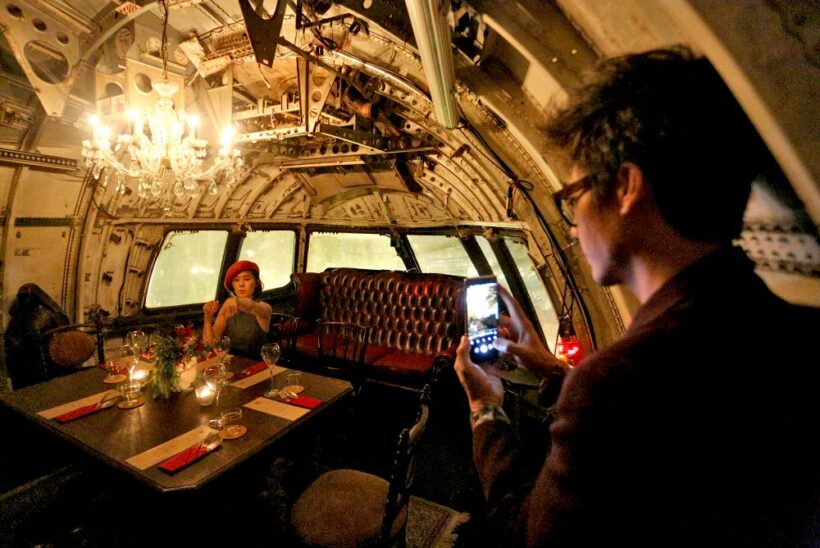 Boonrod gets his own Facebook page – VIDEO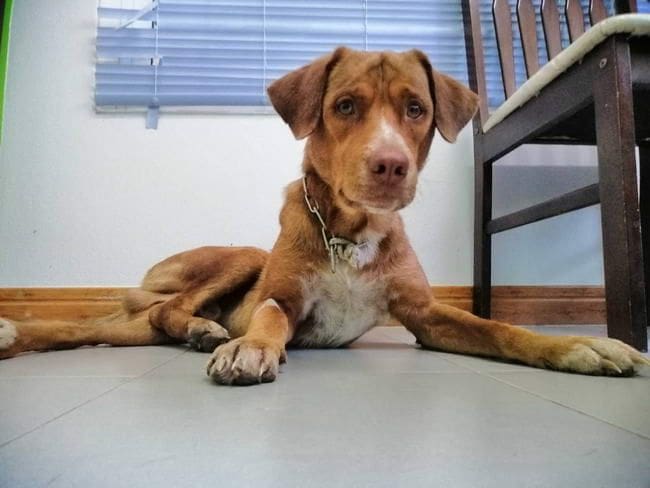 Boonrod, the dog rescued this week from an oil rig the middle of the Gulf of Thailand, can now show off his own Facebook page with more than 6,000 followers.
Launched just yesterday, Boonrod บุญรอดหมาอ่าวไทย (Boonrod Gulf of Thailand dog), has Facebook user Vitisak Payalaw serving as an administrator.
The rescue of the tan-coloured dog, named Boonrod ("Survivor" in Thai) by oil rig workers, hit both domestic and international headlines after he was fished out of the gulf last Friday by Chevron rig workers 220 kilometres from the shore.
บุญรอดเป็นหมาเรียบร้อยไม่สู้หมาตัวอื่น กับแมวก็ไม่ทำ วันนี้โดนแมวตบไป 5 ที ทำหน้า งงไปเลย#บุญรอดหมาอ่าวไทย#บุญรอด135ไมล์#Boonrod135milesWATCHDOG THAILAND#บ้านหมายิ้มหาดใหญ่

Posted by บ้านหมายิ้ม by หมาที่คอกนรกหาดใหญ่ on Friday, April 19, 2019
Boonrod recovering and meeting a few new friends
They spotted his head bobbing between the waves. How he got there and how long he had been lost at sea remains a mystery.
Boonrod was brought back to the Songkhla province to be under a vet's care and is said to be recovering well. His sad eyes, clearly visible exhaustion and quiet appearance pulled at the hearts of many who followed the rescue.
Boonrod will enjoy a new life, as the Chevron worker who rescued him has decided to adopt him. His Facebook page is now full of drawings and paintings of him made by his followers. Boonrod has been reported as being a girl dog in past articles but Boonrod is definitely a happy boy!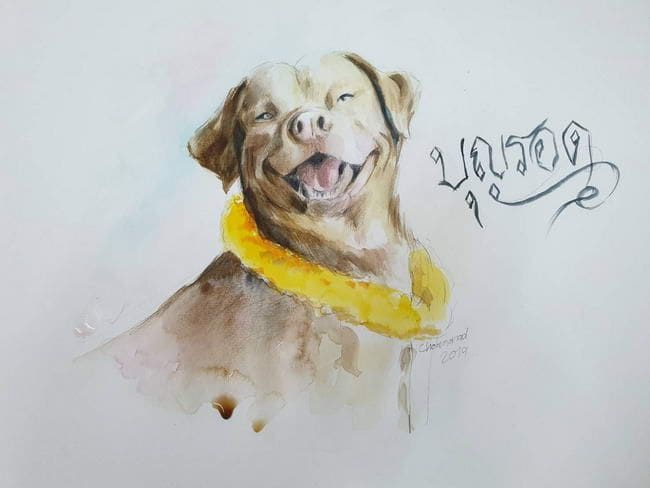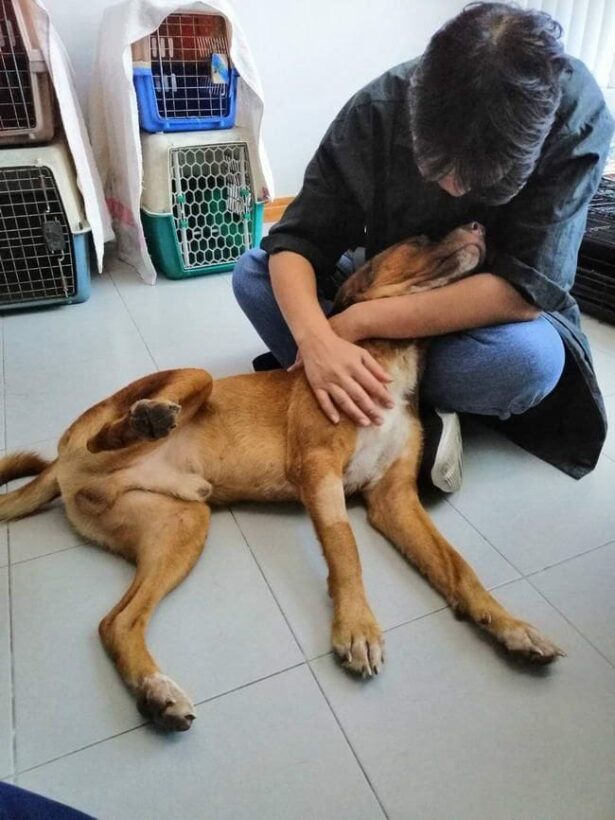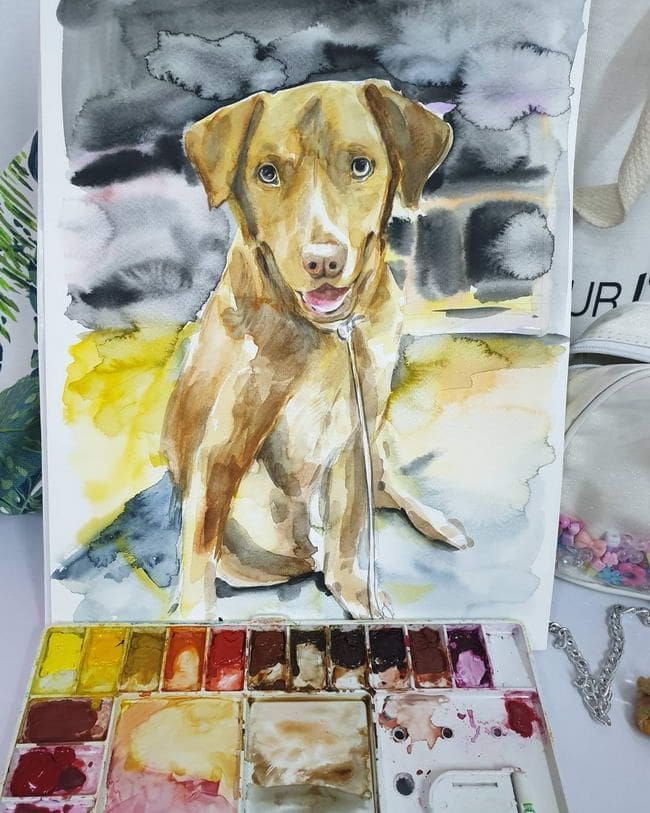 SOURCE: The Nation