Hot days for the North, possible thundershowers in the South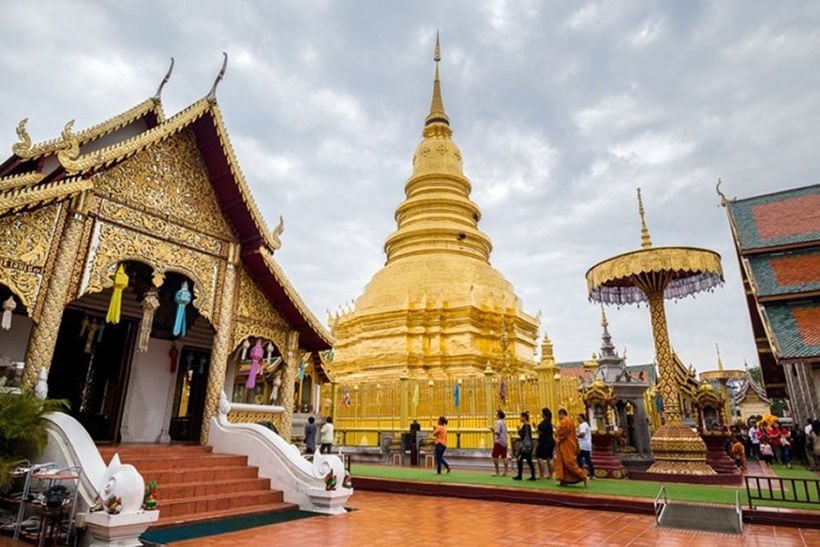 Thailand's Meteorological Department says today that a low pressure system covers upper Thailand and will make for hot, dry days in the north of Thailand. Chiang Mai, Bangkok and Phuket five day forecasts below.
"A westerly trough covers the upper Northeast, while southerly and southeasterly winds blow humidity from the South China Sea into the Northeast, the East, the Central and the lower North regions. Outbreaks of summer storms are forecast with gusty winds, hail and lightning in some portions of the upper country."
From Monday until Saturday, a low pressure cell will remain in upper Thailand causing hot to very hot conditions. Southerly and southeasterly winds will continue to bring the humidity into the Northeast and the East. Isolated thundershowers are likely in those areas.
Last week Chiang Mai residents sweltered with daily temperatures of 39 and 40 each day.
The forecast for the next 24 hours is as follows…
Northern Region: Lows of 18-26°C, maximum temperature 37-41°C. Westerly winds of 10-20 kilometres per hour.
Northeast: Hot during the day. Isolated thunderstorms with gusty wind and hail. Minimum temperature 22-25 °C, maximum 34-38°C. Southeasterly winds.
Central region: hot to very hot during the day. Minimum temperature 24-27 °C, maximum 37-41°C. Southerly winds of 10-20 kilometres per hour
Eastern region: Hot during the day hot. Isolated thunderstorms with gusty winds.Lows of 24-27 °C, highs of 34-38°C. Southeasterly winds of 10-30 kilometres per hour; wave below 1 metre, about 1 metre offshore.
Southern region (East Coast) Isolated thundershowers. Minimum temperature 21-26°C, maximum 33-37°C. Easterly winds of 15-30 kilometres per hour. Wave height about 1 metre.
Southern Part (West Coast) Isolated rain throughout the period. Lows of 23-27°C, highs of 34-38°C. Easterly winds of 10-30 kilometres per hour. Waves below 1 metre, about 1 metre offshore.
Metropolitan Bangkok: hot throughout the period with isolated rains. Minimum temperature 26-28°C, maximum 36-39°C. Southerly winds of 10-20 kilometres per hour.
Chiang Mai forecast below…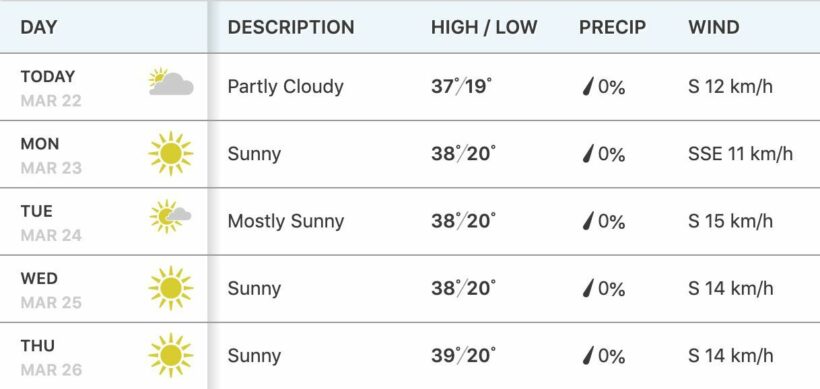 Bangkok forecast below…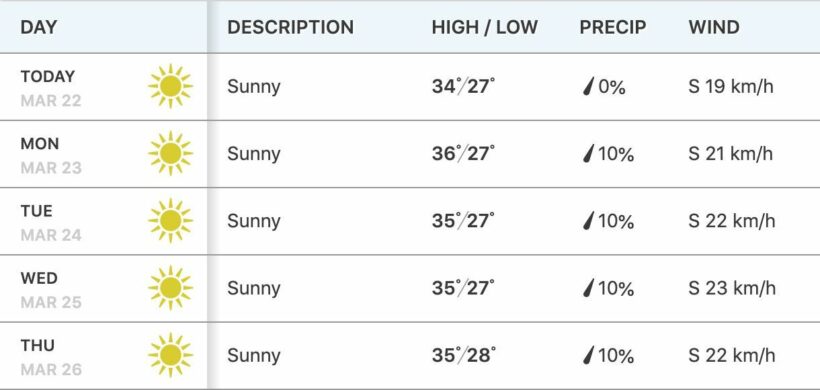 Phuket forecast below…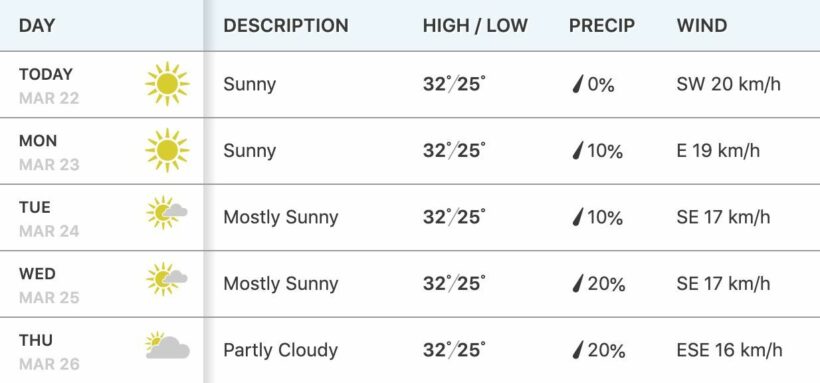 SOURCE: Thailand Meteorological Department
Keep in contact with The Thaiger by following our
Facebook page
.
Thailand News Today – Tuesday, April 7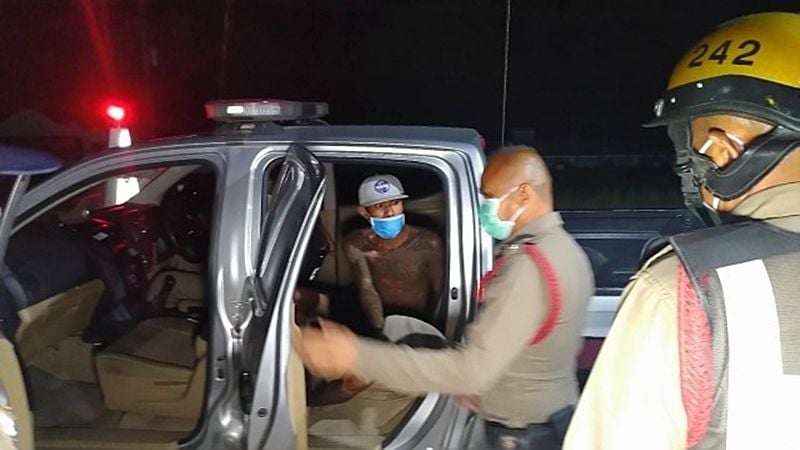 New coronavirus cases in Thailand fall to 38, 1 more death
In another dramatic drop in new case numbers, Thailand's Centre for Covid-19 Situation Administration reported only 38 new Covid-19 coronavirus cases in the previous 24 hours, and one additional death.
The cumulative death toll for Thailand now stands at 27.
The 38 new infections appears to show a declining trend from the 51 cases reported yesterday and and the 102 logged on Sunday, but officials warn there is no way to know the actual number of cases and how quickly the virus is spreading because, as is the case worldwide, very few people in Thailand have been tested.
Of the new 38 cases, 17 people were in close contact with previous patients. 11 of them were in Bangkok and contracted the disease from family members, colleagues and friends. 7 new patients worked in crowded areas or closely with foreigners: 
Other new cases included 3 health workers, 3 visitors to crowded places and 3 Thais who returned from overseas. 5 cases are still under investigation.
Surat Thani village headman kills monk and his assistant
Avillage headman in Surat Thani has been arrested after allegedly killing a monk and his assistant near the entrance to Khao Phela monastery. 
Police arrived at the scene at 2am where they found a pickup loaded with torches, fuel and coconut husks. A 48 year old man was lying dead on the back of the vehicle with a gunshot wound to his neck.
10 metres away was the dead body of a 49 year old monk lying on the ground. He had two gunshot wounds, one in the back of his head and the other in his chest.
A .32 handgun was found near his body.
55 year old Manop Kopin, the headman of a village in tambon Samor Thong, was waiting for authorities and surrendered himself. Police are continuing the investigation.
Indonesian cases spike, 24 doctors have now died
The Indonesian archipelago has announced its highest daily increase in Covid-19 coronavirus cases. There has also been a concerning rise in the deaths of doctors and health workers at the frontline of the national fight against the disease. Statistics have doubled in the last week.
The 209 confirmed deaths is the highest death rate and number of fatalities in Asia, outside of China. 
A spokesman for the Indonesian Doctors Association, also confirmed that 24 Indonesian doctors have now died from Covid-19 causing regional medical authorities to fear that the real rate of Covid-19 infections in Indonesia is much higher than reported.
CAUTION: Sterilising machines unsafe for humans
Thailand's Food and Drug Administration deputy secretary-general says that The World Health Oraganisation is encouraging people not to use any Covid-19 "sterilising machine services", including UV and spray tunnels.
He says they are harmful to the skin and exposure to the radiation or chemicals may even cause cancer.
"Most of the antiseptic used in the spray tunnels are those allowed for sterilising surfaces of various materials, but not for human skin. 
Don Mueang Airport uses hiatus to upgrade
Bangkok's Don Mueang international airport is turning the Covid-19 crisis into an opportunity to do a make-over whilst there is virtually no one in the terminal.
The coronavirus outbreak has forced the suspension of domestic and international flights, grinding air traffic into and out of Don Mueang airport to a complete halt.
So the airport is pushing ahead with a refurb costing 126 million baht.
There are three projects – a 99 million baht improvement of the air-conditioning system, a re-carpeting of most of the terminal priced at 18 million baht, and a nine million baht switch to LED lights to save energy.
Don Mueang is the country's second busiest airport, after Suvarnabhumi. A plan is also afoot to expand Don Mueang largely served by budget carriers.
Keep in contact with The Thaiger by following our
Facebook page
.
All Nakhon Ratchasima hotels ordered closed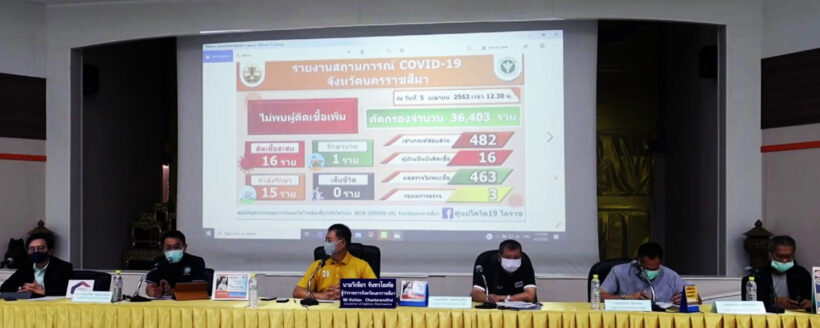 Today the governor of the northeastern Nakhon Ratchasima province Vichian Channothai, also chairman of the provincial communicable diseases committee, signed an order to shut down all hotels to fight the spread of the Covid-19 coronavirus. The order is effective immediately and until further notice.
All hotels with current guests are required to inform district health officials of their total numbers, their names and their expected departure dates. Any guests who show any symptoms or are suspected to be infected with the virus must be reported to health officials for investigation.
Earlier the governor issued several orders closing down high risk places such as entertainment venues, department stores, service outlets and most natural and tourist attractions. A village in tambon Tha Ang of Chok Chai district was also ordered locked down.
The Nakhon Ratchasima Covid-19 Response Centre reported today that the number of confirmed infections in the province stands steady at 16.
Nakhon Ratchasima, also called Korat, was the site of a February massacre by a disgruntled soldier that shook the nation, leaving 30 people dead including the shooter, and wounding 58 others.
SOURCE: Bangkok Post
Keep in contact with The Thaiger by following our
Facebook page
.
New immigration measures for stranded visitors considered by Thai cabinet tomorrow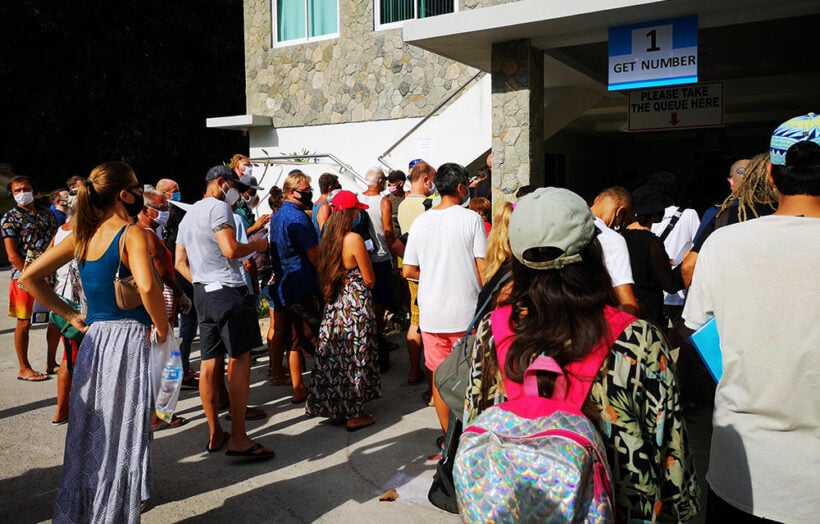 "Under the government's social distancing policy, these tourists will no longer have to visit the immigration bureau and risk contracting the virus in a crowd." 
Thai Immigration officials are seeking cabinet approval for new measures to categorise foreigners stranded in Thailand because of the Covid-19 crisis. The proposals will be submitted to tomorrow's cabinet meeting.
Last week Thai TM Prayut Chan-o-cha expressed concerns about foreigners who are stuck in Thailand after flights were in short supply and many countries had, as Thailand has, locked their borders to incoming passengers. Social media has been full of complaints from well-intentioned expats and visitors who have been forced to wait for hours in queues trying to sort out their immigration woes. Of course their main concern has been the lack of social-distancing.
There will be three classifications…
• Foreigners with resident visas who normally reside in Thailand but cannot return to Thailand due to the Covid-19 crisis
• Foreign tourists who are unable to depart Thailand due to the crisis
• Visitors from neighbouring countries who hold a temporary border pass and were stuck in Thailand after the borders were shut
Bangkok Post reports that foreigners in the first group are normally required to return to Thailand within 12 months of their departure and because they might not be able to re-enter the country in time, the Immigration Bureau will propose extending their compulsory return deadline until after the pandemic subsides.
"The extension of the return period would not affect any immigration rights and benefits they usually receive when strictly following the one-year return period requirement."
But immigration officials are advising them to return to Thailand as soon as they can after the situation improves and they can safely travel again.
"For foreign tourists in the second group who reported to immigration authorities for a 30 day extension after their visas expired on, or after, March 26, their visas will be automatically renewed every 30 days until the pandemic subsides."
The updated measures, as recommended, won't apply to any foreigners who are currently working and/or have a family in Thailand.
"They will still be required to report to immigration authorities regularly."
"For visitors from neighbouring countries in the third group, they will be allowed to stay in Thailand until the borders are re-opened. They will be required to leave Thailand within seven days after the borders reopen."
"Foreigners who are in Thailand and affected by the Covid-19 crisis, but not covered in the three new categories are advised to adhere to the usual laws," (meaning they will likely be required to report to a local Immigration office).
NOTE: These proposed measures are currently NOT in place and will need cabinet approval and an official announcement before they are.
SOURCE: Bangkok Post
Keep in contact with The Thaiger by following our
Facebook page
.