34 Thai provinces affected by heavy rains and flooding, typhoon 'Goni' heads towards Vietnam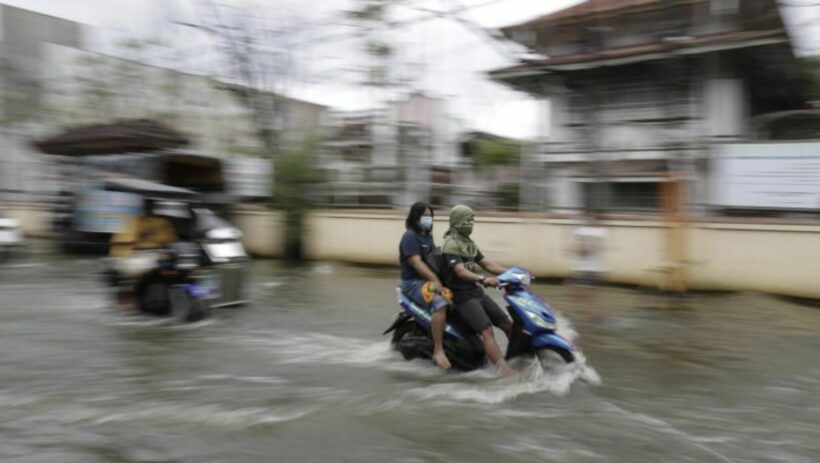 Heavy rain overnight has flooded parts of the Wang Nam Khiao district in southern Nakhon Ratchasima caused by run-off from the mountainous areas of the Thap Lan National Park. At least 1 person has been reported dead from the north eastern floods, an 18 year old swept away by sweeping waves of water while driving back to house by motorcycle last night. A bridge across the Huay Yai Tai stream in the town of Udomsap collapsed during last night's flash floods.
Meanwhile villagers have been killed and others injured due to flash floods in Surat Thani and another person killed in Trang, southern Thailand due to torrential rains, floods and landslides caused by the tropical storms.
Other people have died in Chanthaburi, Prachin Buri and Singburi province. Affected provinces around Thailand include 6 in the northeastern region, another 6 in the eastern region, 4 in the western region, 9 in the central region and 9 in the southern region.
Around Thailand, as of lunchtime today, a total of 91,641 households in 2,341 villages in 152 districts of 34 provinces have been adversely affected by the affects of tropical storms from October 7 – 31. Typhoon Molave passed over Vietnam and then dropped heaving rain in Central Thailand. The current Typhoon Goni, passing over The Philippines today, will also slam into Vietnam this week and drop even more rain as it continues westward, weakening but creating heavy rain and floods in Laos and Cambodia as well.
Forward forecasts suggest that the weakening storm will pass through Central Thailand with Bangkok officials being put on alert for later this week.
October is traditionally Thailand's wettest month. Typhoon 'Goni' is expected to gain strength as if passes through the South China Sea before reaching Vietnam's coast sometime late Tuesday, early Wednesday.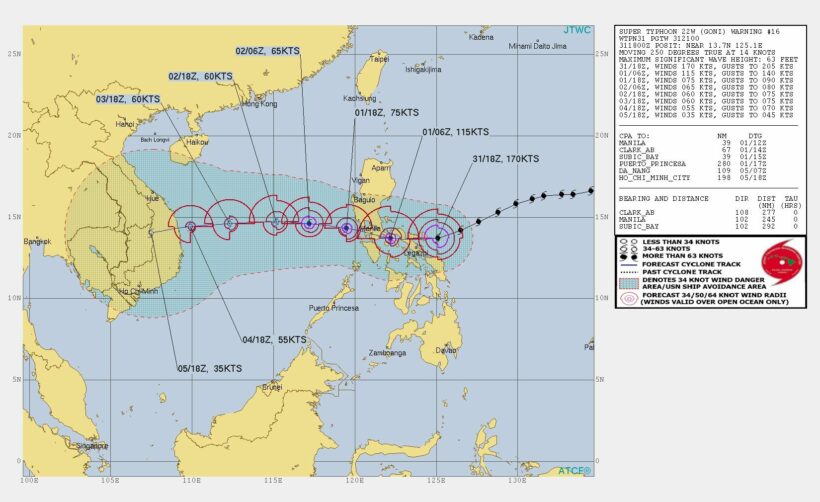 Keep in contact with The Thaiger by following our
Facebook page
.
Never miss out on future posts by
following The Thaiger
.
5 family members killed in early morning collision in Nakhon Ratchasima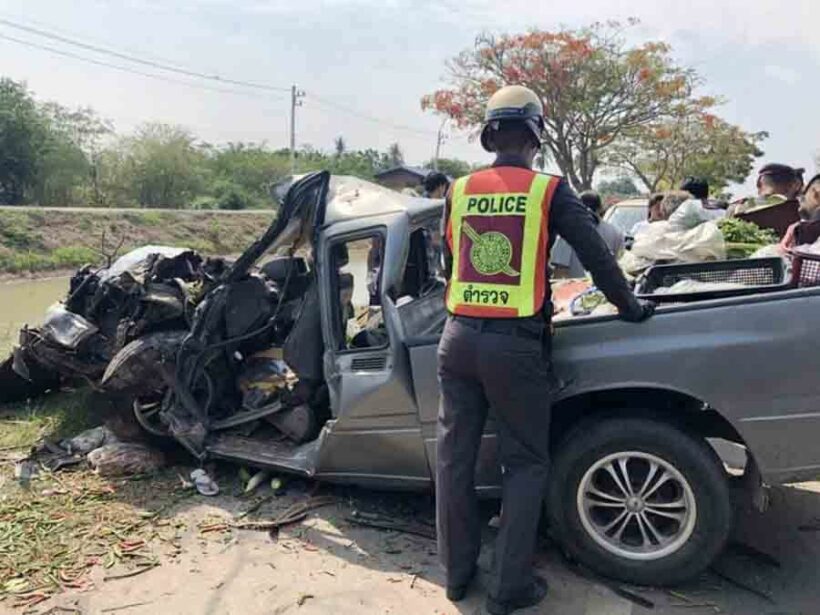 An early morning collision today has taken the lives of 5 family members in Thailand's lower northeastern province of Nakhon Ratchasima. One boy, aged 5, and two girls, aged 3 and 11, along with other family members, were killed when a pickup and sport utility vehicle collided in the Non Daeng district at around 6:40 am on the Mitrapap highway near the Ban Krok village of tambon Yao Yai, which lies north of Nakhon Ratchasima town. 4 men were also injured in the crash.
28 year old Anuwat Onnual, the driver of the Isuzu pickup, told police that he and 2 other male passengers were returning to Bangkok after unloading meatballs in Nong Khai province, when he lost control of the pickup, causing it to swerve across the highway median and collide with an oncoming Toyota SUV in Non Daeng district. Anuwat admitted he had fallen asleep at the wheel.
The other family members apart from the children killed were a 30 year old woman, who was driving, and another 35 year old woman. 2 other men who were in the SUV were also seriously injured along with 2 other men in the pickup. Those who were injured were separately admitted to Khong, Sida and Non Daeng hospitals, which are situated along the Mitrapap highway where the accident occurred.
Police say all 7 people who were travelling in the SUV were of the same family, in which 5 of those family members were killed. Police say an investigation was underway.
The accident is the latest in Thailand's ongoing dangerous road saga, as 2 days ago, a Thai singer died after crashing his carinto a lamppost while on a video call with his girlfriend. 23 year old Akkarachai, known as Ice, was found dead at the scene on Pahonyothin Road, or Route 1.
SOURCE: Bangkok Post
Keep in contact with The Thaiger by following our
Facebook page
.
Never miss out on future posts by
following The Thaiger
.
Rare sighting of an endangered clouded leopard at Isaan mountain range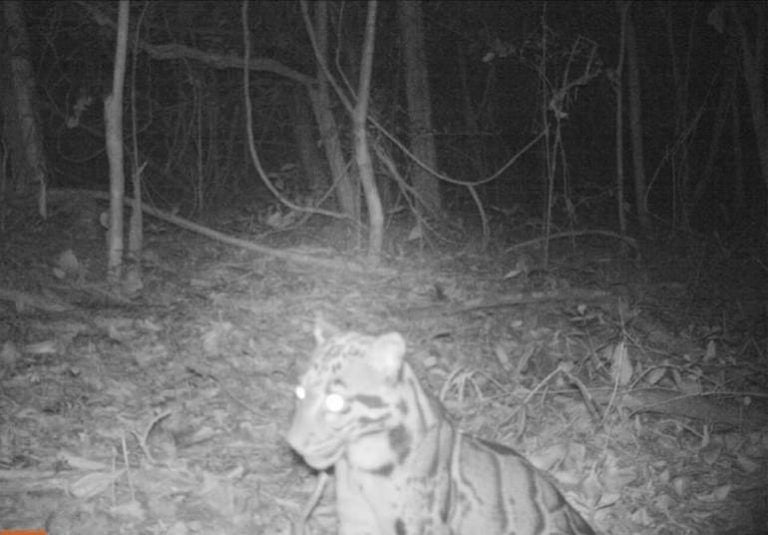 An endangered clouded leopard was spotted at a mountain range in the Isaan province Si Sa Ket. The rare sighting, captured using a camera trap, was the first time in about 20 years the wildcat has been seen in the Phnom Dongrak mountain range which borders Cambodia.
Since the park rangers stepped up patrol against poaching and made efforts to increase food and water sources, more small predators like foxes, dholes and leopard cats have been returning to the area, according to director of a local conservation office Chaiwat Limlikhit-aksorn.
"Today in the Phanom Dong Rak Wildlife Sanctuary there is a clouded leopard, which is a medium sized predator."
Camera traps were set up by local conservation officials from November 1 to 24, capturing footage of the rare clouded leopard. The cameras also filmed hog deer, Asiatic wild dogs, a Malaysian night heron and a leopard.
The clouded leopard is classified as a vulnerable species by the International Union for Conservation of Nature. The organisation says the leopard is hunted for the illegal wildlife, adding that the leopard skins have been seen in market surveys along with bones used for medicines and meat for exotic dishes.
Clouded Leopard exploitation for pelts are well documented in several countries, including the infamous Tachilek market along the Thai–Myanmar border. The frequency of Clouded Leopard parts available at market indicates increased pressure from hunting…However, the trade of cat parts from Myanmar into Thailand has diminished and reaffirms the role of China in the trade of cats out of Myanmar.
Sightings of the clouded leopard have also been reported at the Kaeng Krachan National Park, Huai Kha Khaeng Wildlife Sanctuary, Khao Sok National Park and Khao Yai National Park.
SOURCES: Bangkok Post | IUCN| Thai PBS
Keep in contact with The Thaiger by following our
Facebook page
.
Never miss out on future posts by
following The Thaiger
.
State Railway officials sign 5 high-speed rail contracts as part of project linking Thailand and China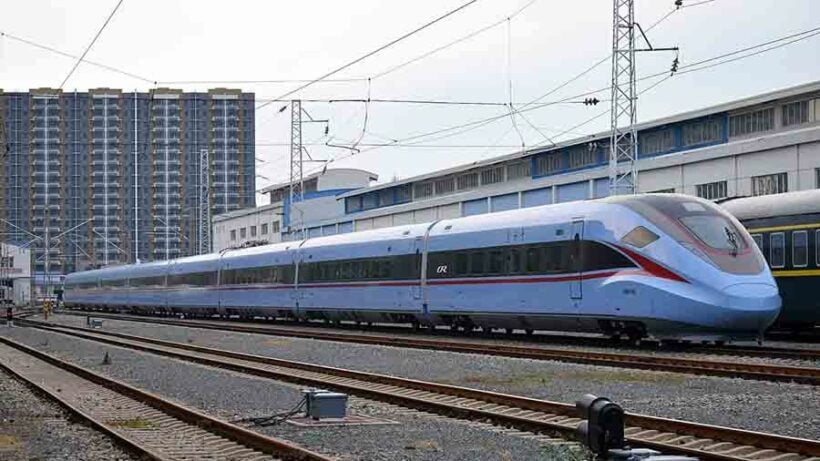 Officials from the State Railway of Thailand have signed 5 high-speed rail contracts worth more than 40 billion baht, in the latest development in the Thailand – China rail connection. It's understood the contracts cover phase 1 of the railway, from Bangkok to the north-eastern city of Nakhon Ratchasima (Korat).
It's hoped that section will carry its first passengers in 2023 and that the line will eventually reach further north, to Nong Khai, and from there, link with a rail connection connecting Laos and China. The high-speed trains will run at speeds up to 250 kilometres an hour.
Nation Thailand reports that the contract signing took place at the Transport Ministry, between SRT governor Nirut Maneephan and the 5 contractors, Nawarat Patanakarn, Thai Engineer Industry, Italian – Thai Development, SPTK Joint Venture, and Civil Engineering. In total, the project will involve over 100 kilometres of railway, with a budget of 40.275 billion baht. The first phase of construction involves 14 contracts, with work under the first one completed and ongoing under the second.
Nirut say the 5 new contractors are expected to take delivery of the land in early 2021, with the 7 remaining contracts being signed next year.
SOURCE: Nation Thailand
Keep in contact with The Thaiger by following our
Facebook page
.
Never miss out on future posts by
following The Thaiger
.