Thai government confirms introduction of "double entry" tourist visa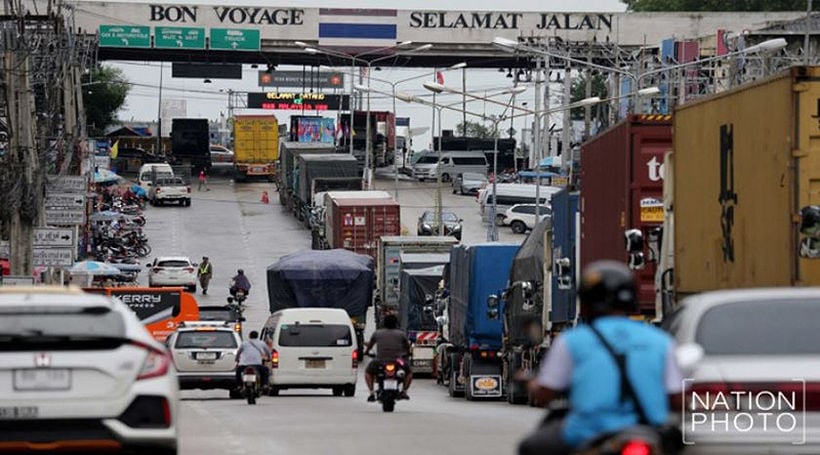 PHOTO: The Nation
The Thai government has announced a new double-entry tourist visa. The government says the new measures would allow a visitor to go in and out of Thailand to neighboring countries, such as Cambodia, Laos or Malaysia, then back into Thailand.
The deputy secretary general to the PM, Kobsak Pootrakul, says a double-entry tourism visa will be introduced. The new visa will allow visitors to leave and re-enter Thailand during their stay in the Kingdom. He also touched on the possibility of applying for the new visa online.
ThaiVisa reports that, in addition, two land entry points – Nong Khai (between Thailand and Laos) and Sadao (between Thailand and Malaysia), will be open 24 hours a day for a three-month trial period.
There has been no official confirmation of when the trial period will begin but it's reported to be from the end of this year or beginning of next. Following the trial, officials will check the numbers to see if they justify the entry points remaining open around the clock.
Kobsak says the new visa and extra opening hours at the checkpoints are part of a series of new measures being considered to kick along the tourism industry.
Kobsak says the government's target is to bring 42 million visitors to Thailand in 2020, adding that the country had already welcomed 20 million tourists in the first half of 2019 and was heading for a year end total of around 39 million, down from the 40 million target set at the start of the year.
It's understood there will be a time limit on the validity of the double-entry visa, but this has not yet been confirmed, nor has there been any confirmation of when it will be introduced.
SOURCE: Thai Visa | Post Today
Keep in contact with Thaiger by following our Facebook page.
Never miss out on future posts by following Thaiger.
Sawasdee pi mai – The four days of Songkran 2021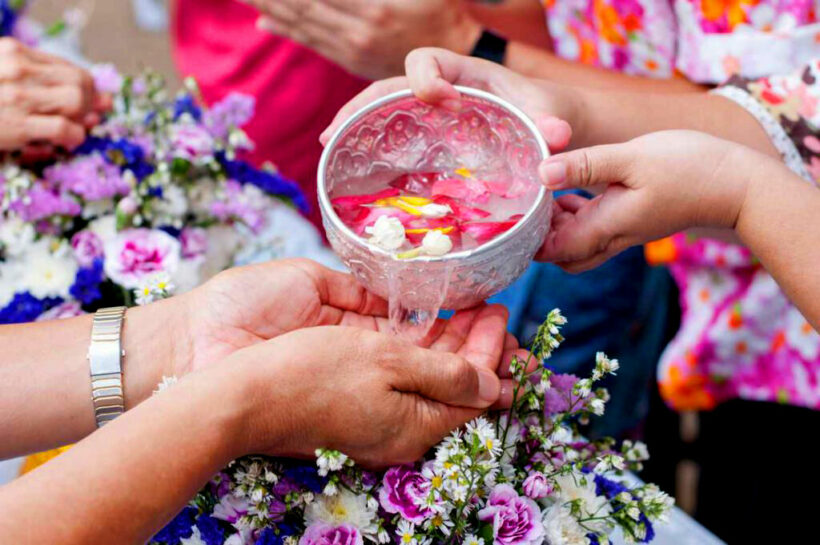 Despite the annual celebrations, water fights and parties being mostly side-lined this year, Songkran goes on for 2021, albeit in a much-subdued form. Many Thais have decided not to head home, but others have already headed out of the city centres to their homes to be with their families. They are being confronted with new restrictions and delays as they reach home province with many provincial officials now imposing quarantine or negative Covid tests to cross provincial borders.
And today, the Bureau of the Royal Household announced the Grand Palace and the Temple of the Emerald will be closed from April 13 due to the current rise in new Covid infections. Other royal palaces are also closed until further notice including Bang Pa In Summer Palace.
Even airlines are having to stop their food and beverage services, again. A January CAAT ban was only lifted a month ago (but some of the discount airlines will still ferry you to your flight in a cramped bus!).
The best we can do for Songkran 2021 is be happy, smile at our Thai hosts on their special day, buy an outrageously colourful Songkran shirt from a road vendor and say Sawasdee Pi Mai to everyone we meet. Let's do our best to add a few smiles to Songkran this year.
Here are some of the original traditions for the Thai New Year celebrations…
Tuesday, April 13 – Wan Sangkhan Lohng
On this day residents clean their houses in preparation of the New Year's festivities. Many provinces have street parades and gatherings at temples or get-togethers at relative's homes.
Wednesday, April 14 – Wan Nao
In preparation for the Buddhist celebratory merry-making the following day, people spend this day preparing cooked meals and preserved cuisine. Buckets of sand were commonly collected and brought into the temples to construct sand chedis, or sand shrines that are then decorated.
Thursday, April 15 – Wan Payawan
As the first day of the New Year, people would gather in the early morning at the wat to offer the food prepared the previous day along with new robes, fruit and other goods to the temple monks. In the past, this was the day where subdued water play began.
Friday, April 16 – Wan Paak Bpee
On the last day of Songkran, people paid their respects to their forebears and poured scented water over the hands of their elders who would then bless those taking part in the celebratory tradition known as rod 'naam daam hua'.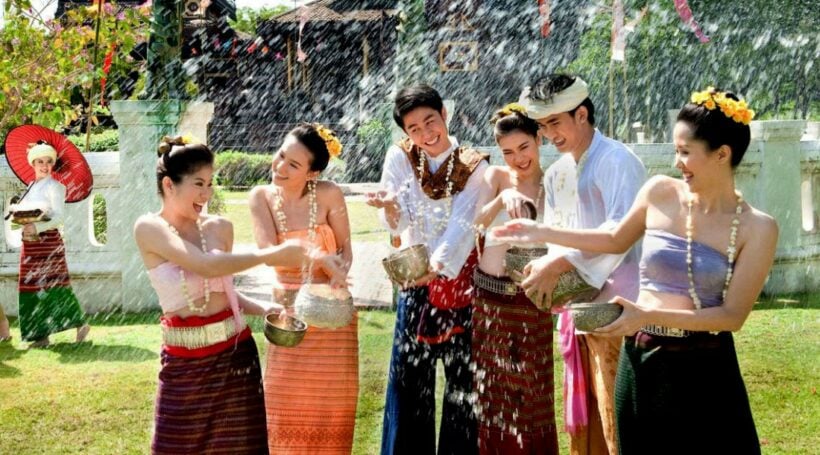 Keep in contact with Thaiger by following our Facebook page.
Never miss out on future posts by following Thaiger.
Thailand News Today | Covid surge continues, possible changes to 90 day reporting | April 12, 2021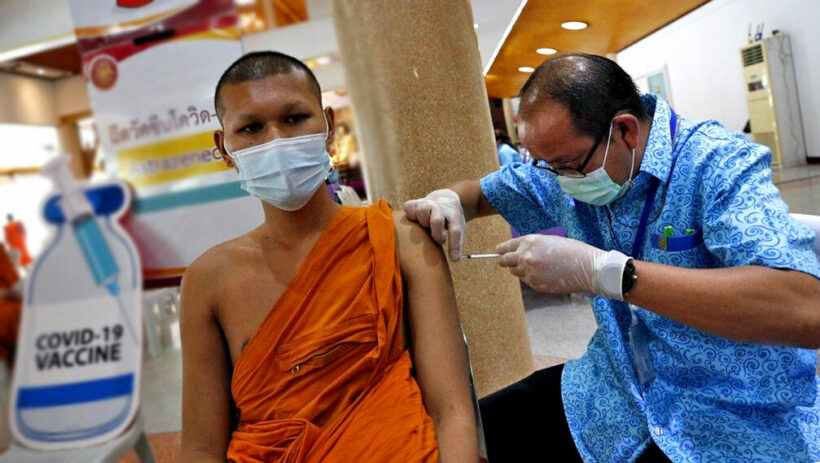 Thailand's CCSA has announced 985 new Covid-19 infections today – a rise in new case numbers but not as drastic as in the past week when there has been a steady climb. In the past 4 days there has been an increase of more than 100 new infections.
Out of the 980 local infections announced today, most were in the northern city of Chiang Mai with 246, Bangkok with 137, Chonburi which includes Pattaya with 92, Samut Prakan just south east of Bangkok with 83 and Prachuap Khiri Khan, which includes Hua Hin, with 52. 10 new Covid infections announced in Phuket today. A total of 74 new infections since last Monday when the first case was announced involving the 3 big parties on the previous weekend.
The Department of Disease Control says the policy limits the number of patients who go on to transmit the virus to friends or family, thereby controlling the spread more effectively. They insist there are no plans to allow patients to self-isolate at home, despite reports that many hospitals have run out of beds.
As a Thailand Navy admiral accuses a Netflix documentary of using outdated with inaccurate information about the country's fishing industry, a number of global environmental experts are also chiming in with similar criticisms. 'Seaspiracy' has been slammed for being full of inaccuracies and twisting the science behind the damage to the world's oceans, minimising the role of climate change and plastic pollution.
Possibility of a review to 90 day reporting and some other immigration and investment changes in Thailand. As of today only 0.5% of the Thai population has been vaccinated. Thailand is in 8th position among the ASEAN nations.
Keep in contact with Thaiger by following our Facebook page.
Never miss out on future posts by following Thaiger.
28,000 daily Covid-19 infections possible without "decisive action"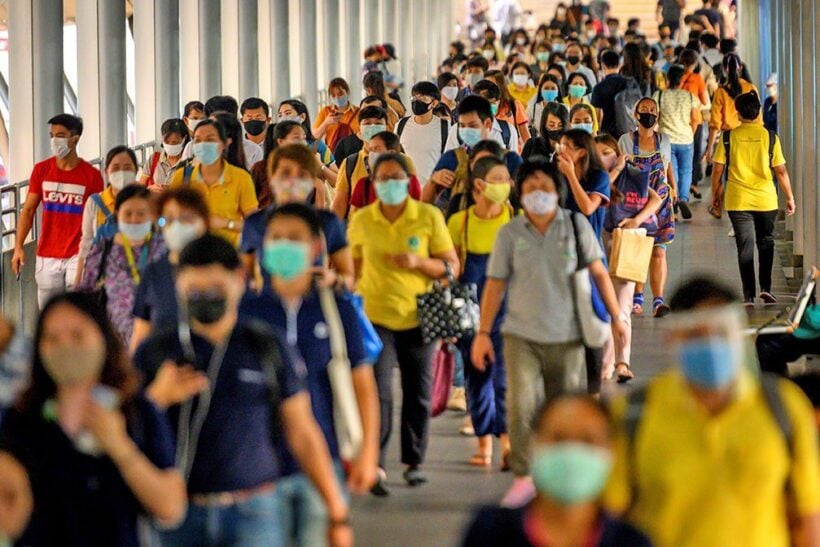 Without swift and decisive action, Covid-19 infections could surge to 28,000 people per day within the next month . This according to expert warnings and computer predictive modelling. The Department of Disease Control warns that the current spike is more infectious and deadly than the previous 2 waves and extreme action is needed. 967 new infections were reported by the Centre for Covid-19 Situation Administration yesterday, the highest single-day number Thailand has ever seen.
The DDC's epidemiology division, working with the International Health Policy Program, calculated models to predict the arc of future infection rates if Covid-19 safety measures were not enforced. The model's worst-case scenario predicted a maximum of 28,678 daily cases.
This is the worst-case scenario, however, as the minimum number of infections could be around 1,300 people. But a reasonable average without safety measures could be about 9000 daily infections, not a great situation for Thailand, a country that had until now done a great job avoiding a heavy wave of Covid-19 infections.
But for the UK variant (B117) newly arriving in Thailand, much like many new tourists arriving before it, Thailand's hedonistic nightlife scene may be where it all goes wrong. Of Bangkok's 1,114 infections, 823 of them were traced to entertainment venues. Across Thailand, a total of 140 bars and clubs in 15 provinces have been identified as virus-transmission locations.
Krystal Club in Thong Lor, now infamous amidst a swirl of news of politicians and powerful elite spreading infection there, tops the list of the 85 Bangkok infected clubs, with 211 infections this month. Chon Buri, Prachuap Khiri Khan, Pathum Thani, and Chiang Mai all had less than 10 Covid-19 infections linked to nightlife venues. In total, Covid-19 cases linked to nightlife outbreaks have spread to 70 provinces all over Thailand.
As a result, we're facing a party-free Songkran with 41 provinces closing all entertainment venues for 2 weeks and the 36 other provinces are following stringent screening and mask-wearing, poised to lock down the same if the pandemic comes knocking.
Bangkok intends to ready 10,000 field-hospital beds in preparation for any possible surge of the more infectious B117 strain spreading through Thailand now. The DDC does reassure though that the situation is still manageable if everyone works together and takes swift and strong actions.
The third wave of Covid-19 infections might be contained, but it will take a lot of personal discipline from everyone, and a sacrifice of Songkran's joyous celebrations, unfortunately.
SOURCE: Bangkok Post
Keep in contact with Thaiger by following our Facebook page.
Never miss out on future posts by following Thaiger.