The 5th Annual Stargazer talent contest returns to CC's Hideaway

This year the winner will receive 35,000 baht in prize money!
CC's Hideaway, located in Kata, proudly presents its fifth 'Stargazer Talent Contest' which will take place on April 27 between 6 pm and 11 pm.
The goal of Stargazer is to create an opportunity for new individuals and groups to perform and promote their special talents and, with media and hundreds of guests in attendance, maybe even get their big break.
Stargazer is open to the Thai and expat communities alike. In previous years, the contest has attracted contestants from around the world, including Thailand, the US, Russia, Australia, Singapore, the UK, Italy, Canada, Kyrgyzstan and The Philippines.
Stargazer brings together a wide range of singers, bands, dancers, acrobats and actors who are scored by spectators and professional judges.
This year, the winner will receive 35,000 baht and a the Stargazer trophy, second place will receive 20,000 baht and third place will receive 10,000 baht. There is also the 'People's Choice' award, as chosen by the audience.

Past winners include Same Size Crew, Bboys dance team (2015), Khun Maatam Rapter from Chiang Mai who sing's like an lady (2016), Spectrum dance team (2017) and Daisy & Alvin, popular local Phuket performers (2018).
In line with CC's Hideaway commitment to give back to the Thai community, the resort will donate a portion of the revenue generated by Stargazer to the Life Home Project Foundation whose mission is to offer children who are affected or infected with HIV/AIDS a more dignified life, prevent the spread of this disease in Phuket and fight against the stigmatisation of people living with it.
To apply, email stargazer@ccshideaway.com with a short biography, a photo and a link to a video of your performance. Contestants must be aged 13 or over.
Entry is free for the first 25 people who come before 7 pm and is 250 baht thereafter, including a drink. Guests and contestants are encouraged to dress in neon colours.
For more details, visit HERE, call 076 333 222 or email stargazer@ccshideaway.com
https://web.facebook.com/thethaigernews/videos/1688011211276700/
Tim Newton speaks to last year's winners, Daisy and Alvin Tumulak
Keep in contact with The Thaiger by following our Facebook page.
Never miss out on future posts by following The Thaiger.
Air pollution reaches "unhealthy" levels in Thailand's north and northeast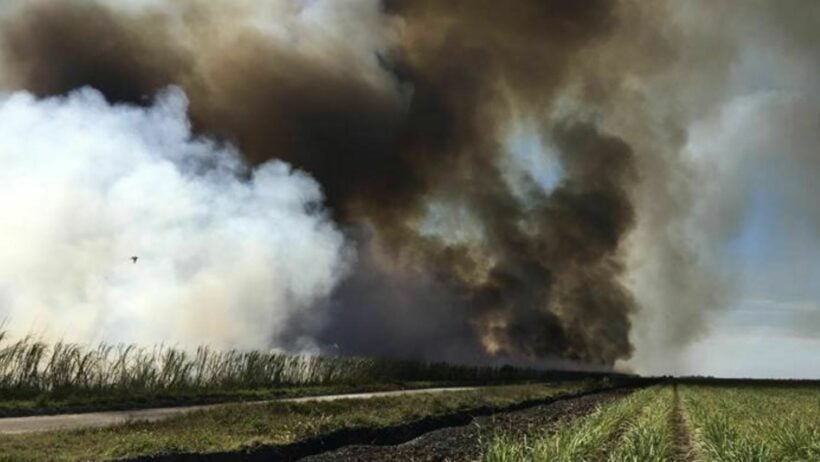 18 provinces in Thailand's north and northeast are being hit by a wave of smoke and air pollution as the burning season kicks in for the country's agricultural sector. The next 2 months are the peak of the burning off season for agricultural waste as farmers prepare their land for the next crops of corn, rice and sugar and use the fires to aid the harvest of some of their crops.
With sugar cane plantations, for example, farmers choose to burn the leaves off the plant, exposing the stalks, before harvesting the profit-making stalks, saving time and money. There are mechanical ways to achieve the same result but the farmers, pushed to slender profit margins by the multinational food companies, are unable to invest and amortise the additional costs.
The levels of PM 205 micron particulate, a measure of the smoke and haze, has been at "unhealthy" levels in Chiang Rai, Phrae, Sukhothai, Phitsanulok, Tak, Phetchabun, Phayao, Nan, Chiang Mai, Lampang, Khon Kaen, Roi Et, Chaiyaphum, Ubon Ratchathani, Saraburi, Nong Khai, Nakhon Phanom and Nakhon Ratchasima.
The Pollution Control Department are now openly admitting that the major cause of the seasonal smoke is "open burning by farmers who are preparing their land", according to the Bangkok Post. On Monday the Deputy PM Prawit Wongsuwan issued orders to prevent farmers from starting the plantation fires. You can check the result of his orders in the fire map below.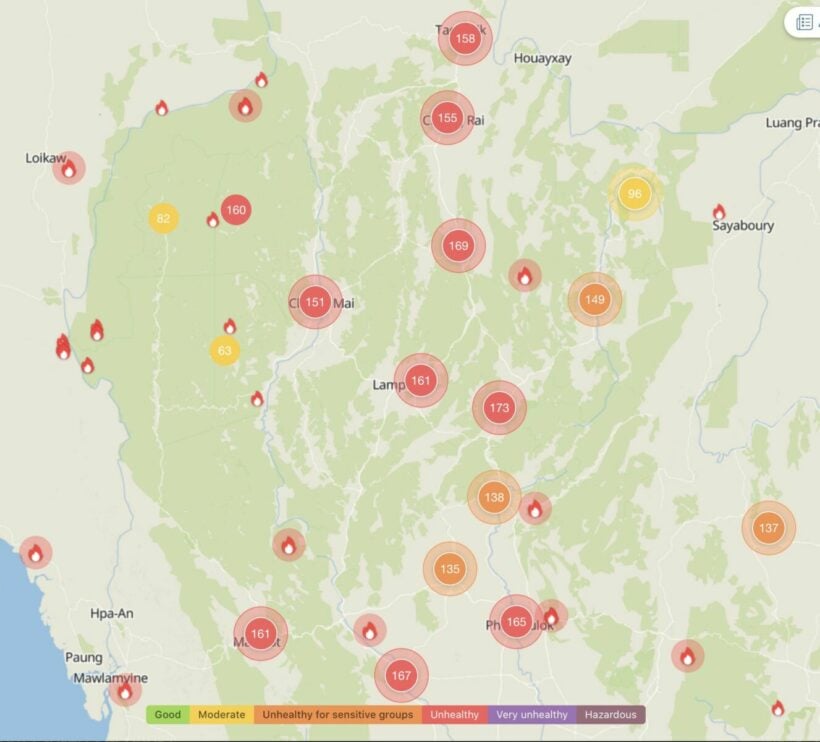 iqair.com measures the average level of PM2.5 dust in the North at between 35-85 micrograms per cubic metre (μg/m³) yesterday, considered "unhealthy". In the Northeast, the levels ranged between 40-99μg/m³.
The Thai Pollution Control Department considers PM2.5 readings below 50μg/m³ as "safe" but the Thai standard is twice as high as what is considered safe by the World Health Organisation.
firms.modaps, the NASA satellite fire tracking service, shows the number of fires currently alight around Thailand and the concentrations in the north and north east. The fires in northern Cambodia and north east Myanmar are also contributing to the Thailand's smog and haze, depending on which way the winds are blowing. During this time of the year, the winds are predominantly north east and light across much of Thailand. The firms.modaps feed is live, registering the fires alight at the time the screen capture was taken.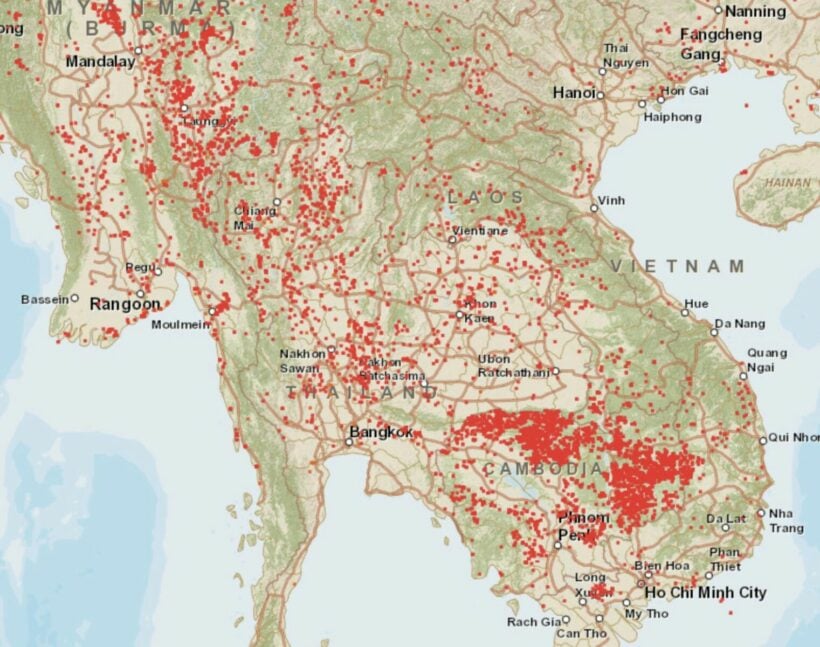 Bangkok starts off Wednesday with relatively better air quality than the past few weeks.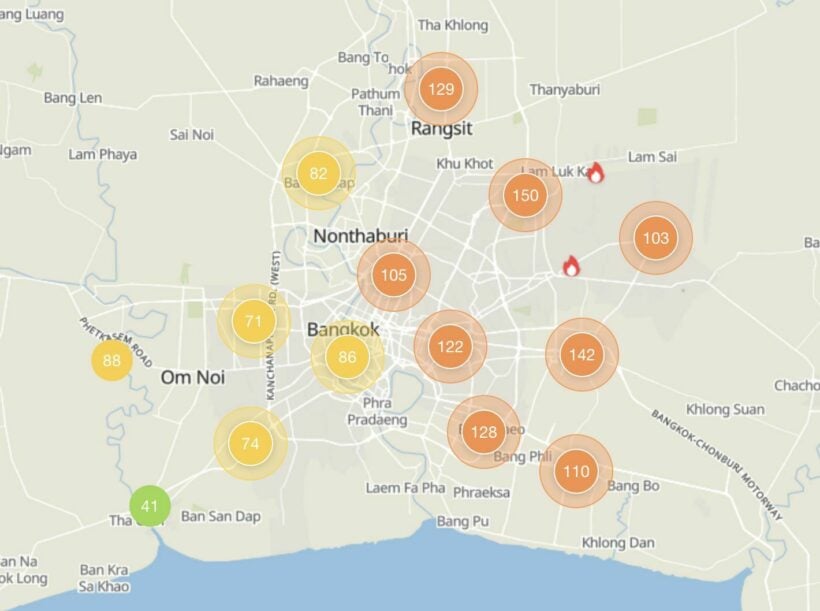 SOURCE: Bangkok Post
Keep in contact with The Thaiger by following our Facebook page.
Never miss out on future posts by following The Thaiger.
Thailand's tourism targets film production to gain revenue during Covid-19 crisis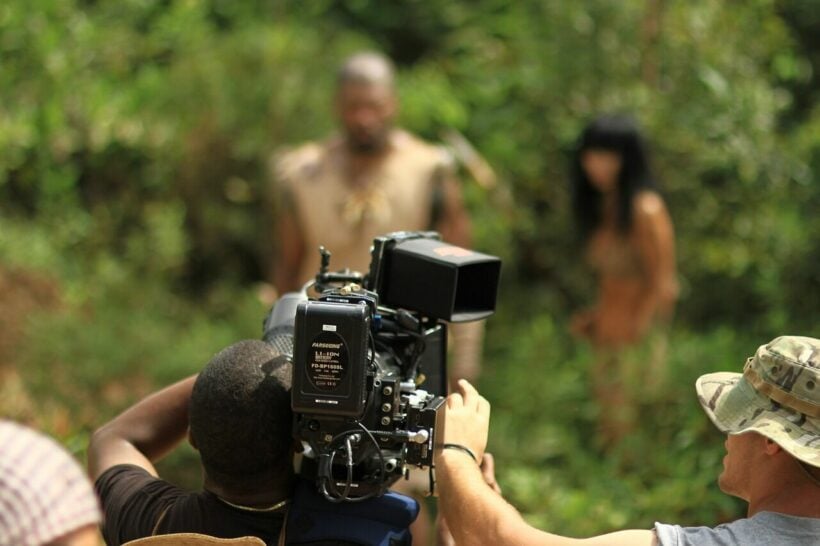 Thailand's tourism officials have a new idea to draw in visitors: film production. The Tourism and Sports Ministry is aiming to generate around 3 billion baht from foreign film crews and is targeting projects with an investment over 100 million baht, hoping to compensate for the loss of revenue due to the lack of international tourists during the coronavirus pandemic.
Foreign tourism revenue drastically dropped nearly 83% in 2020, going from nearly 40 million tourists in 2019 to only 6.7 million tourists in 2020.
The tourism department's director-general Anant Wongbenjarat says that Thailand welcomed 176 international film productions to the country last year, generating 1.73 billion baht for the local economy. But this is a sharp decrease compared to the previous year where the 740 foreign film crews generated 4.86 billion baht.
In August, the CCSA decided to grant special entry permission to film productions. 53 film production projects were based in Thailand during August and December, contributing 1.14 billion baht to the economy. Those entering Thailand must still undergo a 14 day quarantine.
"International productions can proceed and generate income for locals despite the tourism slowdown."
Anant also says there are 4 more film production projects underway, and it is forecasted to generate 186 million baht, bringing the total to 57 projects. In the first half of this year, there will be nine more productions expected to come in and help create at least 800 jobs for locals.
SOURCE: Bangkok Post
Keep in contact with The Thaiger by following our Facebook page.
Never miss out on future posts by following The Thaiger.
Owners of vehicles emitting black smoke to be fined up to 5,000 baht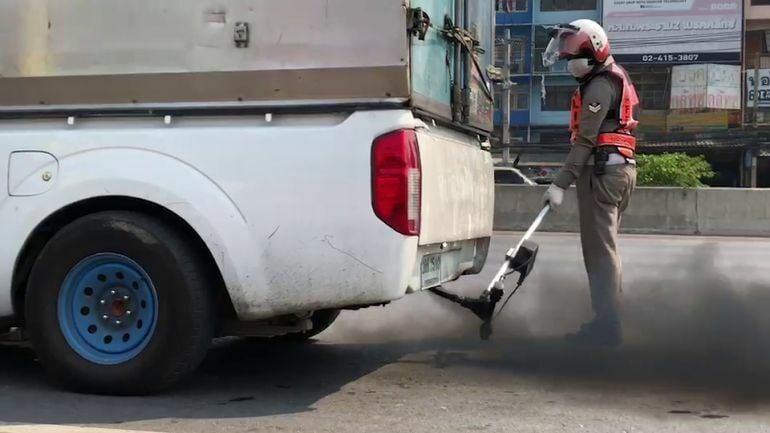 Owners of cars and trucks emitting an excessive amount of black smoke face a fine up to 5,000 baht. The heavy fine is an attempt to reduce air pollution in Bangkok. Along with the fine, the Department of Land Transport will also order the vehicle be suspended from use until its emission system is fixed.
According to the department, from October last year until January, 689,333 vehicles in Bangkok areas have been inspected for black smoke emissions, while 8,762 of them have been suspended from usage. Those vehicles emitting a high volume of smoke, but are under the safety standard, will receive warnings and owners are urged to check vehicle conditions and keep proper maintenance.
Vehicles with exceeding black smoke are urged to check their vehicles at the department's certified vehicle inspection centres located around Bangkok's outskirts, including Phutthamonthon, Romklao, and Khlong Luang areas. Motorists are also encouraged to help reduce air pollution caused by black smoke and PM2.5 particles by having their vehicles regularly serviced or alternately switching to electric or NGV-powered vehicles.
People who witness vehicles emitting black smoke can also report the authorities by calling 1584, or contact Line: @1584DLT, or via DLT GPS mobile application.
SOURCE: Nation Thailand
Keep in contact with The Thaiger by following our Facebook page.
Never miss out on future posts by following The Thaiger.