Thai man in Surin greeted by crocodile in his toilet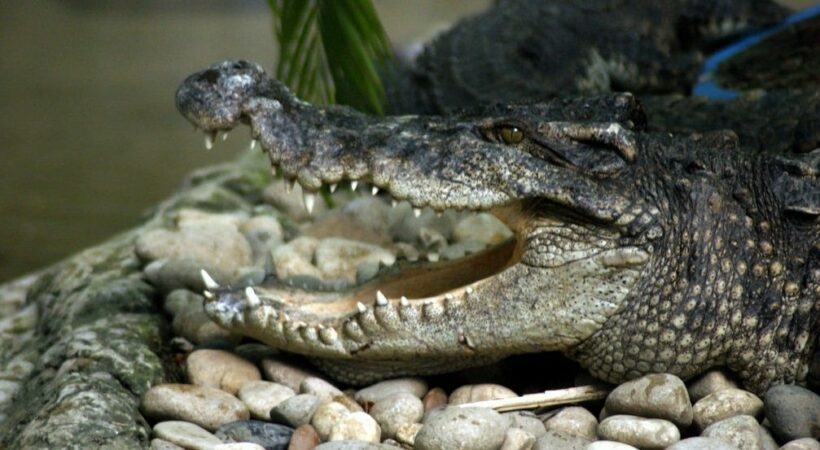 Surprise! A Thai man in Surin province was greeted by an unexpected visitor as he took an early morning toilet break. The man, 52 year old Korn Yudirom, says he got up at 3am to use the toilet, which is located separately from his main home. The man thought water was left running in the toilet, after hearing noises after he left, but it turned out to be noises from a crocodile.
The noises grew louder as he approached the toilet which prompted him to check around the house. It was there that he says he met the crocodile, with its mouth open, making threatening sounds (sorry we don't have a recording).
The rare incident, which happened yesterday in the Prasat District of Thailand's northeast Surin province, had Korn alerting his relatives to witness the unsightly scene while calling for help. A rescue team was sent in to remove the 2 metre, 80 kilogram crocodile, which was hiding under a bed with its mouth still open.
But the mission was not easy as rescue workers say their "special equipment" wasn't quite fit for purpose and were unable to catch it before it swam into a nearby pond. Finally, they caught it and tied its mouth shut.
After some investigating, Korn says the crocodile escaped from its home about 300 metres away. Rescue workers say the crocodile was sent back to its home after it was caught.
SOURCE: Thai Residents
Keep in contact with The Thaiger by following our
Facebook page
.
Never miss out on future posts by
following The Thaiger
.
Pattaya firework party lights up the weekend | VIDEO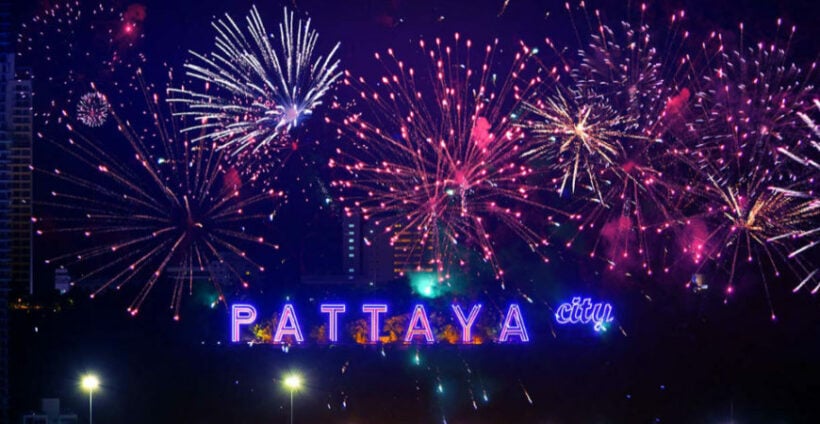 After much anticipation, the Pattaya Fireworks Festival lit up the sky this past weekend, delighting spectators with beautiful night beachside spectacle. More importantly, it was the first time Pattaya was packed with tourists since March this year, albeit mostly Thai tourists.
The event program was packed with long fireworks shows with hotels offering promotions for advanced bookings in an attempt to provide a much-needed boost to the local economy over the weekend.
To watch some of last night's events from Mike Bridge, click HEREand HERE.
The annual festival saw Thais and foreigners taking part in the festivities as local bars, pubs, restaurants, and food vendors enjoying a bit more padding in their pockets. Organisers didn't disappoint as they carried out their assurances to provide a world-class show with 4 fireworks shows per night. Such titles as "Shining in Sky," "Paradise Pattaya, Everyday for Everyone," "Pattaya Twilight, Decorated Stars," and "Light is Life," summed up the shows' themes.
During one of the shows' breaks, a 45 minute concert by popular Thai artist "Mean" graced the ears of onlookers, while an elephant show, by the Pattaya Elephant Camp, proved to be a sight for sore eyes. Marching bands featuring local Thai students started from the North Pattaya area and parading down Beach Road to the main stage area, located near Central Festival Mall filled the air with music, along with tiger shows and an art show by Nong Nooch Botanical Garden rounding up the schedule.
The popular Thai rock band "Big Ass" wrapped up the last fireworks show at 9:30 pm, with another popular Thai band "Boom Boom Cash" rocking out the night.
SOURCE: Bangkok Post
Keep in contact with The Thaiger by following our
Facebook page
.
Never miss out on future posts by
following The Thaiger
.
5 family members killed in early morning collision in Nakhon Ratchasima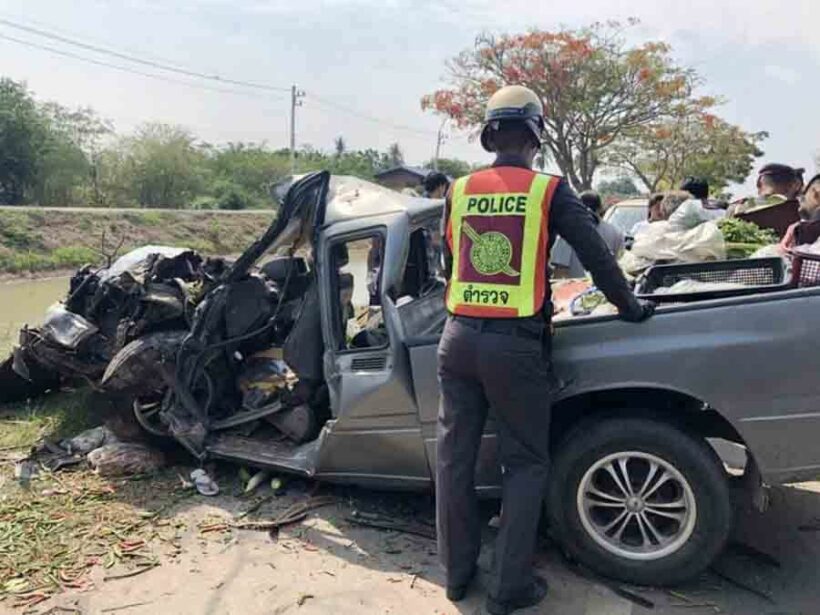 An early morning collision today has taken the lives of 5 family members in Thailand's lower northeastern province of Nakhon Ratchasima. One boy, aged 5, and two girls, aged 3 and 11, along with other family members, were killed when a pickup and sport utility vehicle collided in the Non Daeng district at around 6:40 am on the Mitrapap highway near the Ban Krok village of tambon Yao Yai, which lies north of Nakhon Ratchasima town. 4 men were also injured in the crash.
28 year old Anuwat Onnual, the driver of the Isuzu pickup, told police that he and 2 other male passengers were returning to Bangkok after unloading meatballs in Nong Khai province, when he lost control of the pickup, causing it to swerve across the highway median and collide with an oncoming Toyota SUV in Non Daeng district. Anuwat admitted he had fallen asleep at the wheel.
The other family members apart from the children killed were a 30 year old woman, who was driving, and another 35 year old woman. 2 other men who were in the SUV were also seriously injured along with 2 other men in the pickup. Those who were injured were separately admitted to Khong, Sida and Non Daeng hospitals, which are situated along the Mitrapap highway where the accident occurred.
Police say all 7 people who were travelling in the SUV were of the same family, in which 5 of those family members were killed. Police say an investigation was underway.
The accident is the latest in Thailand's ongoing dangerous road saga, as 2 days ago, a Thai singer died after crashing his carinto a lamppost while on a video call with his girlfriend. 23 year old Akkarachai, known as Ice, was found dead at the scene on Pahonyothin Road, or Route 1.
SOURCE: Bangkok Post
Keep in contact with The Thaiger by following our
Facebook page
.
Never miss out on future posts by
following The Thaiger
.
Thai netizens say pro-government royalists carried out Wednesday's protest shootings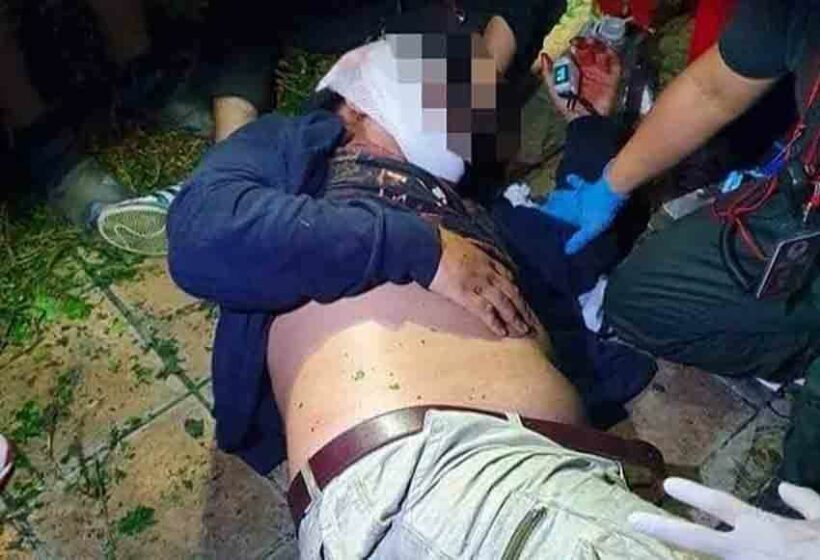 Thailand's netizens are refuting police's claims that pro-democracy protesters carried out Wednesday's rally shootings. The shootings occurred at the rally site near Bangkok's Siam Commerical Bank head office, where the rally site was originally planned but was then moved after protesters tried to avoid a clash with pro-government royalists. However, shots were fired, with police arresting a suspect on charges of attempted murder, shooting in public without reason, and carrying a firearm in public.
The netizens found footage of the scene, in which they say they identified the faces of the offenders. The revelation came after Deputy Metropolitan Police Bureau commissioner Piya Tawichai blamed Ratsadon guards for the shootings and injuries.
Further muddying the investigation, the shooters allegedly claimed they supported the pro-democracy movement, prompting netizens to scour videos that were taken of the rally. In light of the video evidence, Thairath TV has apologised for "blindly accepting" the police statement by accusing the pro-democracy protesters of causing the violence. PM Prayut has also ordered an investigation into the shooting, citing that the government may be blamed for the attack after authorities were reportedly only supposed to maintain peace in the rally, a job that clearly failed.
Meanwhile, the pro-democracy leaders have been called into questionby donors to the movement, as they have criticised how the leaders have used the donations, when a guard was shot and injured. Netizens took to social media to ask what "fairy godmother" Inthira "Sine" Charoenpura and Pakorn "Hia Bung" Pornchewangkurn were buying with the donation money with some online comments mentioning the display of yellow ducks and props as a poor use of donation funds. Some criticisers pointed towards using the donations to buy protective gear for protesters after the shootings occurred, prompting the 2 leaders to issue a statement that they would now use such funds for the injured guards.
SOURCE: Nation Thailand
Keep in contact with The Thaiger by following our
Facebook page
.
Never miss out on future posts by
following The Thaiger
.