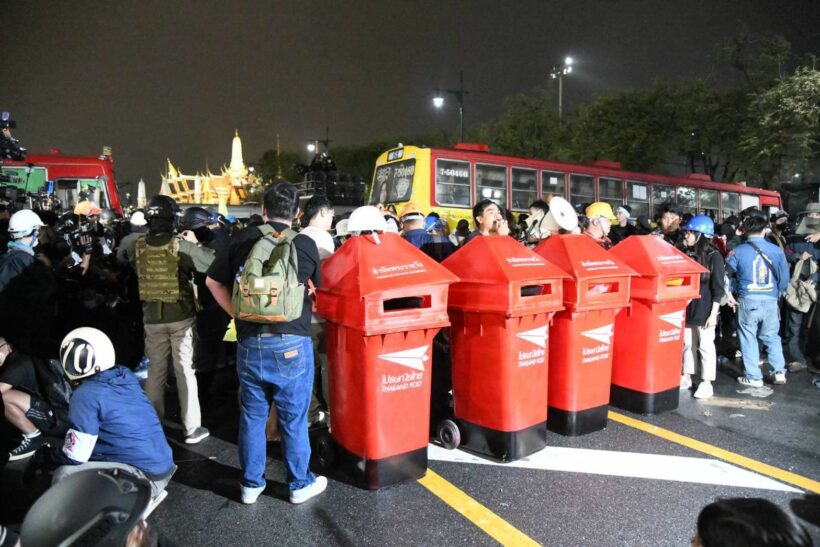 With police blocking their attempts to reach the Palace's Household Bureau in Bangkok last night, anti-government protesters dropped their petitions and hand-written letters, calling for reform of the Thai Monarchy, into 4 'letter boxes' instead. After the activists had brought the plastic red letter boxes with them, and, with police preventing them from marching to the Grand Palace, used them to receive the petitions instead. Nation Thailand reports that after the protest ended, police transported the boxes to the police station at Chana Songkhram.
Police have not reported on the fate of the letter boxes (actually large red rubbish bins), or the letters inside.
Activists from various pro-democracy groups came together yesterday as thousands marched in the capital – up to 10,000 – 12,000 according to various Thai media. After gathering at the Democracy Monument, protesters marched to Sanam Luang, where some addressed the crowd in speeches that criticised the government. With a number of enterprising food vendors also showing up, many protesters volunteered to pick up rubbish in order to keep the area litter-free.
Earlier in the day police barricaded access to the Royal Plaza and Government House, assuming both may be targets for protests during the evening.
Just before 8pm, as the police approached, activists made the 3 fingered salute that has become symbolic of the anti-government movement. They accused the police of being, "servants of the dictator", and asked for helmets and gloves, so they could protect themselves from any further violent action. They were referring to officers' use of high-pressure water cannons earlier that evening.
Protest leaders said officials had apologised for what they called an "accidental" spraying of those assembled. The "accident' lasted about 2 minutes. Activists have said they accepted the apology with a grain of salt, calling on police to explain their previous behaviour (referring to the use of water cannons at Pathumwan Intersection on October 16).
Anti-government protests have now been taking place for nearly 4 months, as protesters continue to call for the PM's resignation, a re-write of the constitution, and reform of the role of the Thai Monarchy.
SOURCE: Nation Thailand