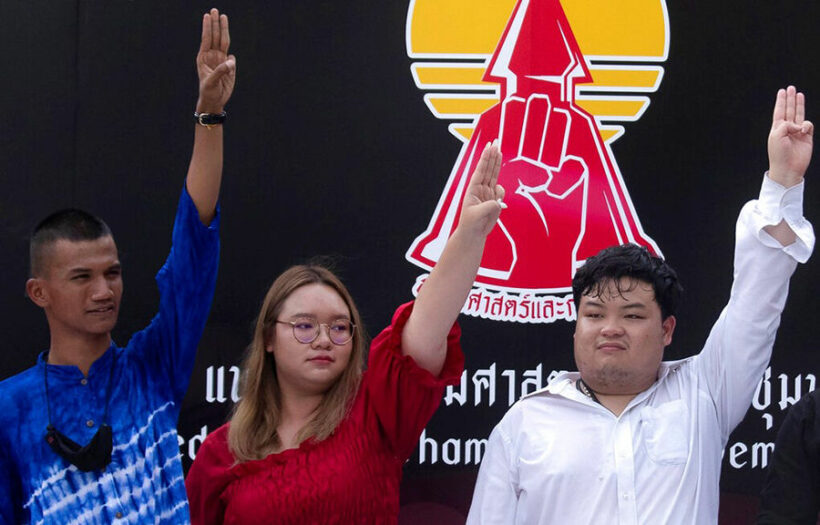 3 protest leaders are recovering in hospital following skirmishes outside the Bangkok Remand Prison during their release on Friday night. 2 of the 3, Panupong Jadnok and Parit Chiwarak have been re-arrested, while still recovering at Praram 9 Hospital in Bangkok. Panusaya Sithijirawattanakul is also being treated at the hospital and it's understood police are seeking a court order to re-arrest her too.
Panupong, also known as, "Mike", has been arrested by Rayong officers, after he took part in a protest against PM Prayut Chan-o-cha's visit to the eastern province in August. Meanwhile, officers from Ubon Ratchathani have re-arrested Parit, aka, "Penguin", at the hospital. He is being charged with sedition over his participation in a rally in the north-eastern province in August. Panusaya, aka, "Rung", is under 24-hour police watch, while officers seek an arrest warrant for her role in 2 protests in Bangkok in June.
All 3 protest leaders required hospitalisation after being caught up in scuffles that followed their release and immediate re-arrest on Friday night. Despite their apparent release, a prisoner transportation van was waiting outside the court to immediately take them back into custody on other charges, leading to angry scenes among friends and family members who'd gathered to welcome the 3.
Panupong, who it's believed fainted while in police custody, was admitted to Praram 9 Hospital, with Parit and Panusaya admitted to the facility later on, in the early hours of Saturday morning. The Bangkok Post reports that doctors say they will need a few days to recover.
Police are expected to ask the court to approve the detention of Parit and Panupong in their absence. Officers also claim a group of protesters damaged the transportation vehicle carrying the activists. They say they are compiling evidence against the group, prior to filing charges of property damage and assaulting state officials.
SOURCE: Bangkok Post