Four released, three re-arrested, drama outside the Bangkok Remand Prison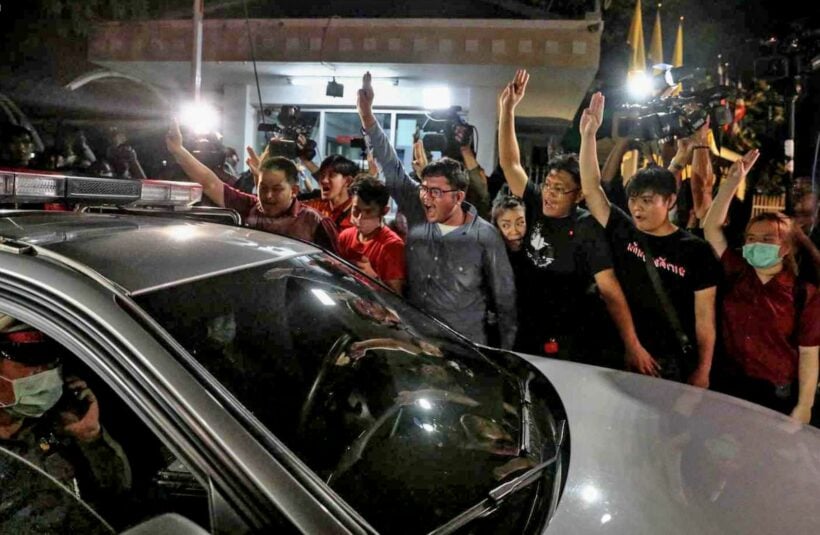 Another evening of drama, but this time not in the streets but during the release and re-arrest of several of the key anti-government protest leaders. 3 of 4 protest leaders who were released on bail by the Criminal Court yesterday, after the court rejected a police request to keep them detained on remand, were re-arrested. The court rejected a police request on grounds that it was "unnecessary for them to be detained further" and that the court "must consider the rights and liberties" of the detainees "who are still students".
Just moments after their release police placed more charges on them before they were able to walk from the jail to awaiting family and crowds of supporters.
The only protester to walk free was Patiwat Saraiyam who was released from the Bangkok Remand Prison early last evening with no other charges awaiting her.
The re-arrest of Parit "Penguin" Chivarak, Panupong "Mike Rayong" Jardnok and Panasaya Sitthijirawattanakul was strongly objected to by the the protesters' lawyer, Noraseth Nanongtoom. He claims that the police action was unlawful, because the arrest warrants, issued by the police in 3 provinces, were invalid after the 3 protesters had acknowledged, but denied, all the charges. He said that they would resort to "civil disobedience" claiming their re-arrest was illegal. He said he would petition the court to free the 3.
None of the 3 protesters were allowed to meet with their lawyer before the charges were laid.
The Guardian reports that all 3 of the released protesters ended up in hospital.
"Three prominent Thai pro-democracy leaders are in hospital after chaotic scenes outside a Bangkok police station overnight as officers tried to slap them with further criminal charges."
The warrants for arrest were filed by police in Ayutthaya, Ubon Ratchathani and Nonthaburi provinces.
The police's re-arrest of the 3 protest leaders also caused drama among their families, friends and supporters, who were waiting outside the Bangkok Remand Prison, in some cases travelling for many hours to get to Bangkok, to welcome their freedom, after hearing about the court's order granting them bail.
In the developing chaos outside the remand prison "Penguin" ripped off his shirt and Panusaya took to the PA system that had been provided by the growing number of supporters . They pledged to keep protesting peacefully and challenged their re-arrest.
More drama followed when "Mike Rayong" was carried, clearly compromised and slumped in the arms of a police officer, from a police van that had brought him from the remand prison to the Pracha Chuen station station before being taken away in an ambulance. He is said to be in a satisfactory condition at the Praram 9 Hospital, recovering from what police described as a "minor scuffle".
Local media reports that he fainted after allegedly being put in a "chokehold" by attending police.
To date, around 80 people have been arrested in connection with protests staged around the country, mostly in Bangkok. Most are now free on bail but a handful remain behind bars.
In other news the Appeals Court has rejected a bail application for protest leaders and human rights lawyer Anon Nampa, citing his release could lead to his participation in more unrest or an attempt to flee. Anon was arrested and charged over various transgressions at the Thammasat University campus and nearby Sanam Luang on September 19 and 20.
Keep in contact with The Thaiger by following our
Facebook page
.
Never miss out on future posts by
following The Thaiger
.
Thai Constitutional Court official files contempt charge against protest leader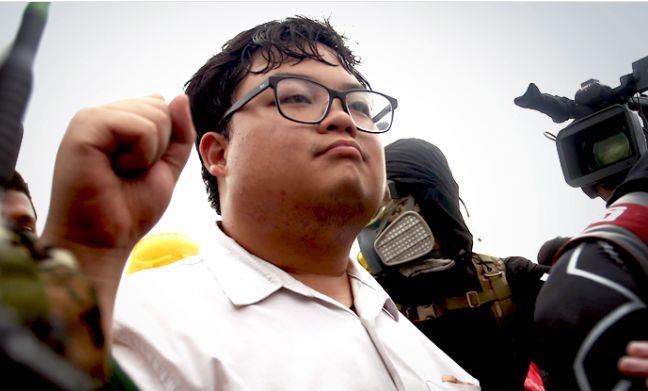 A student protest leader is facing charges of contempt after he made statements on Facebook critical of the Constitutional Court ruling to acquit PM Prayut Chan-o-cha, allowing the Thai prime minister and former Army General to continue occupying a military-owned residence. Critics have argued that allowing Prayut, a retired general, to say at the Army residence is a conflict of interest.
Director of the Constitutional Court's litigation office and police officer, Montri Daengsri, filed the charge against pro-democracy protest leader Parit "Penguin" Chiwarak. Montri says the Facebook posts made by Penguin were defamatory to the court and had tarnished its reputation.
In addition to the Facebook posts, Montri says the protest leader made an offensive speech following the court ruling at the Lat Phrao intersection in Bangkok. He says the speech was defamatory and violated Thailand's Criminal Code. Police are investigating the claims to determine if charges should be pressed.
Prayut occupies a military reception house at the 1st Infantry Regiment residential area on Phahon Yothin in Bangkok, according to the Royal Thai Army. Tenants in army welfare houses have to pay for utility bills while those who live in the reception houses, like retirees, do not pay for household expenses and the utility bill is covered by the Army.
The Constitutional Court ruled this week that Prayut did not violate the Charter by occupying the residence. The court says under military regulations, former officers can remain at their Army residence after their retirement at the discretion of the Thai Army commander.
SOURCE: Bangkok Post
Catch up with the latest daily "Thailand News Today" here on The Thaiger.
Keep in contact with The Thaiger by following our
Facebook page
.
Never miss out on future posts by
following The Thaiger
.
Schoolgirl bursts into tears meeting Panasaya, fearing for activist's safety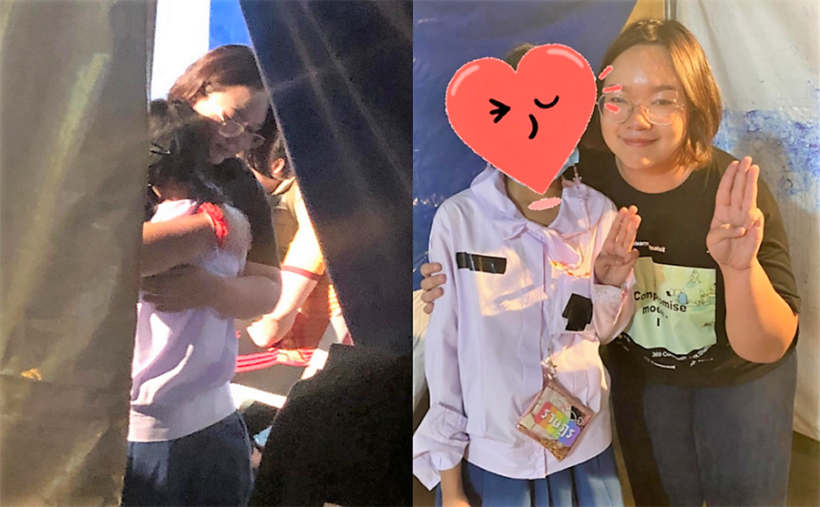 Protest leader Panusaya Sitthijirawattanakul, aka, "Rung", has been pictured consoling a young schoolgirl who broke down in tears, concerned about the activist's safety. Rattapol Kaiipah Promsuwan, who witnessed the exchange, has shared a photo of the moment on social media. She says the girl, who is in Grade 6 (making her around 11 years old), had gone to the organisers' area during Wednesday's rally at the Lat Phrao intersection in Bangkok. There, she asked to meet Panusaya, a hero of hers.
The girl's sister says her sibling has an interest in politics and is concerned about reports that Panusaya faces lèse majesté charges. Thailand's lèse majesté law prohibits insulting, defaming or threatening the nation's revered Monarchy, and carries a punishment of up to 15 years' imprisonment. During her meeting with Panusaya, the girl cried for half an hour, with the student activist trying to console her, and a Facebook photo showing her hugging the child.
Panusaya has received a new summons from the Technology Crime Suppression Division, as a result of a police complaint lodged by royalist supporter, Nitipong Honark, a music composer. She is now being summonsed on December 9, to hear additional charges of lèse majesté and violating the Computer Crimes Act .
Meanwhile, the BBC has named her in its list of the world's 100 most influential and inspirational women of 2020.
SOURCE: Nation Thailand
Keep in contact with The Thaiger by following our
Facebook page
.
Never miss out on future posts by
following The Thaiger
.
K-Pop fan-funded billboards move from BTS and MRT stations to tuks tuks to support protesters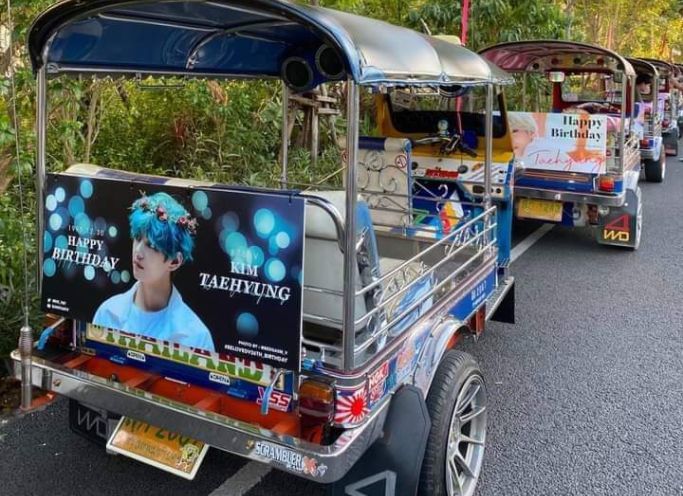 K-Pop fan-funded "happy birthday" billboards are moving from mass transit stations in Bangkok to tuk tuks after the BTS Skytrain and MRT Bangkok Metro temporarily shut down services during pro-democracy protests last month.
The world's K-Pop fans are weaponising their huge numbers and online 'power' by supporting Thailand's pro-democracy movement. In 3 days last month, Thai and overseas K-pop fans raised more than 3 million baht to support the growing student-led movement calling on government and monarchy reform. A lot more has been raised since then.
A Thailand fan page for the South Korean K-Pop band BTS (not to be confused with Bangkok's BTS Skytrain) urged fans to stop paying for the "happy birthday" billboards displayed in BTS and MRT stations. The fan-funded signs celebrate the birthdays of the 7 members of the band.
The band members also issued a statement asking their fans (known as ARMY) to stop paying for signs in the BTS and MRT stations because the mass transit systems "inconvenienced protesters and normal citizens from getting home and putting them in danger."
The "happy birthday" signs have been seen on tuk tuks throughout Bangkok while some have posted photos of empty advertising space in the transit stations.
🐹𝑯𝒂𝒑𝒑𝒚 𝒃𝒊𝒓𝒕𝒉𝒅𝒂𝒚 𝐉𝐈𝐍 & 𝐕🐯
พร้อมแล้วสำหรับวันเกิดพี่น้องตะกูลคิม ลิมิเตดสุดๆ 15 คันเท่านั้น ใครเจอป้าย ถ่ายรูปมาอวดกันที่แท็กนี้นะคะ 🌕#OursmilebeginwithJIN
🧸#BelovedV26th_Birthday#Happyvday#Happyjinday Special thanks for beautiful photos @Bedgasm_v 💜 pic.twitter.com/cVenc2SN9W

— 🌻⁹⁵ᶻ𝒊𝒔 𝑳☻𝒗𝒆 ᴮᴱ⁺𝘭𝘪𝘧𝘦 𝘨𝘰𝘦𝘴 𝘰𝘯 (@nuna_vmin) November 30, 2020
Keep in contact with The Thaiger by following our
Facebook page
.
Never miss out on future posts by
following The Thaiger
.