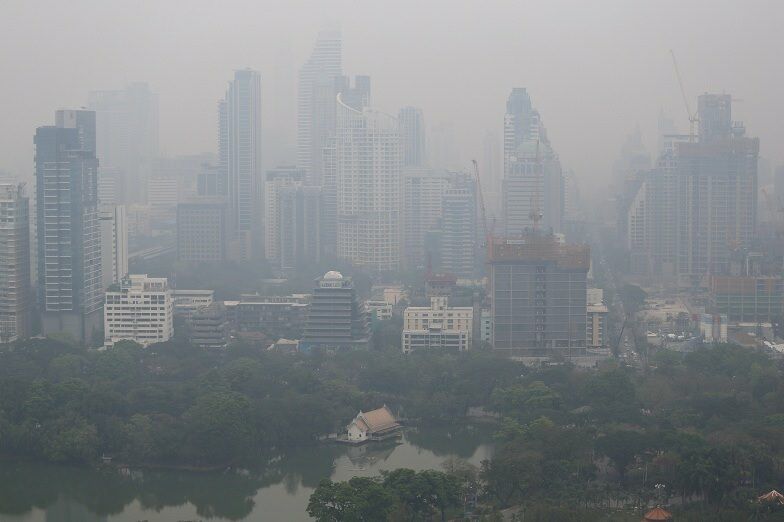 Bangkok Governor Chadchart Sittipunt urged the capital's workers and car drivers to stay at home and work remotely as the pollution levels continue to deteriorate in the city.
The 56 year old city chief advised residents to refrain from going to the office, wear masks outdoors, and if drivers must travel, use public transport.
"Residents should work from home if possible, or switch from personal vehicles to public transport options if they need to commute.
"The authorities will seek to control activities causing dust particles such as outdoor burning, construction and combustion from truck engines."
Air quality in the capital has been unhealthy since the weekend, with warnings that the dangerous PM2.5 dust particles may exceed safety levels again later in the week, reported Bangkok Post.
The city's air quality was moderate this morning but is expected to decline to unhealthy levels starting tomorrow, as reported by the IQAir monitoring tool of AirVisual.
Bangkok and other Thai cities have had ongoing issues with poor air quality in recent years, with pollution typically worsening during the dry season from December to February.
Chadchart added…
"The authorities will intensively monitor pollution levels in Bangkok from now until the end of February. For now, schools in the city should remain open as normal."
The Ministry of Public Health reported that Bangkok and 23 other provinces are on the list of cities with high levels of PM2.5.
The Ministry's Permanent Secretary, Opas Karnkawinpong, said…
"Health authorities across all 77 provinces will closely monitor PM2.5 levels and will open emergency operation centres in any province where unhealthy readings persist for more than three days.
"Patients with pollution-related diseases in local hospitals have more than doubled to nearly 213,000 this week, from about 96,000 last week, due to the worsening air quality."
The main known factors of Bangkok's air pollution problem are diesel fumes from the city's suffocating traffic, agricultural burning, which occurs when thousands of farmers across the country ignite their fields to clear agricultural waste before the next harvest, and secondary aerosols which could be dust, among other things
The World Health Organisation says that the annual average level of fine particulate matter is smaller than 2.5 microns or PM2. 5 should not exceed 5 microgrammes per cubic metre of air (μg/m3). Bangkok had an annual mean PM2. of 5 levels of 20 μg/m3 as of 2021.
Only last week Chadchart revealed that City Hall is considering the possibility of imposing pollution taxes, an act that will likely undermine his huge popularity.