PHOTO: Patong Beach. Phuket was the only Thai destination in the 2019 list of the World's Best Destinations
Last year's royal wedding between Prince Harry and Meghan Markle has put the Brexit-obsessed London on top of a list of the World's Best Destinations in the TripAdvisor's annual Traveler's Choice Awards.
London beat its close European counterparts, Paris and Rome in the rankings determined by reviews and ratings over the past 12 months for hotels, restaurants and experiences on the TripAdvisor platform.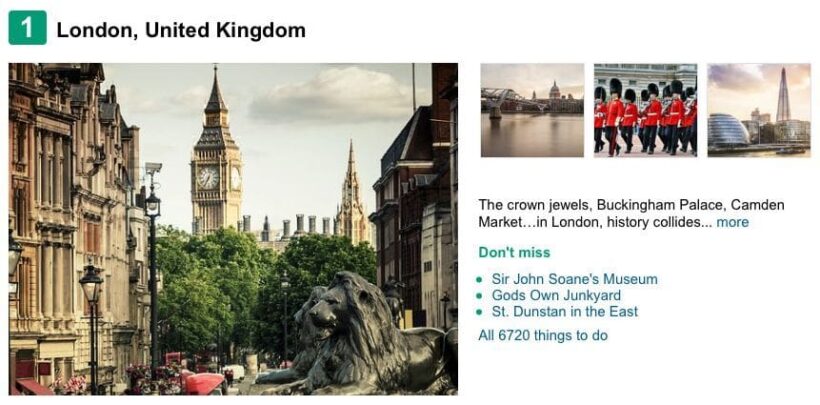 They were followed by Crete in Greece, Bali in Indonesia and Phuket in Thailand. American cities all but vanish from the list whilst some of the Asian favourite destinations are making their way up towards the top each year.
2019's was also the first time New York, a long-time favorite with travellers, slipped out of TripAdvisor's top 10 to rank only the 13th best-rated destination in the world.
Here are the World's Best Destinations in the TripAdvisor's annual Traveler's Choice Awards…
1. London, UK
2. Paris, France
3. Rome, Italy
4. Crete, Greece
5. Bali, Indonesia
6. Phuket, Thailand
7. Barcelona, Spain
8. Istanbul, Turkey
9. Marrakech, Morocco
10. Dubai, United Arab Emirates
11. Prague, Czech Republic
12. Siem Reap, Cambodia
13. New York City, New York, US
14. Jamaica
15. Hanoi, Vietnam
16. Tokyo, Japan
17. Playa del Carmen, Mexico
18. Lisbon, Portugal
19. Kathmandu, Nepal
20. Jaipur, India
21. Hurghada, Egypt
22. Hong Kong, China
23. Cusco, Peru
24. Sydney, Australia
25. Tel Aviv, Israel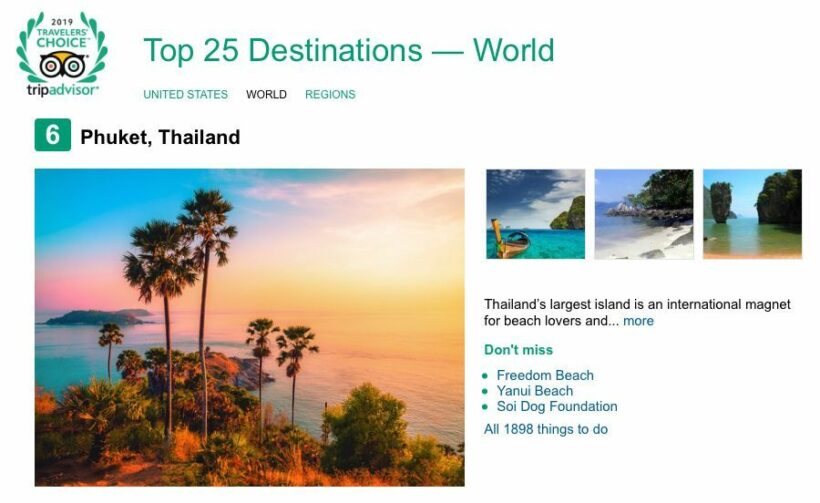 📱 Download our app on Android or iOS for instant updates on your mobile
📧 Subscribe to our daily email newsletter
👍 Like/Follow us on Facebook
🔔 Subscribe to or Join our YouTube channel for daily video updates
Covid-19 brings surge in gold and cryptocurrency investment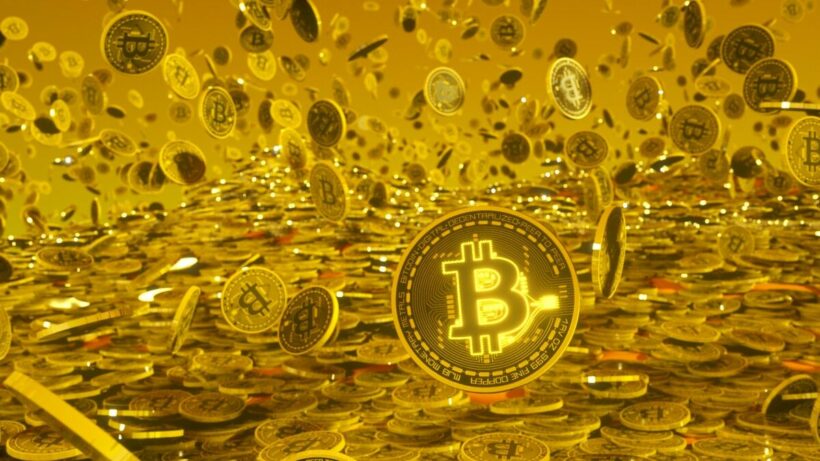 In the uncertain times of the Covid-19 pandemic, investors are leaning towards safe investments like gold and also the emerging cryptocurrency market. Gold prices hit a 7 week high at over 55,000 baht on Thursday and around April 15 online gold transactions in Thailand doubled. One reason for the rise in gold price is uncertainty, with tensions growing between the US and Russia. Speculators believe gold may reach up to US $1800 during 2021 due mostly to more international tension between the US and China, and the US bond yields on the decline.
Online trading has seen a huge increase, as investors are closely monitoring gold prices, perhaps because they're stuck at home and on the internet much more during the Covid-19 pandemic. New online accounts are growing as is the trading volume for online gold purchases.
Meanwhile, cryptocurrency has surged in investors and trading to an all-time high, again partially due to the coronavirus pandemic. Bitcoin reached a record price of over 2 million baht per coin this week. And many altcoins are gaining in popularity. The online trading platforms and exchanges for most crypto were not restricted by Covid-19 so the industry is swelling. Coinbase, the biggest cryptocurrency exchange in the United States went public on the NASDAQ stock market on April 14th. Last year's total revenue for the popular exchange was US $1.2 billion, but the public offering reported earnings of $1.8 billion in the first quarter of 2021 alone.
While gold and cryptocurrency has become a popular way to make money during the pandemic, not all cryptos are created equal and most fail. Watchers have seen a 1 to 2% success rate out of the over 9,000 altcoins that have been created in the crypto boom. Advisors suggest cautious trading and investing in only the top few hundred altcoins.
With online gold trading and cryptocurrency surging ahead, the contrast is stark to brick and mortar industries decimated by Covid-19. Retail, tourism, and traditional banking have all taken massive hits. Kasikorn Bank dropped nearly 3% in the stock market. Only global oil, petrochemical, and electronics success have helped to bolster the Stock Exchange Thailand Index, with PTT Exploration and Production stock climbing over 4%. Covid-19 related industries such as rubber glove suppliers are flourishing with investors speculating on further growth if the third wave continues to spread. Overall though, the stock market rose half a per cent with the announcement that there will not be a Covid-19 lockdown just yet.
SOURCE: Bangkok Post
📱 Download our app on Android or iOS for instant updates on your mobile
📧 Subscribe to our daily email newsletter
👍 Like/Follow us on Facebook
🔔 Subscribe to or Join our YouTube channel for daily video updates
Khon Kaen University terminates well-known American scholar after he allegedly participates in decentralisation workshop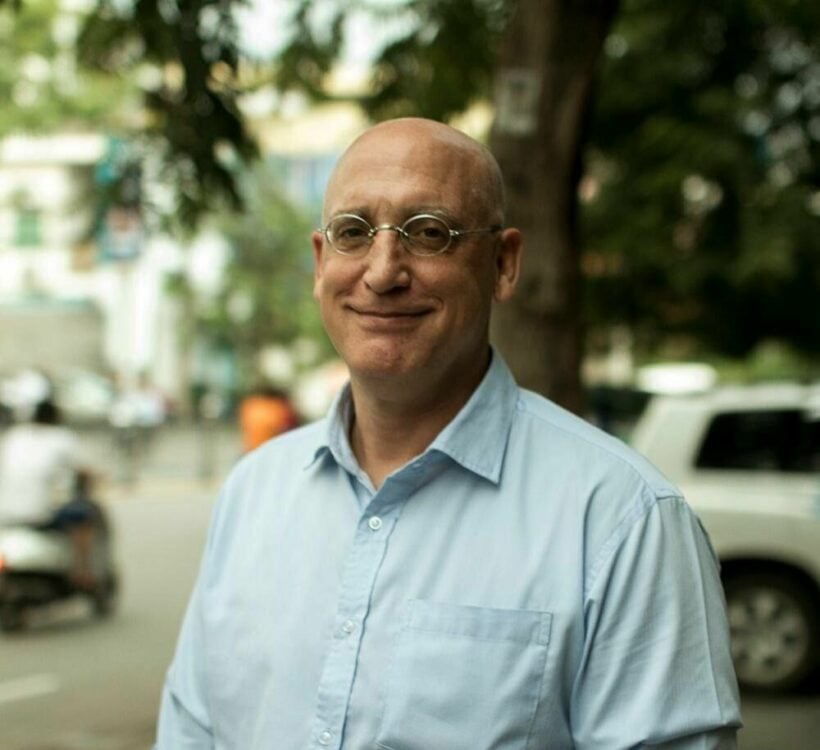 Khon Kaen University's famous American scholar, David Eirich Streckfuss, is now without a work permit after his participation in a workshop that partially involved decentralisation. The university terminated his work permit after immigration police paid him a vist, in what they say, was a routine interview for visa extensions.
Streckfuss is an independent academic who oversees the Council on International Educational Exchange Khon Kaen programme at the university, which was founded in 1994. He also founded The Isaan Record during his 30 years spent in the Kingdom.
Prachatai, released the termination letter that featured the KKU Faculty of Public Health citing an "inability to perform assigned duties" as the reason for ending his contract as project director before its August 15 renewal date. Streckfuss' contract at the Faculty of Public Health from 15 August 2020 to 15 August 2021, was cancelled on 19 March 2021, according to the university's announcement.
The decision reportedly came after police visited the University President and Faculty Dean, after Streckfuss participated in a workshop which partly involved decentralisation. Since the cancellation of his work permit, Streckfuss has been on a 30 day visa which will expire next Monday. Now, he is working on getting a work permit with the Buffalo Birds Production Co., a company that produces documentaries and organises events where he is currently working as a coordinator. The company is a registerd company of The Isaan Record, in which he founded.
Prachatai indicated that The Isaan Record is also trying to secure a work permit for Streckfuss, as he says this is the first time that his work permit has been cancelled in this manner. He says Immigration police came to interview him and Khon Kaen University for the 3rd time on 16 April. But the Immigration Division Commander says the interview is just a standard procedure to be carried out when foreigners submit an application for a visa extension.
Streckfuss has written for the Bangkok Post and he has also been published in The Wall Street Journal and The New York Times. He is also the author of Truth on Trial in Thailand: Defamation, Treason, and Lèse-Majesté, published by Routledge Press, in 2011. Streckfuss has a PhD in Southeast Asian history from the University of Wisconsin-Madison.
SOURCE: Chiang Rai Times
📱 Download our app on Android or iOS for instant updates on your mobile
📧 Subscribe to our daily email newsletter
👍 Like/Follow us on Facebook
🔔 Subscribe to or Join our YouTube channel for daily video updates
Songkran road deaths, injuries cut in half thanks to Covid surge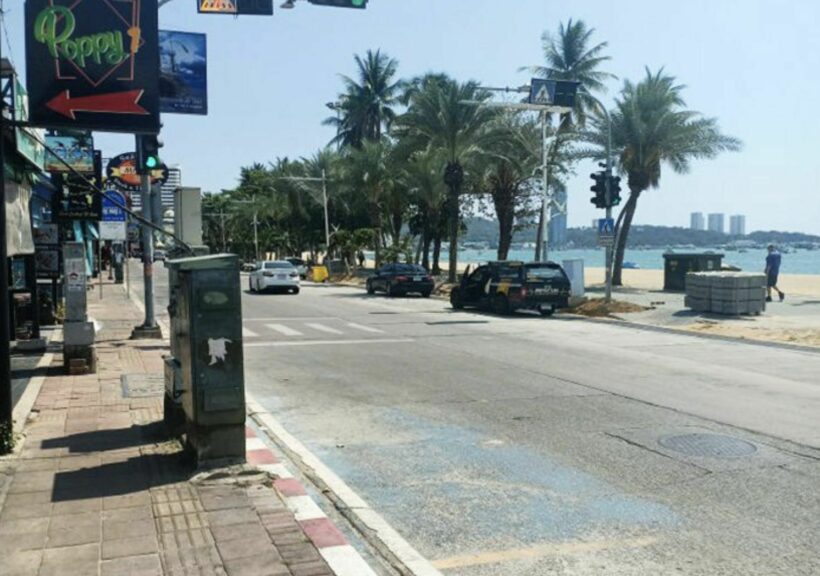 Songkran New Year celebrations have seen road deaths and injuries cut in half thanks to surge of Covid infections just before the start of the annual holiday that essentially cancelled major gatherings. The Road Safety Director Centre says 192 people have been killed and 1,818 injured so far during the Songkran holiday, with 37 dying on Wednesday alone. But those numbers, although disturbing, are half of what they were in 2019 when the Songkran holiday was in full swing.
Of 1,795 accidents over the past 5 days, Nakhon Si Thamarat accounted for 76, followed by Chiang Mai (63), Songkhla (49) and Surat Thani (49). In terms of deaths, Bangkok, Khon Kaen and Pathum Thai led with 8 each, followed by Chon Buri (7), Chiang Mai (7) and Sakhon Nakhon (6).
Over 3,700 motorists have been charged with drink driving offences during the first 5 days of the Songkran holiday, accounting for 39.6% of all accidents, followed by speeding (27%). Witthawan Sunthornkajit from the Department of Probation says that between April 10 and 14, 3,741 motorists received suspended sentences for driving under the influence, 99.66% (3,730 cases), followed by drug-driving at 0.29% (11 cases) and reckless-driving at 0.05% (2 cases). 1,648 of those were on April 14, the highest number for the 5-day period.
The worst-offending provinces were Chaiyaphum, in the north-east of the country, with 290 drink-driving incidents, Chiang Rai in the north, with 264, and Buriram in the north-east, with 251.
"Defendants in 3,730 DUI cases had consumed alcohol, while in the other 11, offenders had taken narcotic substances. 19 defendants were ordered to wear electronic monitoring tags and banned from leaving home between 11pm and 4am for 15 days, while their driver's licences have been suspended for 6 months."
Like in past years, motorcycles continued to be the type of vehicles most involved in the accidents during the festival, at 79.3%, followed by pickup trucks (6.6%) and passenger cars (3.6%).
Over the past 5 days, most accidents occurred on highways (65.7%) and from 4pm to 8pm (30.3%). Most of the people who were injured or killed in road accidents were those aged 50 or more (23.5%).
SOURCE: Chiang Rai Times
📱 Download our app on Android or iOS for instant updates on your mobile
📧 Subscribe to our daily email newsletter
👍 Like/Follow us on Facebook
🔔 Subscribe to or Join our YouTube channel for daily video updates