Thaksin: Election rigged with many irregularities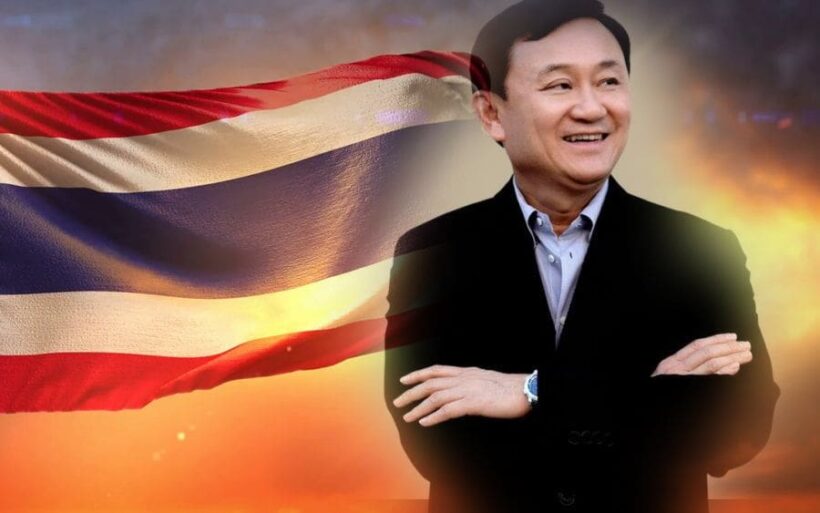 Former Thai PM Thaksin Shinawatra told Agence France-Presse yesterday that Thailand's election was marred by "irregularities" and "rigged".
He says the military rigged the election system to retain their political grip on the kingdom.
"Everyone knows in Thailand, everyone international that observed the election in Thailand, knows that(there is irregularities," he told AFP in English.
"What we call, we should call, rigged elections is there. It's not good for Thailand."
Ousted in another coup back in 2006 and living in exile ever since, the 69 year old remains a pivotal figure in Thai politics despite efforts of the Junta to reduce his influence.
The political map emerging from Sunday's election still shows there is a stark political divide between the North and North-east, his former strongholds, and the rest of the country.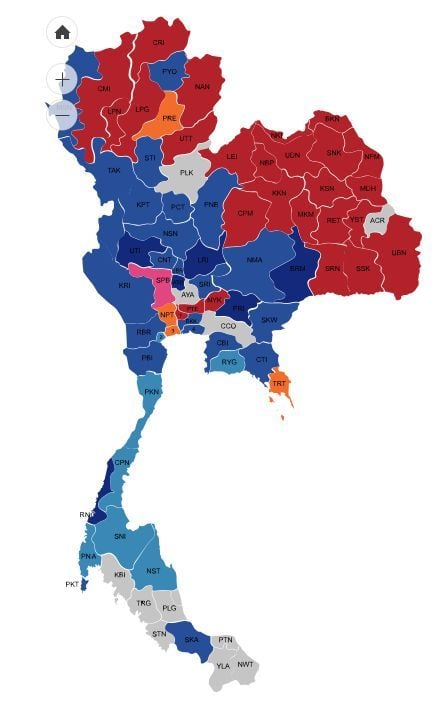 GRAPHIC: Bangkok Post
Speaking to AFP he said, "Any game, if the rule and the referee is not fair, the result will not be respected."
"If you look at the number of ballots and the number of voter turnout, the ballots much more exceed the number of voter turnout in many, many provinces."
SOURCE: AFP
Keep in contact with The Thaiger by following our
Facebook page
.
Chiang Rai policeman fired over torture death of university mascot dog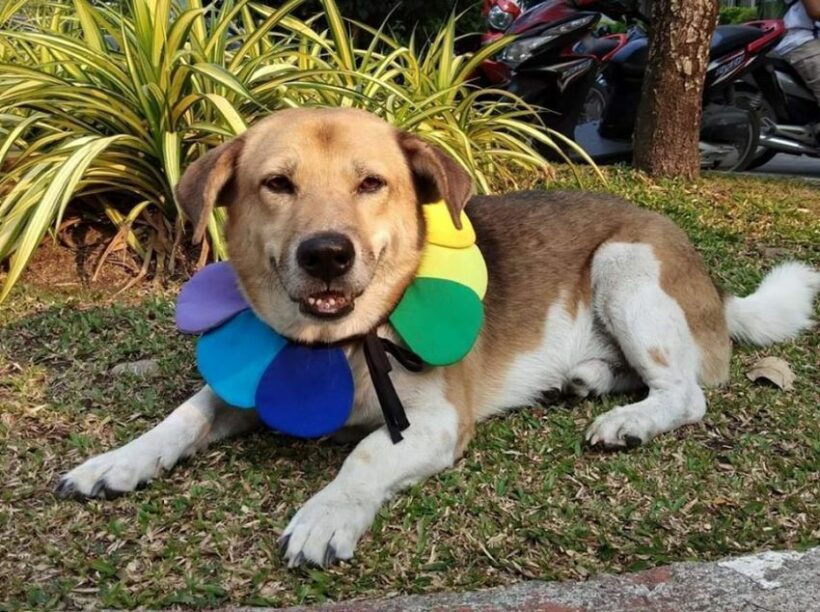 When the body of Tia, the mascot dog of Chiang Mai University was found in May, suspicions arose immediately. It was initially announced that Tia, or "Shorty" in English, had been run over by a car, and police later said a student had come forward to confess. But animal rights group Watchdog Thailand, based in Chiang Mai, investigated the incident and reported their findings to police.
Security footage didn't support the original story, Now, one of the 3 police corporals who allegedly tortured and killed the beloved dog has been dismissed from civil service. The incident, which took place May 8, has shocked locals and students, and Watchdog Thailand has been pushing for justice. University students even floated a plan to build a statue dedicated to his memory.
Officers of the Chang Phueak police station reportedly found evidence of the animal being taken off campus at night, tortured and the body being dumped by the suspects.
Apart from the dismissal of one suspect, a committee is being set up to investigate the case further. National police chief General Chakthip Chaijinda himself has said he will ensure justice is served.
SOURCES: Nation Thailand | Khaosod English
Keep in contact with The Thaiger by following our
Facebook page
.
Unemployed elephants: Some return to the wild, others sent to work in logging business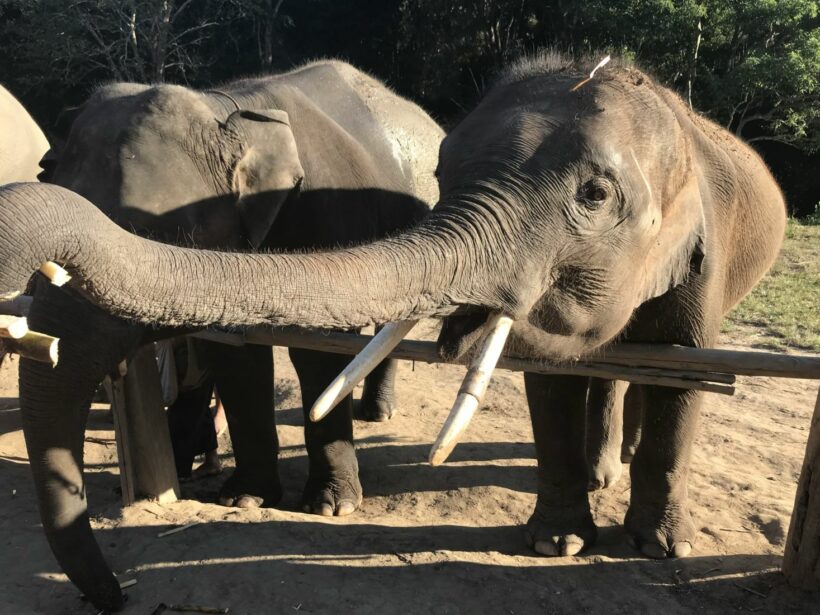 The drop in tourism has had a huge impact on the elephants in Northern Thailand, leaving many elephants, you could say, unemployed. While some elephants are out of business and been taken back to their natural habitat, others are struggling in captivity and might be sent off to work in animal labour which some people may deem as unethical.
A reporter from BBC Thailand follow a group of elephants making the trek and spoke with those in the 'elephant' business. You can watch the video HERE. One owner, who goes by the name Uncle Eddy, told BBC, if the tourism industry doesn't pick up soon, he will hand over his 57 elephants to a logging business in Myanmar.
The video from BBC Thailand showed Uncle Eddy's elephants on short chains standing in a cement outdoor structure. He said if the elephants don't work, then they don't get exercise. Without exercise, the pregnant elephants would have trouble giving birth and the babies would eventually die, according to his commentary.
Thailand has a variety of elephant camps and sanctuaries. There is continuous debate on how elephants should be cared for in captivity. Some establishments keep elephants on a short chain, only to be taken out for rides or shows. Some businesses describing themselves as sanctuaries have elephants roaming the property and allow tourist to feed and bathe the animals. This 'ethical' model is becoming more popular with some of the tourism demographics visiting Thailand in the past.
The Chiang Mai-based Save Elephant Foundation started a project to return some of the elephants back to their natural habitats, Thai PBS World reports. From April to May, more than 100 elephants trekked north from Chiang Mai to Mae Chaem, a 150 kilometre trek.
BBC followed a small group of elephants led by the Save Elephant Foundation and said the elephants became very thirsty and some seemed to be "low on energy". The charity's founder, Lek Chailert, says the pandemic is a chance to get elephants out of the tourism industry.
"Tourists would be swamping into Thailand. The Covid-19 pandemic will give us time to think."
SOURCES: BBC Thailand | Thai PBS World
Keep in contact with The Thaiger by following our
Facebook page
.
Animal activists claim police officer killed beloved campus dog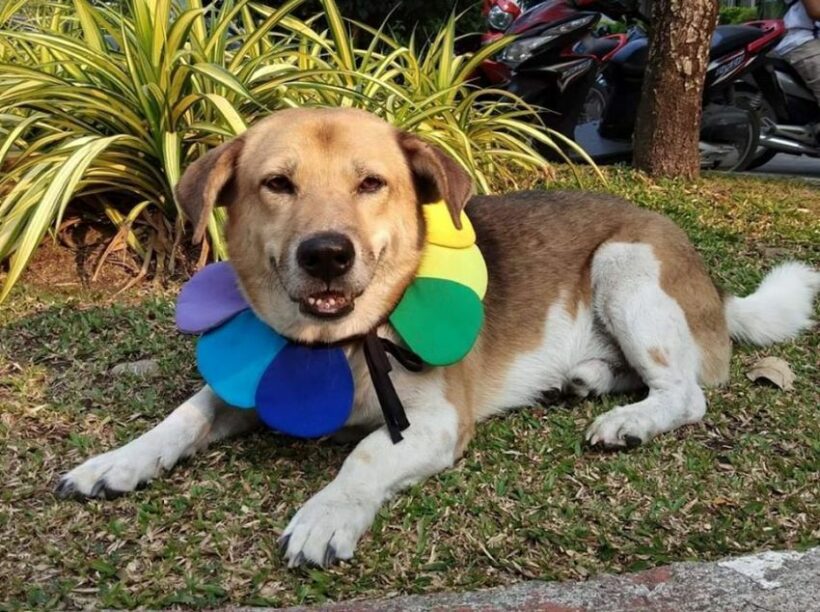 A Thai animal rights group is accusing a Chiang Mai police officer of abusing and killing a beloved dog, Tia, a stray adopted by students at Chiang Mai University.
Watchdog Thailand, based in Chiang Mai, investigated the incident after the dog's body was found last week and recently reported their findings to police, according to Nation Thailand. The autopsy of the dog's body doesn't seem to match the police officer's story. No details on the dog's condition are reported.
Police say the activist group have also spoken to witnesses and seen surveillance camera footage. The group posted a video on Facebook with a clip from surveillance footage of a dog approaching a person on a motorbike, but no apparent abuse is shown in the video.
Police are investigating the dog's death and say they will be questioning the police office.
SOURCE: Nation Thailand
ฟังวอชด็อก เชื่อเตี้ยถูกฆ่าทารุณ

#เชื่อเตี้ยถูกฆ่าฟังชัดๆทีมมูลนิธิวอชด็อก ร่วมทำคดีเตี้ย มช.กับเเอดมินเพจเเละตำรวจ เชื่อหลักฐานที่มีอยู่ในมือ สันนิษฐานได้ว่า เตี้ย ถูกฆ่าอย่างทารุณ!

Posted by อีจัน on Wednesday, 20 May 2020
Keep in contact with The Thaiger by following our
Facebook page
.