10 amazing animal sanctuaries in Thailand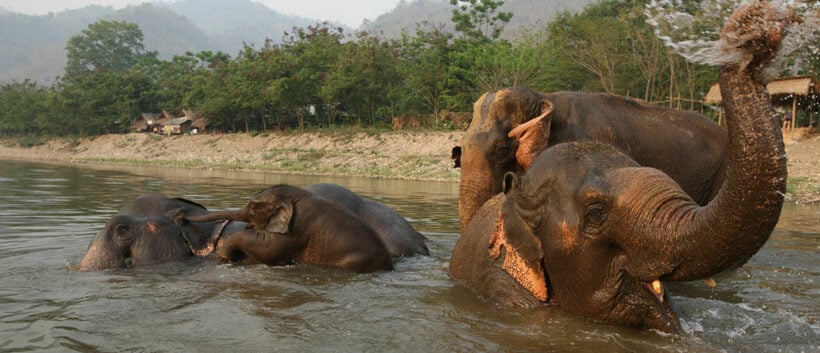 Ethical tourism is on the rise across the world, and Thailand is making sure it is a pioneer of such experiences. From elephant havens to gibbon rehabilitation centres, the Kingdom has made amazing efforts to help such animals who are marginalised. Moreover, upon visiting one of these sanctuaries, visitors can feel a sense of hope when seeing how these animals are being treated. Thus, one can only feel a warm heart after donating your time to animals that have been rescued or are in need.
Thailand's Top 10 Amazing Animal Sanctuaries
1. Elephant Nature Park, Chiang Mai
This nature park is primarily focused on elephant rescue and rehabilitation. And, its location is that of beautiful, mountainous terrain. However, the sanctuary also helps dogs, cats, buffaloes, birds and other animals in need. Such animals are typically rescued from a life of hard labour from tourist shows and other unethical work. Visitors here can get close to the elephants when feeding and bathing them, as well as just observing them in a happy environment. Elephant Nature Park also offers a 'Saddle Off!' programme in Thailand, Myanmar, and Cambodia where you can visit different villages and walk with elephants.
Address: 1 Ratmakka Road, Phra Sing, Chiang Mai 50200, Thailand
2. The Gibbon Rehabilitation Project, Phuket
As gibbons faced the sad plight of extinction 40 years ago in Phuket's rainforests, this project aims to return them back into the wild. Moreover, their goals have been successful with about 50 gibbons being returned to their original homelands, where they can enjoy a life without fear. The operation has saved hundreds of gibbons from unsolicited photo-prop businesses, with some found abandoned in zoos and abused. Visitors here can volunteer to help take care of the gibbons or make a donation towards the centre's efforts.
Address: 104/3 Moo 3, Paklock, Talang, Phuket 83100, Thailand
3. Wildlife Friends Foundation Thailand (WFFT), Petchaburi
This NGO was founded in 2001 and aims at rescuing captive wild animals and those who are unfortunately part of the illegal animal trade. Since founded in 2001, WFFT is a non-governmental organisation aimed at rescuing and rehabilitating captive wild animals while also advocating against the illegal animal trade in Thailand. Moreover, the foundation has sheltered over 1,000 wild animals, while releasing rehabilitated ones back into the wild. Such animals were rescued from poor living conditions, and illegal wildlife trafficking. Visitors here can opt for a half day experience or a full day. The centre allows such visits, but they must be hands off to protect the animals.
Address: Moo 6,Tambon Thamairuak, Amphoe Thayang, 76130 Petchaburi, Thailand
4. Lanta Animal Welfare, Koh Lanta
This centre focuses on taking care of suffering animals on the island of Koh Lanta. Moreover, it has helped an impressive 15,000 stray animals with their sterilisation and treatment programmes. As it is open to visitors year-round, the centre relies on donations and volunteers. Such experiences as cuddling with cats and taking the rescued dogs for a walk can have visitors leaving with a warm heart. There is no time limit and you can spend as long as you would like helping and socialising with the animals. You may even find an animal that you just can't live without, in which you can adopt and give them a new life.
Address: 629 Moo 2, Saladan, Koh Lanta, Krabi, Thailand
5. Soi Dog Foundation, Phuket
This large organisation provides sustainable solutions to tackling the stray dog and cat problem in Thailand. Since its inception over 18 years ago, the foundation has been successful in bringing the stray population under control in Phuket. Moreover, the foundation travels to other provinces to provide free sterilisation programmes with the hopes of educating the public on how to help homeless animals. Moreover, the foundation provides medical care to animals and advocates against the dog meat trade, abuse, and other cruel acts. Visitors can take part in a guided tour that includes a bit of education about the stray animal population in Thailand as well as the foundation's history. Donations of course are always appreciated and do go a long way.
Address: 167/9 Moo 4, Soi Mai Khao 10, Tambon Mai Khao, Amphoe Thalang, Chang Wat Phuket 83110, Thailand
6. Rescue Paws, Hua Hin
This somewhat newer organisation focuses on reducing the stray dog and cat population on the beach town of Hua Hin. Such efforts include sterilisation, education, and medical care. Furthermore, if you want to visit the organisation, you can take part in a day visit where you can find out more about the projects and spend time walking dogs on the beach. Moreover, you can sign up to volunteer or actually adopt one of these furry friends.
Address: 65 Khao Tao Temple, Nong Kae, Hua Hin District, Prachuap Khiri Khan, Thailand
7. Boon Lott's Elephant Sanctuary (BLES), Sukhothai
BLES is dedicated to protecting elephants by rescuing them from abuse and extinction. The owner was inspired to start the sanctuary after rescuing a baby elephant named Boon Lott, which suffered from extreme abuse. Hence, the sanctuary was named after the elephant, which means 'survivor' in English. The sanctuary's core belief is that elephants should live in dignity and respect in their natural environment. Thus, with over 600 acres of forest land, the elephants have access to wide-roaming grasslands, fresh-water rivers, and many types of fruit trees. Just visiting the sanctuary can provide a beautiful experience while helping these majestic animals. Furthermore, the sanctuary also takes other animals into their care, such as cats, monkeys, dogs, boars, crocodiles and turtles.
Address: 304 Mu 5, Baan Na Ton Jan, Tambon Baan Tuek, Si Satchanalai, Sukhothai 64130, Thailand
8. Krabi Elephant Sanctuary, Krabi
As Krabi province's first ethical elephant tourism attraction, the sanctuary provides a safe haven for abused elephants from the logging and tourism industry. Here, visitors can go on half-day visits and interact with the free-roaming elephants. Moreover, you can also feed and give them a mud treatment if you want. Afterwards, you can join them in a river pond for a relaxing bath, while helping bathe and brush them. Thus, helping these elephants is a great experience to see them interact in their new homes while getting a bit more educated about their plights.
Address: 83/13 Ao Luek Tai, Ao Luek District, Krabi 81110, Thailand
9. Samui Elephant Haven
This haven is set among the tropical island of Koh Samui. With a beautiful land for roaming, it is a great experience to see how these elephants have been rescued and transformed from a life of hard labour. The founder, Maew Suriya, ensures that the rescued elephants can enjoy a natural environment with plenty of play and interaction. The property features native plants and various pools for the elephants to enjoy. Visitors can feed, pet, and learn about elephants while engaging in ethical tourism. Moreover, a few other animals can be seen here, such as chickens, dogs, and cows.
Address: 137/31 Koh Samui Surat Thani 84320
10. Sangkhlaburi Animal Sanctuary
This new sanctuary is a donation-based facility that focuses on treating and rescuing animals. Although it is still early in development, the sanctuary's mission is to provide a free veterinary clinic for local and surrounding communities. Moreover, the sanctuary focuses on support from international and local volunteers. Education is key as the owner, Denise, has had 15 years of experience in working with other rescue organisations in Thailand.
Address: 72/3, moo 1/NongLu, Sangkhla Buri District, Kanchanaburi 71240
These sanctuaries are great for those who are animal lovers and those who want to take part in changing the plight of abused wildlife. Thus, when visiting these sanctuaries, just donating your time is often highly appreciated as is a donation. One thing's for sure, those who work at such sanctuaries are spending long hours to help change the future of such animals. Many holidaymakers choose to take part in ethical animal tourism, as they say, it makes them feel good to give a helping hand while experiencing Thailand.

Join the conversation and have your say on Thailand news published on The Thaiger.
Thaiger Talk is our new Thaiger Community where you can join the discussion on everything happening in Thailand right now.
Please note that articles are not posted to the forum instantly and can take up to 20 min before being visible. Click for more information and the Thaiger Talk Guidelines.