Concerns in Pattaya over packed trucks transporting construction workers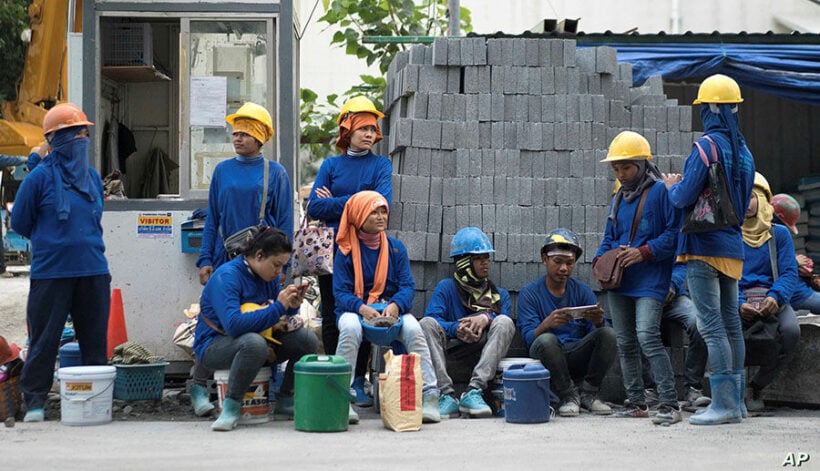 Whilst Thailand's residents are being told to ensure appropriate social distancing in all circumstances as the country slowly re-opens businesses, Pattaya residents have shared their concern about the conditions local construction workers are being transported, saying there is no social distancing being observed at all.
The Pattaya News reports that it has received photos of workers crammed onto packed trucks to be taken to and from sites in Pattaya and the wider Chon Buri area. Many of these workers are migrant labourers, already forced to live in very cramped quarters, where observing any form of social distancing is unlikely or impossible.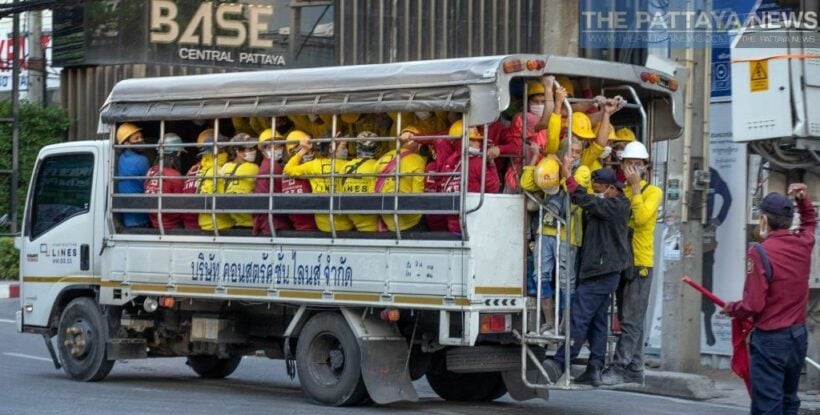 PHOTO: The Pattaya News
Pattaya has begun to gradually re-open, having been designated a "white zone" in the fight against the Covid-19 virus. The city has had no new cases of the virus for about 3 weeks now, so some businesses are being allowed to re-open, and checkpoints restricting access to the city to residents and essential workers have now been removed.
But the fear of a "second wave" remains high and residents are looking in particular at Singapore, which has experienced just that. Following what looked like a successful effort to get the virus under control in the city state, Singapore's little-discussed migrant worker community sparked a second wave as a result of the cramped conditions where they live.
Even closer to home, illegal migrant workers around Thailand's southern border area have tested positive after being confined to detention centres that didn't allow for any physical distancing. Officials are now ramping up proactive testing among these communities and efforts are underway to improve physical distancing and hygiene practices. The Thai government has also agreed to cover the medical expenses of all migrant workers who test positive for the virus.
Testing also continues among the migrant worker community in Pattaya city, who are considered a high-risk group. Although there have been no confirmed cases in recent weeks, concerns remain that were the virus to take off again, it's most likely to do so in the cramped conditions in which the workers are forced to both live and travel.
There were also concerns raised in Bangkok yesterday, when a delay with the BTS Skytrain service caused a backlog of commuters at stations, with the overcrowding that ensued making any kind of social distancing impossible.
SOURCE: The Pattaya News
Keep in contact with The Thaiger by following our
Facebook page
.
Bangkok hospitals use baby face shields, US health officials say it could be dangerous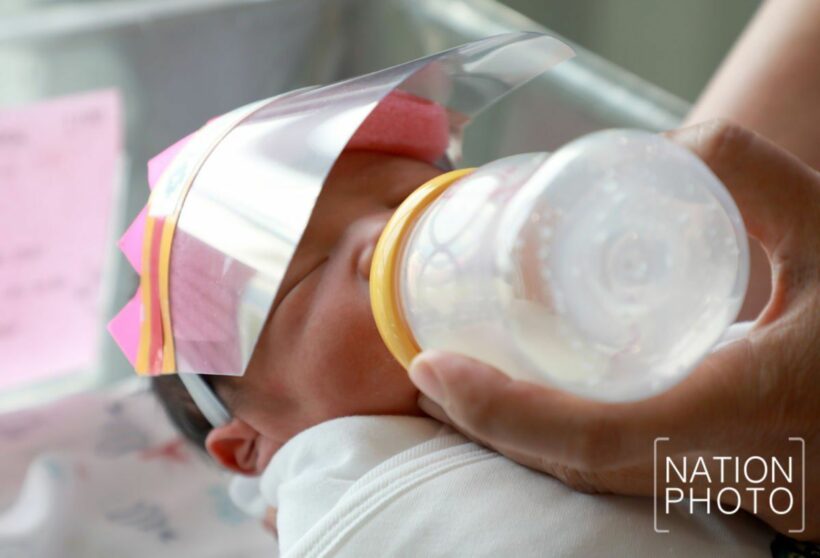 While Bangkok hospitals say they are protecting newborn babies from the coronavirus with baby-sized face shields, health authorities in the US disagree with the move, and even claim it could be dangerous.
The US Centre of Disease Control says an infant face shield could increase the risk of sudden infant death syndrome as well as suffocation or strangulation.
Since infants and newborns often toss and turn in bed, the nose and mouth could become blocked by the face shield and suffocate, according to a CDC report on the matter.
"Parts of the shield can also get caught around the neck and cause them to suffocate."
They say that there is no data supporting the use of infant face shields for protection against the coronavirus.
SOURCE: US Centre of Disease Control
Keep in contact with The Thaiger by following our
Facebook page
.
Pattaya's beaches are still a 'no go' area this month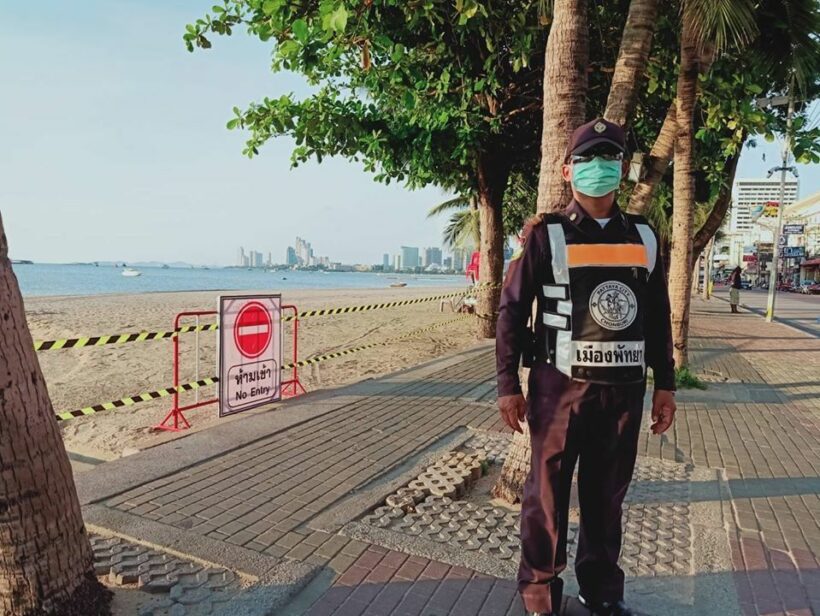 Don't go to Pattaya's beaches unless you're willing go to jail or pay a hefty fine. Starting tomorrow, the city's beaches will be closed until the end of May in an effort to prevent socialising and to slow the spread of the coronavirus.
Pattaya's police posted photos on Facebook of the taped-off beaches and warning signs.
"Those who try to access the beach could face a year in jail or an up to 100,000 baht fine. People and tourists are prohibited from gathering in the areas between 9am and 9pm during the three-week period."
However, people are still allowed to walk and exercise on the sidewalks adjacent to the beaches. The closed beach areas include… Pattaya beach, Jomtien beach, Phra Thamnak beach, Cosy beach, Wong Amat beach, Krathing Rai beach, Lan Phor Na Kluea public park and the Bali Hai pier area.
SOURCE: Bangkok Post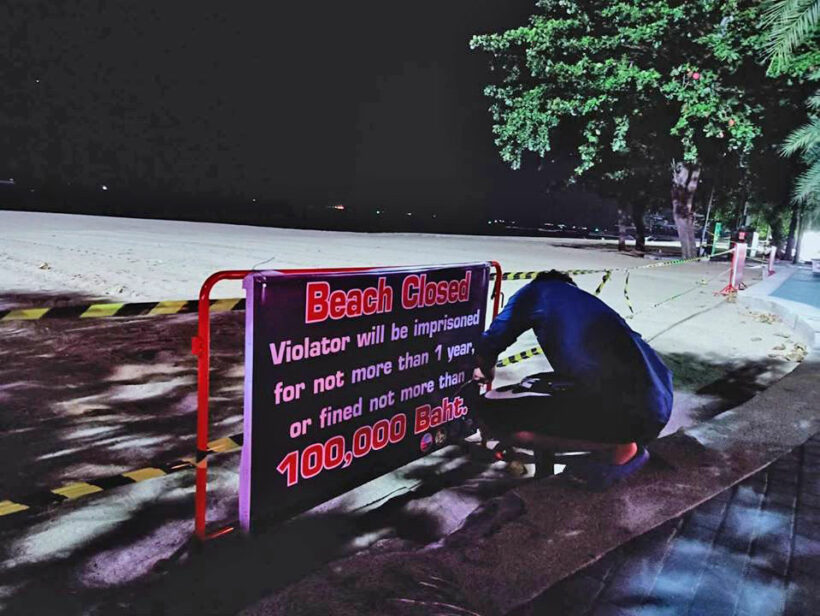 Keep in contact with The Thaiger by following our
Facebook page
.
10 arrested in Chon Buri for house party in violation of Emergency Decree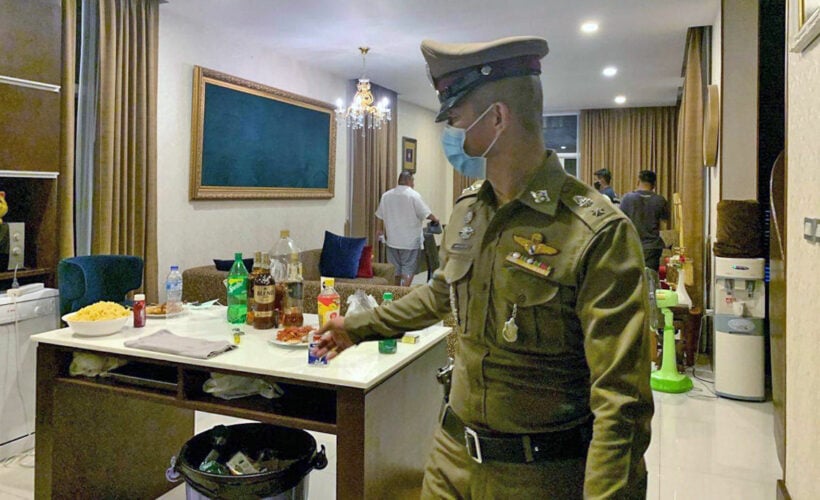 Police in Chon Buri province's Sattahip subdistrict, south of Pattaya, raided a party last night at a house with 10 people, most of them from out of town and described as domestic tourists. The gathering was a direct violation of the Emergency Decree enacted to stop the spread of Covid-19
Na Jomtien police were notified by a "concerned citizen" that there was a noisy party at a house in a housing estate at 9:30pm. They arrived at the house, knocked on the door and were greeted by 37 year old Paruehat Tampanon, who said he's renting the house for several days, and that he and his friends were staying there for 2 days.
Na Jomtien police discovered 9 other people inside the house, 2 of whom tested positive for illegal drugs, police say, without naming the specific drugs. Many bottles of alcoholic and other beverages were found.
Paruehat claimed he did not know that Chon Buri still has strict social distancing measure in place and bans private parties. He also claimed all 10 people know each other and live with each other so there was be no threat of spreading the virus.
The owner of the house, 35 year old Piyanuch Ignatov, was charged with illegally operating a hotel and disobeying a Chon Buri order. (Rentals of fewer than 30 days are technically not allowed under Thai law.)
All those arrested face stiff Emergency Decree penalties, which means fines of up to 100,000 baht and/or up to 2 years in jail.
SOURCES: The Pattaya News | Naew Na
Keep in contact with The Thaiger by following our
Facebook page
.