Superheroes and mega malls – The Thailand Tourism Forum 2019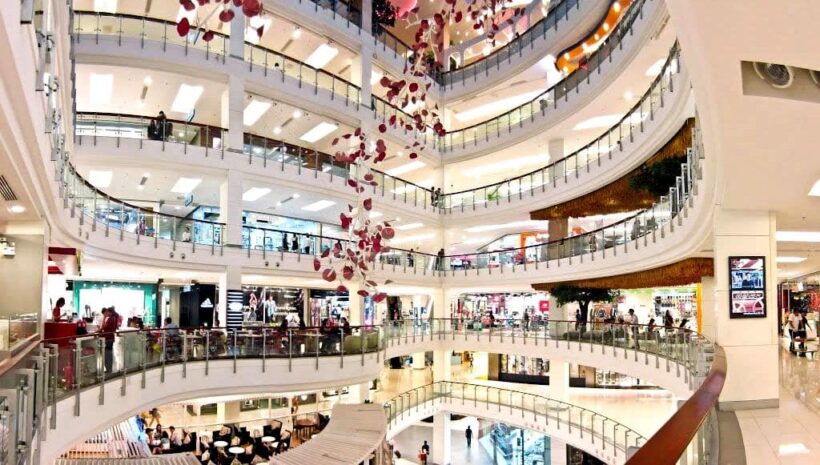 Record attendance at Thailand's largest annual hospitality event discovering how the tourism and transport sector is getting a massive makeover.
The Thailand Tourism Forum (TTF) returns for its eighth edition on January 21, 2019, with an agenda focusing on the mega-projects that are currently transforming the tourism landscape in Bangkok and beyond.
Running under the theme "Managing Tourism – Ensuring Great Experiences and Sustainable Outcomes," Thailand's largest annual hospitality event has already secured a record audience of 850 tourism and hospitality industry leaders at the InterContinental Hotel Bangkok for a full day of interactive and informative on-stage sessions. 
The keynote speaker at TTF 2019 is Miss Supaluck Umpujh, Chairwoman of The Mall Group, who will discuss the "Importance of Retail, Entertainment & Hospitality – Better Tourism Experiences" alongside Charles Blocker, CEO of IC Partners.
In her role as Chairwoman of one of Thailand's largest retail operators, Miss Supaluck oversees some of the Kingdom's biggest attractions including The Emporium, EmQuartier, Siam Paragon and The Mall in Bangkok. 
The Mall Group also recently announced a landmark strategic partnership with AEG, the world's leading sports and live entertainment company, that will include multi-billion-baht investments in two world-class arenas – "EM Live and BANGKOK ARENA".
TTF 2019 will zero in on how Thailand's tourism sector is getting a massive makeover.
With international visitor arrivals continuing to shatter all previous records and Bangkok becoming the world's most-visited city, the half-day event will examine how the country is developing new infrastructure and facilities to cope with the influx.
These include huge integrated tourism projects, vast retail attractions, branded theme parks, urban transport networks, airport rail links and more.
Attendees will even have the opportunity to meet Marvel superheroes and get up-close with MotoGP racing motorcycles, reflecting Thailand's new era of major events and attractions.
"TTF 2019 comes at a critical crossroads for Thailand's tourism industry. As growth rates continue to soar, the country needs to evolve and expand its tourism infrastructure to cope with rising demand."
"TTF 2019 will focus on the major new developments currently taking place in the Kingdom, while looking ahead to the future and discussing how Thailand's tourism industry should be managed to ensure its long-term success," said Bill Barnett, Managing Director of C9 Hotelworks and co-organiser of TTF 2019.
"We are delighted to confirm Khun Supaluck as the keynote speaker of TTF 2019. With The Mall Group, she has transformed the concept of the mall from a retail experience to an integrated tourism, shopping and lifestyle destination. This is reflected by the recent partnership with AEG, which will create world-class experiences and attractions. I am confident that her vision and expertise will provide genuine insights for our audience," he added.
Organised by the American Chamber of Commerce – Thailand (AMCHAM) and C9 Hotelworks Hospitality Consulting Group, TTF 2019 is free to attend.
The event will conclude with an evening cocktail party, hosted by the InterContinental Hotel Bangkok, providing opportunities for networking.
To see a full program and download the presentations from the event, please CLICK HERE. Alternatively, to learn more about TTF 2019, please visit www.thailandtourismforum.com.


Looking to jettison some items before jetsetting away or chartering a yacht? Look no further than Thaiger Classifieds where you can find and post items, work, property and more for free.

Read more headlines, reports & breaking news in Bangkok. Or catch up on your Thailand news.
Bangkok smog: Police on the lookout for dirty exhaust from vehicles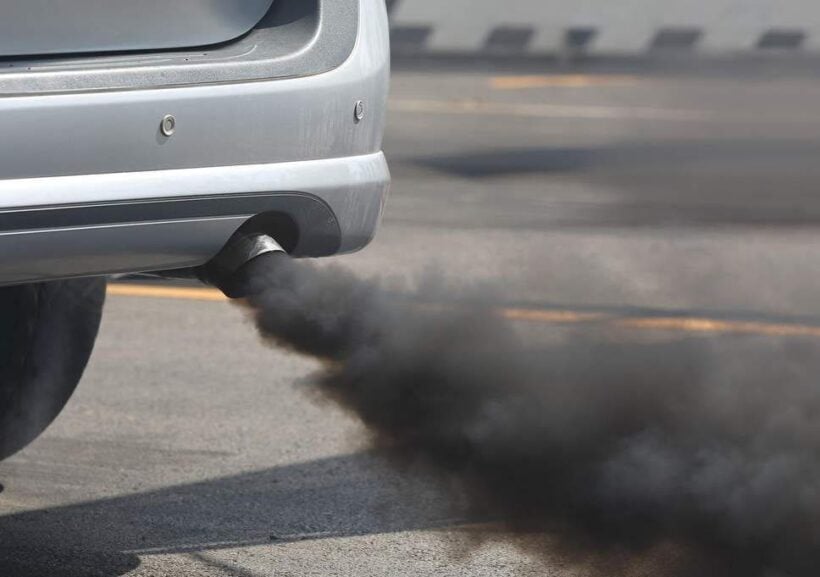 by Khanathit Srihirundaj
It's either a knee-jerk reaction, media stunt or something we hope to see a lot more of.
Checking vehicles with plumes of dirty smoke coming out of their exhaust.
To help curb fine-particle dust pollution in Bangkok, traffic police have increased the number of checkpoints where they will check vehicles spewing black exhaust smoke.
The number of checkpoints was increased on Tuesday to 20 from the previous 12, leading to 1,000 vehicles being cited and fined, traffic police commander Pol Maj-General Jirasan Kaewsang-ek said on Wednesday.
Jirasan said diesel-engine vehicles were the main culprits, along with too-old engines, and they together made a large contribution to the 60 per cent of the polluting PM2.5 particulates that were attributed to vehicle engines.
Police are putting an emphasis on removing the exhaust-spewing vehicles from the most pollution-prone areas such as Bung Kum and Chatuchak districts.
As there was insufficient staff for the checkpoints, police would ask that some officials from the Pollution Control Department be assigned to aid them during this period, Jirasan said.
In future, police may impound the vehicles or suspend the vehicle's use as a more severe punishment, he added.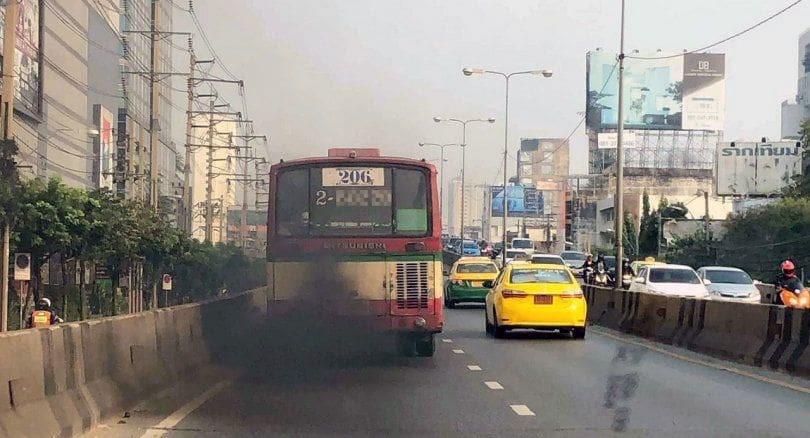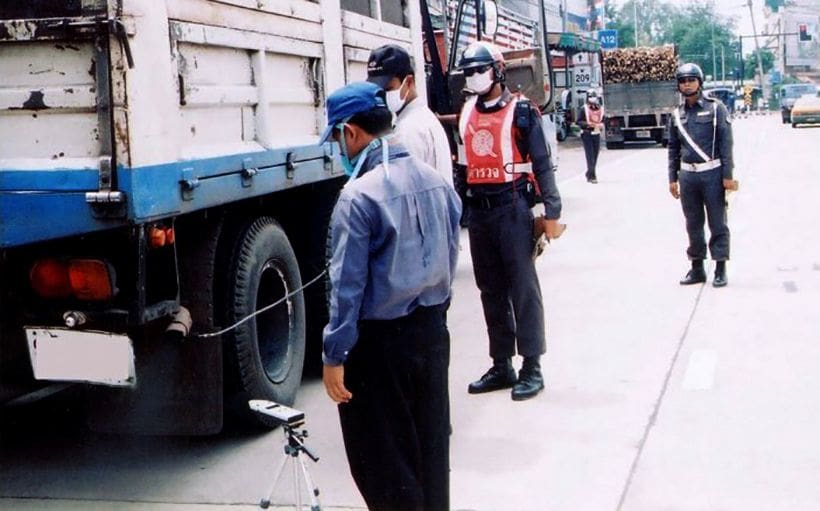 SOURCE: The Nation
Bangkok smog: Chatuchak school closes for the rest of the week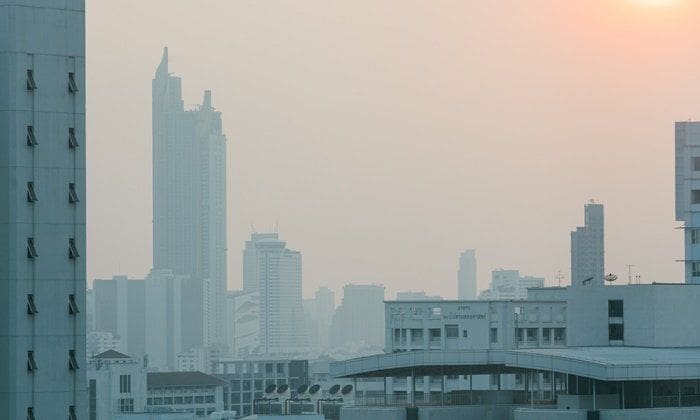 A kindergarten in Chatuchak, to the north of central Bangkok, has suspended classes because of air pollution that has landed Bangkok in the top 10 list of worst-polluted cities.
Bangkok still lags far behind some of the world's most polluted cities, including the Afghani capital Kabul (at 576), Delhi in India (306) and Mongolia's Ulaanbaatar (300). But the Top 10 worst air-pollution list is not the list Bangkok wants to be in.
Bangkok and Pattaya remain in the 'unhealthy' or 'unsafe' levels today whilst some cities in northern Thailand are also suffering with poor air quality.
Surang Khamneungnet, director of Jananan Kindergarten in Chatuchak, said pupils had been kept indoors in recent days and the grounds sprayed with water three times a day, but the children had become listless and were eating less.
The school is closed for National Teachers Day today anyway but will remain closed tomorrow and Friday because of the air pollution, she said.
Chulalongkorn University logistics expert Manoj Lohatepanont at a seminar on Tuesday advised schools to consider closing temporarily to reduce health risks for students and curb the number of cars on the roads, one source of PM2.5.
PM Prayut Chan-o-cha separately said the Education Ministry should use its discretion in deciding whether "at-risk" schools should be closed.
SOURCE: The Nation | aqicn.org


Crisis meetings in Bangkok today over smog solutions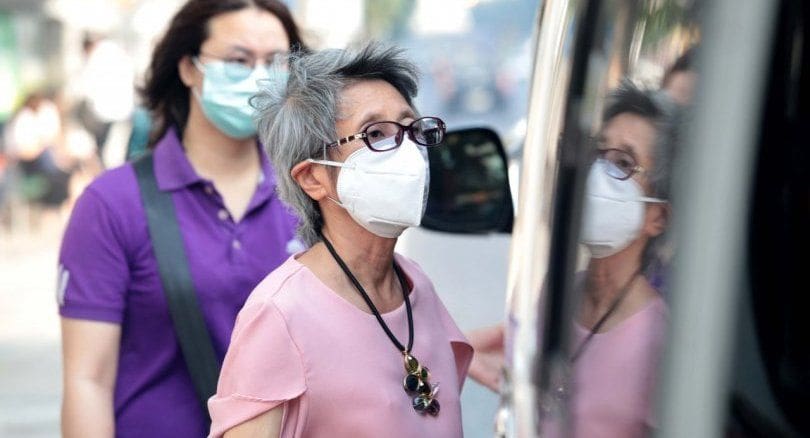 PHOTOS: The Nation
Urgent meetings are being held in Bangkok today to address the acute smog problems in the capital.
The Pollution Control Department and Bangkok Metropolitan Administration are gathering today in their latest efforts to battle with the persistent smog while dust particles continue to blanket the capital with smog levels alarming locals and causing tourists to cancel their holidays.
The meeting was organised after the authorities concerned rushed rushed to find solutions to help ease the problem, including cleaning roads more often, spraying water over Greater Bangkok's sky (useless), trying to produce artificial rain with cloud-seeding and enforcing strict laws against vehicles emitting excessive exhaust fumes.
PM General Prayut Chan-o-cha "has instructed relevant authorities to introduce additional measures to deal with this situation", Government Spokesman Puttipong Punnakanta said.
The Bangkok Metropolitan Administration (BMA) and the Army's efforts to spray water to ease the pollution on Monday night and yesterday morning did not appear to help much.
For instance, pollution was marginally brought down to 90 from 96 on Monday and to 71 yesterday on Phaholyothin Road in the capital.