Saudi woman remains under UN care in Thailand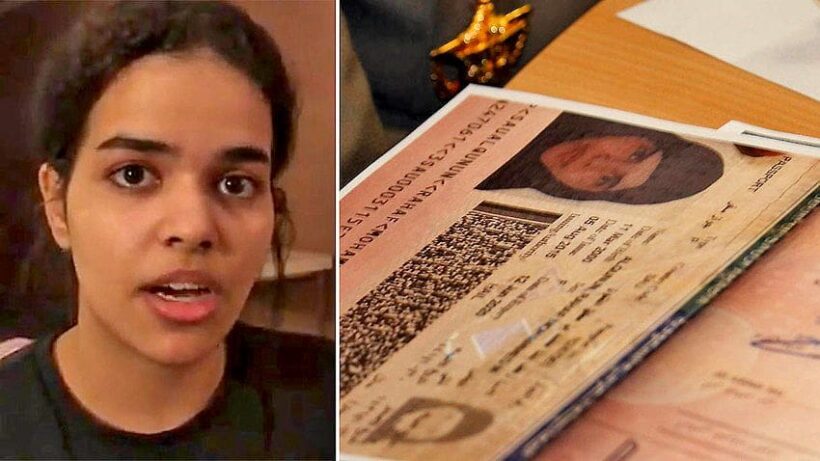 From VOA News reporters
Thai authorities say a young Saudi woman, stopped in Thailand as she tried to flee to Australia to seek asylum, has now left the Suvarnabhumi Airport and is under the care of the local UN refugee agency.
"She is under the care of the UNHCR now but we also sent Thai security to help take care (of her)," the head of Thailand's Immigration Police Surachate Hakparn told reporters.
"She will not be forcibly sent back to Saudi Arabia."
VOA reports that the 18 year old fled from Kuwait during a family vacation and arrived at Suvarnabhumi Airport in Bangkok on Saturday night.
Yesterday she made several Twitter pleas demanding she be allowed to meet with someone from the UN.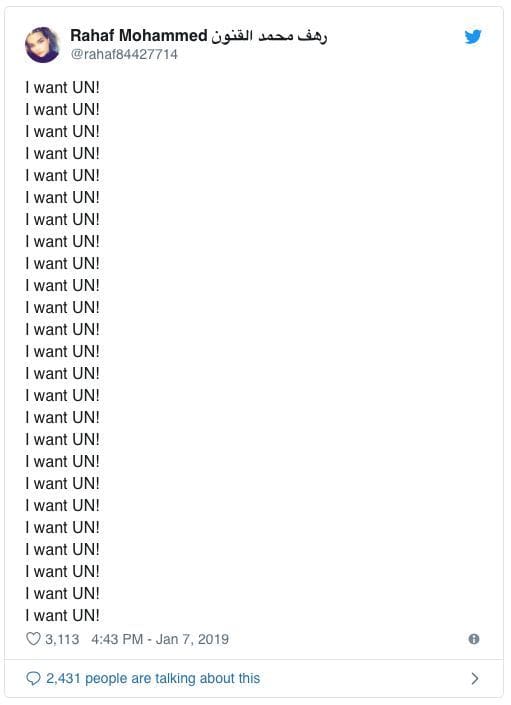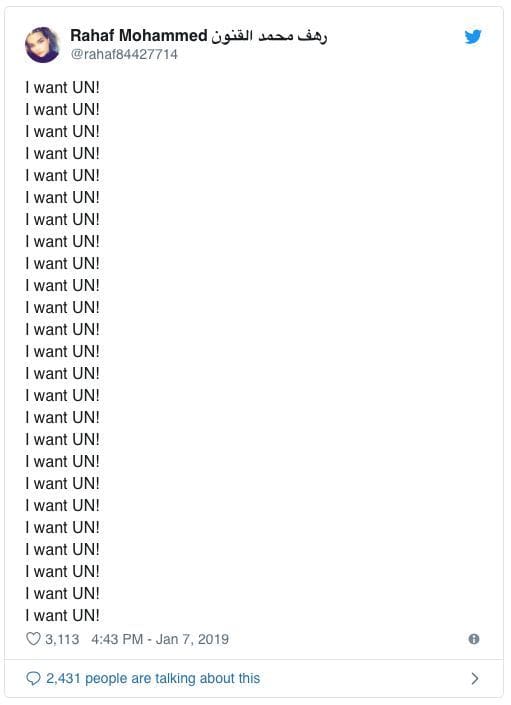 In an earlier video post, Alqunun can be seen pacing inside the hotel room and saying, "I just want to survive."
"My family is strict and locked me in a room for six months just for cutting my hair. I am 100 percent certain they will kill me as soon as I get out of the Saudi jail," she said.
Following the announcement that she will not be forcibly sent back home, Alqunun tweeted that she felt safe "under UNHCR protection with the agreement of Thailand authorities."
The UN refugee agency says it will take about five to seven days for UN officials to evaluate her case.
Thai authorities had previously refused to let Alqunun into the country, saying she had no travel documents or money.
But Alqunun says Saudi and Kuwait officials took away her passport when she arrived – a claim backed up by Human Rights Watch.
"Thai authorities should immediately halt any deportation and either allow her to continue her travel to Australia or permit her to remain in Thailand to seek protection as a refugee," Human Rights Watch deputy Middle East director Michael Page said.
"Saudi women fleeing their families can face severe violence from relatives, deprivation of liberty, and other serious harm if returned against their will," he said.
Women have few civil rights in the ultra-conservative Saudi kingdom. They need permission from a male relative to obtain a passport and travel overseas.
Women who commit so-called crimes against morality can sometimes meet the death penalty.
SOURCE: VOA News


Read more headlines, reports & breaking news in Bangkok. Or catch up on your Thailand news.
Summer storms on the way for north, north-east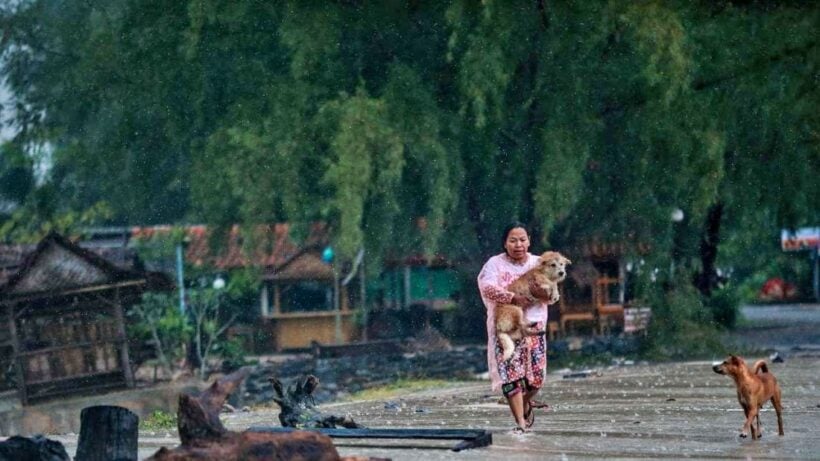 FILE PHOTO
People living in the north of Thailand are being warned to brace themselves for some summer thunderstorms until Wednesday. The Meteorological Department issued an alert today saying the storms will be caused by a high-pressure system from China that will interact with the hot weather over upper Thailand.
Outbreaks of summer thunderstorms will be likely from today to March 27. Thundershowers, gusty winds and hail are possible first in the Northeast and the East then the Central, and the North region.
Are you affected?
March 23-24
North: Kamphaengphet, Phitsanulok, Phichit and Phetchabun.
Northeast: Nong Bua Lamphu, Sakon Nakhon, Nakhon Phanom, Udon Thani, Buri Ram, Surin, Si Sa Ket and Ubon Ratchathani.
Central: Nakhon Sawan, Chai Nat, Lop Buri and Saraburi.East: Nakhon Nayok, Prachin Buri, Sa Kaeo and Chachoengsao.
March 25-27
North: Kamphaengphet, Phitsanulok, Phichit and Phetchabun.
Northeast: Nong Bua Lamphu, Udon Thani, Khon Kaen, Loei, Chaiyaphum, Nakhon Ratchasima, Buri Ram, Surin, Si Sa Ket and Ubon Ratchathani.
Central: Uthai Thani, Nakhon Sawan, Chai Nat, Lop Buri, Saraburi and Phra Nakhon Si Ayutthaya including Bangkok and its vicinity.
East: Nakhon Nayok, Prachin Buri, Sa Kaeo and Chachoengsoa.
SOURCE: The Nation
Top Five things to consider if you're buying a condo in Thailand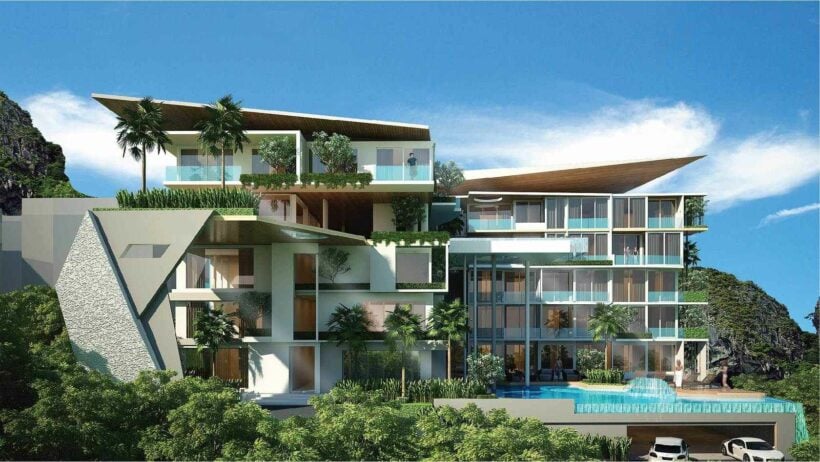 Not quite a Top Ten but some good straight-talking about buying condominiums in Thailand from Desmond Hughes from Hughes Krupica…
One of the most commonly read or spoken summary of foreign ownership of property in Thailand is along the lines of
"Foreigners can buy a foreign freehold condominium in their name".
At this sentence, many foreign investors switch off, and assume that the rest of the detail provided by the author may be legal mumbo jumbo or a thinly veiled attempt to win their business.
In fact, there is quite a lot you should know about Thai condominiums, before you start property hunting. As my clients don't generally spend their time reading legal journals and legislation unless they have to, I have set out a mixture of legal and practical matters below without much distinction:
1. Only 49% of the Registrable Area of a condominium can be sold to foreigners.
In Bangkok, this is not likely to have any impact on you. Most of the buyers and owners of condominiums in Bangkok are Thai nationals. Even in condominiums popular with foreigners, it is an uncommon phenomena that foreigners would ever outnumber Thais as owners in a building. You might ask why the rule even exists, but there is a fear and protectionism in many Asian countries, not just Thailand, to try and keep foreigners 'controlled' through numbers and perecentages.
In other places – Phuket; Pattaya; Koh Samui; Chiang Mai and Hua Hin particularly you should apply caution to ensuring that the correct 'quota' of foreign units is available to be sold to you on a freehold basis.
2. Banks often advertise they will give finance, even potentially to foreigners, but in the end – don't
I speak from personal experience and from that of my clients. For my first condo investment in Bangkok, I had to take out a loan with HSBC which was then taken over by a Thai bank. My loan had to be in foreign currency, because in order to buy a foreign freehold condominium – you have to send foreign currency into Thailand from overseas to generate 'foreign exchange transaction forms' to register the title to a foreigner at the land office. This means a lot of hoops for a bank to jump through simply to provide a mortgage. Foreigners are also viewed as flight risks by Thai banks and they do not wish to spend their time chasing foreign assets. This all means that a very high percentage of the foreign buyer market is cash based, which is good for the stability of that part of the condo market.
If you are tempted to try and take out finance applications to banks, be aware that the banks are looking for you to have some business in Thailand; perhaps to be married to a Thai national who preferable from the bank's perspective will have some degree of wealth for self-support; and that you have other assets in Thailand with a history of using and paying off credit such as credit cards.
3. There is an oversupply of condominiums in Bangkok at the moment and rental yields are traditionally low in terms of % compared to more expensive Asian neighbors – Hong Kong and Singapore, and further afield
A condo in a prime rentable area at a high investment price can remain rentable due to its extremely useful location and amenities. If such condo has a 24 hour supermarket in the basement of the retail area and dozens of restaurants, as a condo building I am thinking of does have such amenities, then it will remain rentable for some time if the property is maintained. However, another condo at the end of the same 'Soi' and post building and delivery could remain unrented after many months and even if the rent is cut to 50% of the market price. Don't just take my word for the state of the market for condo rentals in Bangkok, ask the agents.
In addition to this, the authorities are taking a closer eye at tax declarations and 'cracking down' on undeclared taxes – not just personal income tax, but the 'business tax' of 12.5% for renting units out. This all adds to the costs of investing and renting in a condo, and you must calculate this into your budget and forecasts to avoid living in fantasy land about dream returns.
3. You won't have any say in how the condominium is managed
Unless you buy up over half of the voting rights attached to units in the entire building, you will be a minority voice on issues like the raising of the common area fees; use of the 'sinking fund' – the fund to make capital repairs, changes to the rules and regulations and general maintenance decisions, even of some significance. Don't imagine standing up at an co-owners meeting voicing your opinions and somehow making headway in 'changing' the direction of the management of a building. The way in which a building is managed boils down to how the developer has structured ownership, whether the developer retains many units and a large % of the voting rights or not, and whether the developer plans to self-manage or outsource management of the asset to a reputable or not-so-reputable management company.
If you don't check the management plan then I can reference lots of analogous situations where you would take more care – if you buy a car, you should think if there are any decent repair centres nearby and at a reasonable price – Ferraris in Phuket aren't currently easy to maintain, I would imagine, as a non-Ferrari owner and observer of the state and condition of the roads in that Province. You also wouldn't, I hope, buy a smart phone without knowing you could have the phone service, fixed and various parts replaced on reasonably short notice. As a property is a far higher value of investment, a lot of investigation into the management plan is necessary.
4. Don't Believe the Hype – It's a Sequel
False Media, we don't need it do we? If you see a glossy marketing brochure and are told that the developer 'has to deliver on its promises by law' – be wary. To take one example, I bought a condo under which a 'private wine cellar area with personal secure wine bottle storage space' would be provided to every buyer. Amazingly, without any shame at all, the famous developer constructed an unchilled cheap wooden cabinet with glass doors, no locks next to 4 sofa chairs in the open space corridor between a swimming pool and the gym. If you wanted to fry an egg on the 'wine cabinet' then that was highly likely to have been possible.
These kind of things are not all 'horror stories' – I actually got a decent condo notwithstanding the missing items. However, you will often have to compromise when in more highly regulated and supervised jurisdictions, you would not. Compromise is a very common work in Thai society and it applies to business and consumer purchases too.
5. Set up your ownership for easy re-sale
If you are buying a condo as a 'foreigner' and paying cash, then you can buy your condo through a foreign company, and sell the company later. This is only worth doing if the cost of setting up and maintaining the foreign company is reasonable and the company you set up is 'saleable' and attractive to others. You should not carry out this kind of structuring to 'avoid tax'. However, you can set up this kind of structure, pay tax on the purchase, and subsequently deal with your company as you see fit, provided a buyer is willing to buy it. If such a company receives rental income, then even if it is foreign it is till liable to taxes as the use of the 'immoveable property' for generating revenue isn't deemed to be 'outside' of Thailand, and that applies even if the company tries to contract for and receive the rent outside of Thailand.
Desmond Hughes has operated and owned 2 law firms in Asia in 14 years spanning Thailand; Vietnam; Indonesia with clients in all of Asia and other markets investing inwards into the region with his existing firm Hughes Krupica possessing a large market shares in its fields of expertise. 
Doubt over 'majority support' in survey about drilling near Si Thep historical park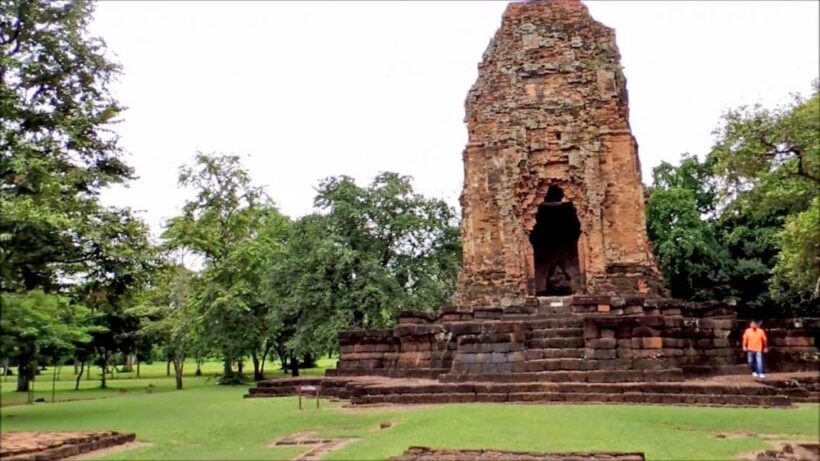 Locals are up in arms about results from a public hearing into oil drilling project near the Si Thep historical park in Phetchabun province (just north of Bangkok). They are expressing doubt and concern over results of a public hearing that appear to show support for the project.
Thai PBS reports that Mr. Prachuab Narkthien, chairman of the club of village headmen and kamnan in Si Thep district, says he doubted the credibility of the result, which shows 62.6 percent are supportive of the drilling project near the ancient temple.
Since most people in Phetchabun province, especially in Si Thep district, have opposed the project from the beginning, Mr. Prachuab said he wondered where the 62.6 percent figure had come from.
Oil drilling by ECO Orient Resources was put on hold due to strong opposition from the Fine Arts Department and the public for fear that vibrations caused by drilling may damage the fragile ancient ruins, which await recognition by UNESCO as a World Heritage site.
Mr. Prachuab said that the public hearing was unusual because only selected people were invited to attend and he was not invited, despite the fact that he represents the district's cultural network. He went on to say that only officials at provincial and district levels support the project while the general public is against it.
The Fine Arts Department earlier proposed the creation of a buffer zone to project the ancient ruins, believed to be those of a city of some 80,000 people at its peak during the first millennium AD.