Saudi woman remains under UN care in Thailand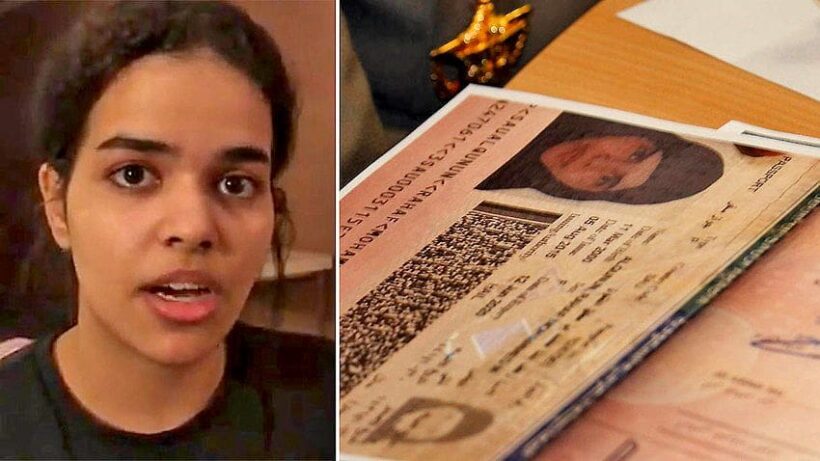 From VOA News reporters
Thai authorities say a young Saudi woman, stopped in Thailand as she tried to flee to Australia to seek asylum, has now left the Suvarnabhumi Airport and is under the care of the local UN refugee agency.
"She is under the care of the UNHCR now but we also sent Thai security to help take care (of her)," the head of Thailand's Immigration Police Surachate Hakparn told reporters.
"She will not be forcibly sent back to Saudi Arabia."
VOA reports that the 18 year old fled from Kuwait during a family vacation and arrived at Suvarnabhumi Airport in Bangkok on Saturday night.
Yesterday she made several Twitter pleas demanding she be allowed to meet with someone from the UN.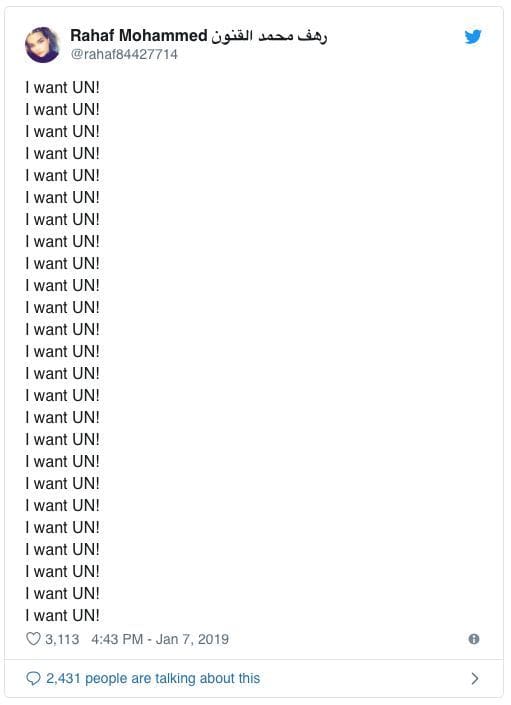 In an earlier video post, Alqunun can be seen pacing inside the hotel room and saying, "I just want to survive."
"My family is strict and locked me in a room for six months just for cutting my hair. I am 100 percent certain they will kill me as soon as I get out of the Saudi jail," she said.
Following the announcement that she will not be forcibly sent back home, Alqunun tweeted that she felt safe "under UNHCR protection with the agreement of Thailand authorities."
The UN refugee agency says it will take about five to seven days for UN officials to evaluate her case.
Thai authorities had previously refused to let Alqunun into the country, saying she had no travel documents or money.
But Alqunun says Saudi and Kuwait officials took away her passport when she arrived – a claim backed up by Human Rights Watch.
"Thai authorities should immediately halt any deportation and either allow her to continue her travel to Australia or permit her to remain in Thailand to seek protection as a refugee," Human Rights Watch deputy Middle East director Michael Page said.
"Saudi women fleeing their families can face severe violence from relatives, deprivation of liberty, and other serious harm if returned against their will," he said.
Women have few civil rights in the ultra-conservative Saudi kingdom. They need permission from a male relative to obtain a passport and travel overseas.
Women who commit so-called crimes against morality can sometimes meet the death penalty.
SOURCE: VOA News
Keep in contact with The Thaiger by following our
Facebook page
.
Never miss out on future posts by
following The Thaiger
.
Man arrested for growing 108 cannabis plants in Samut Prakan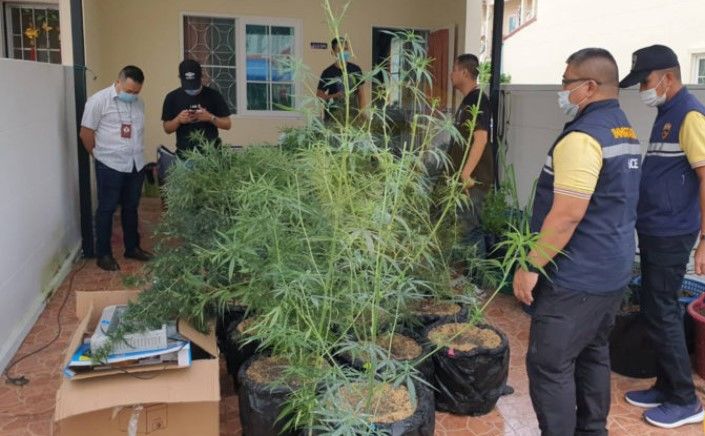 Police arrested an Argentinian man for growing cannabis at his house in Samut Prakan, just southeast of Bangkok. 35 year old Sagas Nur told police he planned to produce cannabis oil.
Medical marijuana is legalised – with limitations – while recreational marijuana is still classified as a category 5 narcotic. Sagas is facing charges of producing a category 5 narcotic. He could face 2 to 15 years in prison and a fine of up to 1,500,000 baht.
Police were tipped off about Sagas' alleged growing operation. They searched the house and say they found 108 cannabis plants that were about 1.5 metre high. Sagas allegedly told police he bought the seeds online with the intention to grow plants and then produce cannabis oil.
Thailand legalised medical marijuana in 2018, becoming the first country in Southeast Asia to do so. Recreational marijuana trafficking and operations continue to be busted by police while the government studies medical marijuana with plans to tap into the global market. The Public Health Minister Anutin Charnvirakul even helped plant cannabis seedlings at a government-run facility with 1,300 plants.
SOURCES: Bangkok Post | South China Morning Post
Catch up with the latest daily "Thailand News Today" here on The Thaiger.
Keep in contact with The Thaiger by following our
Facebook page
.
Never miss out on future posts by
following The Thaiger
.
Opposition MPs petition for Bangkok State of Emergency to be lifted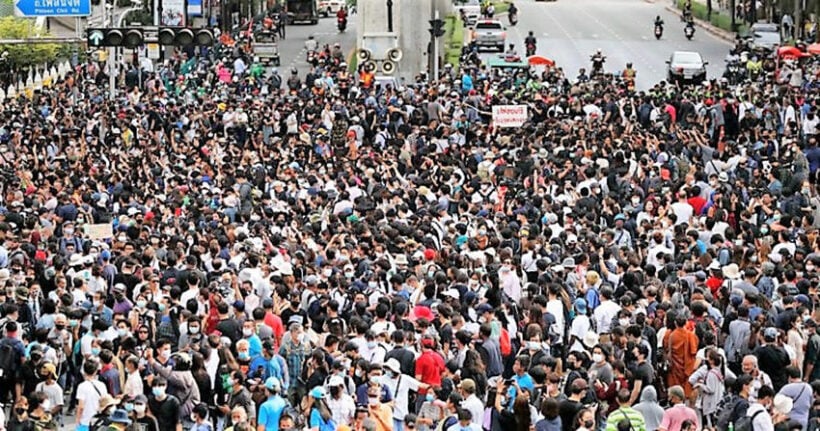 A group of opposition MPs and other activists will today petition to have the emergency decree currently in force in Bangkok revoked. Thai PM Prayut Chan-o-cha imposed the state of emergency last Thursday morning, in the wake of escalating political unrest in the capital. Now a number of Pheu Thai MPs and other opponents of the State of Emergency are calling on the Civil Court to retract it.
Last weeks declaration was "rubber stamped" the next day by an emergency meeting of the Thai cabinet.
One of those petitioning for the state of emergency to be rescinded, is the President of the Lawyers' Association of Thailand, Narinphong Jinaphak. He says enforcement of the decree is illegal and that there is nothing to justify it, pointing out that political rallies have been peaceful, and protesters have acted within the confines of the law. He also points out that the Thai Constitution guarantees citizens the right to assemble.
Meanwhile, the Bangkok Post reports that Cholnan Srikaew, Pheu Thai MP for the northern province of Nan, has described the PM's announcement of the State of Emergency in the early hours of last Thursday as illegitimate. He adds that should the court decide the state of emergency is unlawful, the group may sue the government for having declared it.
The group is also petitioning for an interim injunction, to prevent authorities from using the emergency decree against protesters, while the court considers whether to revoke it altogether.
Meanwhile, national police chief, Suwat Jangyodsuk, says officers are still under orders to avoid the use of force when dealing with protesters, in order to protect them and the general public. He denies that water cannons used to disperse a protest in Bangkok on Friday contained chemical substances known to cause irritation.
SOURCE: Bangkok Post
Keep in contact with The Thaiger by following our
Facebook page
.
Never miss out on future posts by
following The Thaiger
.
41 foreign tourists to arrive in Bangkok today on Special Tourist Visa after 7 month ban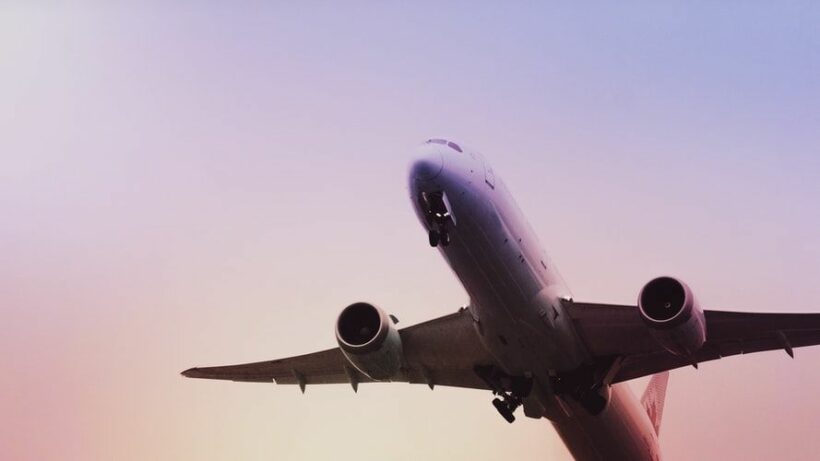 Just 41 foreign tourists are expected to arrive in Bangkok today, a small, yet major step forward after a 7 month ban on international tourists which was put in place in late-March to prevent the spread of the coronavirus.
The visitors are said to be travelling on the new Special Tourist Visa, which allows a 90 day stay that can be renewed twice, adding up to about 9 months. But the tourists departing from Shanghai, China and arriving in Bangkok's Suvarnabhumi Airport this evening will only be in Thailand for 30 days, and that includes a 14 day quarantine, Tourism Authority of Thailand Governor Yuthasak Supasorn says.
Plans under the new scheme have been sketchy to say the least and reports have been conflicting. Reports circulated about a group of about 120 to 150 tourists under the new visa scheduled to arrive in Phuket earlier this month from Guangzhou, China. The flight was delayed. A few days later, a spokesperson from the Foreign Ministry announced no one from Guangzhou had actually applied for the visa and TAT just passed off a list of those "interested" in the scheme rather than those who were ready to fly.
Things seem a bit sketchy again. The flight arriving today was at first going to have 120 to 150 tourists, but now it's down to 41, according to Pattaya News. Yuthasak did not say why only a limited number of tourists are arriving today, but says Bangkok's ongoing protests are not a factor, adding that the tourists plan to travel to beaches outside the city once the mandatory quarantine period is over. He says 100 more Chinese tourists will arrive in Bangkok later this week.
Upon arrival, the tourists will be tested for Covid-19 and are required to register with a Covid-19 tracking application. They will then be transferred to certified quarantine accommodations to stay for the next 14 days.
"If the first batch of Chinese tourists is considered to be potentially successful, TAT might propose the idea of increasing more tourists to the CCSA (Centre for Covid-19 Situation Administration) and the government."
SOURCE: Pattaya News
Catch up with the latest daily "Thailand News Today" here on The Thaiger.
Keep in contact with The Thaiger by following our
Facebook page
.
Never miss out on future posts by
following The Thaiger
.