Top 10 things to see in Phuket, on a budget (2019)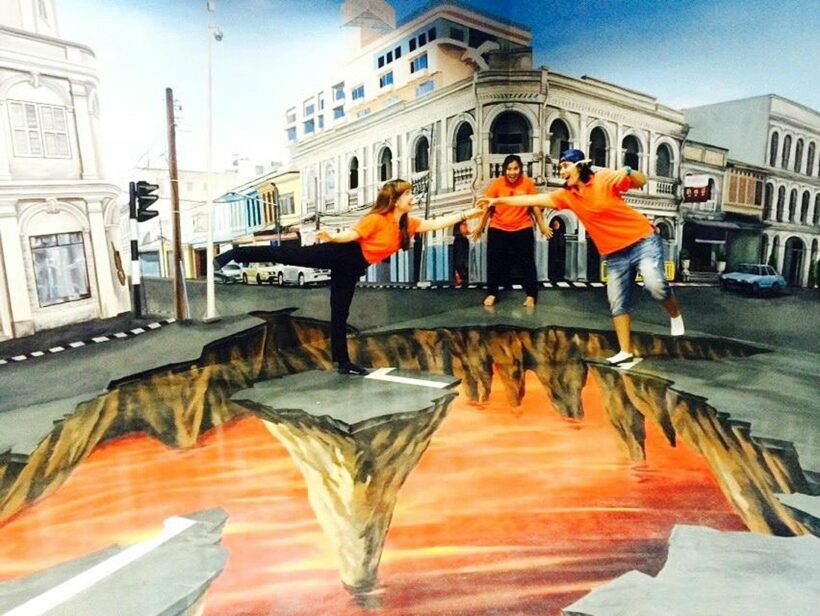 PHOTO: The Trick Eye Museum in Phuket Town
We can't all afford to stay in the lap of luxury in five star properties, and spend our Sunday's at extravagant hi-so brunches. Good luck to those who can! In Phuket you can have fantastic experiences that either cost you nothing or not much more.
Here is, in no particular order, our Top 10 things to see in Phuket on a budget….

Simon Cabaret/Simon Star/Aphrodite
Nothing like a big lady boy show! The ones in Phuket are family-friendly, world-standard presentations with astonishing costumes, sets and, mostly, appalling dancing – there's only so much you can do with a metre high headpiece and gaffer tape holding all your 'bits' in place. If you haven't been you MUST. Hard to not to enjoy yourself. Does it rival the big shows in Las Vegas? No. Is it worth the 1000 baht and a few hours on a humid night? Definitely.
At the end of the show you will get the opportunity to have your photo taken with the performers. Although they don't tell you before, you will be expected to pay for the pleasure. 100-200 baht is about the going rate. The three shows are in different parts of the island – the most famous Simon Cabaret in Patong which has been going for an astonishing 27 years without missing a beat.
OK, it's not 'cheap cheap' but it's worth every baht of your Phuket budget! Simon Cabaret. Aphrodite.


Trick Eye Museum

Right in the heart of Phuket Town and deserves your time. Bring a camera. You'll walk around various elaborate large interactive art and find you can pop yourself into the scene in a very clever way. Tickets start at 500 baht and you can spend an easy two hours or so. There's some car parking next door to the old Pearl Hotel otherwise go by taxi, plenty around that part of town. Popular with local and international schools for day trips too. The Trick Eye Museum will easily fit into your Phuket budget, no tricks!

Massage
Almost anywhere, anytime and something to fit into your Phuket budget. For less than 500 baht you're going to get to relax and indulge in one of Thailand's unique pleasures. In Patong you will hardly walk 10 metres without hearing the cry 'massage!?' But the better massages are out of tourist town, and usually much cheaper. Leaving out the more infamous massage available in less-reputable venues, there is usually a selection of different massages you can enjoy. If the sweet little Thai lady asks if you want it gentle or hard, be warned if you go for the 'hard' option you'll be screaming at times! The Thai massage can be quite firm and a challenge for the uninitiated, and those 'sweet' 5 foot Thai ladies will wind you up in knots, despite their petite stance. Start tame and go for a 1 hour foot massage. Read up more about massage and spa locations around Phuket HERE.


Upside Down House

Located on the ByPass Road in Samkong this is a curious wander around a house that's, well, upside down. Too many photos would spoil the fun but you'll fill an hour and snap off plenty of selfies in this attraction that will make you see the world from a whole different angle. Tickets for adults are 350 baht and children 190 baht. The Upside Down House won't turn your Phuket budget upside down

Any Temples

Of course you should visit a temple, or 'Wat'. Wat Chalong is largest complex of temples on the island. Buddhist temples have their own conventions and rules to read up about before you visit so you'll get the most out of your visit. Some of the temples have become distinctly commercial in recent years so best to try and find the ones that will give you the most authentic experience. Free unless you choose to make a donation.
THIS article about 'Things NOT to do' in Thailand will provide a bit of guidance for first time temple visitors. When it comes to budget tourism in Phuket you'll find nothing more fulfilling and low cost than visiting the island's magnificent temples.


Coral Island

So you've already come to a tropical island in Thailand. But many enjoy exploring the 30 or so other islands around Phuket. Some are a LONG way, some will have you travelling in a van for a a few hours before you even get on a boat. Others are really close, like Coral Island, just off the coast of Chalong. There are plenty of organised tours to Coral island and, depending on your tour and the beach you end up on, you'll have a great day or an awful day battling crowds you probably thought you'd be getting away from.
Coral Island has become really popular in the past five years so be prepared your tropical island getaway experience with a few others as well. We don't recommend any particular tour company but here's a start for you HERE something for all Phuket budgets. (In the website it says Coral Island is '10 kilometres south of Phuket'. It's not. It's only a kilometre or so of the shore from Chalong)

Khao Rang

A mid-island diversion from the history of Phuket Town and shopping at Central Festival, Khao Rang (also known as Rang Hill) is a popular viewpoint hangout for locals. It is located on the north side of Phuket Town and has stunning views over island. There are a number of restaurants and bars located on the hill offering local dishes and their most famous specialty is ice coffees.
The most popular at Khao Rang Breeze Restaurant and Tunk Ka expect to pay slightly above local prices for food and beverages. They call it a hill, but it's actually only 150 metres high which is not so tall at all, however the views are amazing from the viewpoint even at the low height and the landscaped gardens are beautiful under foot. Be careful of the monkeys up there who come out around sunset to forage for food… and iPhones! We're sure a visit here will fit into any Phuket budget.


Spend the Day at the Beach

It's one of the highlights of coming to Phuket, so go and get some sand between your toes. There are busy beaches and you'll also find almost totally deserted beached. At just 100 baht for a subbed, including the beach crew who sweep away your sand from your chair, it's a steal (on the major tourist beaches).
The Andaman Sea has crystal clear water during high season (December through May) however during the green season (June through November) the ocean is rough and it is not recommended to swim on the West Coast. With restrictions being enforced with the number of chairs allowed on the beach, and in certain zones, it can be fun trying to secure one later in the day.
Layan, Kamala, Surin and Patong Beaches are all zoned for chairs. Also note that at Patong Beach there are dedicated smoking zones too so if you are going to indulge you must do it in the smoking zones otherwise large fines could be imposed.

Catch the latest movie at the cinema
Especially great on a wet day in Phuket or if you need to take a load off from all the shopping at Central Festival or Jungceylon going to the cinema is well priced and features all the latest movies, including in English or with English sub-titles. Starting at just 140 baht a ticket (on selected days) for a standard seat through to 350 baht for a lazy boy style chair, right up to 900 baht for first class (totally worth the money) it's a cheap way to spend a couple of hours.
First Class in Phuket is comparable to a standard ticket in most Western countries, the doors open one hour before and you can have refreshments and a light snack before heading in, included in the price. Waiters bring in "complimentary popcorn, soft drinks" as well as a blanket for your viewing pleasure and the lazy boy seats go almost flat so you can enjoy the movie in comfort.
Thailand is very traditional, and respectful to the Royal Family, so before any movie they play the King's Anthem. All patrons stop munching, stand up and pay their respects.


Bang Wad Dam

Located in the middle of the island, South to North and East to West, the Bang Wad Dam in Kathu is a water reservoir that services much of Phuket. It has a 6km circle road around it and is shaded from the sun by lush trees and fauna. It is incredibly popular with the locals and expats who are getting in their daily exercise. There is (usually) minimal traffic and, if you don't mind the odd snake and creepy crawly, a perfect spot to to pound the pavements or ride your bike or motorbike.
If your up early on a Sunday morning there are regular runs/walks as well as charity events to participate in. It is also recommended to run/walk all in the same direction – if you don't know which way you soon will! Buy a fresh coconut or cold drink on your way round and support the local community.

Keep in contact with The Thaiger by following our
Facebook page
.


Find local events and browse venues in Thailand with Thaiger Events, or post your own today.

Looking to jettison some items before jetsetting away or chartering a yacht? Look no further than Thaiger Classifieds where you can find and post items, work, property and more for free. Be sure to check out YonderTours for things to do in Thailand and tours across the country.

Find more Travel top 10s and top 10s in Thailand on The Thaiger.

The K-pop Olympics: performers battle in the K-pop festival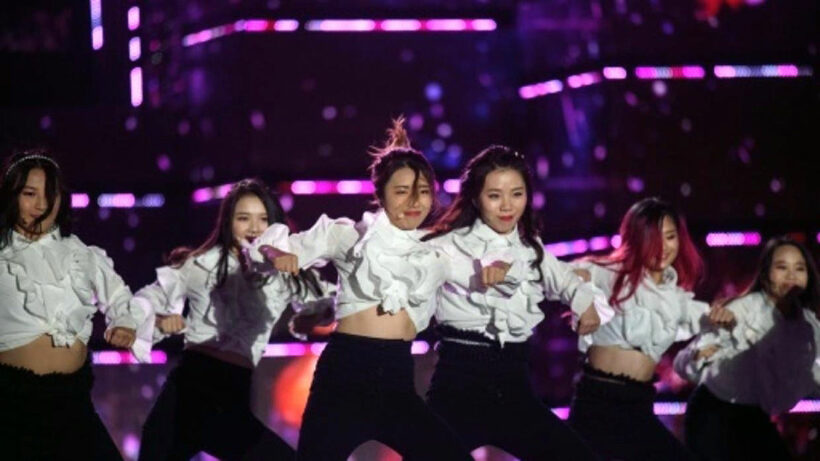 On the streets, in parks and garages, seven Cuban youngsters spent seven months practising K-pop moves to secure a spot on their dream stage: an appearance in South Korea to imitate their idols. 13 final teams from 80 countries are competing in the 2019 event.
At the grandly titled and government-funded Changwon K-pop World Festival contestants from around the globe perform imitation dances or sing cover versions of the genre's biggest hits, with thousands of fans cheering them on.
In terms of global heft, South Korea is overshadowed by its much larger neighbours China and Japan, but the event is a way for Seoul to derive soft power from one of the country's biggest cultural exports. In terms of pop-power, South Korea's K-Pop is now a recognised world-wide music phenomenon with bands like BTS and Blackpink figuring amongst the other big-hitters on the Billboard charts and outselling their western counterparts with millions of albums and downloads.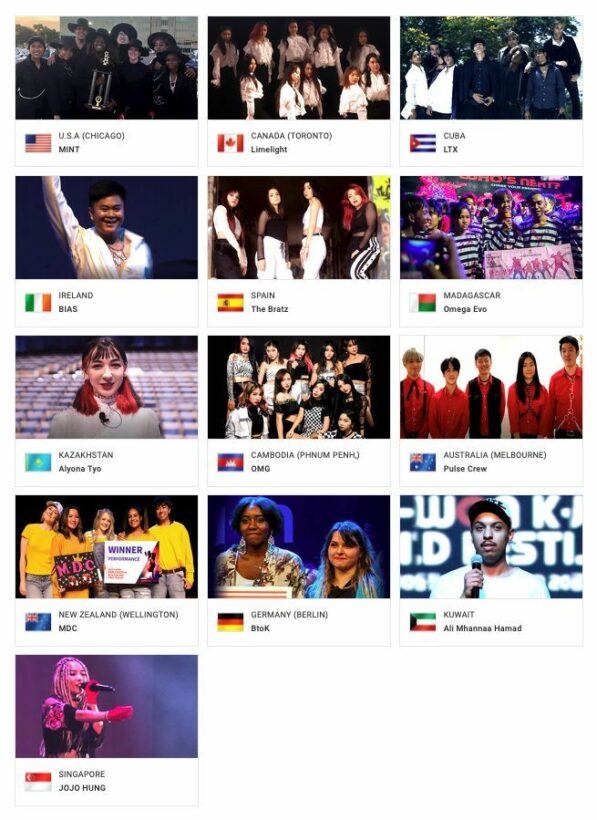 Finalists for this year
Cuba's Communist government is one of North Korea's few remaining allies: when President Miguel Diaz-Canel, successor to the Castro brothers Fidel and Raul, visited Pyongyang last November he was only the third foreign head of state to do so since leader Kim Jong Un inherited power in 2011.
But rather than geopolitics, Havana performer Karel Rodriguez Diaz – whose mannerisms and sleek hairstyle could easily be mistaken for those of a K-pop star – is more motivated by high-tempo beats and superslick dance moves.
"We never had a place with a mirror or a choreographer who could teach us the steps" but they kept on practising, he said.
His team-mate Elio Gonzalez added: "We are so excited to represent not just Cuba but also the whole of Latin America."
Some 6,400 teams from more than 80 countries entered the competition, according to organisers, with 13 groups from places as diverse as Kuwait and Madagascar winning through to the final in Changwon, where they appeared on stage waving their national flags.
"This is like watching the Olympics, a K-pop Olympics," said the event's host Lia, a member of K-pop group ITZY.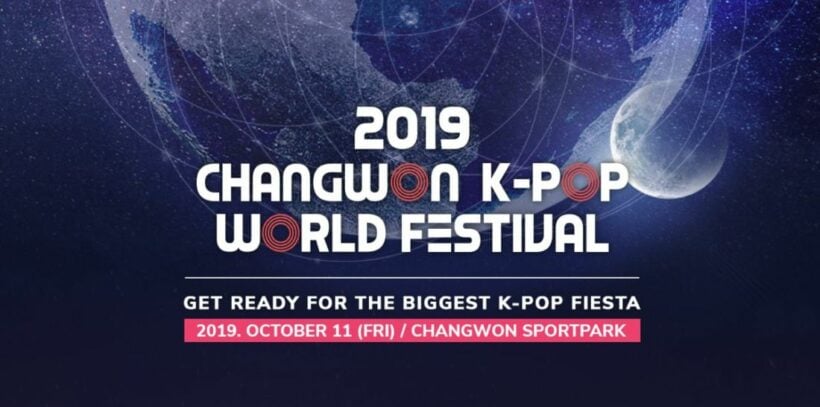 The Korean Wave
K-pop – along with K-drama soap operas – has been one of South Korea's most successful cultural exports to date. A key part of the "Korean Wave" which has swept Asia and beyond in the last 20 years, the K-pop industry is now estimated to be worth $5 billion, with boyband BTS its latest high-profile exponent, becoming the world's most successful band in the past 12 months, selling out stadium concerts within minutes, around the world.
The South Korean government has financed a variety of K-pop themed events in what CedarBough Saeji, a visiting professor at Indiana University Bloomington in the US, said was a form of long-term "soft power diplomacy".
"When you are covering you get to 'become' those idols for the three and a half minutes of the song," she said, adding that performers will go so far as matching their clothing, accessories and hairstyle to their heroes and heroines.
"The cover dancers of today will be diplomats, news reporters, and business leaders in forty years," she went on.
"And hopefully they'll still have a soft spot in their heart for Korea. Korea can't win the world through hard power – armies, economic bullying – but with soft power even a small country like Korea has a chance."
The music also provides an artistic alternative for overseas fans, especially those in developing countries, Saeji added.
"The West, especially the United States, has been so dominant culturally for so long, and having a different cultural pole to look to provides hope that one's own country can experience similar success in the future."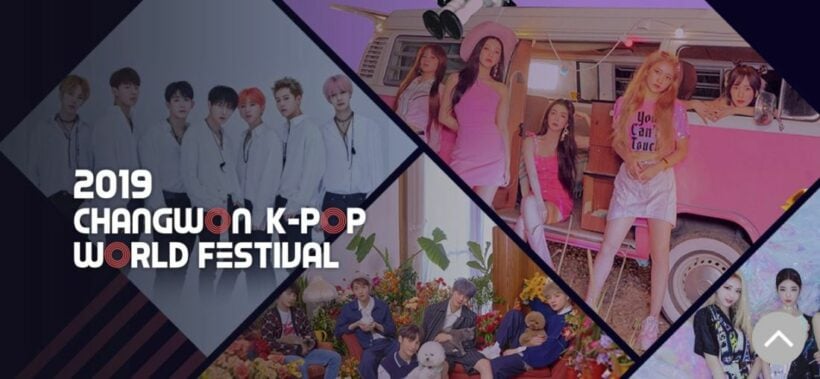 Be who you want
Beneath its glitz and glamour, the K-pop industry is also known for its cutthroat competition, a lack of privacy, online bullying and relentless public pressure to maintain a wholesome image at all times and at any cost.
Sulli, a popular K-pop star and former child actress who had long been the target of abusive online comments was found dead on Monday, with her death sending shockwaves through fans around the world.
"I think a day where (people) would be ashamed of the K-show business will surely come," a South Korean online user wrote in the wake of the star's death.
"I think an industry that makes money by (making people) sing, dance, undergo plastic surgeries and go on a diet to please the gaze of others since they are teenagers should really go bankcrupt."
But for Kenny Pham, a finalist from the US at last week's contest, K-pop's diversity – with some tunes having dark themes, while others were "cute" or sensual – is what gives him a sense of liberation.
"I like how expressive you could be," the 19 year old told AFP last week.
"I feel like it's a place where you could show the passion you have for music, dance or fashion. No one is bashing you for what your likes are."
SOURCE: Agence France-Presse
Keep in contact with The Thaiger by following our
Facebook page
.
Journey back to Tham Luang in 'The Cave' – VIDEO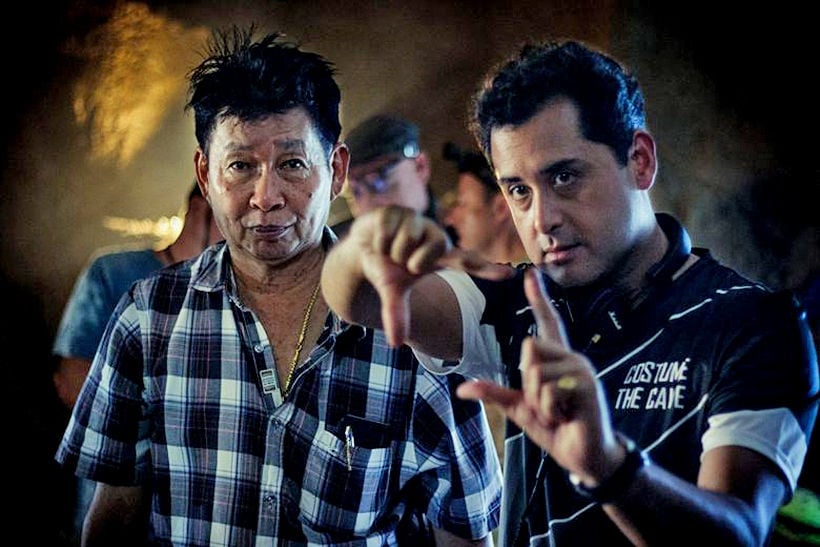 PHOTO: Tom Waller on site during the filming of The Cave – AFP
Determined divers racing against time. Rising waters threatening lives. 12 teenagers and their soccer coach trapped inside for two weeks. A remote cave that most had never heard of.
The stuff of a Hollywood drama, except that it's all true and happened in Chiang Rai last year. Now the first of several re-tellings of the story comes to the big screen in The Cave.
The ordeal in late June and early July last year had barely ended when filmmakers began their own race to get the nail-biting drama onto cinema screens. The first of those projects premiered at the start of October, when director Tom Waller's The Cave showed at the Busan Film Festival in South Korea.
The film was shot over three months earlier this year and has been in post-production since then. The 45 year old Thai-British filmmaker says the epic tale of the Wild Boars (Mu Pa) football team was a story he simply had to tell.
"I took the view that this was going to be a story about the people we didn't know about, about the cave divers who came all the way from across the planet."
The 13 young men entered the Tham Luang cave complex after soccer practice and were quickly trapped inside by rising floodwater. The boys were forced to spend nine nights lost in the cave, whilst Navy Seal and other diver searched frantically, before they were spotted by a British diver.
It would take another eight days before they were all safe, against all odds, in a risky mission.
Waller was visiting his father in Ireland when he saw television news accounts of the drama.
"I thought this would be an amazing story to tell on screen."
But putting the parts together after their dramatic rescue proved to be a challenge. Thailand's government, led by the military NCPO, became very protective of the story, barring unauthorised access to the Mu Pa team or their parents. Waller often feared his production might be shut down.
His good fortune was that the events at the Tham Luang cave in Chiang Rai province had multiple angles and interesting characters. Especially compelling were the stories of the rescuers, particularly the expert divers who rallied from around the world. He decided to make a film "about the volunteer spirit of the rescue."
Other people proposed telling the story from the point of view of the boys, and Netflix nailed down those rights in a deal brokered by the Thai government.
"I took the view that this was going to be a story about the people we didn't know about, about the cave divers who came all the way from across the planet. They literally dropped everything to go and help, and I just felt that that was more of an exciting story to tell, to find out how these boys were brought out and what they did to get them out."
Waller even had more than a dozen key rescue personnel play themselves.
Waller said they were natural actors, blending in almost seamlessly with the professionals around them, and helped by the accuracy of the settings and the production's close attention to detail.
"What you are really doing is asking them to remember what they did and to show us what they were doing and what they were feeling like at the time. That was really very emotional for some of them because it was absolutely real."
Waller says his film is likely to have a visceral effect on some viewers, evoking a measure of claustrophobia.
"It's a sort of immersive experience with the sound of the environment, you know, the fact that is very dark and murky, that the water is not clear."
"In Hollywood films, when they do underwater scenes, everything is crystal clear. But in this film it's murky and I think that's the big difference. This film lends itself to being more of a realistic portrayal of what happened."
Some scenes were filmed on location at the entrance to the actual Tham Luang cave, but most of the action was shot elsewhere.
"We filmed in real water caves that were flooded, all year-round. It is very authentic in terms of real caves, real flooded tunnels, real divers and real creepy-crawlies in there. So it was no mean feat trying to get a crew to go and film in these caves."
The Cave goes on general release in Thailand on November 28.
ORIGINAL ARTICE: Associated Press | Time.com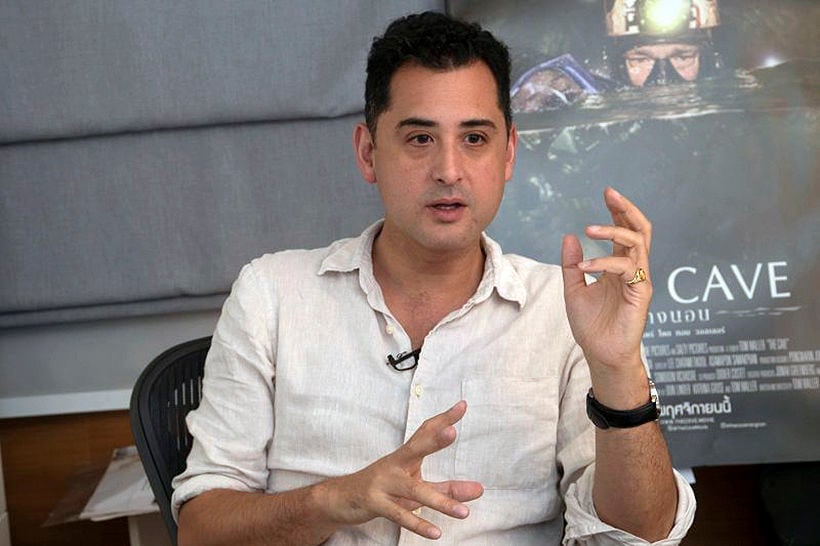 PHOTO: Tom Waller – Associated Press/Sakchai Lalit
Keep in contact with The Thaiger by following our
Facebook page
.
BTS first foreign artists to perform solo concert in Saudi Arabia tonight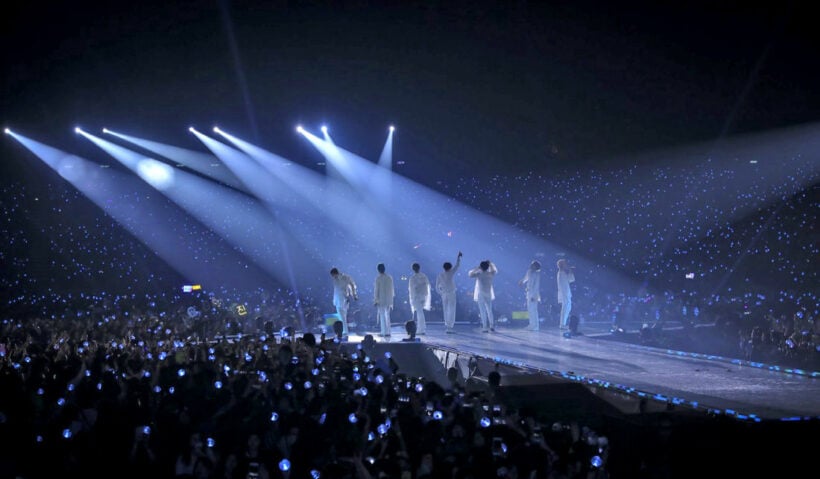 PHOTO: BTS performing in front of 60,000 fans during their "Love Yourself" tour in Hong Kong – SCMP
No band has ever commanded a concert stage, alone, in Saudi Arabia. Remarkable but true. But South Korea's BTS is breaking down yet another barrier with tonight's stadium concert in the Kingdom.
Aside from being their first ever concert in Saudi Arabia, it will be Saudi Arabia's first ever solo stadium concert by a foreign act. BTS, debuting in South Korea in 2013, have since been breaking records and the 'Bamboo Ceiling' to become the biggest band in the world.
In Nam-sik, a professor at the Korea National Diplomatic Academy who specialises in the Middle East says that Saudi Arabia is a very conservative country and it is trying to open up more in recent years.
"Until recently, concerts were forbidden, but the country started to acknowledge that people want cultural events. Saudi Arabia wants to show the world that it is changing. Allowing BTS to perform in the country is a significant step in its reform endeavour."
The leader of South Korean boy band BTS has spoken out about their upcoming concert in Saudi Arabia, saying it wasn't an easy decision to play in the kingdom which has been criticised over its human rights abuses.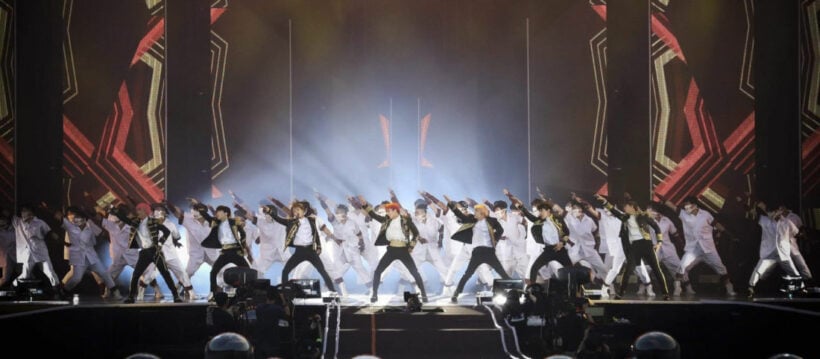 "I wouldn't say it was easy," said 25 year old group leader and rapper RM, who also speaks perfect English he said he learned watching the sitcom 'Friends'.
"But we were officially invited. It's been a while since we've performed in the Middle East."
"If there's a place where people want to see us, we'll go there. That's really how we feel," added 23 year old singer Jimin.
Industry pundits see this as an important milestone that signifies BTS' phenomenal world popularity. And if successful, it could open up many more opportunities for K-pop and Korean culture as a whole.
In Saudi Arabia, which still enforces gender segregation based on a strict interpretation of Islamic law, it was only in the past two years that women were given the right to drive, as well as enter stadiums to watch sports games and concerts. BTS' concert venue King Fahd International Stadium only allowed women to enter for the first time in September 2017.
In July, BTS attracted criticism after they announced tonight's show in Riyadh, the capital of Saudi Arabia. Some fans pointed out the apparent contradiction between BTS's tour message,"Love Yourself", and Saudi Arabia's criminalisation of same-sex relationships.
Though none of BTS's members are openly LGBTQ, the group has been seen as sympathetic towards the LGBTQ community, especially compared with other K-pop groups who tend to stay silent on controversial topics.
"BTS will be the first foreign artist to have a solo stadium concert in Saudi Arabia. Things are changing in the Kingdom. The success of this show could open doors to endless opportunities and possibilities," said film producer Tanuj Garg on his Twitter.
But there's also been social media backlash against the septet's concert tour in the Kingdom.
"Artists have been boycotting Saudi Arabia due to flagrant human rights abuses against women activists and the LGBTQ+ community," one Twitter user said.
"BTS are UN representatives and everyone involved here should have known better."
BTS has sold out stadiums around the world in a record breaking "Love Yourself" tour in the US, Brazil, the UK, Germany, France, Netherlands, Canada, Japan, Taiwan, Hong Kong, Thailand and Korea during their sold-out world tour, to a total live audience of over a million (1,044,320 to be precise).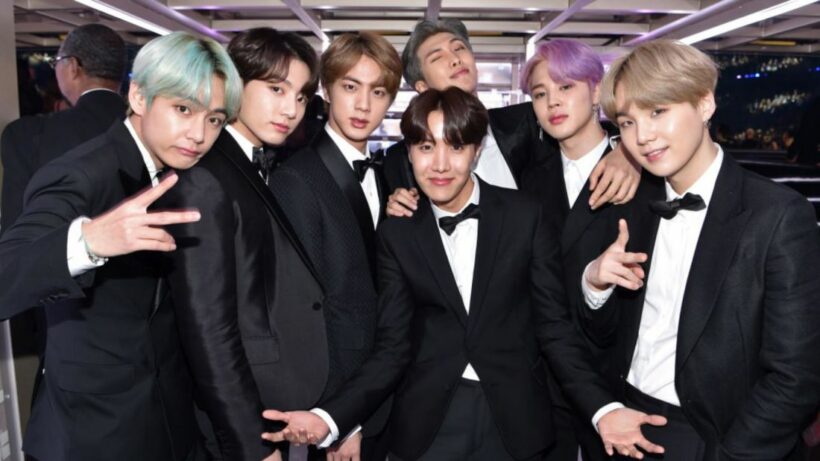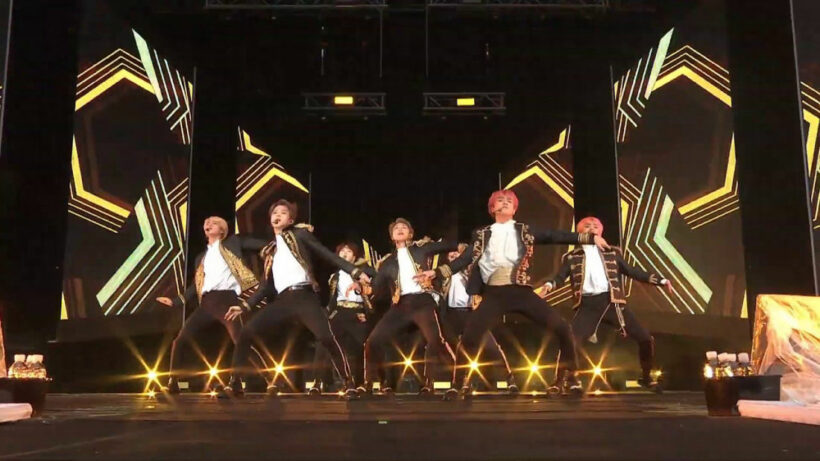 Keep in contact with The Thaiger by following our
Facebook page
.