Thailand Yacht Show & Rendezvous now joined by the Phuket Yacht Show

ONE united yacht show will now present next January in Phuket.
Event organisers have united to show support for the yachting industry and Thai Government's drive to make Thailand the yachting hub of Asia.
Phuket's one and only boat show is to be called "Thailand Yacht Show & Rendezvous."
In a joint statement issued today by Andy Treadwell, CEO of Verventia, owners of the Thailand Yacht Show (TYS), Gael and Olivier Burlot, owners of Asia RendezVous, and Gulu Lalvani, Chairman of Royal Phuket Marina, it was announced that the three parties have agreed to collaborate in producing one combined boat show in Phuket next year January 10-13.
The move was precipitated by a request earlier in the year from the Tourism Authority of Thailand (TAT) to gather the boating industry together in one major event in Thailand to demonstrate united support for the government's yacht tourism initiatives.
At the same time, since the announcement in August of the Phuket Yacht Show, the yachting industry voiced its strong opinion that there should be only one boat show and requested just such a "get together", with Royal Phuket Marina being the industry's preferred venue.
The three organisers were able to come to an agreement in principle last week to merge the Phuket Yacht Show team into the already-announced Thailand Yacht Show & Rendezvous.
Andy Treadwell explained: "It's obvious that we needed to make this all one event, and great that we've been able to do so in a relatively short space of time – entirely thanks to the industry coming together and getting everyone to agree. The TAT, our partners and main sponsor of the Thailand Yacht Show, also asked us earlier in the year to try to put everything into one show instead of competing and dividing the industry.
"We're all now looking forward to getting on with the job and building this event over the next few years into a proper international marketing platform for the yachting industry, and for Thailand as a world-class yacht tourism destination".
Gael Burlot added: "We are very pleased to have everyone on board and a clear plan to develop the boat show. The luxury industries are starting to prosper again in this region, and with the right collaborative promotion in the right strategic places like Thailand, the yachting industry should start to see significant growth in this beautiful part of the world, where there is so much opportunity."
Gulu Lalvani, Chairman of Royal Phuket Marina, said "I am delighted to welcome the combined teams to work together and produce the best boat show Phuket has ever seen, here at Royal Phuket Marina in January. As the host venue, my team and I will be showcasing Thailand's marine industry to the world and will work with the organisers to achieve our common objective – to make Phuket and Thailand the central marina hub for the whole of Asia."
David Hunter, Managing Director for Torqeedo Asia Pacific, one of the show's main supporting partners, commented…
"As the pioneers of the future of electric mobility for the marine sector, we are delighted to continue our support for the Thailand Yacht Show & Rendezvous, and we are very pleased to hear that it will now be held at Royal Phuket Marina next January which is a great setting for us and our partners BMW.
"Our participation at this year's TYS was a huge success, resulting in us winning contracts with the Thai government, including an all-electric passenger boat which will shortly be launched by the Thai PM. We have also had several other new projects endorsed by the Minister for Tourism and Sports, who greatly enjoyed his experience at TYS and now fully supports our efforts to drive sustainable mobility."
The Thailand Yacht Show & Rendezvous will take place from January 10-13, 2019, at the Royal Phuket Marina in Phuket.
Find out more about the forthcoming show HERE.



Find local events and browse venues in Thailand with Thaiger Events, or post your own today.

Read more headlines, reports & breaking news in Phuket. Or catch up on your Thailand news.

The new Galaxy Roof Club opens in Patong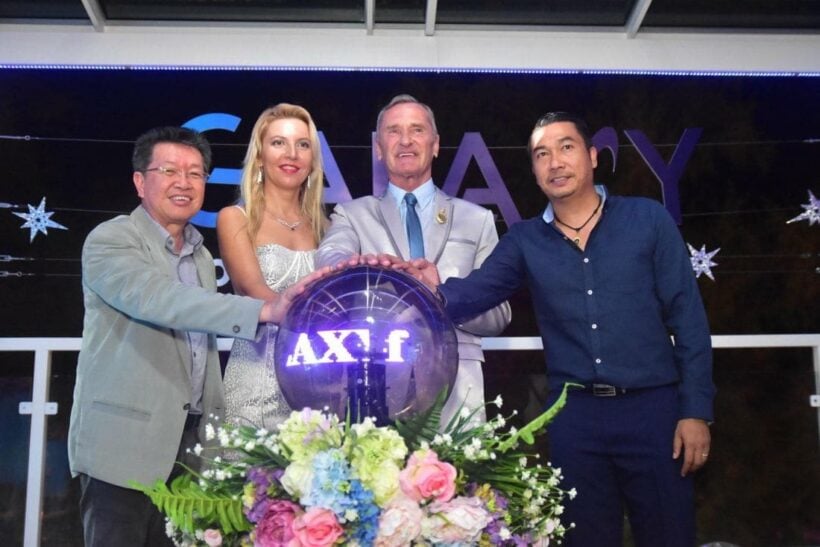 The new Galaxy Roof Club Patong had its official launch as Patong's first and only roof club under the slogan "Where all stars meet."
Dr. Josef Kastenberger – Owner, Ms. Olga Kotelenets – Managing Director and Mr. Nunthidej Phatanachinda – Advisor to Galaxy Roof Club Patong, are offering a new experience as the first and only roof club in Phuket overlooking Loma Park along Patong's main beach road.
The new stylish rooftop venue is a new star on the Patong entertainment horizon featuring dusk till dawn entertainment with an epic line up of live events and parties, including DJs, live music and entertainment.
The new rooftop club is offering an affordable range of tasty dishes with both modern international and Thai cuisine – Sunday Brunch, dining under stars or late night cravings!
The new Galaxy Roof Club Patong will have a daily program of events…
Monday – LATINO STAR NIGHT; Latino star night with entertainment, Dancing Latino by instructor and have fun after with GALAXY/guest DJ.
Tuesday – THAI STARS MEET; Showing Thainess to all participant guest. There will be Thai style decoration, Thai dance, Thai music performance before beat up with GALAXY /Guest DJ.
Wednesday – LADIES STAR NIGHT; bring women gather to make community, present exotic cocktail/mocktial.
Thursday – DATE MY STAR; Date night where guest can meet and chat each other.
Friday – WHERE ALL STARS MEET; Retro party with 60-90's music.
Saturday – GALAXY FEVER; Big party of GALAXY Roof Club Patong feature with special guest DJ.
Sunday – SUNDAY BRUNCH; like to eat and drink with friends and family.
The rooftop pool deck has a cabana, sun beds and deck chairs. Enjoy Patong's new sunset seaview or anytime of the day.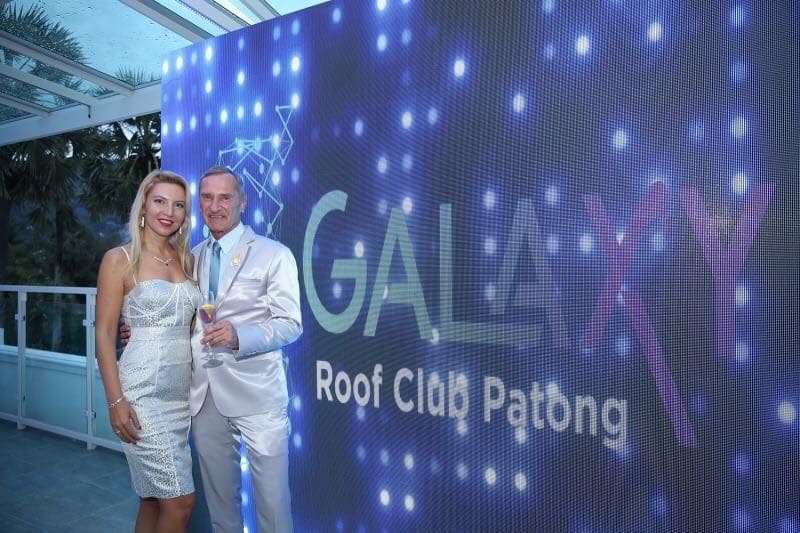 "Meute" House/Techno marching band at Wonderfruit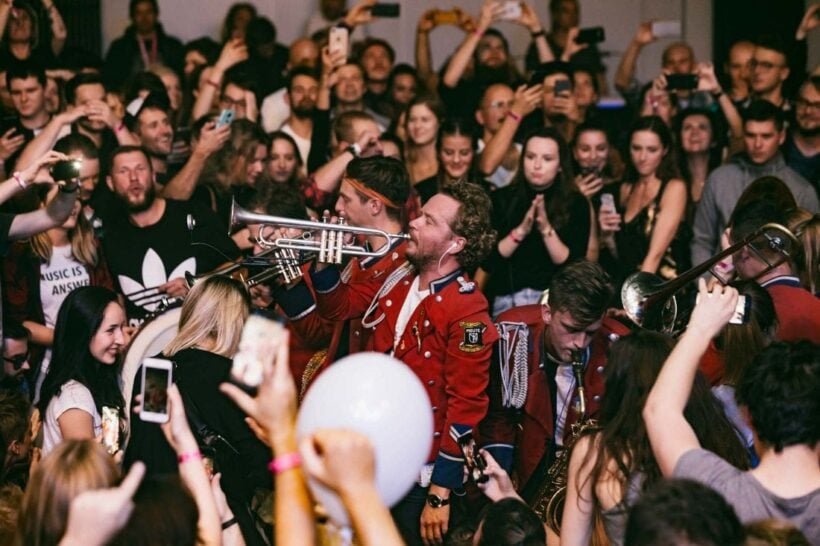 PHOTO: Steffi Rettinger
Just drums and brass, that's all they need.
Hailing from Hamburg, Germany this modern take on the marching band concept is comprised of eleven musicians and, boy, are they good! With their iconic red jackets this group dares to rearrange house and techno music to bring it to the street. Started in 2015 by trumpet player Thomas Burhorn, this group has been taking over the web as more and more footage of their performances have spread throughout the internet. 

It's the brass that does it, providing a big, enveloping sound its hard for their spectators to stand still. As they themselves dance to their music with their faces a weird mix of passion, joy and puffed up cheeks. We are excited to see more from this group as they keep growing.
Keep an eye out for them at Wonderfruit's solar stage this weekend in Pattaya.
In the meantime watch this…
'Wonderfruit' so far – in pictures

Photo: Monocle.com
Wonderfruit music festival is taking place right now in Pattaya, and you should be there. Founded by Pranitan "Pete" Phornprapha alongside musician friend Montonn "Jay" Jira in December 2014 the festival prides itself in its go green attitude and pledge to social responsibility and raising awareness.
Photo: Mont LD Watanasiriroch (Facebook)

Photo:  Instagram/Bitoeysiam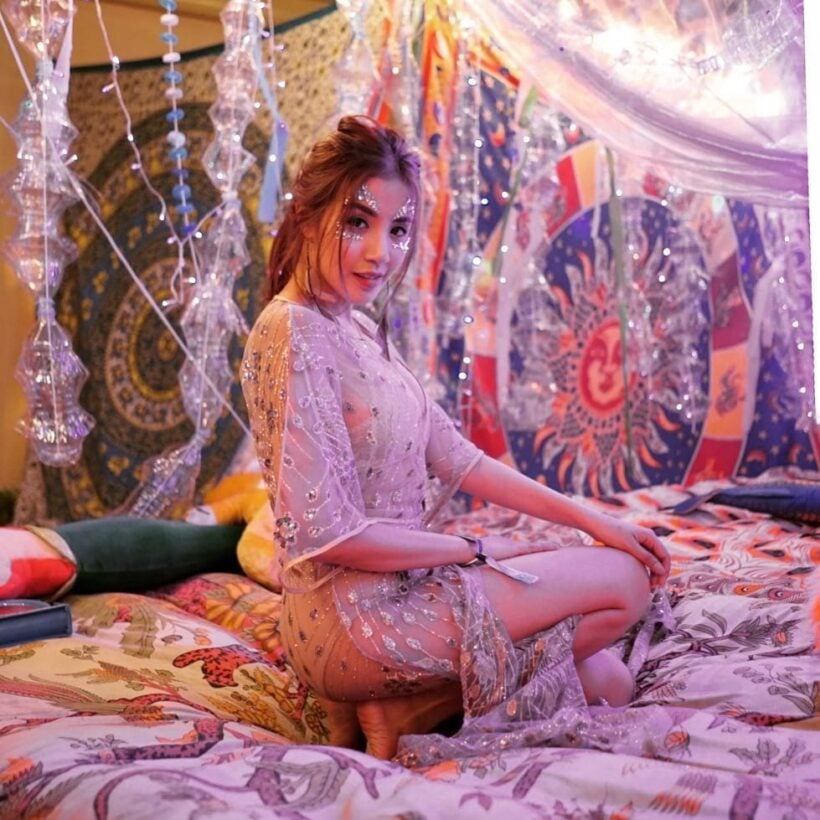 A blend of burning man and glastonbury, some festival go-ers like to dress the part.
Photo: Instagram/gyp.so

When asked about his inspiration co-founder Pete has said:
"Back in 2012, it struck me what a great medium a festival would be to promote creative sustainability because everyone can relate to arts, music, and having fun.  That mindset grew into the ethos of Wonderfruit, which has informed everything we represent. All our content – from the venues and art installations to the farm and the activities you can do there, to the kinds of speakers we give a platform to – is inspired by the aspiration to be a catalyst for social change."
Photo:  Instagram/JP Pemapsorn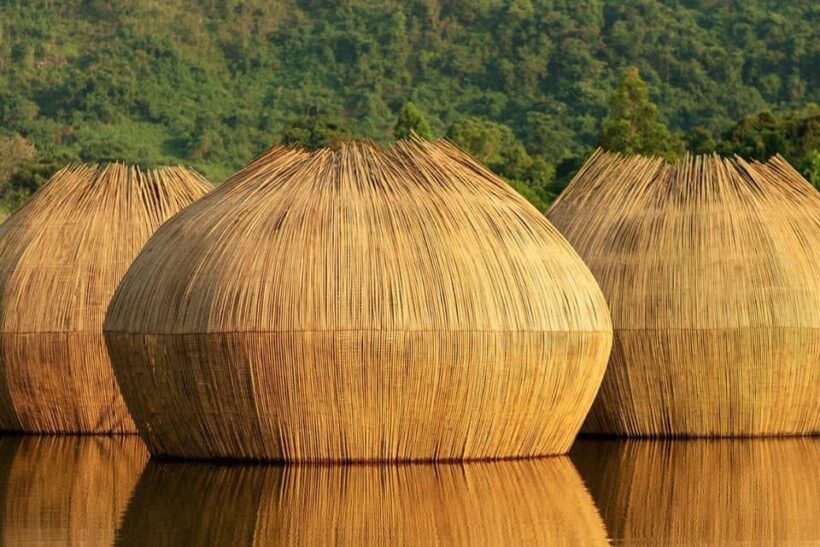 Mesmerizing, captivating and often puzzling art can be found all over the site grounds.
Photo: Instagram/Anawar

As of 2017 the event has been certified as carbon neutral by the Thailand Greenhouse organization.
Photo:  Instagram/izezyizezyizezy

Its common to see public displays of creativity throughout the festival.




Night time just means the kids have to go bed.


Photo: Nong Nim (Facebook)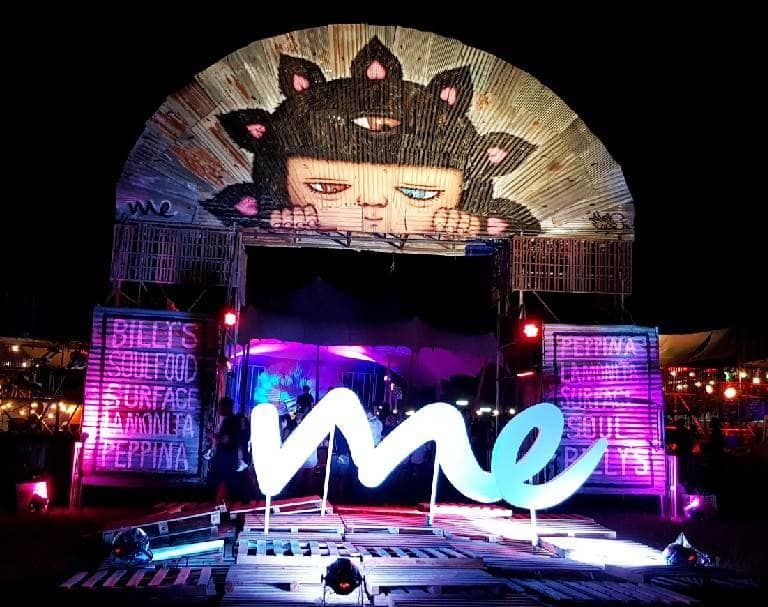 Wonderfruit Festival
is taking place now until the December 16 2018 at the Siam Country Club in Pattaya.
SOURCE: CityNomads