World
Flights resume at Hong Kong airport as Beijing condemns 'terrorism'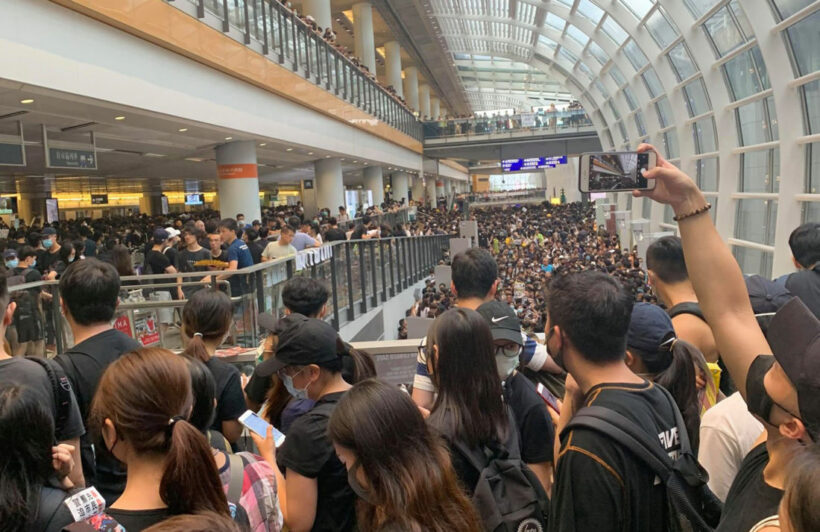 The Hong Kong Airport Authority started resuming flights from 6am this morning after more than 180 departures had to be cancelled from Sunday morning.
Hundreds of passengers were left stranded after all departing flights and more than 70 arriving flights were cancelled in the early evening. There were chaotic scenes inside the airport as thousands of demonstrators descended on the main terminal.
An abrupt decision by authorities to suspend flights was interpreted by protesters as a signal that riot police would soon attempt to clear the airport. Fearing a repeat of the violence that has characterised recent demonstrations, the majority of protesters began to leave, with many choosing to walk home along the highway.
The Airport Authority told the South China Morning Post that it wanted to have all flights back to normal during Tuesday.
"The AA will work closely with its business partners with a view to gradually resume normal airport operations as soon as possible."
One of the world's busiest airports was forced to cancel all flights after thousands of Hong Kong pro-democracy protesters crowded into the main terminal on Monday afternoon.
There are still a few hundred protesters at the airport, but their numbers have dwindled greatly as many people left in droves in the afternoon, some on buses and trains, others on foot to nearby locations, the newspaper said.
Monday's mass demonstration was not the first to target the airport, with protest organisers viewing the international hub as a way to communicate their struggle with a global audience.
Many activists have also come to view the airport as something of a safe protest space away from the streets, where clashes between demonstrators and police have become commonplace.