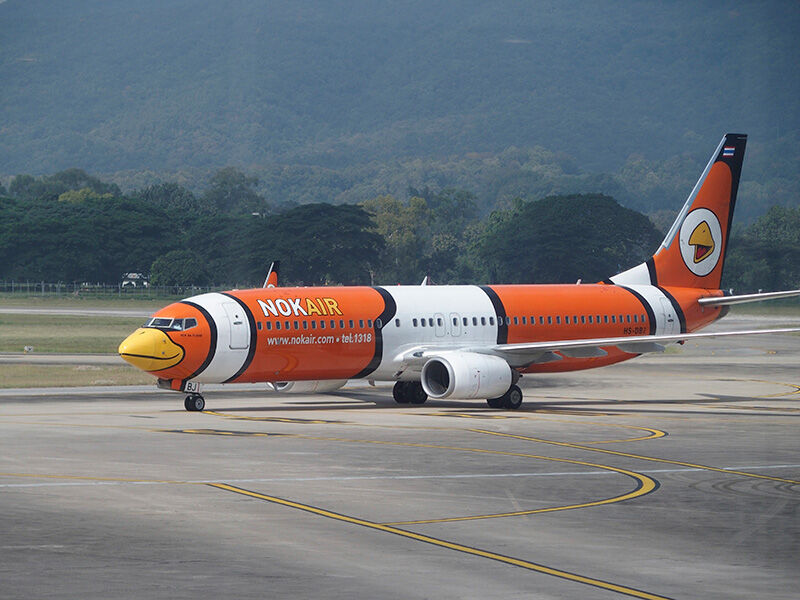 Budget airline Nok Air will launch direct flights between Bangkok in Thailand and Hyderabad in India on February 19, 2023.
A state-of-the-art Boeing 737-800 aircraft with 189 Economy Class seats will service the nonstop route from Don Mueang International Airport to Rajiv Gandhi International Airport four times per week.
Flight DD959 will take off from Hyderabad at 00.45am on Mondays, Wednesdays, Fridays, and Sundays and land in Bangkok at 6.05am.
Flight DD958 will depart from Bangkok at 9.30pm on Tuesdays, Thursdays, Fridays, and Sundays and land in Hyderabad at 11.45pm.
At present, tickets for a round trip between Bangkok and Hyderabad on Nok Air's website costs 8,980 baht. Total flight time is 3 hours 50 minutes.
The route is expected to bolster Indian tourism to Thailand. Hyderabad, the capital and the largest city of the Indian state of Telangana, is home to almost one million people who may now fly direct to Bangkok and easily connect to 20 more locations in Thailand such as Phuket, Chiang Mai, Krabi, etc.
At present, Hyderabad is Nok Air's only Indian destination. However, CEO Wutthiphum Jurangkool has plans to expand its routes in the country this year.
"India is a very important and old friend of Thailand, and at Nok Air, we are elated to welcome onboard passengers from Hyderabad with direct flights starting February 19, 2023.
"We hope to increase the connectivity to more cities in India this year. Nok is the No.1 choice among Thai Carriers, providing customers true value for money, reliability, convenience, and care."
Nok Air's new route will be the only service between Don Mueang Airport and Hyderabad.
Thai Airways is the only other airline offering direct flights between Bangkok and Hyderabad, operating out of Suvarnabhumi Airport (BKK).
In November, Nok Air opened 'Nok Air Lounge' at Don Mueang Airport which may be enjoyed by holders of Nok Max tickets and Nok Smile Plus members.