"Don't paint your temple gold" – Fine Art Department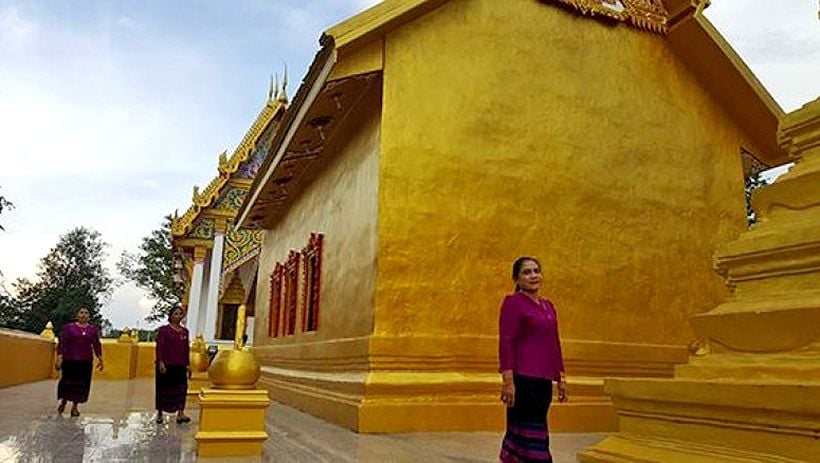 After a report of historical temples being painted gold triggered an uproar on social media, the Culture Ministry's Fine Art Department is warning people to stop unauthorised painting of national heritage monuments as it violates the law.
Social media users expressed shock and dismay that ancient Thai temples were being given a make-over with a coat of gleaming gold paint, damaging national heritage and violating laws aimed at protecting and preserving the nation's birthright.
In a Facebook posting, Keangjit Lertsiri, former Fine Art Department officer, wrote that "over 100 temples in Thailand were painted with gold paint of the TOA brand" and asked the Fine Art Department to take action against the illegal defacement.
Among the painted temples are Wat Photaram and Wat Lao Thong in Supan Buri and Wat Sri Samosorn in Chainat.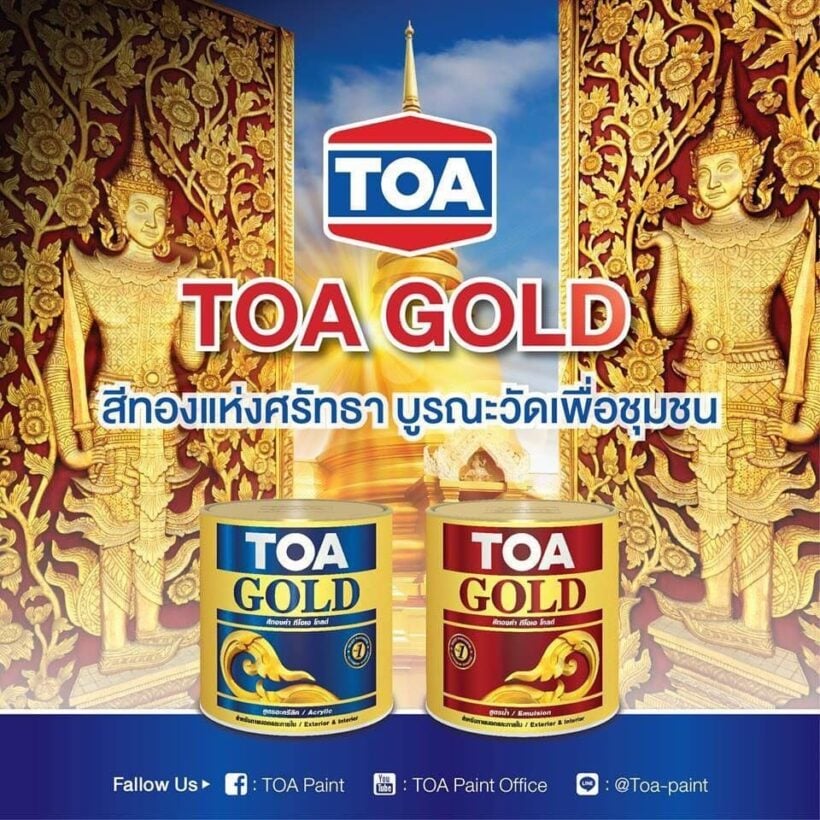 TOA promotes its new acrylic paint as containing high-quality shiny gold pigments. Its "TOA Gold" paint is sold under the motto "The Gold Colour of Faith: Preserve Temples for Community".
Under the law, the Fine Art Department must give consent for any refurbishment work on historic monuments and sites in the country.
"Any renovation plans have to be approved by the Fine Art Department to be legal," Anandha Chuchoti, the Department's director general said.
Anandha has assigned chief archaeologists to check heritage buildings across the Kingdom and stop any unapproved conservation work.
TOA Paint has apologised for the controversial message it had posted on Facebook.
"The company has not ignored our mistake. We will coordinate with relevant agencies to solve this problems and explain our facts," it said in a statement.
"However TOA Company will be pleased to listen to all advice. We will follow the proper process of conservation and more carefully consider our actions."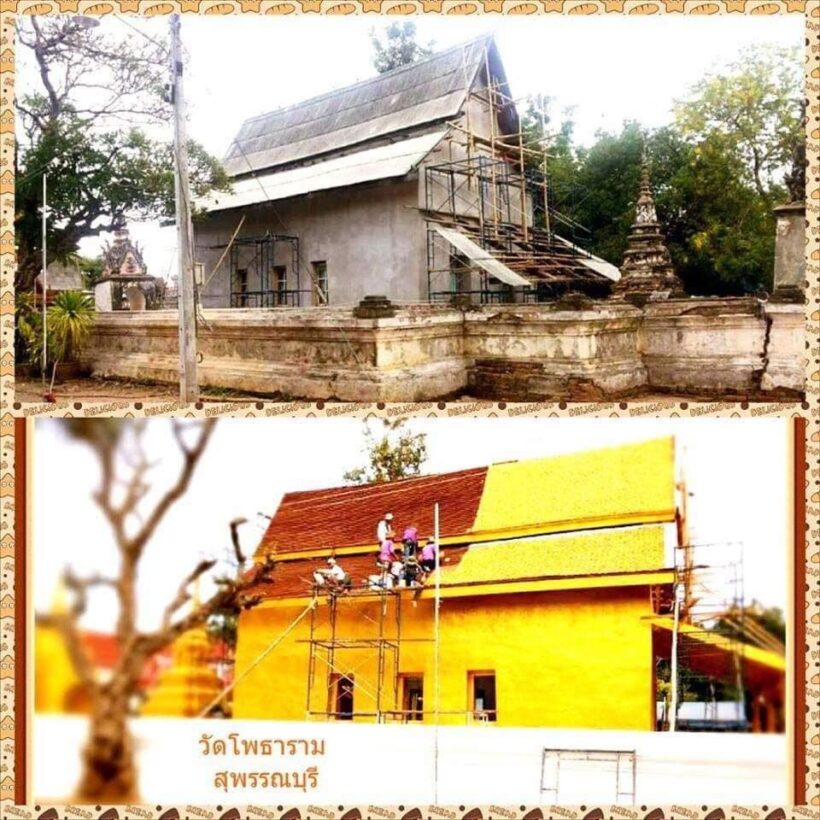 STORY: The Nation


Find more property for sale and rent across Thailand at Thaiger Property, powered by FazWaz. You can even list your property for free.

Read more headlines, reports & breaking news in Thailand.

Weakness in the BKK condo market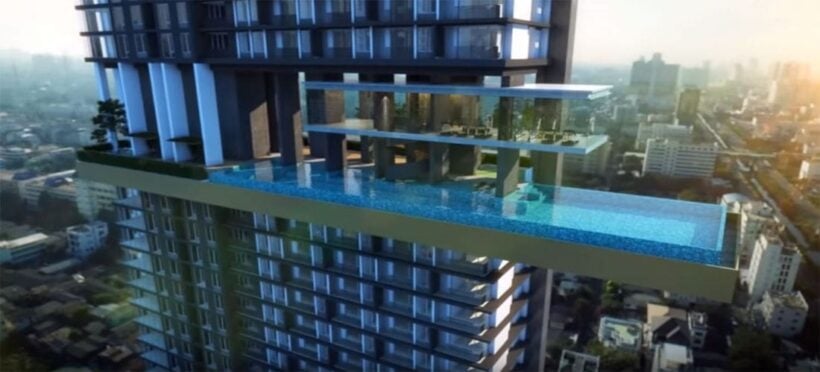 PHOTO: Nara 9 – www.nara9.net
Property consultants, Edmund Tie & Company – South East Asia – report that the new condo supply for 2019 is 'unlikely to increase' and that sales rates are disappointing in Q3.
Their report says that the take-up rate of newly launched condominium projects in Q3 in Bangkok's CBD dropped from last year's 58% to only 31%, year on year. This is even lower than the performance in Q2 which was 46%.
Developers are acknowledging that there is a weaker demand for residential units and a significant drop in overall supply.
The three highest performing condo sale segments were the 'luxury segment', followed by the 'super luxury' and 'Grade A' segments.
The average price for condos has remained flat for Q3, compared to Q2 – around 330,000 baht per square metre – but this is still a 32% increase when compared to the same quarter in 2017, according to the report.
But Edmund Tie report that the figures are just a minor 'blip' following big rises in demand and sales over the past three years. They report that the new condominium supply in the CBD during Q3 was 1,636 units, rising from 852 in Q2, 2018 – a 92% increase in new units hitting the market.
For the office sector, their report says that rents will continue to increase gradually in the final quarter of this year and into 2019, driven by limited supply.
"There will be an increased demand for office condos in Bangkok."
They say office developers remain focused on providing open-plan office space close to public transport nodes.
Walking on air. 314 metres above Bangkok.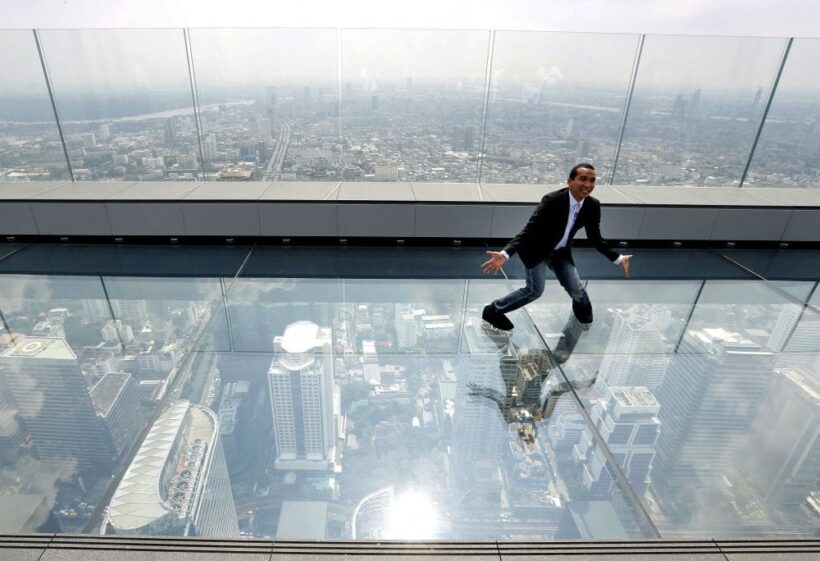 PHOTO: The Nation
King Power International Group has opened what is being marketed as the world's biggest glass-bottomed skywalk.
The new tourist (and local) attraction is on the rooftop of the 78 storey Mahanakhon building on Narathiwat Road in Bangkok's Bang Rak district. Mahanokon is Thailand's tallest building at 314 metres.
The glass skywalk has 360 degree panoramic view, vertically and horizontally. Standing on the glass platform you can see right around the Bangkok skyline and beyond. You can also look directly down, 314 metres below, to the street – not for the faint-hearted.
The building is equipped with a fast elevator which can reach the 74th floor from the ground in just 50 seconds.

King Power International (who have naming rights for the skyscraper) CEO Aiyawat Srivadhanaprabha said the glass-bottomed skywalk represents another important step and a pride for the Thai company.
"I believe that tourism is not just an engine to drive the country's economy, but also a gate toward the building of sustainable confidence and promotion of Thai identity in the eyes of the global community," said Aiyawat, an heir to the business empire of Vichai, the owner of Leicester City who died in helicopter crash recently.
The building features outdoor and indoor observation decks on the 78th and 74 floors respectively, modern shopping malls, varieties of both Thai and international food and duty-free shops (of course).
Scroll through to around 4.00 of this episode of ThinkingOfLiving to get a first peep at the new Bangkok icon.
Hotel #4 for Centara Hotels in Krabi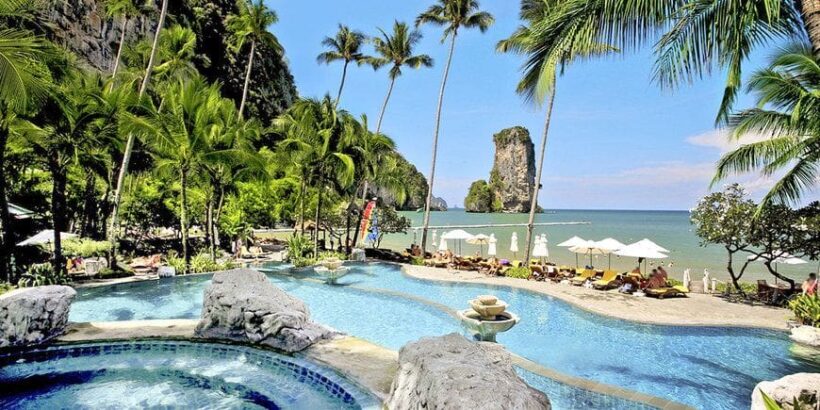 PHOTO: Centara Grand Beach Resort & Villas Krabi, another of the Centara properties along the Krabi coast
Centara Hotels & Resorts, Thailand's largest hotel group, has just signed a Hotel Management Agreement for a 180 room property on Ao Nang Beach, Krabi. The new hotel will be under its 'Centara' brand.
Centara Ao Nang Beach Resort & Spa Krabi will be the company's fourth property in Krabi and is expected to open September next year.
"Krabi is well known for its stunning seascapes, world-class diving, national parks and eco-tours. We are pleased to have reached a greater level of trust from the owner to manage a second property in Krabi for them after Centara Anda Dhevi Resort & Spa. Centara Ao Nang Beach Resort & Spa Krabi will establish itself as one of Krabi's premier destinations tailored to match everybody's desires," said Centara CEO Thirayuth Chirathivat.
Centara have signed an agreement to manage the property with its owner, Dr Pornsak Thantapakul, CEO and Managing Director of Anda Beach Resort.
"We trust Centara to design and operate the hotel and offer guests the combination of a modern tropical resort and the fun family experience –plus one of the most beautiful sunset views in Thailand," said Dr. Pornsak.
Centara Ao Nang Beach Resort & Spa Krabi will be the first chain hotel in the area with direct access to Ao Nang beach. The resort's 180 rooms will range in size from 39 to 81sqm in eight configurations, including 20 family-friendly residences with bunk beds.
Most ground floor rooms will have direct pool access. Centara is planning a modern design, with F&B outlets that can be used for breakfast and special event buffets, or independent themes and menus. The resort will also feature a spa and beach club.

SOURCE: The Nation