Australia joins UK and USA with withdrawal of income verification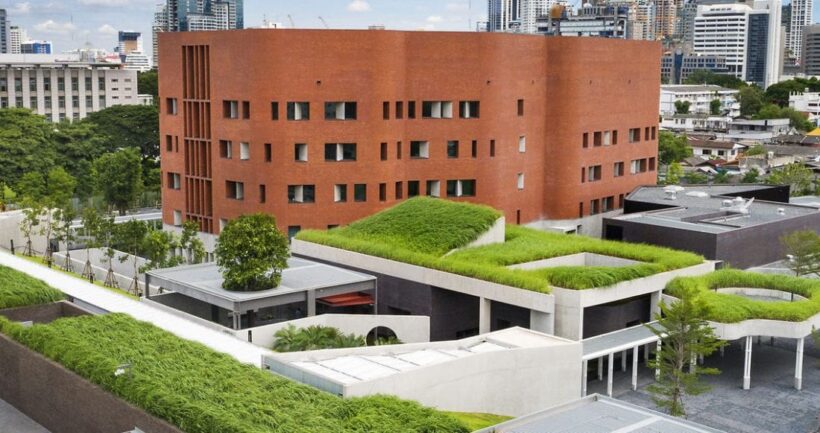 The Australian Embassy in Thailand has declared that from January 7, 2019 it will NOT witness Statutory Declarations for proof on income for Thai Visa extensions. Here's the official announcement…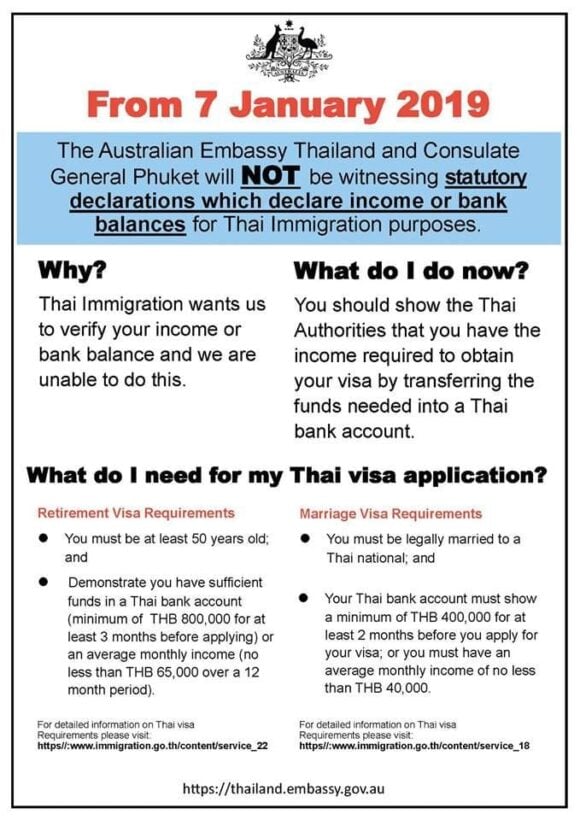 Read more headlines, reports & breaking news in Bangkok. Or catch up on your Thailand news.
Seven arrested over trafficking of Burmese migrants into Thailand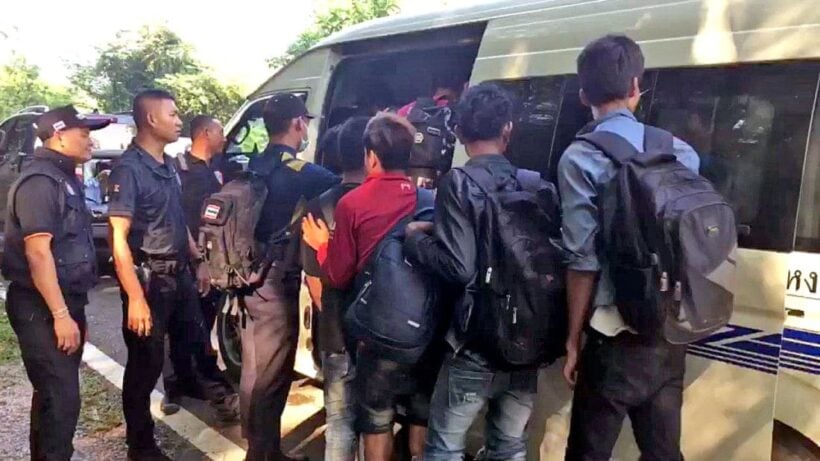 by Suriye Patathayo
Police have arrested seven Thai and Burmese suspects for allegedly luring at least nine Burmese nationals into forced labour in Thailand. The suspects ages ranged from 27 to 61.
The first five face several charges including human trafficking, while a Thai couple have been charged with sheltering and helping illegal migrants evade arrest.
Pol Lt-General Sanchai Sunthornburana, who leads the police Information and Technology Office, said the nine illegal migrants had been forced to work under slave conditions at sugarcane plantations between August and September 2017.
"They each paid the traffickers between 20,000-25,000 baht to enter Thailand, but found themselves in jobs that were very different from what they had been promised."
The victims told police that they were intimidated into staying at the sugarcane plantations.
"In the end, they managed to escape and came to the Myanmar Embassy in Bangkok to seek help."
The embassy then contacted the Anti-Human Trafficking Division, which put the victims under protection at a facility in Pathum Thani in late 2017. Based on the victims' complaints, investigators were led to CBS World Company in Bangkok's Lak Si district, where fake passports and fake visa stamps were found and seven suspects arrested.
SOURCE: The Nation
Arrests over weekend's taxi gang violence in Bangkok, two dead – VIDEO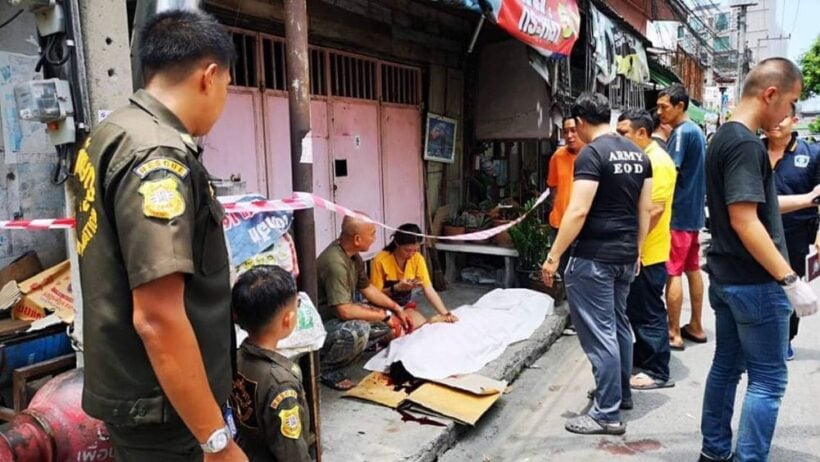 Two people are dead following the weekend's violence between rival motorcycle taxi thugs. More video has emerged showing a man on the ground with others beating him with metal bars and other weapons.
Police say the violent battle was between the "Udomsuk 1" and "Udomsuk Rungruang" taxi ranks, one aggrieved that the rival gang had started up close to their 'turf'.
In this video a man is being beaten whilst on the ground by, apparently, rival motorcycle gang members, whilst others are trying to cool the situation down calling 'enough, enough!' Three shots are heard nearby which appears to draw the men's attention away from the beating of the man. One of the three bullets missed its intended target and hit an innocent young courier who was just in the wrong place at the wrong time.
คดีส่อพลิก! หลังมีผู้แฉคลิปอีกมุม เป็นภาพคล้ายหนุ่มเคอรี่ ที่ถูกยิงตาย ใช้ค้อนฟาดหัวหน้าวิน ขัดกับคำให้การที่แม่ผู้ตายเล่าว่า ลูกชายอยู่ในบ้าน (มีคลิป)https://www.khaosod.co.th/special-stories/news_2623185#ศูนย์ปฏิบัติการข้อมูล #OAIC

Posted by ศูนย์ปฏิบัติการข้อมูล on Sunday, 16 June 2019
Blood is seen pouring from one man's head.
The Nation reports that police have arrested three men over the deadly brawl which involved up to 100 men and stopped traffic to a standstill at Sukhumvit Soi 103 in Udomsuk around lunchtime on Saturday.
Police say 20 year old Weerawat Pheungkrut, a courier with Kerry Express, was killed when a bullet struck him in the left eyebrow. If was later revealed that the young man's wife was four months pregnant.
Watcharin Nga-chalao, one of the taxi-motorcyclists involved, was also shot and injured and taken to a nearby hospital where he died soon after. Police say that 20 year old Thaweekiart Sutthisanong was also injured with a knife to the head and was rushed to hospital.
Yesterday's report with more video HERE.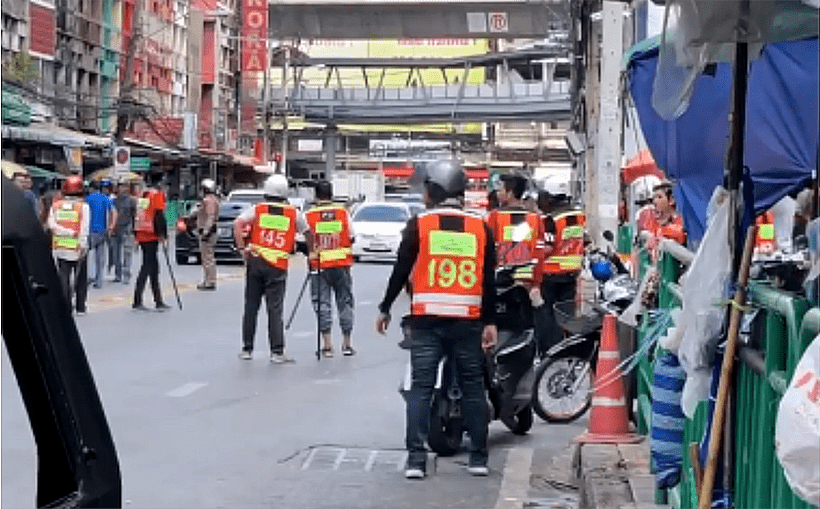 SOURCE: The Nation
6 month free trial for Bang Wa-Tha Chang ferry service, Bangkok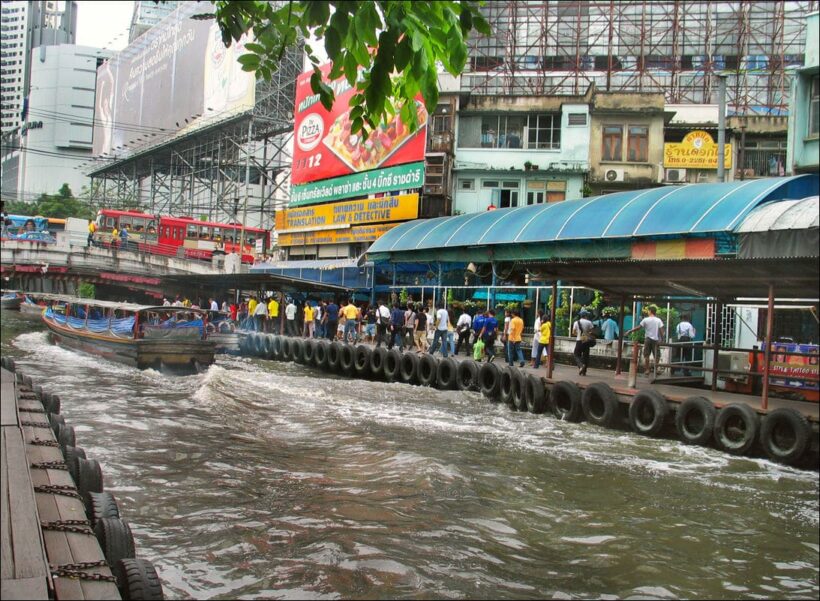 PHOTO: Thai PBS
A new route has been launched today between Bang Wa (Khlong Phasi Charoen) and Tha Chang (Chao Phraya River). The route has been announced by the Bangkok Metropolitan Administration (BMA) and the Marine Department for a 6 month trial.
The boat service will be free of charge during its 6 month trial run and aims at providing new alternatives  for daily commuters. The new boat service is a part of PM Prayut Chan-o-cha's initiative "Lor Rang, Reu" (Wheels, Tracks, Boats).
Thai PBS reports that four routes are not currently being serviced by private firms – the route between Bang Wa and Tha Chang piers, Hua Lampong and Devarajakunchorn temple piers, Sri Boonruang Temple and Paseo piers and the route between Bang Wa and Kamphaeng Temple piers.
The new ferry route starts at Bang Wa pier, near the BTS Bang Wa station, runs along Phasi Charoen canal, Bangkok Yai canal and into the Chao Phraya River. The boat stops at four piers – Intharam temple, Phra Phuttha Yodfa Bridge, Rajini and Tha Chang.
The service is available daily from 6-9am at 30 minute intervals and from 9am-7pm at 60 minute intervals.
SOURCE: Thai PBS