Flood watch on Phetchaburi, Nan, western provinces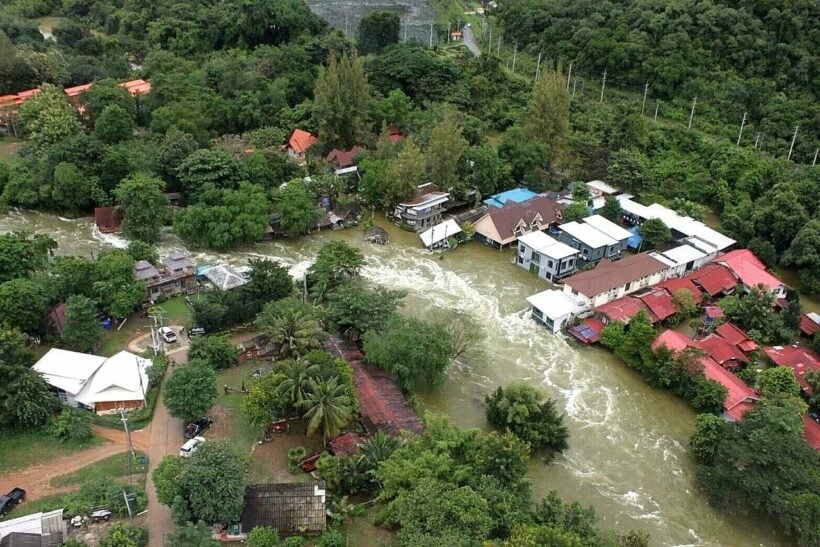 An update on the flood situation in many parts of the country. PHOTOS: The Nation
Phetchaburi
Water levels in the Phetchaburi River are rising dangerously from the overwhelmed Kaeng Krachan Dam. The dam is now 109 per cent full and 22.46 million cubic metres of water are being released every day into the river.
"The river's water level has already reached a critical point in the province's Tha Yang district," Thaiwater.net reported yesterday afternoon. Developed by the Hydro and Agro Informatics Institute, the website also listed the Kaeng Krachan Dam as in a crisis situation.
From the dam, the Phetchaburi River runs through Tha Yang, Ban Lat, Muang and Ban Laem districts before draining into the sea. Although several resorts around the dam have already suffered damage from floodwater, relevant authorities still hope the water situation will be manageable as the rain has already stopped.
Downpours associated with the Bebinca tropical storm have ceased since it moved westwards from Thailand into Myanmar.
"The river's water level in Phetchaburi's Muang district is still 50 centimetres below the banks," Deputy Phetchaburi Governor Nattawut Phetpromsorn said.
"So if there is no more rain, we should be able to prevent floods in most areas. Just about 130 cubic metres of water is flowing through the river. This amount is within the river's capacity," he said.
Nan
In Nan province yesterday, several areas remained flooded in the wake of heavy rain caused by Bebinca.
"The flood crisis in Nan town has already ebbed but we are still worried about the situation in Phu Phiang district," said Nan Governor Paisan Wimonrut.
He said the worst-hit villages were now under several metres of water and hundreds of families were struggling without electricity as inundation had disrupted public services. The local weather bureau, meanwhile, has warned of more rain across the Kingdom, urging the public to beware of runoffs and flash floods.
Sukhothai
Rain runoff from the North, likely to hit Sukhothai tomorrow, is forcing officials into taking emergency steps to protect the province's city centre. Officials are working to keep the water level of the Yom River low and using ponds to retain the deluge.
Chiang Rai
In Chiang Rai's Mae Chan district, overflow from Muang Phra Khru creek severely damaged and cut a local road leading to San Mong Khon village while a resident in Wiang Pa Pao district was found dead after being washed away in a flood.
Mekong region
In Thailand's north-east water levels in the Mekong River are becoming critical again. Officials in Nakhon Phanom say they're gravely concerned about new flash flooding in areas bordering the river.
Forecast
According to latest reports from the Meteorological Department, heavy precipitation can be expected in the North, East, western part of the central plains and the upper part of the South. Warnings of runoffs and flash floods were also issued for these regions.
"Waves in the Andaman Sea and the Gulf of Thailand have been forecast to be two to three metres high. Ships have been warned to proceed with caution, while small vessels have been told stay ashore until Friday."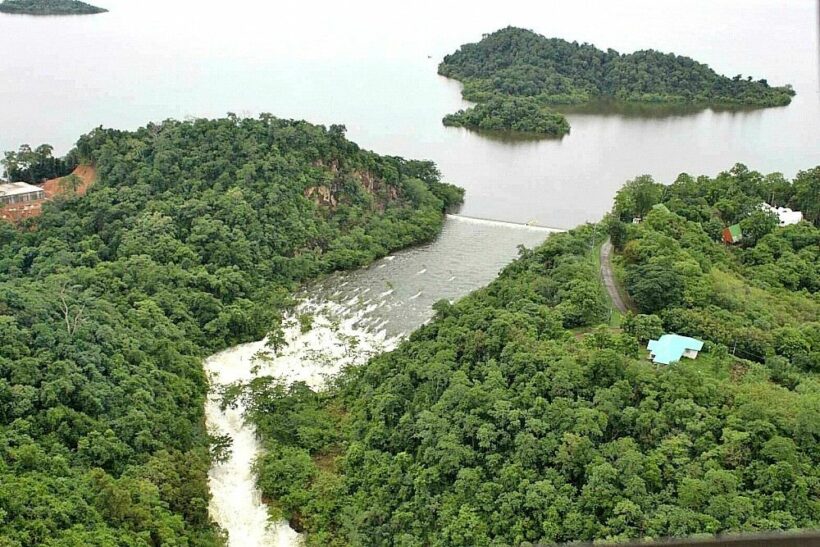 SOURCE: The Nation
Keep in contact with The Thaiger by following our
Facebook page
.
Never miss out on future posts by
following The Thaiger
.
The Pattaya to Hua Hin bridge. Government discusses 900 billion baht investment.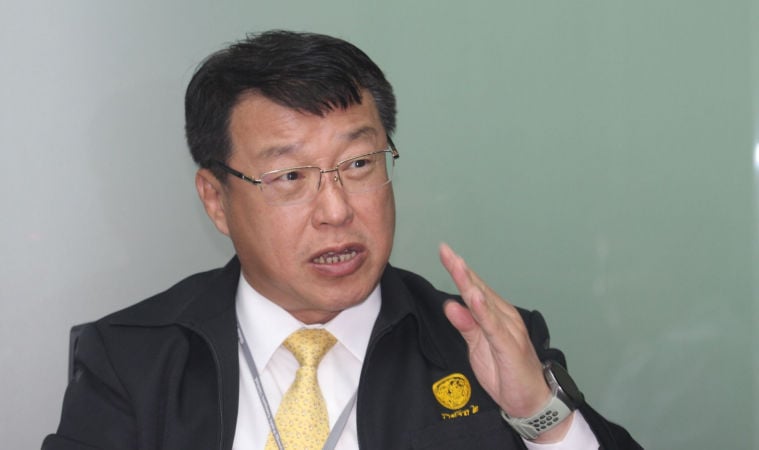 The government is looking into a so-called "Thai Bridge" that would connect Pattaya to Hua Hin, an estimated 900 billion baht investment. The project would be part of the Eastern Economic Corridor development plan aimed at improving the transportation and infrastructure in Thailand.
The 900 billion baht investment is expected to take 10 years to financially implement, according to chairperson of the government's committee for the Mobilisation of Economic Management Measures, Pailin Chuchottaworn. The Centre for Economic Situation Administration has approved the investment project to move forward with a pre-feasibility study by the EEC's policy committee.
"We have to admit that 900 billion baht is a huge amount of money, but it is reasonable when considering its final results. It is also cheaper than some other mega projects that are currently being accelerated. We also planned to hire local Thai people and buy local materials for the construction to reduce the cost as well."
The bridge would join other mega-projects by the EEC like a high speed rail that will link the major airports in Bangkok… Don Mueang Airport, Suvarnabhumi Airport and U-Tapao Airport (south of Pattaya). The train is expected to travel at 250 kilometres per hour. Another project is the renovation and extension of the U-Tapao International Airport. The EEC says the project will bring in 60 million passengers a year and is expected to be in operation by 2024.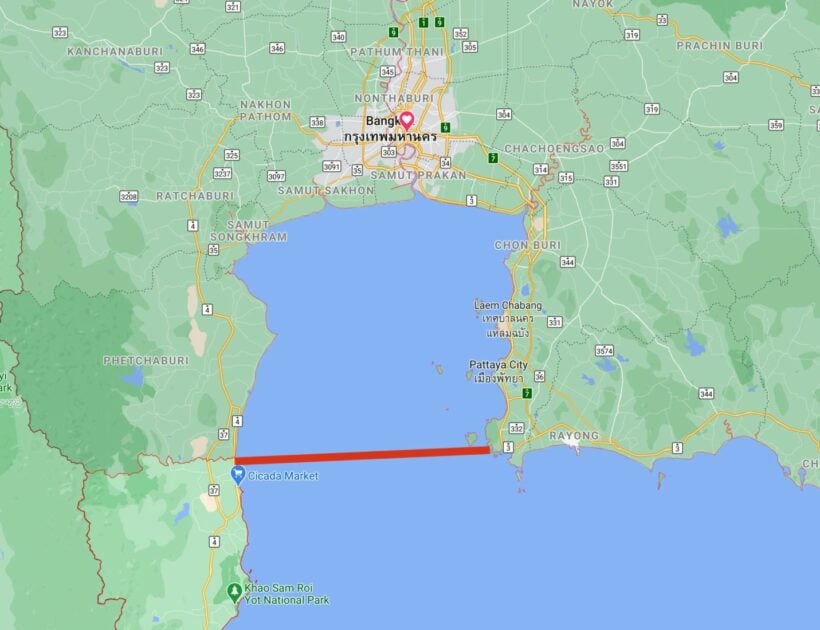 The 80 to 100 kilometre bridge will most likely connect Pattaya to Hua Hin (likely to be just south of Pattaya in Sattahip), but also connect many provinces in the South. The bridge would likely increase tourism in Hua Hin. Pattaya draws in a larger crowd than Hua Hin with 10 times more tourists than the southern district, Pailin says.
The bridge will also need to allow shipping to traverse the Gulf of Thailand to Laem Chabang in Chon Buri.
"In truth, the tourists want to travel to both cities but they choose Pattaya first partly because Chon Buri has more attractions and more convenient transportation options. Many projects are also being built in Chonburi and the EEC in the coming future, such as a three-airport monorail and a city monorail which will potentially attract more travelers to the area, while none of the projects in the other tourist cities in the Gulf of Thailand were discussed."
SOURCES: Pattaya News | EEC
Keep in contact with The Thaiger by following our
Facebook page
.
Never miss out on future posts by
following The Thaiger
.
8,000 homes inundated in Nakhon Ratchasima after 2 days of torrential rain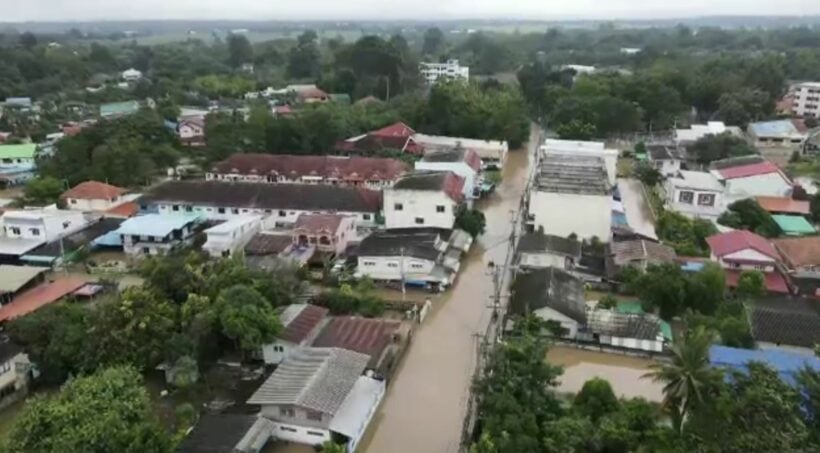 The Thai PM Prayut Chan-o-cha is urging emergency services and the Department of Disaster Prevention and Mitigation in the Pak Chong district of Nakhon Ratchasima, in Thailand's north east, to urgently attend to the suffering of the region's flood victims. Flooding has cut electricity and water supplies to several areas around the district.
8,000+ houses have been flooded after the overflowing Lam Takong River inundated nearby farming and residential communities. The flooding follows days of heavy rain, especially in the Khao Yai mountainous area, in the province's south west.
Nakhon Ratchasima Governor Vichien Chanthanothai has attended the region's worst hit areas today to distribute relief supplies, lunch boxes and survival kits to flood victims. Most have stayed in their flooded homes with family and to protect their property.
"It will take another day for flood waters to recede and the situation will gradually return to normal."
But Thailand's Royal Irrigation Department reports that the recent rains in Pak Chong have been an enormous help to the Lam Phra Ploeng and Khun Dan Prakanchon dams, which were almost empty earlier this year.
• Lam Phra Ploeng reservoir is now 93% full, with 145 million cubic metres of water
• Khun Dan Prakanchon reservoir is 96% full, with 216 million cubic metres of water
In Phetchaburi, south of Bangkok, more than 400 homes in the Nong Ya Plong district, north of the province, along with the Petkasem highway near the main Cha-am intersection, were flooded earlier today after 2 days of heavy rain in the province. Flood waters, in areas north west of Hua Hin, have now receded after train tracks through parts of Phetchaburi were inundated under 10 cm of floodwater earlier today.
SOURCE: Thai PBS World
Keep in contact with The Thaiger by following our
Facebook page
.
Never miss out on future posts by
following The Thaiger
.
Man wanted on murder charge killed in police shootout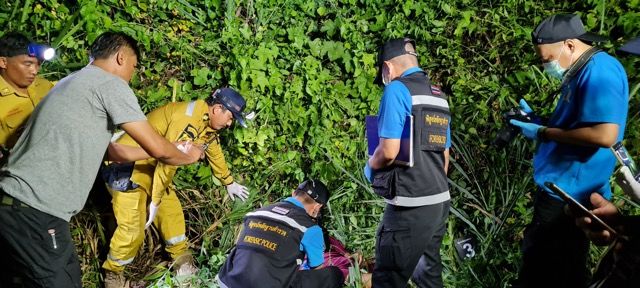 A man wanted on a murder charge was killed in a police shootout yesterday in Prachuap Kiri Khan. The 36 year old man was wanted for allegedly shooting and killing his aunt with a .38 gun back in August. He allegedly shot her because she refused to testify in his favour for a court case against him for allegedly attacking her husband.
The man fled from Phetchaburi to Prachuap Kiri Khan and found a house to rent near a forest. Police were able to track him down and say they came to the man's house, asking him to surrender. They say the man refused and fired at least 2 shots at police. Police fired back, killing him.
The man's body was found in the forest by the house with 9 bullet wounds and a .38 gun nearby.
SOURCE: Nation Thailand
Keep in contact with The Thaiger by following our
Facebook page
.
Never miss out on future posts by
following The Thaiger
.