Grab and illegal tuk-tuks killing Chiang Mai rental company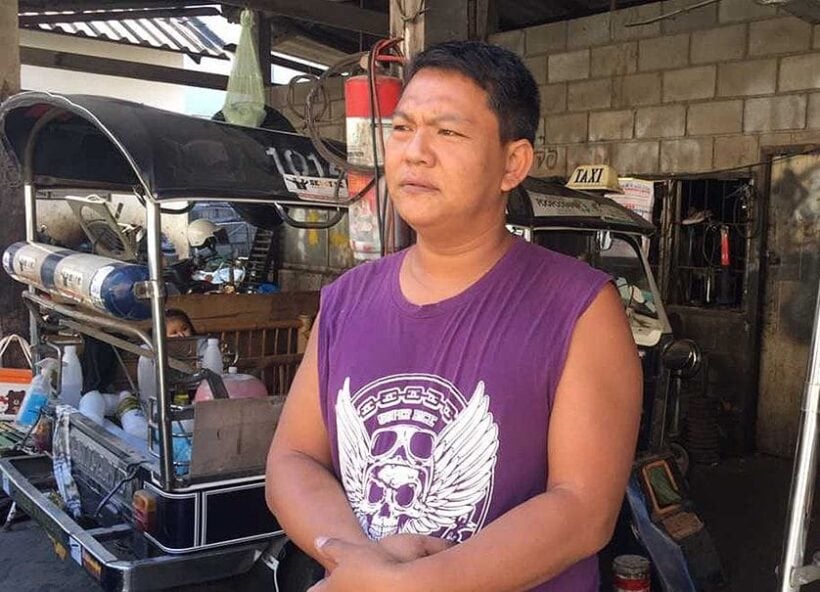 PHOTO: Hia Kiang, the long-term owner of a tuk-tuk rental company says it's no longer profitable – Chiang Mai News
Recent news out of the northern city suggests that all is not all in the relationship between the App-world taxis and the traditional taxi services.
Chiang Mai News is reporting that a long time owner of a business renting tuk-tuks to drivers is being forced out of business by competition.
"Hia Kiang" is blaming the prevalence of illegal tuk-tuks, red song-thaews and 'Grab' for destroying his business. This was passed on by one of his mechanics, 38 year old Thewathin Kuaytha.
Hia Kiang says he has been in business for thirty years and is now offering his vehicles for sale at 250,000 baht each as there is no profit in the business anymore.
The Mechanic, Thewathin, known as "Chang Rang" says that legal tuk-tuk drivers used to be able to make up to 1,000 baht a day. But that's no longer the case.
"Now, they can only get a few hundred baht a day – not enough to cover rents and fuel."

SOURCE: Chiang Mai News

66 yo Austrian arrested in Chiang Mai for possessing child porn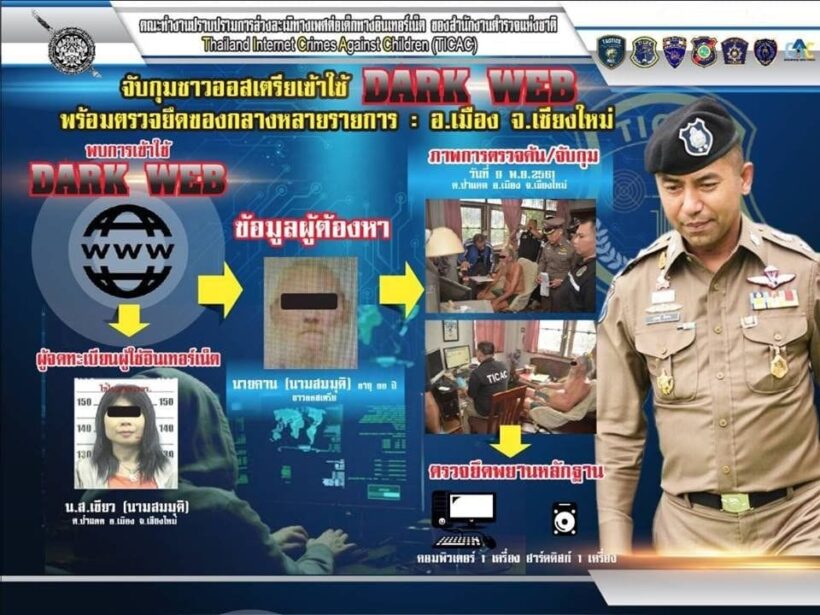 The Thai immigration says they've arrested a 66 year old Austrian for downloading and possessing child porn.
The Thailand Internet Crime Against Children (TICAC) division learned about someone using the Dark Web to access child porn in September.
Thai police identified the person living in the Pa Daet district in the Chiang Mai city and obtained an arrest warrant.
The warrant was served on November 9. Pictures published on the Immigration Bureau website showed officers looking at a computer at the home of the as-yet unnamed suspect. His computer and HD were found to contain pornographic images of children.
The man faces 5 years in jail and a 100,000 baht fine. If it can be proved that he shared the images the jail term increases to 7 years and 140,000 baht fine.
A Thai woman whose name was on internet usage papers was also pictured on a board next to the Austrian. The Austrian is now in the custody of the Chiang Mai police.
SOURCE: Immigration Bureau
Canadian and British graffiti vandals spared jail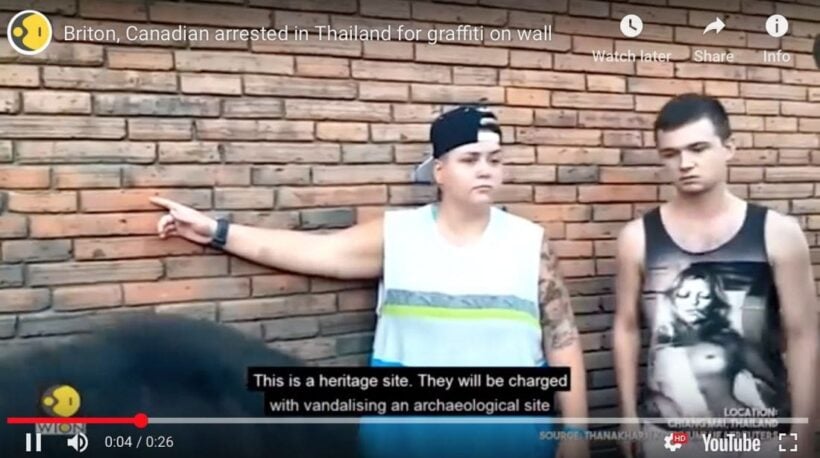 Canadian media is reporting that a Canadian citizen and a British man have been able to avoid jail time over the spray painting of the Tha Pae historical wall in Chiang Mai.
Read the original story HERE.
There was 10 years jail staring them in the face after police nabbed them over the matter. But instead of ten years in jail 22 year old Brittney Schneider and 23 year old Lee Furlong were given 100,000 baht fines  instead.
Brittney said on CBC that she had "learned her lesson and along with her mother had been doing lots of cultural things in Chiang Mai like visiting temples".
She was "thrilled not to be blacklisted and would come back to Thailand one day as it was a great country".
On her Facebook page she said…
"I realize I've made a huge mistake, one that in most eyes is unforgivable. I'm beyond sorry for what I did, not because I got caught but because I painted on such a sacred wall. I realized a few seconds too late that what I was doing was not okay.
All I can do is try to move on and show I'm sorry, and be remorseful and try and give back as much as I can to this beautiful country".
Lee Furlong, based in Liverpool, UK, hasn't made any public statements regarding the fine.
The pair were caught on CCTV on October 19 spraying "Scouser Lee" and the letter "B" on the historic Chiang Mai wall.
Chiang Mai banner-protester house raid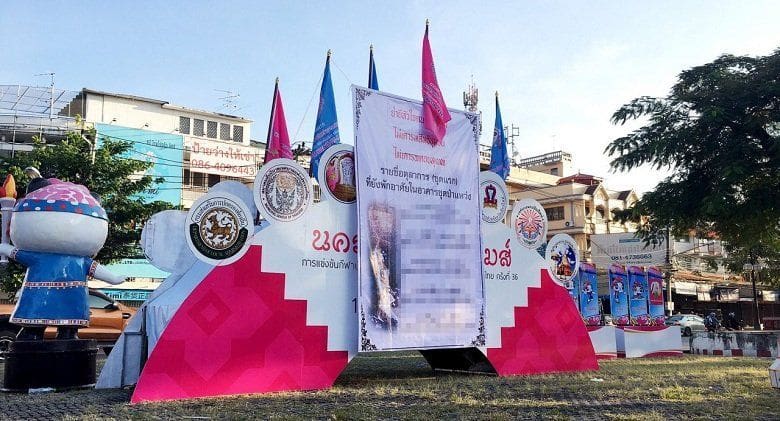 Police this morning searched the house of a leading protester against the controversial housing estate for appeal court officials at the foot of Doi Suthep mountain in Chiang Mai, looking for evidence of last week's banners.
Read that story HERE.
Muang Chiang Mai precinct superintendent Pol Col Theerasak Sripasert led a warranted search of the Doi Suthep Forest Reclamation Network coordinator Teerasak Rupsuwan's house in Tambon Don Kaew, Mae Rim district. Officers also seized Teerasak's computer and phone.
The search was an attempt to find any link to the banners which were erected on November 8 near Tha Phae and Chang Pheuk gates.
The banners said in Thai: "Trampling on the hearts of Chiang Mai, dismissing the community rights and disrespecting Doi Suthep" along with the list of appeal court officials who live at the estate.
Teerasak told reporters his group had nothing to do with the banners as it focused on legal challenges to the development.
According to a Facebook page of network member Kumsida Paenthai on Wednesday, a fellow protester identified only by his Facebook name "Ton Reungyos" had already acknowledged a libel charge on Tuesday.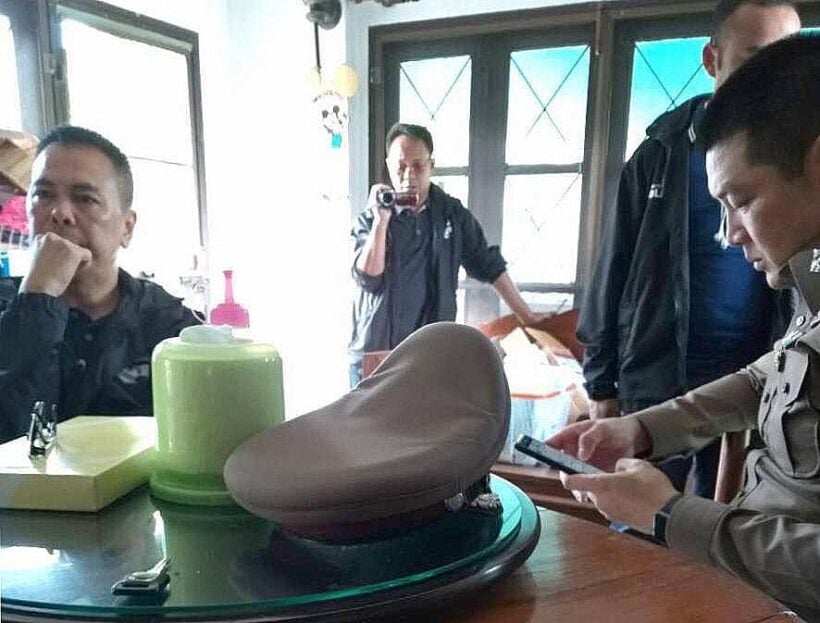 STORY: The Nation