Police searching for building owner after two die in Bangkok shophouse fire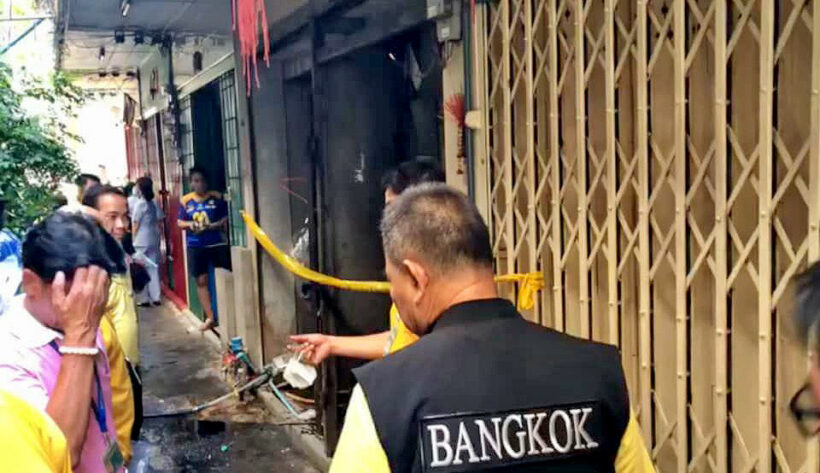 PHOTO: The Nation
A 67 year old woman and a 60 year old man have been killed after a fire engulfed a five-storey shophouse modified to provide rented rooms in Bangkok's Phra Nakhon district early today.
The Samrarnraj police station was alerted at 1.15am of the fire at the shophouse near Chao Phor Sua shrine on Boon Siri road. Five fire engines were dispatched to the scene.
Fire fighters took about 40 minutes to put out the blaze, which started in a second-floor room and spread to the fourth floor. People living in other rooms fled outside with everything they could grab as fire fighters fought the blaze.
After the fire was put out, they found the charred body of 67 year old Rat Noonsup on her bed on the fourth floor. She had been confined to her bed with chronic illnesses. Her nephew, Suksan Seangchan, told police he was sitting and talking to friends on the ground floor outside the building when he heard an explosion. He said he looked up to see fire had broken out and then tried to put it out with neighbours.
He said he then remembered his aunt was in the building so he tried to run up the stairs, but an iron beam fell on him and a fire fighter dragged him out.
Police will investigate the cause of the fire and will summon the 64 year old owner of the modified building for questioning.
At 9am, fire fighters and police checked the scene again and discovered another body, identified as that of a carpenter known only as Tum, who was about 60 years old.
Police say the shophouse was modified to provide 10 rented rooms at a rate of 100 baht a day for vendors in the area. Police are looking for a man, identified as Tong, who was seen drunk and shouting threats that he would set fire to the building.
SOURCE: The Nation
Initial investigation into deadly Bangkok motorcycle taxi brawl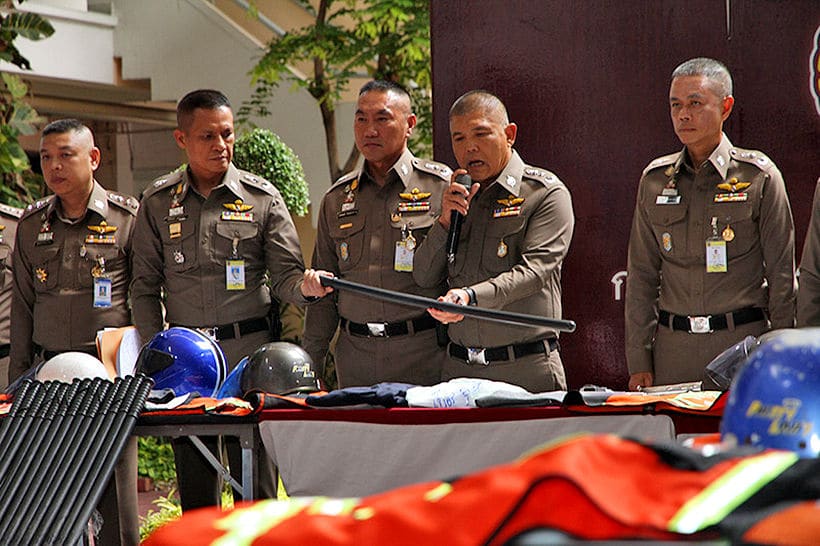 PHTOTO: Naew Na
There were 127 people involved with 58 people leading the fighting. 19 people are in custody, many injured and one death. That's the bottomline after initial police investigations were announced following June 15's bloody brawl between two rival motorcycle taxi gangs in Bangkok.
Innocent bystander, 20 year old Weerawat Pheungkrut, a courier with Kerry Express, was killed when a bullet struck him in the left eyebrow at the height of the violence.
Pol Lt-Gen Sutthipong Wongpin announced the progress of investigations into the hour-long violence between riders from Udomsuk 1 and Udomsuk 2 in Soi 103 in the Bang Na police jurisdiction.
Confiscated at the time were a knife,  .45 gun, and 31 rubber batons. He also said the police had used CCTV and video clips from multiple locations to help identify the key protagonists and sort out the course of events. They perpetrators will face charges of premeditated murder, conspiracy, weapons charges and assault. He announced that police were satisfied the ring leaders and key perpetrators were now in custody pending further legal action.
Violence broke out after 'win' riders from the Udomsuk 1 gang had been forced to pay 3,500 baht to join the rank in addition to a 3,000 baht monthly fee. Meanwhile, Udomsuk 2 riders weren't required to pay anything and their site was in a preferential site with more customers.
SOURCE: Naew Na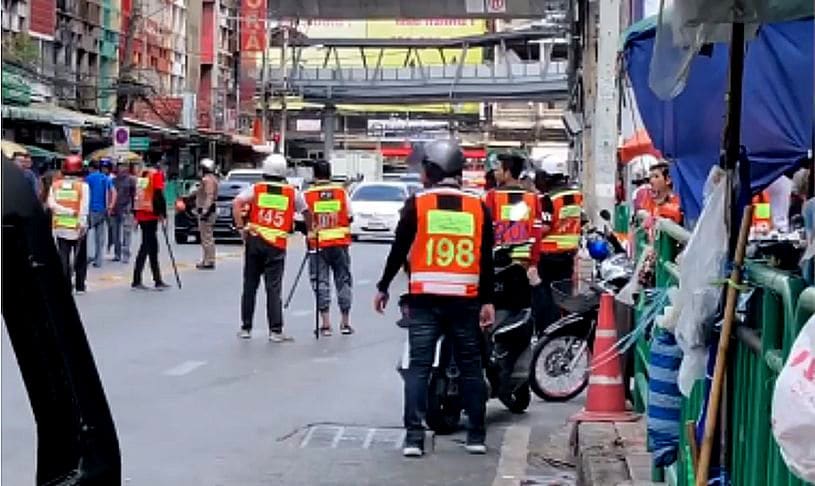 Military escort motorcycle rider smashes into Bangkok taxi – VIDEO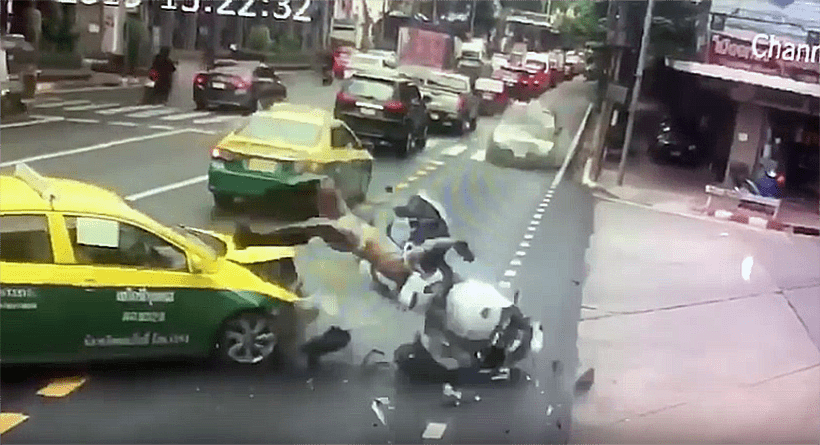 The shocking moment when a military officer on motorbike, escorting a high-ranking Army official travelling in a black Mercedes, collided into a Bangkok taxi, at 1.22pm yesterday. He was an officer with the Military Police.
The Toyota taxi with Bangkok plates was making a right hand turn into the Khet Pom Prap Sattru Phai centre in central Bangkok.
The injured officer was attended to initially by the occupants of the Mercedes riding behind including the dignitary riding in the back, then volunteers from the Ruam Katanyu rescue foundation, before he was taken to a local hospital.
The male taxi driver, who eventually emerged from his damaged taxi, is being questioned by police.
Good news, the man only received minor injuries and headed home after treatment.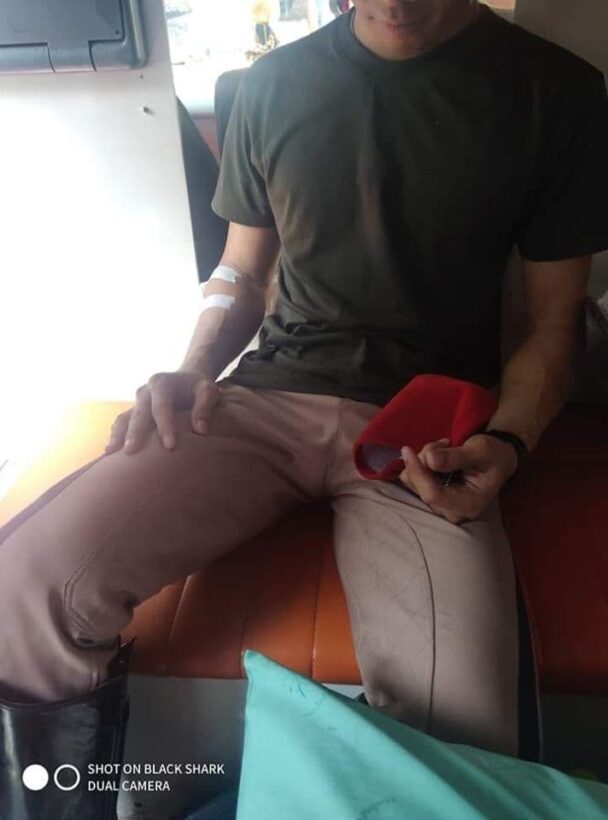 SOURCE: Sanook
Tougher laws and bigger fines for taxi drivers who reject passengers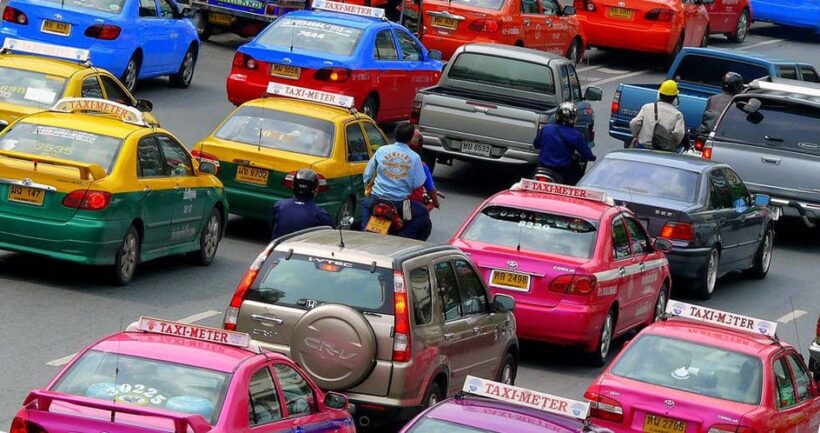 Mai dai! Taxi drivers who say 'no' to passengers will soon be liable to a fine of 5,000 baht. That's up from 2,000 baht. Taxi drivers, especially in Bangkok, are notorious for rejecting fares when the passenger's travel plans doesn't suit the driver's, especially at times near the change of shifts.
The owner of the taxi will now face a fine not exceeding 5,000 baht under a new bill currently being drafted by the Land Transport Department.
Thanee Suebruek, the Land Transport deputy director-general, says that the problem of taxi drivers rejecting passengers accounts for the highest number of complaints filed by passengers.
"Taxi drivers rejecting passengers may indicate that the maximum fine of 2,000 baht under the existing law is too lenient, hence the move to increase the fine to 5,000 baht."
"The increased fine will be on a par with fines for other public transport rule infringements."
Mr. Thanee says the new fines will also empower land transport officials to suspend the license of a taxi driver, who rejects passengers, for between 15-30 days, subject him to a 3 hour lecture on driving etiquette and, if the malpractice is repeated, the driver could have his license suspended from 3-6 months or even revoked.
SOURCE: Thai PBS