Owners of vehicles emitting black smoke to be fined up to 5,000 baht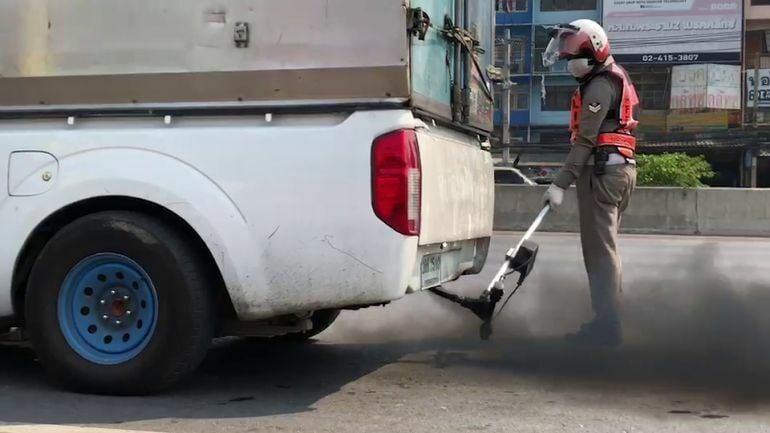 Owners of cars and trucks emitting an excessive amount of black smoke face a fine up to 5,000 baht. The heavy fine is an attempt to reduce air pollution in Bangkok. Along with the fine, the Department of Land Transport will also order the vehicle be suspended from use until its emission system is fixed.
According to the department, from October last year until January, 689,333 vehicles in Bangkok areas have been inspected for black smoke emissions, while 8,762 of them have been suspended from usage. Those vehicles emitting a high volume of smoke, but are under the safety standard, will receive warnings and owners are urged to check vehicle conditions and keep proper maintenance.
Vehicles with exceeding black smoke are urged to check their vehicles at the department's certified vehicle inspection centres located around Bangkok's outskirts, including Phutthamonthon, Romklao, and Khlong Luang areas. Motorists are also encouraged to help reduce air pollution caused by black smoke and PM2.5 particles by having their vehicles regularly serviced or alternately switching to electric or NGV-powered vehicles.
People who witness vehicles emitting black smoke can also report the authorities by calling 1584, or contact Line: @1584DLT, or via DLT GPS mobile application.
SOURCE: Nation Thailand
Keep in contact with The Thaiger by following our Facebook page.
Never miss out on future posts by following The Thaiger.
Chiang Mai 3rd most polluted city in world in yesterday's air quality ratings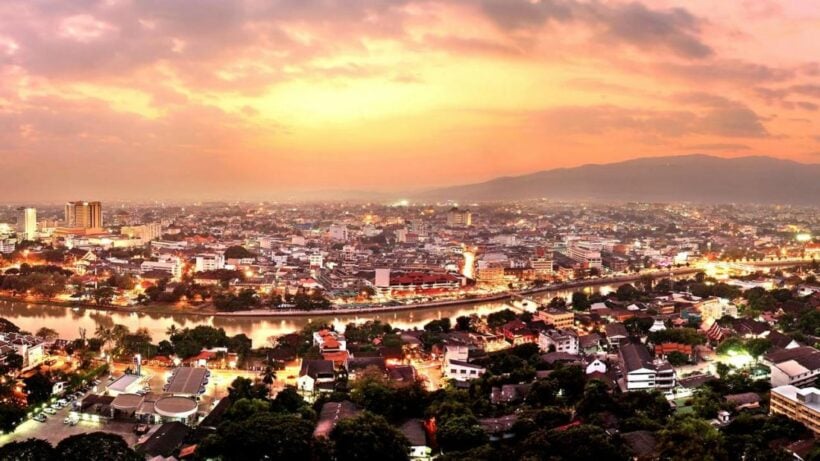 Chiang Mai ranked as the 3rd most polluted city in the world yesterday, according to AirVisual, following Lahor in Pakistan and New Delhi in India. The northern Thai city's was recorded to have an average PM2.5 dust level higher than 200.
All 4 air quality monitoring stations in the municipal area reported the PM as exceeding the safe level, with the deputy chief of an air pollution command citing some 928 hotspots detected across the nation's 17 northern provinces.
In Tak province, its PM2.5 and PM10 ratings exceeded the safe level for 4 consecutive days, affecting people's health and road visibility. Mae Sot district yesterday saw the PM 2.5 and PM10 measured at 114 and 171 µg/m3 with people being advised to avoid all outdoor activities and stay away from areas with high air pollution.
The governor of Tak says the province has initiated measures to prevent forest fires and to prohibit the burning of old crops for 2 months starting from March 1. Those who are caught burning or carrying hunting equipment will be charged by forest patrol officers.
The Department of Health Director-General says tropical storms in the northern part of Thailand would help reduce the PM2.5 in Bangkok, the Central Plains, the East and the lower North over the next few days. But some areas in the north, northeast and central plains may see more pollution due to burning in the country and smoke from neighbouring countries.
The Director advised people to protect themselves by wearing a face mask when going outside and follow air pollution news on the official website of the Department of Pollution Control.
According to IQAir, Chiang Mai's air quality index is at 176, with the PM2.5 measured at 103.9 µg/m³, sitting at unhealthy levels.
Meanwhile, the PM2.5 air pollution was behind approximately 160,000 deaths in the world's 5 most populous cities in 2020, according to a Greenpeace Southeast Asia analysis of IQAir data from a live Cost Estimator.
SOURCE: Bangkok Post
Keep in contact with The Thaiger by following our Facebook page.
Never miss out on future posts by following The Thaiger.
Driver says thick smog led to 3-vehicle pileup in Chon Buri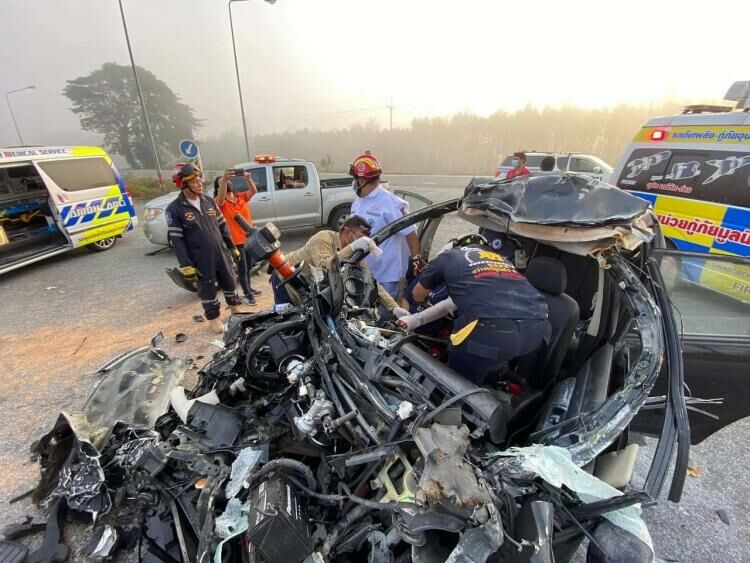 A driver in a serious 3-vehicle pileup in Chon Buri blames the thick smog for the accident, saying it limited visibility. Two people were injured in the accident, including a 30 year old man who was stuck inside his sedan and rescuers used the "jaws of life" hydraulic tool to remove him from the vehicle.
Another 39 year old man was found lying on the road and his 150cc motorcycle was nearly. Police say he had minor injuries. A 31 year old trailer truck driver told police that the haze from the air pollution made it hard to see.
"I was about to make a U-turn and I was quite positive that there were no vehicles behind me but it was difficult to see due to the low visibility in the air."
A car driving at a high speed crashed into the truck as the driver was preparing to make a U-turn. The motorcyclist then crashed into the car.
Chon Buri's air quality has reached "unhealthy" levels over the past week with the amount of the ultra-fine dust pollutant PM2.5 exceeding limits classified as safe, according to IQAir.
SOURCE: Pattaya News
Keep in contact with The Thaiger by following our Facebook page.
Never miss out on future posts by following The Thaiger.
Air pollution hits unsafe levels in 19 provinces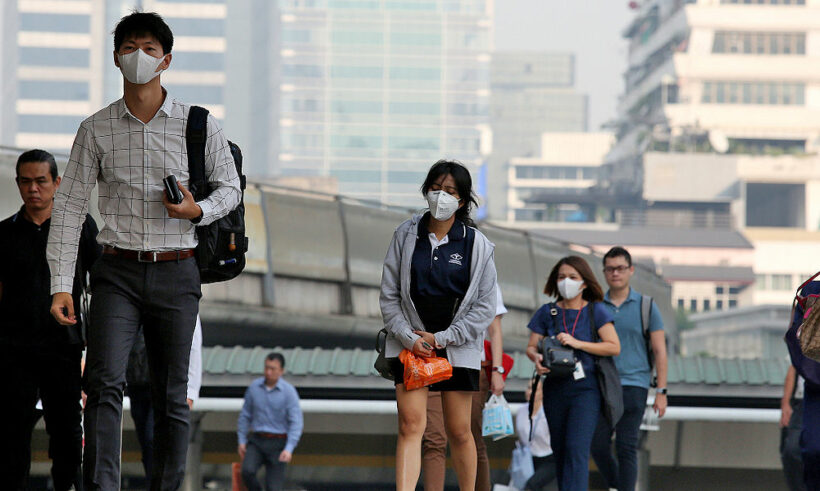 Air pollution hit "unsafe" levels in 19 provinces across Thailand this morning with levels of the ultra-fine dust PM 2.5 exceeding the official safety limit 50 micrograms per cubic metre, according to the Pollution Control Department.
Those areas include: Bangkok, Nakhon Pathom, Samut Prakan, Samut Sakhon, Lampang, Sukhothai, Phitsanulok, Kamphaeng Phet, Pichit, Nakhon Sawan, Uthai Thani, Lopburi, Saraburi, Suphan Buri, Kanchanaburi, Chachoengsao, Ratchaburi, Chon Buri, and Rayong.
The department also reported PM2.5 levels in different regions across the country…
North: 17 to 68 μg/m3
Northeast: 16 to 38 μg/m3.
Central region and West: 42 to 62 μg/m3
East: 47 to 65 μg/m3.
South: 11 to 29 μg/m3.
Bangkok and its vicinity: 39 to 80 μg/m3
Poor air quality can be harmful to the elders, children, and patients with respiratory diseases, so they are recommended to monitor their health conditions and avoid outdoor activities as much as possible.
SOURCE: Nation Thailand
Keep in contact with The Thaiger by following our Facebook page.
Never miss out on future posts by following The Thaiger.