Red flags up at Bali Hai – weather warnings for Pattaya area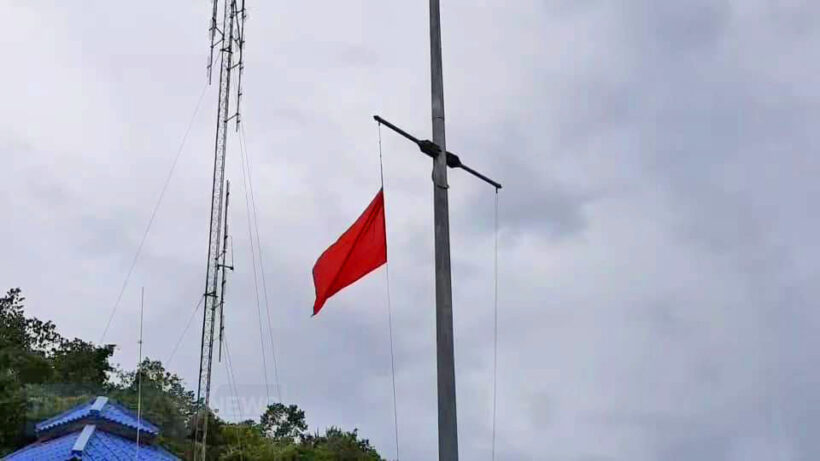 PHOTO: The red flag warnings at Bali Hai pier are more precautionary than reflecting the weather situation – The Pattaya News
Red flags went up at the Bali Hai Pier yesterday warn tour boats about the Thai Meteorological Department's weather warnings in regard to tropical storm Wipha, currently sitting over northern Vietnam.
Tropical Storm Wipha, which formed in the South China Sea between the Philippines and China, will bring the risk of flooding and locally damaging winds to the region.
Wipha will track westward near the coast of China's Guangxi province before making landfall again into northern Vietnam this weekend.
Wipha is expected to weaken as it approaches the Vietnam coast; however, no matter the status of the system, Wipha will bring heavy, tropical downpours. – Accuweather.com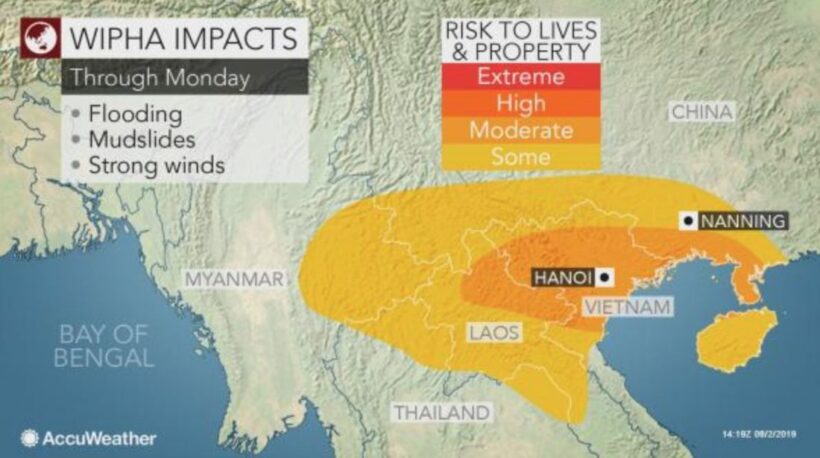 The announcement from the TMD stated that the tropical storm may cause abundant rain with isolated heavy to very heavy rain over the country.
"Small boats should keep ashore until August 6."
A red flag went half way up the pole at the Bali Hai Pier yesterday morning meaning that small boats are not allowed to go out from the pier.
"Larger boats should proceed with caution. Residents of the Pattaya area are informed that the heavy winds and regular rainstorms may continue over the weekend."
Despite the warnings from the TMD the forecast for today in Pattaya is relatively calm with fresh westerly winds. More rain appears on the way Monday to Wednesday next week according tot he weather.com forecast, The Thaiger's preferred weather forecast.

Keep in contact with The Thaiger by following our
Facebook page
.
Two British men arrested for dealing drugs in Thailand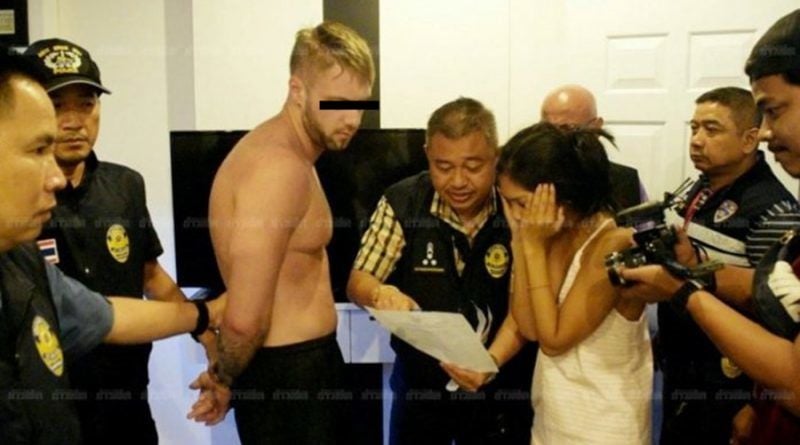 PHOTO: Sanook
On August 20, more than 20 police officers used a warrant to search a home in Chonburi, eastern Thailand, seizing nearly 5 grams of cocaine.
Police also seized the home itself, worth about 6 million baht, a car and motorbike, along with 3 bank books and some jewellery items.
The house was occupied by British man Luke Timmins, 28, already wanted for drug offences under an international arrest warrant issued by the UK , and a 24 year old Thai woman known only as Cherman.
Both tested positive for cocaine, with Timmins claiming he purchased the drug for 2,500 baht a gram from a Thai man on Pattaya's Walking Street .
Luke Timmins' father, Michael, was previously jailed for 6 years for smuggling mephredrone into the UK. The drug was used to make 30 kilos of bath salts, as known as the zombie drug.
At the same time, in Mahasarakham province, another team of officers arrested fellow Englishman Daniel Wood, 29, on charges of drug dealing. At the time of his arrest, he was taking his wife to the temple.
While Wood was not in possession of any illegal substances, he was found to have overstayed his Thai visa since October 17, 2016, and also had a warrant out for his arrest in the UK on charges of smuggling drugs into the country.
He had flown to Thailand, married a Thai woman, and worked with Luke Timmins selling drugs in Pattaya.
Both men were found to be connected to Adrian Matthews, who has gang connections in Pattaya, and was stopped by Customs officials in New Zealand in possession of methamphetamine (ice) worth about 17 million US dollars, in October 2017.
Source: Thai Residents
Keep in contact with The Thaiger by following our
Facebook page
.
Thief steals from a Pattaya bar's merit money tree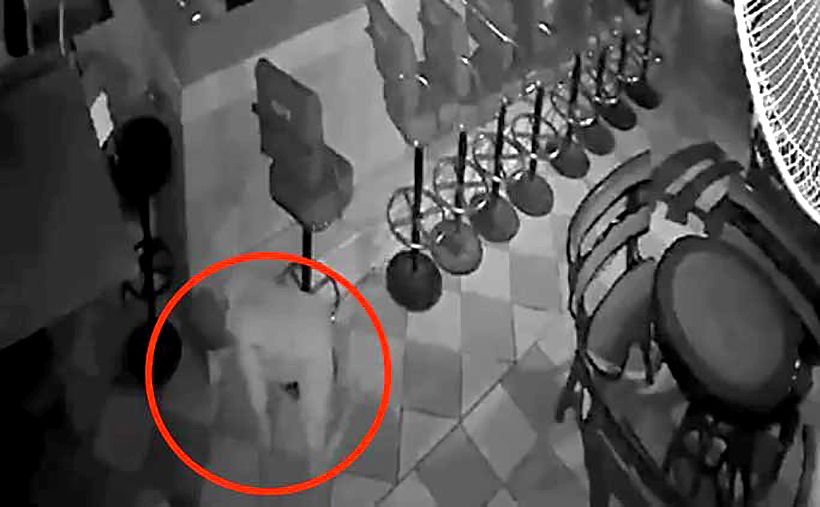 CCTV surveillance footage from the Bart Navy Bar on Pattaya Beach Road reveals a thief crawling in and stealing from the merit making money tree in the bar.
The We Love Pattaya Facebook page describes the thief as a "sinner".
#พัทยาเตือนภัย โจรใจบาป ขโมยเงินทำบุญ เกลิ้ยง !! กล้องวงจรปิดบันทึกภาพ โจรใจบาปแอบคลานเข้ามาในร้านบาร์เบิรด์เนวี่บาร์…

Posted by เรารักพัทยา on Monday, 19 August 2019
The time stamp indicates that the"sinner" was operational around 4.30am yesterday (Monday) morning.
The bar in Soi 7 Pattaya is well situated about 200 metres from the Pattaya police station.
Merit trees are set up in many bars to collect donations for "tham bun" (merit making) which are then donated to local temples and charities.
SOURCE: ThaiVisa
Keep in contact with The Thaiger by following our
Facebook page
.
Greater Pattaya hosts hotel and tourism forum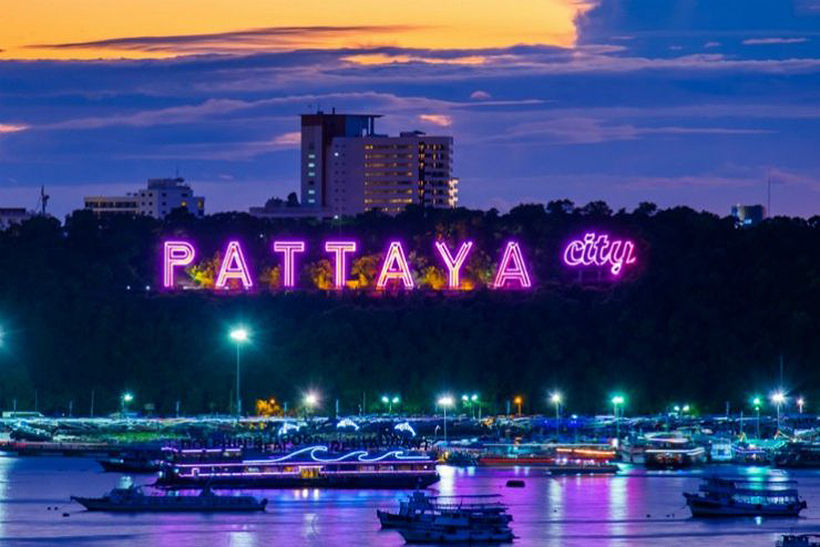 On Thursday, September 5 a hotel and tourism market update event covering Greater Pattaya will be held at the Holiday Inn Pattaya.
Jointly organised by industry leaders STR, Horwath HTL, C9 Hotelworks and the AMCHAM Thailand, the event will feature key hospitality operating and performance metrics.
A special panel on the emerging trend of hotel residences will include senior executives from InterContinental Hotels Group, Baker McKenzie and leading Thai property portal FazWaz.
The event is relevant for hotel and tourism managers, developers and those wishing to understand more about current market trends. For hotels undertaking their 2020 Business Plans, the data presentation will be invaluable.
Attendance is free, registration is required.
For register please click HERE.
Keep in contact with The Thaiger by following our
Facebook page
.