Top 10 things to see and do in Phu Quoc, Vietnam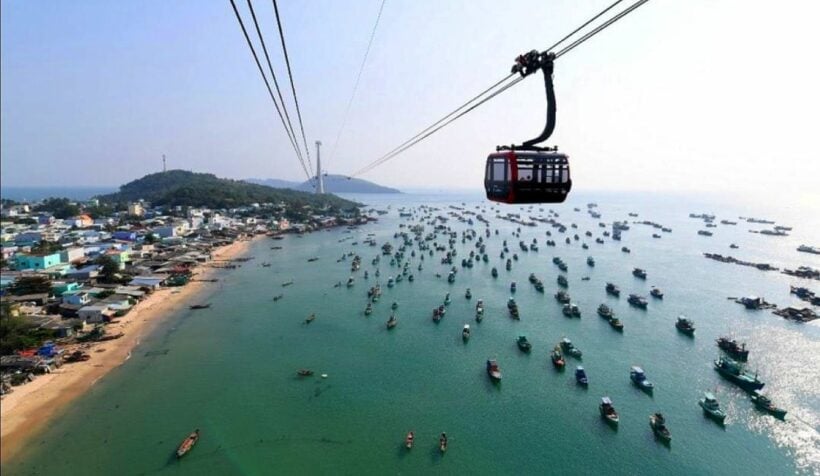 Phú Quốc is a Vietnamese island off the coast of Cambodia in the Gulf of Thailand (aka. Vịnh Thái Lan in Vietnamese). The island is actually closer to Cambodia than Vietnam. Phu Quoc is a rising star in the island destinations of south east asia. It has big ambitions and will catch up quickly with some key infrastructure already in place with more being hastily completed.
Long stretches of white-sandy beaches and resorts, most of which are along the palm-lined western coast. There are many, many resorts planned or in the midst of construction. More than half of the island is part of Phú Quốc National Park, which features mountains, dense tropical jungle, hiking trails and wildlife. Duong Dong is the largest town which the locals usually simply call Phu Quoc.
There are plenty of expat-owned bistros and bars that serve western and European tastes. You can also experience the local lifestyle by frequenting its many local markets and Buddhist temples.
There's already some completed dual-lane main arteries linking the main parts of the island, a new international airport and hundreds of accommodation options, from the backpacker to the five star.
Our best go at pronouncing the name of the island is POR WOK, not POO KWOK, as you'd think, but Vietnamese has a lot of difficult-to-pronounce tones so check with a local when you get there.
Food options are truly international with a broad range of tourists making up the early visitors to the island. For now, principally east Europeans, Chinese and Vietnamese.
The main attraction is the longest cable car ride in the world. It's an astonishing feat, linking the south of the island and hopping across three islands to a stand-alone resort on the southern-most island. Apart from being a world-class attraction, it's also an indication of the vast sums being invested in the island.
You can fly in to Phu Quoc from KL, Bangkok, Singapore or Ho Chi Minh City for now with more flights and carriers getting a foothold on the popular new island. You don't need a visa to visit Phu Quoc, a clear decision to kick off this new tropical destination by the Vietnamese government (for up to 15 days).
There's a three kilometre tourist strip reaching south from the main town centre. There's high-class bars, beach-clubs, tawdry souvenir shops, hundreds of restaurants serving up international flavours and some funky new shops opening up every month. If you want good Vietnamese food head into the main town.
Here are 10 things to do in Phu Quoc that will give you a range of flavours, colours and culture.

Phuket Quoc Cable Car
Wow, wow and WOW! The cable-car ride from Vietnam's Phu Quoc island to Hon Thom, aka. Pineapple Island, is a breathtaking experience. It's an astonishing tourist attraction on an island that has ambitions to be one of south east Asia's most popular tourist attractions. This attraction proves it.
The actual cable car ride, the longest in the world, soars over the sea, coral reefs, fishing villages and Phi Quoc's southern islands, with amazing views all along the way. You get 360 degree vistas of the An Thoi Archipelago.
As a quick mood killer, if you're afraid of heights, this experience may not be for you. Flying above the views below is breathtaking but you are flying a long way above the ground. Despite the windy day I travelled, the ride was very stable and you didn't get a sense that you were wobbling around in the air.
The cable car travels from a purpose-built faux-Italian 'ruins' entrance and hub to Hon Thom Nature Park. From the moment you arrive, and the staff greet you as you get out of your taxi/bus/motorbike, there's plenty of wow factor. For a small, relatively unknown Gulf of Thailand island, this is a grand experience and an enormous investment.
Once you arrive at Pineapple Island, after hopping over three other islands on the way, you are greeted by a man-made beach, water park and substantial infrastructure – some of it still being constructed. Everything on the island has been constructed to serve the arrivals from the cable car, there's no other way of getting to this remote island. You can spend a short time at the island or a long time.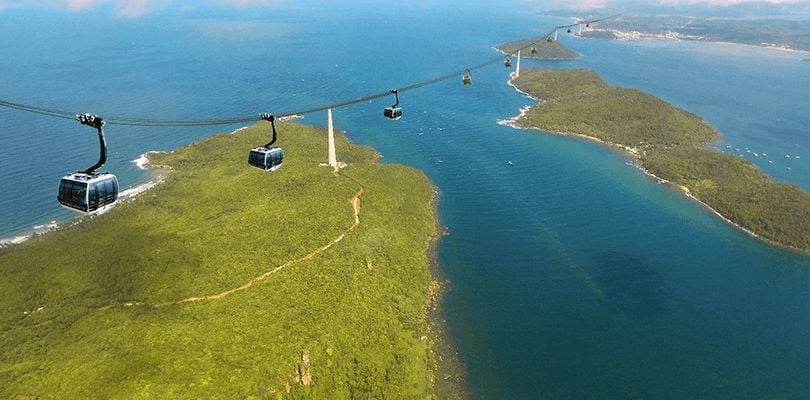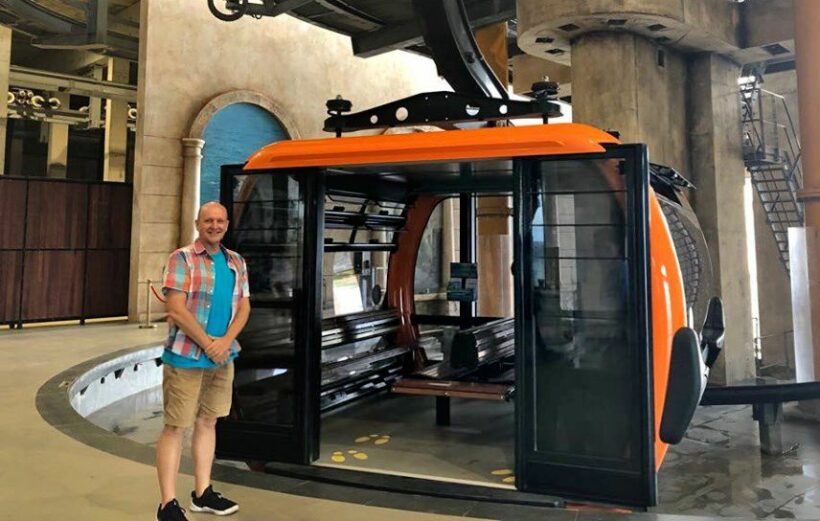 Phu Quoc Prison
Yes, a prison and perhaps a bit off the usual tourist map. Nonetheless, very interesting. It's a prison facility built by the French colonialist to punish Vietnamese people aka. Coconut Tree Prison. In 1967, Saigon Government rebuilt the Coconut Tree Prison into Phu Quoc communist prisoner prison in an area of 400ha, also known as Phu Quoc war prisoner prison, or Phu Quoc prison.
This was the largest place to keep communist soldiers in the South with more than 32,000 prisoners. Sometimes, this number was up to 40,000 people including political prisoners in several periods.
Slightly macabre but also a relic of a bygone era of Vietnam's tortured history, Phu Quoc prison is the living evidence for the extremely brutal crimes of aggression colonialism and imperialism, while it proved the indomitable spirit and valiant struggle of revolutionaries. The war prisoners in Phu Quoc prison suffered extremely savage punishments and tortures. There's plenty of mannequins propped up to provide a gruesome reminder of many of the tortures exacted on inmates.
The prison is located at the southern end of the island.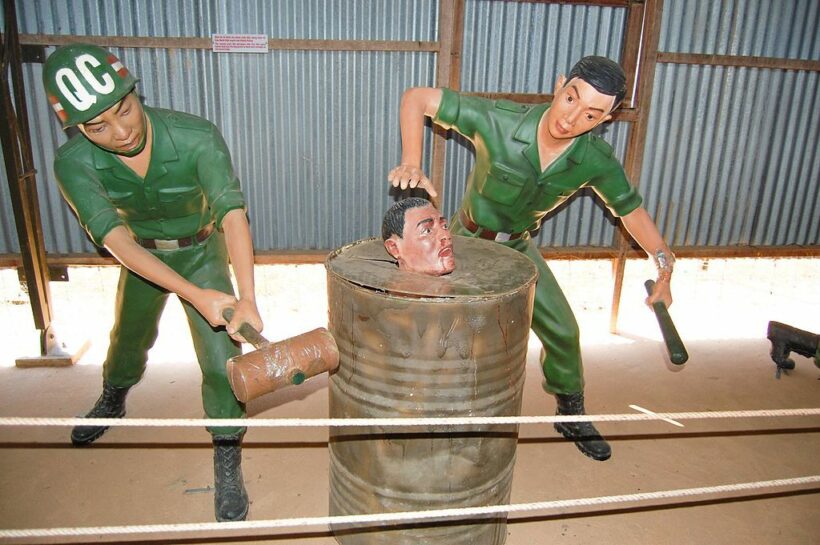 Horizon Bar
A bar and restaurant on the main beach, about 2 kilometres south of the main town centre. There's also plenty of other casual attractions that pop up at this beach from time to time.
The most permanent venue is the Horizon Bar which serves some great food along with the refreshments you'd expect. You're right on the sand, actually you can get a table in the sand which is a nice romantic touch for an evening meal or drink.
It's not as swanky as some of the new beach clubs opening up but it's a lot cheaper and casual as well. Looks a lot better at sunset and nighttime. There's better food on the island but the location and view are fantastic. Located on the tourist strip south of the main town.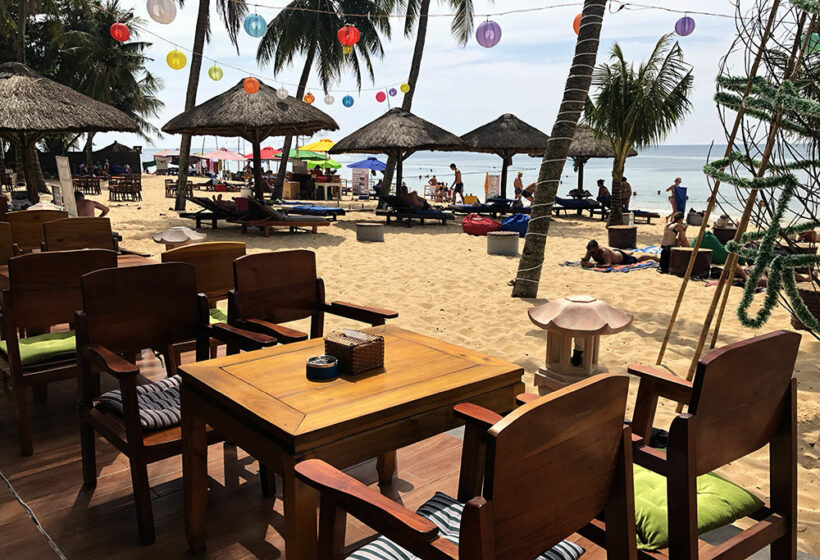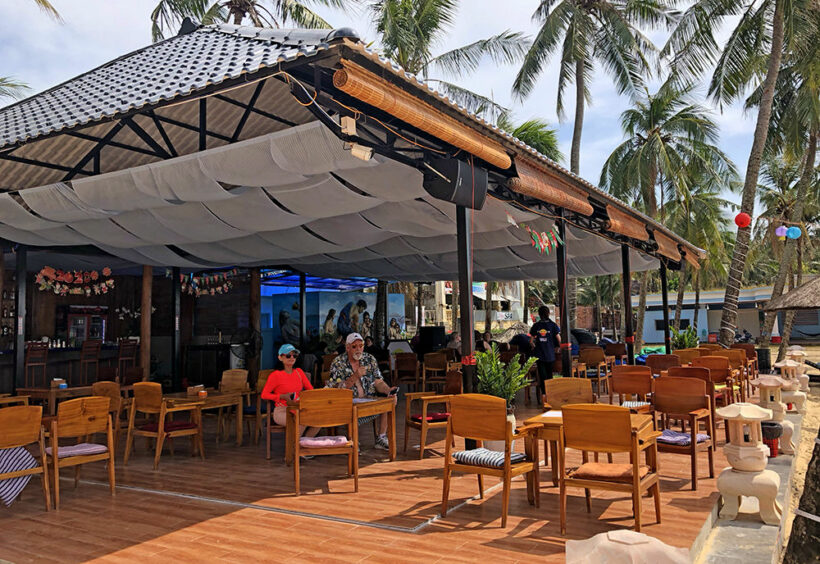 Also try the Sailing Club Phu Quoc for something a little more upmarket with prices to match.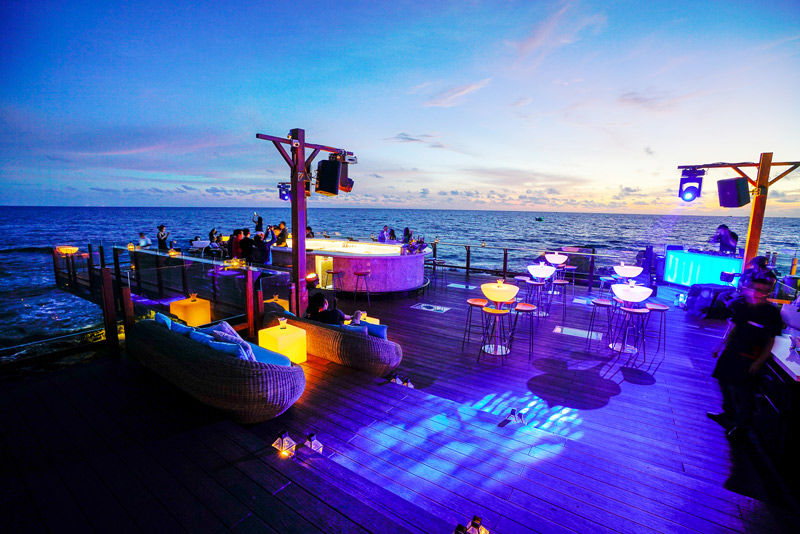 Long Beach
The main beaches are on the Gulf side of the island. But there's also a few excellent beaches facing Vietnam as well on the south east of Phu Quoc. The best on the south east side of the island is Long Beach.
Long Beach is the best known of the southern-end beaches and has a range of accommodation, casual restaurants, bars and beach clubs opening up. It's all about 2 kilometres off the main road. The main beach area has a range of beach attractions, jet-skis, vendors, sun lounges and a large selection of restaurants – all right on the beach. The clientele is very international.
BYO towels and suncream. The water is quite shallow and sand bars will show up at low tide.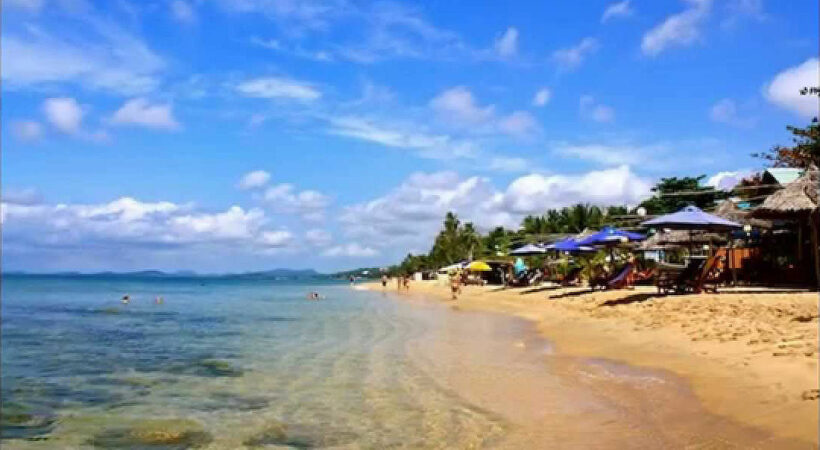 There was certainly a lot more people at this beach on the day we were there.
Ho Quoc Pagoda
The largest and most ornate of the island's temples, Trúc Lâm Hộ Quốc Zen has a number of pavilions and smaller temples all leading up to the tall white statue looking east towards Vietnam.
Dress appropriately. But there's also scarves and over-pants available at the main gate.
There's plenty of parking for motorbikes and cars and there's a vegetarian restaurant on site that provides free food for visitors.
To get there take the windy road off the main road for about 5 kilometres. A lot of it scoots along the coast with some terrific views. Directions on the link.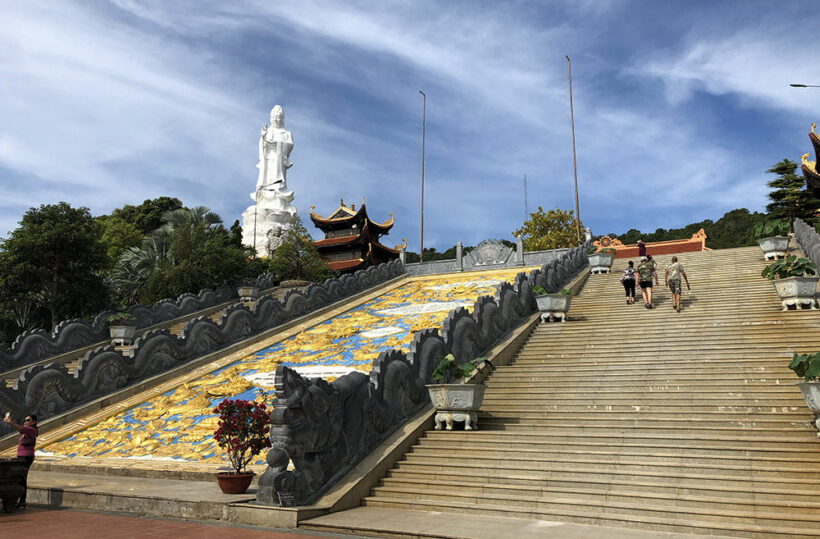 Island circle road
There are some key roads already sealed and completed, including plantings in the median strip. At the moment they're mostly carrying the island's locals on motorbike but they also allow you to easily get around to the key locations on good roads.
Although it doesn't reach to the very north or south of Phu Quoc, there is a circle road that takes you from one coast to the other with some spots to check along the way.
If you just take the trip, without any breaks, it will take 2-3 hours. The main things to see along the way are the fishing village and fishing pier at Làng Chài Hàm Ninh and the beach views along the eastern coast of the island. Làng Chài Hàm Nin is a bustling seaside fishing village with floating seafood restaurants specialising in crab dishes.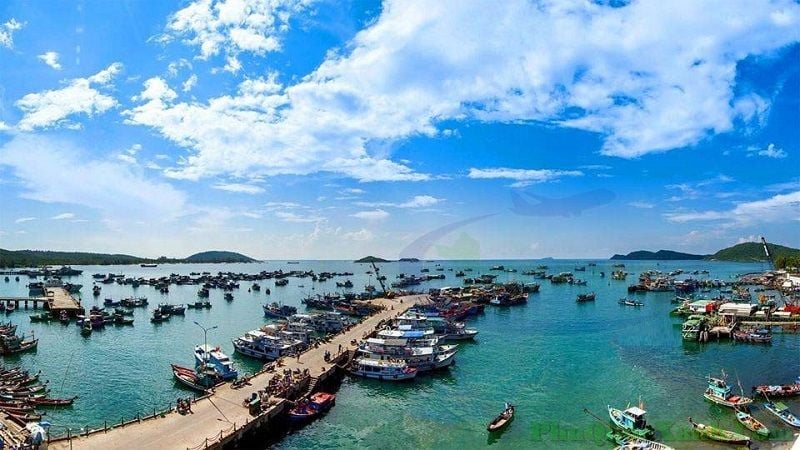 But you can see the island growing along these completed arteries in the next decade.
There's also good roads to the north and south taking you to some of the key beaches and attractions.
Vietnamese drive on the right hand side of the road. Car rentals are not common the island but motorbike rental is easy and cheap – around 150,000 Dong per day standard. Be careful and check your insurance first as any accidents on motorbikes may not be covered.
Vietnamese also enjoy tooting their horns to let other drivers know they're around.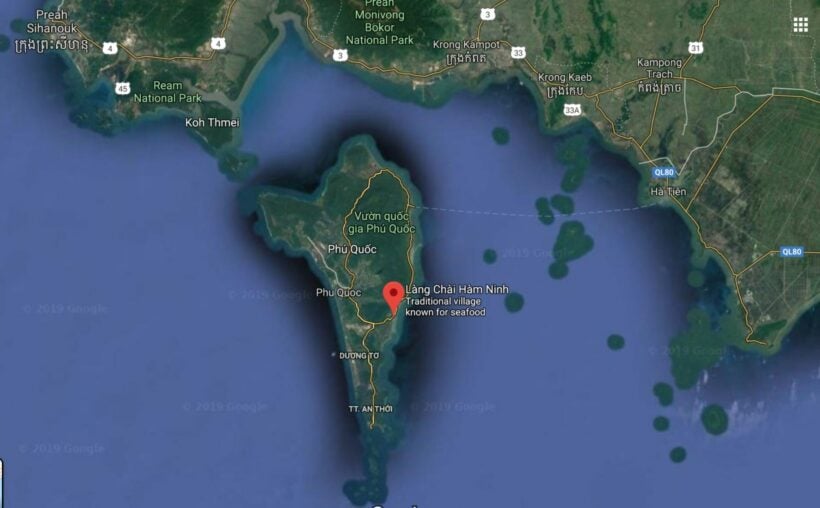 Dinh Cau Night Market
There's a vibrant night market operating seven days a week in the middle of the main town.
It offers a plethora of dining and shopping opportunities until late. Located along Vo Thi Sau Street in the main town of Duong Dong, this pedestrian market is about a five-minute walk from Dinh Cau Rock. This Phu Quoc market caters mainly to tourists but will have plenty of locals visiting as well.
Live fish, sea snails, crabs and scallops are kept in large tanks with prices listed on the board in front of every booth.
The Dinh Cau Night Market is more about food than the nick-nacks but it will keep you occupied for a few hours. There is some quite exotic local food available here, not for the feint-hearted. Proceed with caution.
I love Phu Quoc
Not a tourist attraction and not anything that will blow your mind except that this modern little business has encapsulated a bar, restaurant, beach-club and a quality menu in one convenient location. Just moments from the heart of the main town Duong Dong, I Love Phu Quoc is worth a visit at any time of the day. A sunset drink with the beach-side beats is a good start to anything you have planned later in the evening.
They also do a terrific breakfast at I Love Phu Quoc which is, other than hotels, a little difficult to find if you're used to a hearty western breakfast.

Dinh Cau Rock
Dinh Cau Rock, also has the Cau Temple sitting atop. The actual rock is an odd-shaped natural formation where local fishermen pray to before heading out on fishing excursions (the main town is a hub for the local fishing industry). Located just next to the Duong Dong Fishing Harbour, the rock it features a brightly-coloured lighthouse and Buddhist shrine – a popular photography spot for travellers and romantic walks along the pier. It sits at the entrance to the harbour where the fishing boats leave each day.
Dinh Cau Rock was constructed in 1937 to commemorate Thien Hau (the goddess of the sea), whom locals believe provides protection for fishermen heading out to the open sea.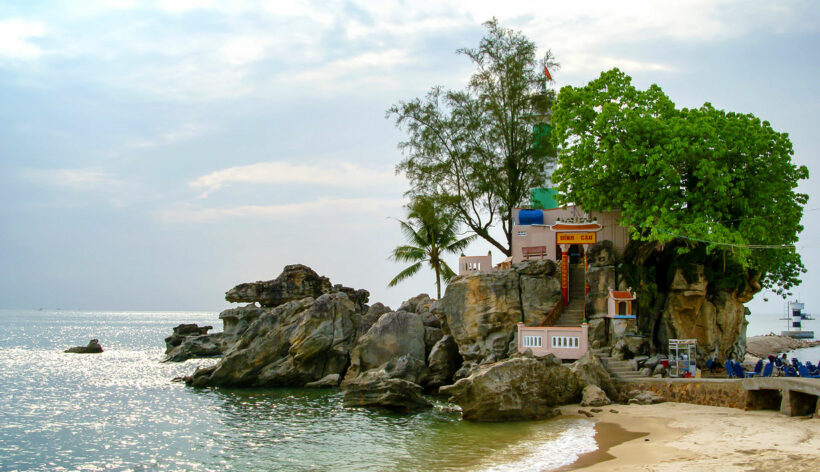 Keep in contact with The Thaiger by following our Facebook page.
Never miss out on future posts by following The Thaiger.


Find more Travel top 10s and top 10s in Thailand on The Thaiger.

Top 10 English-language movies made in Thailand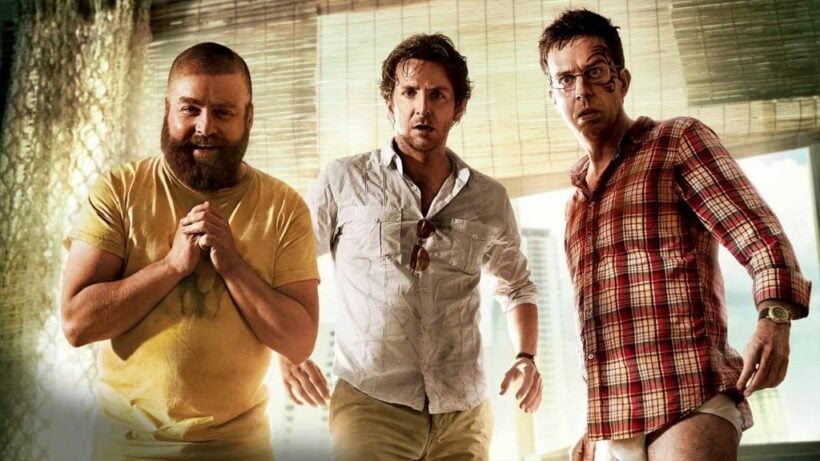 Thailand is active in attracting foreign movie makers to the Land of Smiles, and has been for decades. Many well known movies have been either partially or totally filmed in Thailand. From 'The Killing Fields' to 'Around the World in 80 Days'. Here is our list of the Top 10 English-language movies that were at least partly made in Thailand. There's also some excellent Thai-language films made in Thailand in one of the most prolific film industries in the world. But that's a list for another day. Lights, camera, ACTION… Su su!
The Railway Man (2013)
A Colin Firth movie made partly in Thailand (also 'Bridget Jones – The Edge of Reason', 2004), 'The Railway Man' is a 2013 British–Australian war film directed by Jonathan Teplitzky. The movie also starred Nicole Kidman, Jeremy Irvine, and Stellan Skarsgård. The movie follows a tortured soul and his traumas as an ex-POW who was interred and tortured by Japanese troops in camps around the Thai Burmese border. He returns later in life to Thailand confront his demons.
From 'The Telegraph'… "One of the most striking things about the terrain through which the "Death Railway" linking Thailand to Burma passed, is its extraordinary beauty. Much of the scenery is classically south-east Asian: lush and tropical, fringed with rugged, mountainous mystery. It is the stuff of travellers' dreams. But as 'The Railway Man', the latest film to throw light on one of history's darker chapters reveals, it is also the stuff of nightmares".
The Hangover II (2011)
Hardly high art but a successful sequel to the original 'Hangover' starring Bradley Cooper, Ed Helms, Zach Galifianakis, Ken Jeong. The film was filmed almost entirely in Bangkok and around Phang Nga Bay including Phulay Bay, A Ritz-Carlton in Krabi. The film gives you the impression that you turn left in Bangkok, travel an hour or so, and arrive in Phang Nga Bay. Also the unlikely situation where you jump on a speedboat in Bangkok and arrive in Krabi on one tank of fuel! The reality is you would have to travel all the way south, around Singapore and then north through the Malaca Straits, a journey of three or four days.
The plot… well, anything and everything goes wrong! Tattoos, ladyboys, drugs, kidnapping, car chases, fingers chopped off. That's about it.
In 2011 an Australian stuntman who was injured whilst filming in Bangkok sued Warner Bros. The case was settled out of court for an undisclosed sum. The film had a budget of US$80 million but returned nearly $600 million.
Good Morning Vietnam (1987)
'Good Morning, Vietnam' is a 1987 American military comedy-drama film written by Mitch Markowitz and directed by Barry Levinson. The movie is set in Saigon in 1965, during the Vietnam War. The movie was a major star-vehicle for Robin Williams as radio DJ Adrian Cronauer on Armed Forces Radio Service.
Plot, briefly… man becomes DJ on official military radio station in Saigon. DJ is widely popular with the US troops but very unpopular with some of the military bosses. Man meets woman, man falls for woman, woman's brother is a Viet Cong pimp.
The film is famous for Williams' radio broadcast scenes which were largely improvised. It was a critical and commercial success; for his work in the film, Williams won a Golden Globe Award for Best Actor – Motion Picture Musical or Comedy and was nominated for an Academy Award for Best Actor. 'Good Morning, Vietnam' was one of the most successful films of the year, becoming the fourth highest-grossing film of 1987.
The film was shot almost entirely in Bangkok.
Tomorrow Never Dies (1997) and Man with the Golden Gun (1974)
We throw these two Bond films into the same posting but extensive sequences in both were filmed in and around Phang Nga Bay in Southern Thailand. Ko Tapu, a limestone monolith standing all by itself, has become a major tourist attraction in the Bay and has even been renamed James Bond Island in honour of it's backdrop performance in the Roger Moore 'Man with the Golden Gun'. Probably one of the most boring of the Bond franchises but, hey, it spawned a whole new tourism attraction for the region!
'Tomorrow Never Dies' was the 18th James Bond film, this time with Pierce Brosnan with a license to kill. The Ho Chi Minh City scenes were shot in Bangkok and Phang Nga Bay, pretending it was some other asian location.
Heaven and Earth (1993)
Heaven & Earth is a 1993 American biographical war drama film written and directed by Oliver Stone and featuring a stellar cast including cranky Tommy Lee Jones, Haing S. Ngor, Joan Chen and Hiep Thi Le.
It is the third and final film in Stone's Vietnam War trilogy, which also includes 'Platoon' and 'Born on the Fourth of July'. The film was shot in Thailand as the Vietnamese government had decided Oliver Stone liked to depict their country in a negative light (it took them Stone's two other films to figure that out). Town shots are filmed around Old Phuket Town and many of the wider shots of open paddocks and fields were filmed around Krabi.
The film was based on the books 'When Heaven and Earth Changed Places' and 'Child of War', 'Woman of Peace', which Le Ly Hayslip wrote about her experiences during and after the Vietnam War.
It was a box office flop earning only $5.9 million on a budget of $33 million.
Air America (1990)
'Air America' was a 1990 American action comedy directed by Roger Spottiswoode with Mel Gibson and Robert Downey Jr. as Air America pilots flying missions in Laos during the Vietnam War. All the 'Laos' shots were shot in Thailand.
Plot: When the protagonists discover their aircraft is being used by government agents to smuggle heroin, they must avoid being framed as the drug-smugglers.
Budgeted at $35 million, the production involved 500 crew shooting in 49 different locations in Thailand, London, and Los Angeles. Principal photography began on October 3, 1989 and ran for five months but the crew were called back six months later to film a new ending.
The producers rented 26 aircraft from the Thai military, although some of the stunt flyers refused to perform some of the stunts, with 60-year-old veterans being drafted for some of the more nuanced aerial shots. Sidenote: PepsiCo wanted the filmmakers to use a fictional soda rather than show opium being refined at their abandoned factory.
The Killing Fields (1984)
Not only a film made mostly in Thailand but also an Academy Award winner and a fitting story of the so-called Asian holocaust – the reign of terror by the Khmer Rouge in Cambodia between 1975 and 1979 where up to 2.5 million citizens were systematically starved, over-worked or killed.
The film focusses on two journalists, Cambodian Dith Pran and American Sydney Schanberg. It was directed by Roland Joffé and produced by David Puttnam. Sam Waterston played Schanberg, Haing S. Ngor as Pran, Julian Sands as Jon Swain, and John Malkovich as Al Rockoff.
At the 57th Academy Awards it received eight Oscar nominations; including Best Picture. It won three, most notably Best Supporting Actor for Haing S. Ngor, who had had no previous acting experience. Directer Roland Joffé said, of Haing S. Ngor's performance… "Haing had been acting his whole life – you had to be a pretty good actor to survive the Khmer Rouge".
From Roland Joffé… "We shot those scenes in the countryside outside Bangkok. Lots of very realistic looking corpses had been laid out. It was all very disturbing: you'd get a crawling feeling up your back during shooting. And there was a real panic when a farmer's wife went out early in the morning and got a total shock when she saw them, poor woman".
The Beach (2000)
The Beach is a 2000 British-American adventure drama film directed by Danny Boyle and based on the 1996 novel of the same name by Alex Garland. The film stars Leonardo DiCaprio, Tilda Swinton, Virginie Ledoyen, Guillaume Canet and, Robert Carlyle. It was partly filmed around Phuket Town and Koh Phi Phi Leh.
Producers got a lot of heat for bulldozing and landscaping sections of Ko Phi Phi Leh beach to make it more "paradise-like" including clearing some of the coconut trees and grass. Local environmentalists weren't going to put up with that!
The lawsuits dragged on for years. In 2006, Thailand's Supreme Court upheld an appellate court ruling that the filming had harmed the environment and ordered that damage assessments be made. Producers had made an allowance for repairing any damage but the 2004 Asian tsunami did its own 'alteration' of the beach.
The crappy old On On Hotel in Phuket Town, depicted in the movie, has had a major make-over since and now a very swish boutique hotel worth visiting anytime.
Did You Know? Ewan McGregor was cast as the main character before leaving due to disputes with the director. It was speculated that Director Danny Boyle was offered additional funding under the condition that DiCaprio be cast and his British character turned into an American (would have been more fun to hear Leonardo doing a British accent).
Around the World in 80 Days (1956 and 2004)
A grand Hollywood epic and a personal passion project for the, then, Mr Elizabeth Taylor, Michael Todd. The epic picture was directed by Michael Anderson and produced by Mike Todd's company who financed the film by selling his Todd-AO 70mm film format. Admittedly, if you blinked, you'd miss the portions of the movie filmed in Thailand. A 2004 version, starring Steve Coogan and Jackie Chan, had segments also filmed in Thailand, posing as a Chinese village. It was a flop. Here's an excerpt from Wikipedia about the original 1956 production…
Filming took place in late 1955, from August 9 to December 20. The crew worked fast (75 actual days of filming). The picture cost just under $6 million to make, employing 112 locations in 13 countries and 140 sets. Todd said he and the crew visited every country portrayed in the picture, including England, France, India, Spain, Thailand and Japan. According to the Time magazine review of the film, the cast including extras totalled 68,894 people; it also featured 7,959 animals, "including four ostriches, six skunks, 15 elephants, 17 fighting bulls, 512 rhesus monkeys, 800 horses, 950 burros, 2,448 American buffalo, 3,800 Rocky Mountain sheep and a sacred cow that eats flowers on cue." There is also a cat, at the Reform Club. The wardrobe department spent $410,000 to provide 74,685 costumes and 36,092 trinkets.
The Impossible (2012)
Shot in 2012 and directed by Juan Antonio Bayona. Hard to leave out this one out as the story was about Phuket, Khao Lak and the Andaman Sea's largest natural disaster – the Asian tsunami of 2004. The story revolves around a British family staying in Khao Lak for their Christmas holidays. The movie starred Ewan McGregor and Naomi Watts. Many Phuket extras were enlisted as extras for the movie. If we had one criticism about this film it would be the focus on the single family whilst the disaster killed up to 250,000 who were never referred to in the film.
Honourable mentions
The 'Special Thanksgiving' Award
'Mechanic: Resurrection' (2016). One big turkey. Probably better off un-resurrected.
The 'Blink and you'll miss it' Award
'Star Wars: Episode III Revenge of the Sith' (2005)
Shot in 2005, directed by George Lucas, the finale of the original six Star Wars episodes. There were a few scenes filmed around Krabi Province to represent the Wookie home planet 'Kaashyyk'. By the time the CGI crew got their hands on the original footage you'd be hard pressed to recognise the scenery.
'Bridget Jones: The Edge of Reason' (2004)
A 2004 sequel of 'Bridget Jones's Diary' and directed by Beeban Kidron that reunites the same cast members: Renée Zellweger as Bridget Jones, Colin Firth as Mark Darcy, and Hugh Grant as Daniel Cleaver. This time, the movie's plot takes them to Bangkok (some scenes were shot along the infamous Soi Cowboy), to Phuket International Airport, Nai Yang Beach, and Panyee Island in Phang Nga Bay.
An exhaustive list of big movies made mostly or partly in Thailand, HERE.
Keep in contact with The Thaiger by following our Facebook page.
Never miss out on future posts by following The Thaiger.
When next in Thailand, don't do these things – VIDEO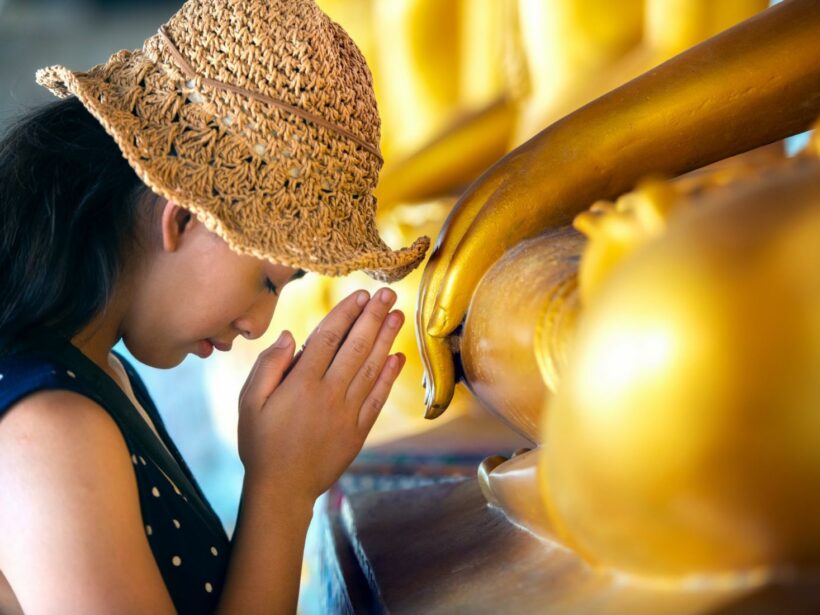 Most of the time you're spoiled for choice with things to do in Thailand. It's what makes the country so popular for overseas visitors, and as a place to live. But there are a few things that may be worth avoiding, despite being available, during your time in the Land of Smiles. Here's The Thaiger's Top 10 list of potential dos and don'ts.
But first, DO, subscribe to our YouTube channel and facebook.com/thethaigernews and keep up to date with everything happening in Thailand.
Keep in contact with The Thaiger by following our Facebook page.
Never miss out on future posts by following The Thaiger.
Top 10 things that changed in Thailand during the Covid outbreak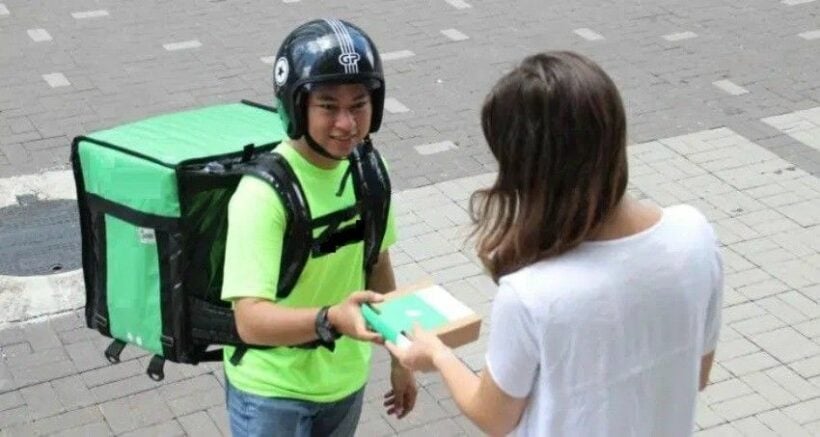 Things have changed. In some cases they've changed a lot and may never be the same again. Many people are suffering as a result of the impacts of lockdowns and the border closures. Entire industries, like aviation and entertainment, have been profoundly affected. Some people are being forced to re-invent their lives as a result. Fears over Covid-19 are causing people to change their habits and re-evaluate their lives. Here are some of the main things we believe have changed since January this year.
Face Masks
The now ever-present face mask will be with us for a long time. In Asia, it was never uncommon to see people wearing face masks for traffic, air pollution, fears of disease or just as a fashion statement.
In the Covid-era, mask wearing will now just become part of what we wear when in public spaces. When we leave home we'll check if we have our keys, our wallet AND our face mask. Even when the government relaxes the current laws about the wearing of face masks, most people, we predict, will continue to wear them anyway, at least in the medium to long term.
Taking Your Temperature
It's everywhere, it doesn't appear to be very effective or reliable, but it's not uncommon to have your temperature taken by someone pointing an infra-red thermometer at your head numerous times a day. The only people that appear to have benefitted from these temperature checks are the manufacturers of infra-red temperature check machines. But in the Covid-era they remain an ever-present reassurance that at least businesses are trying and want to be seen as contributing to the broader public health safety.
Xenophobia

As Thais have pondered the reason their shops closing, their tourist customers vanishing and their income dropping, thoughts turn to the foreigners that brought the virus here in the first place…. and the vast majority of new cases recently, from OVERSEAS!
Either real or imagined, xenophobia and racism always creep in during times of national stress. Many politicians perpetuate the fears to their advantage and right-wing groups thrive on the blame game.
During Covid-19, Thailand has been a wonderful host to the hundreds of thousands of foreigners stuck here to share this testing time. And many foreigners have responded to the crisis by volunteering their time and resources to help struggling locals get through the worst of the local lockdowns and closures.
There has been a few, luckily very few, outbursts by some mis-informed Thai politicians, journalists and local keyboard warriors expressing their frustrations and targeting the foreigners as the butt of their frustrations.
Flying in the Covid-era
While the domestic carriers are all flying again, they're doing it tough. Planes are sometimes half-empty and there's certainly less choice of times and destinations, compared to before the Covid travel restrictions set in.
But it hasn't stopped the budget airlines from making the situation extremely competitive with the fares still very low. The aviation industry will certainly re-emerge with fewer airlines as some will be unable to weather the Covid storm. Even the Thai government's announcement of soft-loans to airlines, with 2% interest, will do little to help and simply kicks the bankruptcy can down the road a few more months.
Confidence
Many business had to close during the lockdown. Some have re-opened. Others tried to re-open but have since closed again. Some are struggling along as best they can, tweaking their business models to cope. But people, through fear or simply being unable to afford it, are going out less and spending less. People are rediscovering the values of close communities, family or the joys of Netflix and at-home entertainment.
The impacts of recessions across the region will have long-lasting, profound effects on consumer confidence and behaviour. People's renewed confidence will lag behind any eventual economic recoveries.
Eating Out
There's been few clear winners in all this Covid mess. But delivery companies are one of them and the local motorcycle delivery services in particular. Grab Food and Food Panda are just two examples of the new way we eat and many restaurants are changing their table service model, and even their take away services, to suit the new normal of food-on-demand. Some restaurants have even closed their doors forever and turned into virtual restaurants, delivering food exclusively through the convenience of app ordering and delivery.
Even as the situation has eased to a large degree in Thailand where a lot of daily living is back to 'normal', people simply aren't going out as much, have pivoted to the delivery services for some shopping and eating, and finding new ways of running their lives, closer to home and with less household outlay.
The Travel Industry
Apart from the obvious lack of international tourism, there's no doubt we're simply going to be travelling less in the short to medium term. Many people will be unable to afford the long holidays of the past and may travel less, or not at all. For business we've found efficient ways to keep in contact without meeting face to face. Had anyone ever heard of "zoom' video conferencing software before Covid?
For the communities that relied on tourism, the changes in their situation has been profound. Businesses are having to reinvent their model to cater for domestic tourism or simply find other ways to diversify their business plan, or just wait out the situation. That wait will eventually kill off a large chunk of local and foreign businesses.
The Economy
Thailand is in recession. So is everywhere else, and the situation, sadly, is likely to get worse as the Covid-era stretches out beyond 2020 and restrictions hold back investment. Some previously good businesses are now out of business. Businesses that were struggling before have been proven unsustainable and closed, probably never to re-open.
Globally, the government stimulus poured into local economies has caused artificial spikes in some stock markets. All this debt will need to be repaid at some stage. In other countries, where the government paid salaries for companies that were forced to close up or sack staff, are finding it hard to ween people off the grants and get them back to work.
In Thailand the economy has been hit hard, particularly in the export , tourism and hospitality industries. The downstream effects of all the staff losing their work, will have an effect on the local economy for many years.
Thailand, reliant on international tourism, has found itself exposed once the borders were closed. As the situation extends way past the 'few months' people were expecting, the full impact is starting to hit hard, particularly in places like Pattaya, Phuket and Chiang Mai. Their reliance on tourism has exposed their economies and left thousands wondering what else they can do to sustain themselves.
Whilst Thailand has recovered quickly from past political unrest, tsunamis and past pandemic threats, this time there will be a much longer path to recovery and will force many businesses to re-evaluate their businesses.
Work from home
Both Thailand's commercial property market and businesses that have previously had centralised offices, have seen a big shift in behaviour. Driven by the need to work from home during the lockdown in April and May, many businesses magically discovered that they can actually function perfectly well with their employees working from home. The flow-on effects of all this is reducing traffic on the roads, lighter peak traffic loads, flexible hours and, of course, larger businesses wondering why they've been renting all this expensive commercial building space. Freelance work is a boom industry as company's work forces move online instead of in-office.
The red light industries
The reality has certainly hit home for tens of thousands of Thailand's sex workers. Although not officially recognised in Thailand, prostitution has been a huge local underground (and not-so-underground) industry in the past, creating its own micro-economy involving locals and international tourists.
Without official government acknowledgment, the jobs of Thai sex workers are not recognised and their salaries vanish once the bars and borders close. No rights, no unemployment pay. The number of prostitutes in Thailand is upwards of 100,000, and these workers have had to head home, many back to the northern and northeast provinces. Thailand's red light districts were locked down for almost 3 months and bars and clubs, and the bar girls and boys, have been struggling ever since.
Keep in contact with The Thaiger by following our Facebook page.
Never miss out on future posts by following The Thaiger.