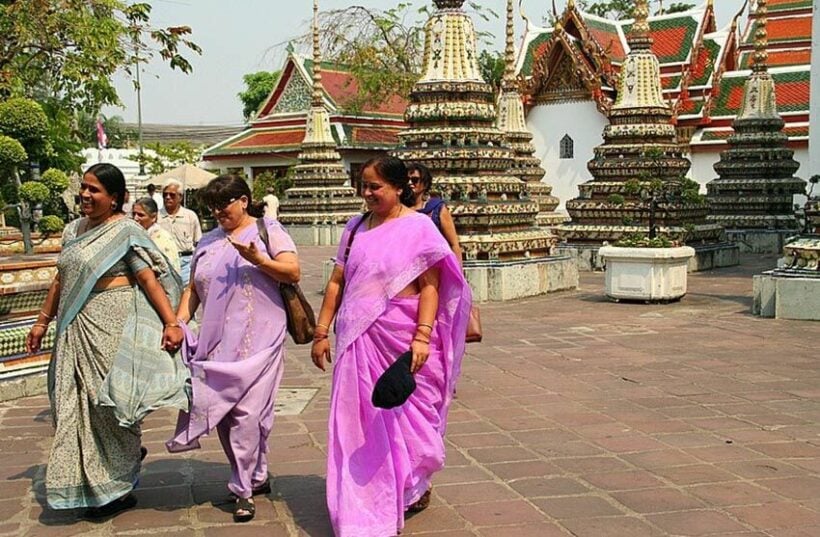 Indians are urging the Thai government to add India to the list of low-risk countries for Thailand's November 1 re-opening. The Bangkok Post reports that the Indian community in Thailand have pointed out how much they can contribute to the economy. The plea comes as Thailand prepares to re-open with minimal quarantine for vaccinated visitors from 46 approved countries. While countries like the UK – currently experiencing a surge in Covid-19 infections – have made the grade, India has not.
According to the Bangkok Post, Satish Sehgal from the India-Thai businessmen association is concerned the exclusion of Indians will send them to other holiday destinations and it will be Thailand's loss.
"Indians of the Bharatas are one of the top five spenders who contribute to Thailand tourism and the world. They come to Thailand for leisure, organising wedding ceremonies, and business. They have been contributing to Thailand's economy for a long time."
Sehgal points to the huge, lavish weddings that wealthy Indians have previously organised in Thailand, whereby hundreds of guests are invited to the kingdom and then go on to spend money on food and shopping.
"The average spending for the marriage party among Indian hosts is millions of baht per person. This spending, especially during this festive season when the government aims to boost the national revenue, will help resurrect hotels and resorts after long slumbers. Besides, after the wedding, the guests travel around and spend a lot on food and goods. If they do not adjust the measure, Indians will change their marriage destination."
The Bangkok Post reports that according to a recent survey of 7,500 Indians interested in Thailand, 60% say they would come straight away, while the remainder would visit around 2 months after the November re-opening.
Meanwhile, in an interview last month, the Indian Ambassador to Thailand, Suchitra Durai, acknowledged India's exclusion from the list, adding that she was in touch with Thailand's Foreign Affairs Ministry on the matter. According to Durai, India has administered over 1 billion vaccine doses to its citizens, with around 40% of them now fully vaccinated.
For more information on how to get into Thailand during the pandemic, CLICK HERE.
SOURCE: Bangkok Post