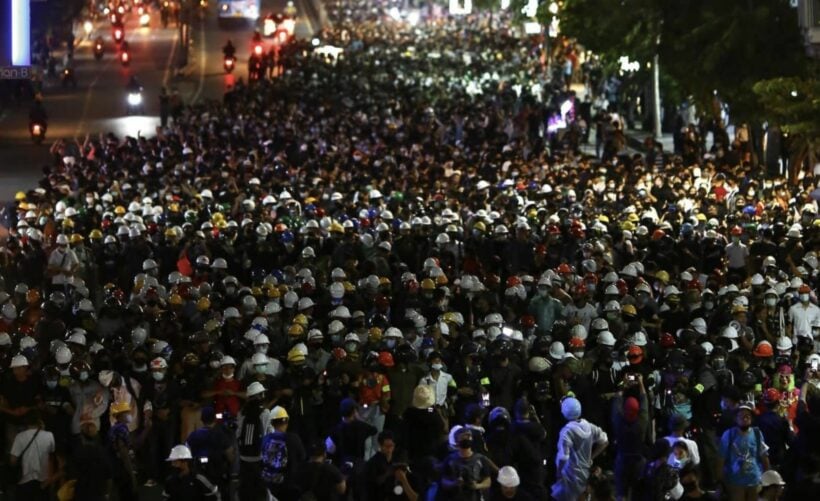 UPDATE: The protesters announced that the rally would end and disperse peacefully at 9.35pm. They wrapped up the gathering after delivering a symbolic letter of demand for the prime minister's resignation at the front of Government House. Apart from some earlier scuffles with police around 7pm, there were no major incidents this evening.
EARLIER: Happening at Bangkok's Government House around 9pm…
Protesters started arriving around 7.30pm, again demanding the PM's resignation, and even had a letter prepared for him to sign, PM Prayut was not at Government Hose at the time. Protesters continued to amass at the front of Government House after breaking through a police cordon at Urupong Intersection. Earlier they gathered at the Victory Monument roundabout (and BTS station).
Police have blocked off the entrance to Government House with 2 public buses, barbed wire and police dressed in riot gear that have been shipped in from Saraburi Province. Protesters are already preparing for a potential confrontation and are dressing in raincoats, hardhats, goggles and armed with umbrellas, presumably in anticipation of another spray from the water cannons. They continue to shout "Prayut, get out!" Protest leaders are also calling on the growing crowd to remain "chilled" and not resort to violence.
"If he won't resign, we won't go home."
Behind the 2 buses there are also the high powered water cannons which were used against protesters last Friday night at the Prathunwan intersection in central Bangkok. Despite the calls for the continuation of a peaceful protest, both sides appear ready for some conflict this evening. Earlier protesters were demanding the release of some of the movement leaders who continue to be arrested with an array of charges, some still in detention in prisons north of the city.
The Prime Minister appeared on television tonight at 7pm and committed to the Thai people to help resolve the current impasse between the widening protest movement and the Government. He went on to say that his government "is prepared to withdraw emergency rules banning large gatherings in Bangkok" if the growing protest movement "remains peaceful".
"At this point, we all need to take a step back, to step back from the brink, away from the path that would plunge Thailand into disaster."
PM Prayut did no address the issue of the demands for his resignation.
An emergency session of Parliament has been scheduled for next Monday and Tuesday where opposition parties say they will challenge the government coalition to address the demands of the protesters, including the tetchy issue of reforming the role of the Thai monarchy.