Lilly wages war on Thailand's plastic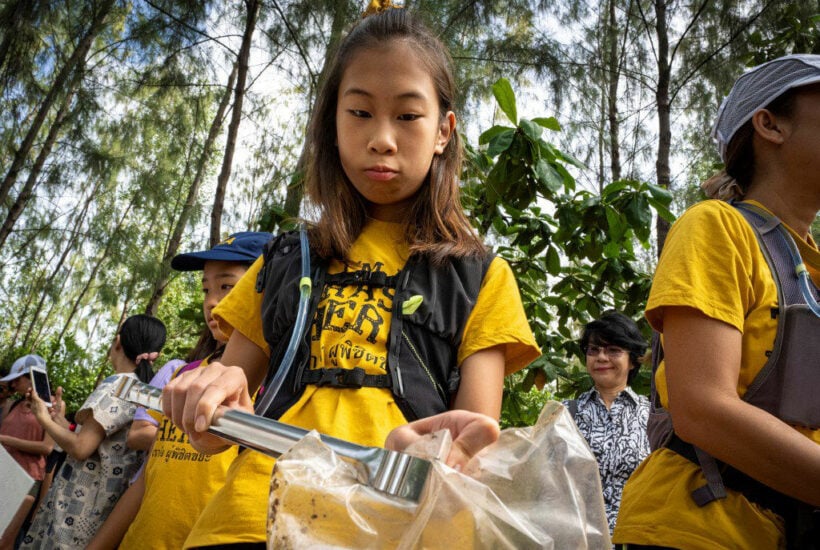 Skipping school to glide through a dirty Bangkok 'klong' on a paddleboard, Lilly fishes out rubbish in her mission to clean up Thailand, where the average person uses eight plastic bags every single day. Single-use plastic is now on the radar in Thailand and has become a hot topic on social media.
"I am a kid at war," the bubbly 12 year old says after a painstaking hour-long routine picking up cans, bags and bottles bobbing in the canal.
"I try to stay optimistic but I am also angry. Our world is disappearing."
Thailand is the sixth largest global contributor to ocean pollution, and plastic is a scourge.
Whether it's for wrapping up street food, takeaway coffees or for groceries, Thais use 3,000 single use bags per year – 12 times more than someone from the EU.
In June, Lilly won her first victory: she persuaded Central, a major supermarket in Bangkok, to stop giving out plastic bags in its stores once a week.
"I told myself that if the government did not listen to me, it would be necessary to speak directly to those who distribute plastic bags and convince them to stop."
This month some of the biggest brands, including the operator of the ubiquitous 7-Eleven convenience stores, pledged to stop handing out single-use plastic bags by January next year.
Mindsets have started to shift this year with the deaths of several marine mammals whose stomachs were lined with plastic, stirring emotions.
The demise last month of a baby dugong was mourned on social media, reviving discussion in the government over a proposed ban on most single-use plastics by 2022.
But critics say along with new rules there need to be enforcement mechanisms such as fines.
For now young activists like Lilly can help capture attention.
"You might be able to tune out all of the evidence and advocacy in the world, but it's very hard to ignore a child when they ask why we're trashing the planet that they have to live on," says Kakuko Nagatani-Yoshida, regional coordinator for chemicals, waste and air quality with UN Environment.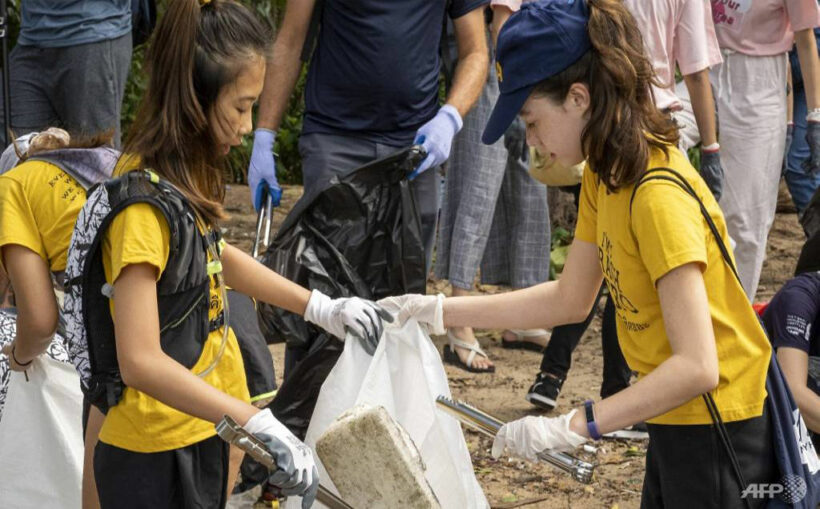 'It's up to us'
'Lilly' is Ralyn Satidtanasarn's nickname.
The US-Thai youngster started campaigning at the age of eight after a seaside vacation in southern Thailand where she was horrified by a beach covered in rubbish.
"We cleaned up with my parents, but that was not helpful because other waste was thrown out by the sea the next day," she recalls.
Then came the global movement initiated by 16 year old Greta Thunberg, who has become a key face in the battle against global warming.
Inspired by the young Swede, Lilly did sit-ins in front of the Thai government buildings.
"Greta Thunberg gave me confidence. When adults do not do anything, it's up to us children to act," she insists.
Though she often skips class to carry out her activism, she will not be in New York alongside Thunberg for a protest on September 20 just days before the UN climate conference.
"My place is here, the fight is also in Southeast Asia," she says.
Even if she sometimes wants to take a break and "go play" like other kids, she also takes part in cleaning sessions organised by local association Trash Hero.
Other activists praise her but say she is up against massive corporate interests.
The main obstacle is the petrochemical industry, one of the main markets for plastics, accounting for 5 percent of Thailand's GDP and tens of thousands of jobs.
"Lilly is a very good voice for the youth of this country but the lobbies are very powerful and that makes any change difficult," concedes Nattapong Nithiuthai, who set up a company turning discarded waste into flip flops.
She can also count on the support of her parents, who help her write speeches to the UN and government officials.
Her mother, Sasie, herself a former environmental activist, adds: "At first, I thought it was a child's fad, but Lilly hung on, so I decided to support her."
SOURCE: Agence France-Presse
Keep in contact with The Thaiger by following our
Facebook page
.
Bangkok's Ying Charoen wet market reopens after fire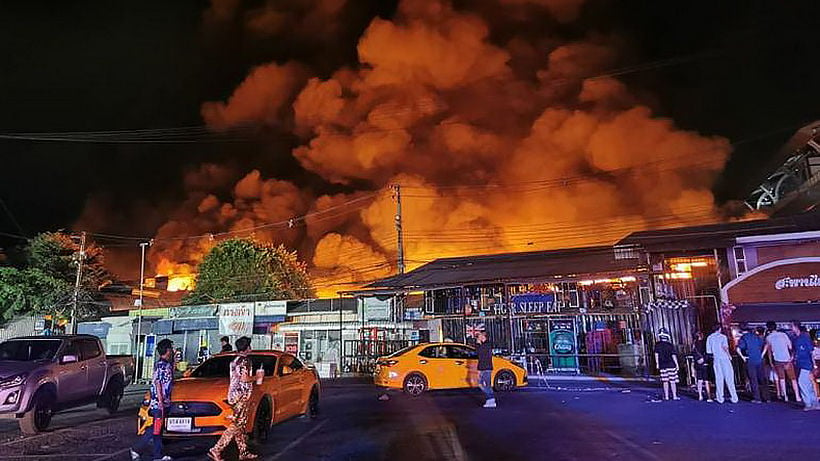 Most of the Ying Charoen market in Bangkok's Bang Khen district reopened after fire destroyed about 160 stalls. Earlier estimates put the number at around 50 stalls. No injuries were reported. The blaze in the 30 rai compound reportedly began at a bakery at about 3am and quickly spread to nearby stalls. It took firefighters about 2 hours to control the flames.
Officials say about 200 vendors have been affected. They are being allowed to sell their goods in the market's car park for the time being. About 10% of the market structure was damaged and remains cordoned off, as 70% of stalls reopened. There were about 1,500 stalls trading at the 65 year old market, the area's oldest.
One of the structures damaged was a gold shop, whose owner estimated damages would exceed 1 million baht.
SOURCE: Bangkok Post
Keep in contact with The Thaiger by following our
Facebook page
.
Thai nightlife grapples with "new normal"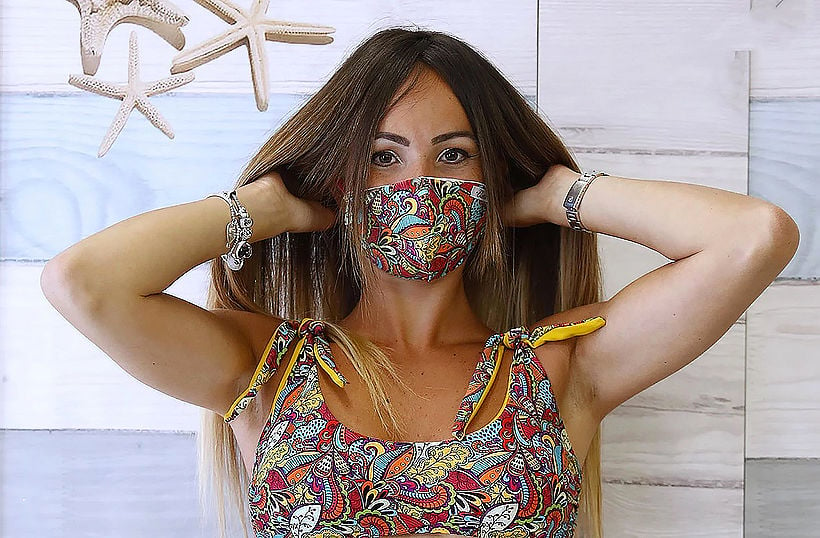 Thailand's nightlife scene is grappling with a 'new normal' as changes upon its recent reopening see facemasks joining the normal bikini wear in red-light districts across the Kingdom.
After being forced to close for more than 3 months in order to stop the spread of Covid-19,bars, karaoke venues and massage parlours are in the latest category of businesses allowed to reopen under new conditions, now that Thailand has gone more than a month without any community transmission of the virus.
The reopening means a return to work for hundreds of thousands of people in the nightlife industry who have struggled to survive. "Bee," a 27 year old dancer, who goes by her stage name at the XXX Lounge in the Patpong district, said:
"I lost all my income. I'm glad that I can come back to work in a job that I'm good at. I'm ok with the mask because it's one of the precautions."
All customers must have their temperature taken before entering, and must give a name and telephone number or register with the Thai Chana app. Inside, everybody must sit at least one metre apart, and 2 metres from the stage. But one British expatriate questioned the need:
"You can take a BTS train in the morning with 200 people on a packed train but then you come into a bar and still have to sit 2 metres apart."
The government has staggered the reopening of public places over several weeks with schools, colleges and universities officially resuming yesterday.
Despite a low death toll (58 out of 3,173 infections- a relatively low number even within the region), Thailand's economy is expected to sink further than any other in Southeast Asia, with the number of foreign tourists expected to drop 80% or more this year.
At the Dream Boy club in Bangkok's Patpong Soi 1, bare-chested men with face shields tried to entice the few passersby off the street, but many businesses remain shut and those who have opened are only seeing a few customers.
"There are bars all over Bangkok that have been open for 10 to 15 years and now they are closed and they are not coming back."
SOURCE: Bangkok Post
Keep in contact with The Thaiger by following our
Facebook page
.
Old Bangkok market damaged by large fire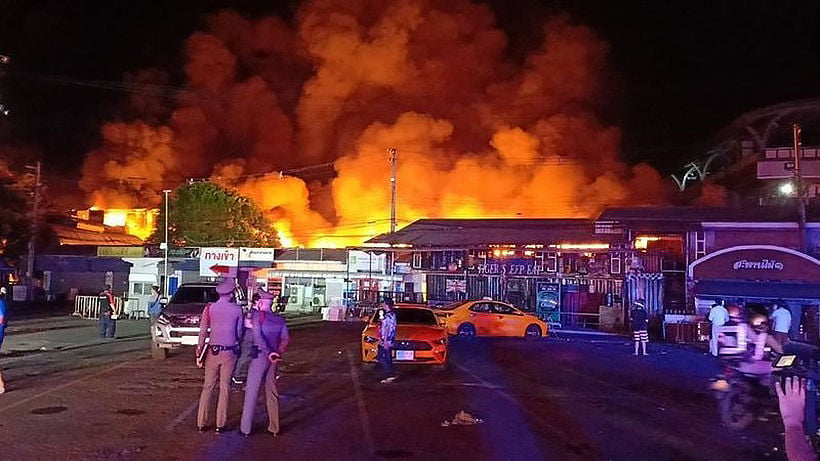 An old Bangkok market was reportedly damaged by a large fire early this morning, taking over 20 fire trucks and at least two hours to put out the blaze.
Ying Charoen Market, in Bangkok's northern Bang Khen district, saw vendors fleeing the flames and taking their merchandise with them after firefighters were called to the scene at 3 am. The fire, which took down the areas' oldest market, reportedly left no injuries due to the market being closed at the time. Investigators this morning are still trying to determine the cause of the fire.
A 33 year old market employee, said the fire destroyed about 50 stalls in a part of the market selling miscellaneous goods. The market, which is made of wood, has about 1,500 stalls in total. He said it was the first fire at the market in its 65 years of being open.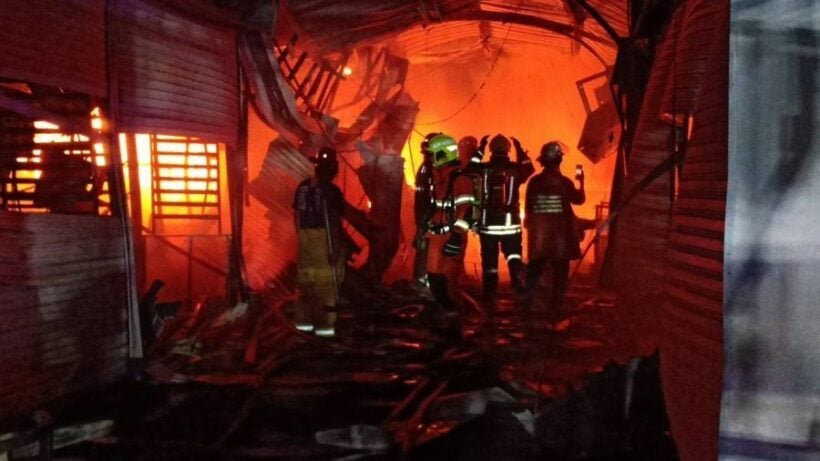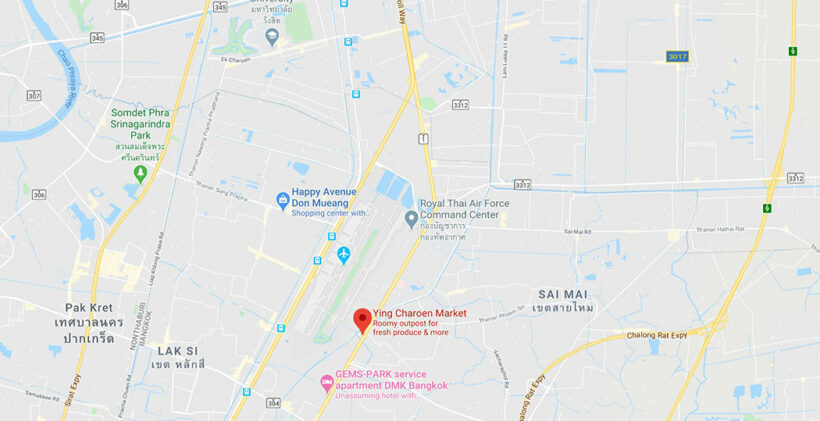 SOURCE: Coconuts Bangkok | Nation Thailand
Keep in contact with The Thaiger by following our
Facebook page
.