Lilly wages war on Thailand's plastic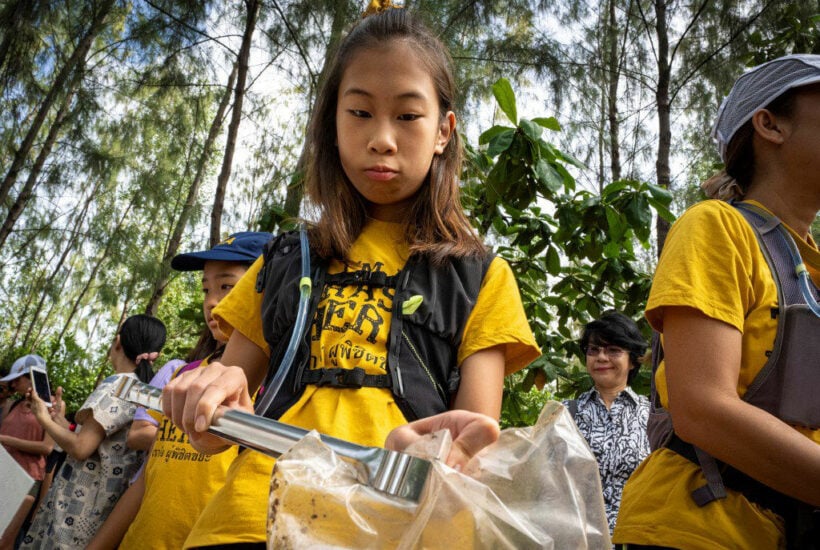 Skipping school to glide through a dirty Bangkok 'klong' on a paddleboard, Lilly fishes out rubbish in her mission to clean up Thailand, where the average person uses eight plastic bags every single day. Single-use plastic is now on the radar in Thailand and has become a hot topic on social media.
"I am a kid at war," the bubbly 12 year old says after a painstaking hour-long routine picking up cans, bags and bottles bobbing in the canal.
"I try to stay optimistic but I am also angry. Our world is disappearing."
Thailand is the sixth largest global contributor to ocean pollution, and plastic is a scourge.
Whether it's for wrapping up street food, takeaway coffees or for groceries, Thais use 3,000 single use bags per year – 12 times more than someone from the EU.
In June, Lilly won her first victory: she persuaded Central, a major supermarket in Bangkok, to stop giving out plastic bags in its stores once a week.
"I told myself that if the government did not listen to me, it would be necessary to speak directly to those who distribute plastic bags and convince them to stop."
This month some of the biggest brands, including the operator of the ubiquitous 7-Eleven convenience stores, pledged to stop handing out single-use plastic bags by January next year.
Mindsets have started to shift this year with the deaths of several marine mammals whose stomachs were lined with plastic, stirring emotions.
The demise last month of a baby dugong was mourned on social media, reviving discussion in the government over a proposed ban on most single-use plastics by 2022.
But critics say along with new rules there need to be enforcement mechanisms such as fines.
For now young activists like Lilly can help capture attention.
"You might be able to tune out all of the evidence and advocacy in the world, but it's very hard to ignore a child when they ask why we're trashing the planet that they have to live on," says Kakuko Nagatani-Yoshida, regional coordinator for chemicals, waste and air quality with UN Environment.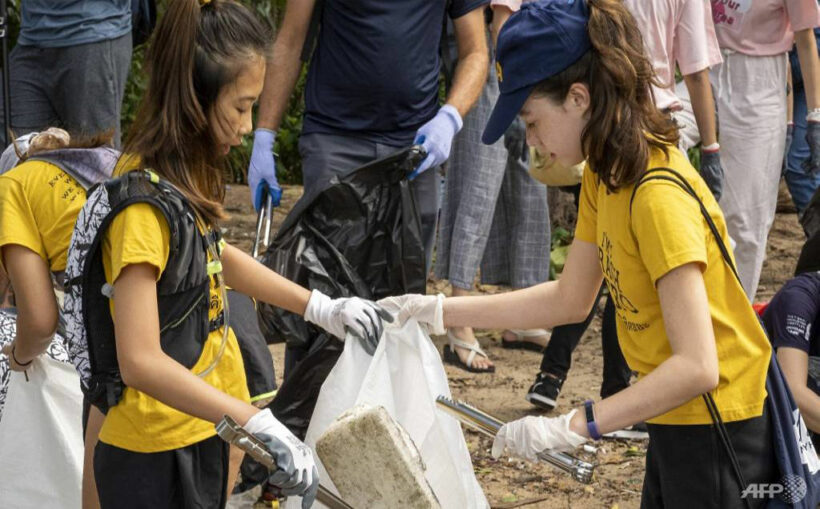 'It's up to us'
'Lilly' is Ralyn Satidtanasarn's nickname.
The US-Thai youngster started campaigning at the age of eight after a seaside vacation in southern Thailand where she was horrified by a beach covered in rubbish.
"We cleaned up with my parents, but that was not helpful because other waste was thrown out by the sea the next day," she recalls.
Then came the global movement initiated by 16 year old Greta Thunberg, who has become a key face in the battle against global warming.
Inspired by the young Swede, Lilly did sit-ins in front of the Thai government buildings.
"Greta Thunberg gave me confidence. When adults do not do anything, it's up to us children to act," she insists.
Though she often skips class to carry out her activism, she will not be in New York alongside Thunberg for a protest on September 20 just days before the UN climate conference.
"My place is here, the fight is also in Southeast Asia," she says.
Even if she sometimes wants to take a break and "go play" like other kids, she also takes part in cleaning sessions organised by local association Trash Hero.
Other activists praise her but say she is up against massive corporate interests.
The main obstacle is the petrochemical industry, one of the main markets for plastics, accounting for 5 percent of Thailand's GDP and tens of thousands of jobs.
"Lilly is a very good voice for the youth of this country but the lobbies are very powerful and that makes any change difficult," concedes Nattapong Nithiuthai, who set up a company turning discarded waste into flip flops.
She can also count on the support of her parents, who help her write speeches to the UN and government officials.
Her mother, Sasie, herself a former environmental activist, adds: "At first, I thought it was a child's fad, but Lilly hung on, so I decided to support her."
SOURCE: Agence France-Presse
Keep in contact with The Thaiger by following our
Facebook page
.


Have something to say? Scroll down to leave a comment, or visit our Thaiger Thailand Q&A Forum to discuss people, events, to-do and more with the local community.

Read more headlines, reports & breaking news in Bangkok. Or catch up on your Thailand news.

Thai King and Queen to open Chinatown exhibition this evening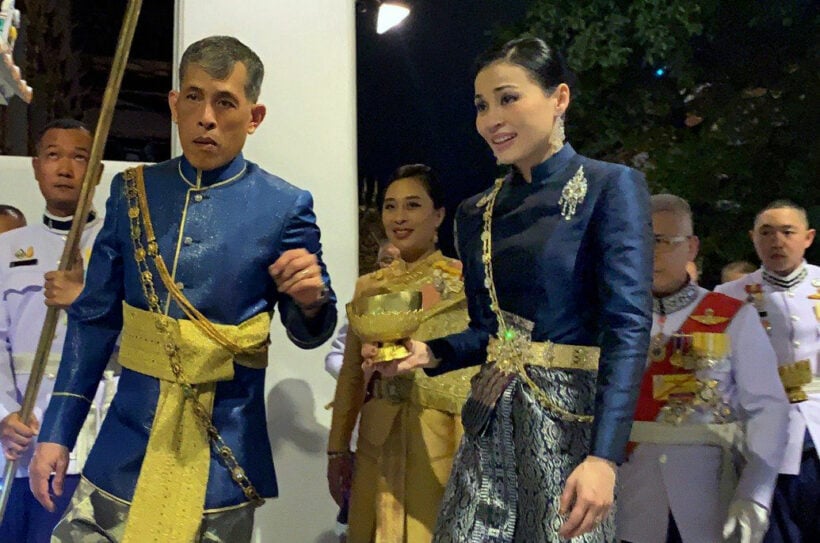 PHOTO: South China Morning Post
HM The King and HM The Queen will tour Chinatown in Bangkok this evening to preside over the opening of the Chalerm Phrakiat exhibition. The exhibition showcases the biographies and Royal activities of previous monarchs of the Chakri dynasty (Ramas 1-10).
Their Majesties are scheduled to leave the Ampornpaisarn Throne Hall in the Dusit Palace at 4.50pm and head to Trai Mitr Withayaram Temple where they will preside over the opening of the new exhibition.
They will tour the exhibition grounds and watch a documentary featuring the Royal activities of the former kings of the Chakri dynasty in the exhibition's 'LED tunnel'. Then the Royal couple will visit the Thienfah Foundation Hospital to pay respects to the statue of the Chinese goddess Guan Yin before meeting the people, mostly Thais of Chinese descent, along the Suapa and Charoen Krung roads and at Mangkorn Kamalawas Temple.
Yaowarat Road has been beautifully decorated with lighting, symbolic flags in yellow and blue, with banners reading "Long Live the King" hung across the road, to welcome Their Majesties to Bangkok's old Chinese community.
Mr. Jitti Tangsitpak, chairman of the Thai-Chinese chamber of commerce and chairman of the organising committee, said that officials are making the final touches to all the decorative arrangements to make sure they are perfect before the Royal visit.
SOURCE: Thai PBS World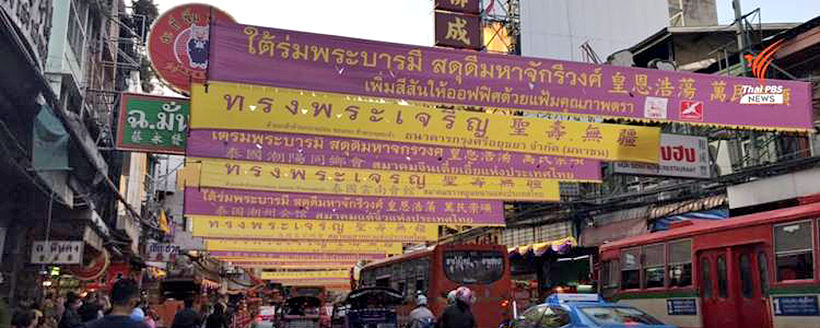 Keep in contact with The Thaiger by following our
Facebook page
.
Over 50 Chinese youth arrested for running scam call centre from Samui hotel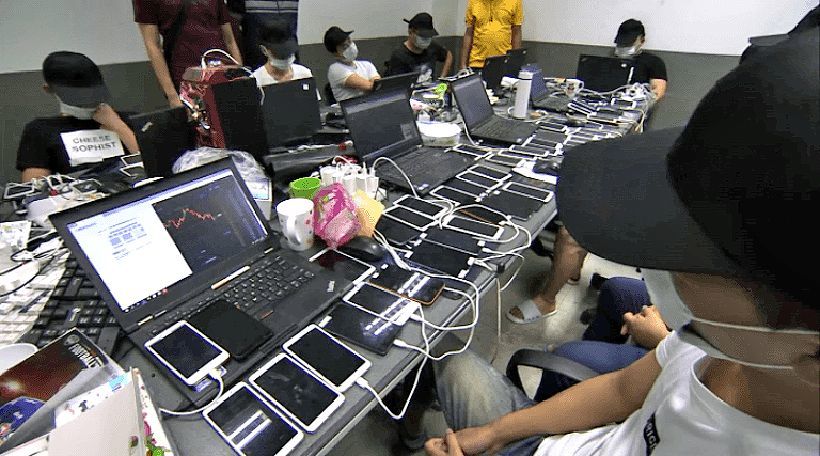 PHOTOS: CTN News
54 enterprising teenagers, most from China, have been arrested for running a call centre scam from a Koh Samui resort. The Chiang Rai Times reports that the arrests happened after police received a tip-off from a Chinese person who had worked for the call centre.
Police say the Chinese teenagers were enticed to come and work for the gang, which was running over 100 chat rooms tricking victims into parting with their cash. Workers at the call centre were given a target of 5 million baht to be raised from each person they spoke to.
Part of the con consisted of persuading other Chinese nationals to invest in fake stocks. Once the victim fell for the scam and transferred the funds, the app being used was closed down.
The gang leader is reportedly still at large and in possession of the Chinese teenagers' passports. Police believe he has not left Thailand. Meanwhile, the 54 workers have all been charged with working illegally in Thailand.
In another bust in Bangkok yesterday, 24 Chinese people were arrested for running another call centre that duped fellow nationals into investing in a cryptocurrency-style scam. It's understood the scam had been running since March.
The workers were arrested at various rental properties around the capital, with more than 500 mobile phones and dozens of computers seized. Immigration Police say they're working to identify any Thai nationals who may have been part of the operation.
SOURCE: Chiang Rai Times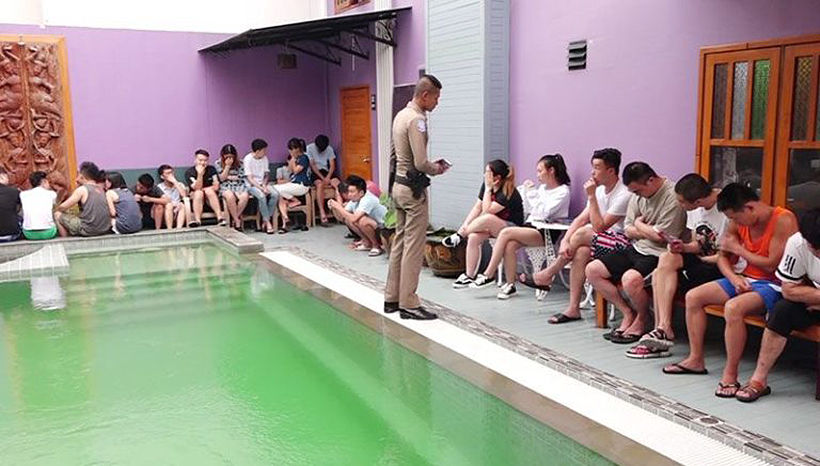 Keep in contact with The Thaiger by following our
Facebook page
.
Lucky racer blames oil slick in Ferrari crash in Samut Prakan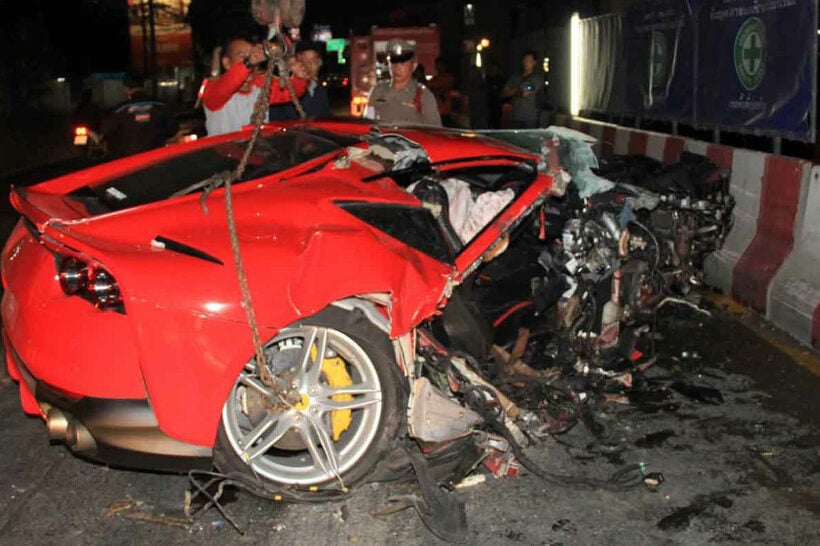 PHOTO: Sutthiwit Chayutworakan
A beverage maker and auto racer, and his actress passenger, have escaped with only minor injuries after his Ferrari crashed in Samut Prakan, just south of the capital. The vehicle hit a concrete barrier at a monorail construction site and the front of the red car was almost completely destroyed.
36 year old Sarawut Sereetoranakul was trapped in his seat inside the totalled Ferrari, with a broken right leg. Rescue workers used hydraulic 'jaws' to extract him. Looking at the photo, the two occupants were lucky to survive.
Sereetoranakul is the managing director of JS Asia Beverage Company, and races professionally for the PSC Motorsport team. His passenger was 25 year old actress Sananthachat Thanapatpisal, aka. Fon Hormones, who suffered slight chest pains as a result of the crash. They were taken to a nearby hospital and later referred elsewhere.
Sereetoranakul told police that it felt like the vehicle slid on an oil patch, causing him to lose control and plough into the concrete barrier in the middle of the road. Police are checking local CCTV and investigating the accident.
SOURCE: Bangkok Post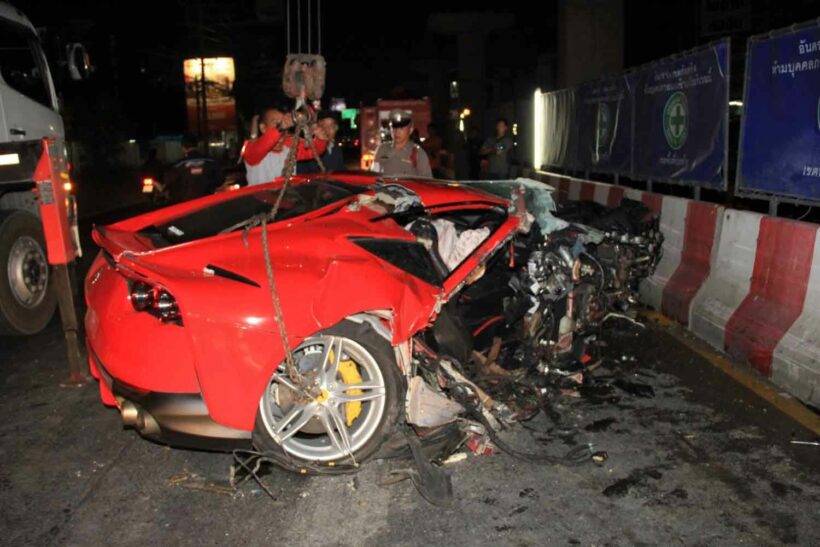 Keep in contact with The Thaiger by following our
Facebook page
.