Central Bank of Thailand voices concern over impact of economic slowdown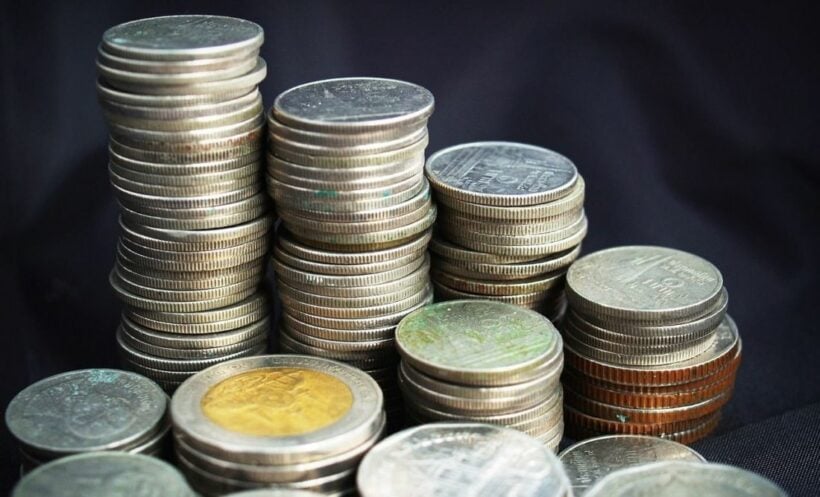 PHOTO: Thai PBS World
The Bank of Thailand has expressed concern about the country's rising household debt as a result of the sluggish economy.
The bank's assistant governor Titanun Mallikamas was speaking on Monday, in response to the National Economic and Social Development Council raising the matter at a press conference.
"We are closely monitoring household debts, as Thai families are vulnerable to an income shock during the economic slowdown."
Household debt nationwide stands at 13 billion baht, a rise of 6.3%, which accounts for 78.7% of total GDP. This is the highest level since the first quarter of 2017.
Addressing August's low inflation rate of 0.52%, which has raised concerns of economic deflation, Assistant Governor Titanun says that inflation in recent months has been lower than the 1% target for the whole year.
He noted that at its last meeting, the central bank expressed worries about low inflation and slower economic growth, leading to a decision to cut the rate by 25 basis points to 1.5%.
Titanun says the bank's actions will help grow the economy and that inflation could return to the 1% target.
It's understood that the central bank and Finance Minister Uttama Savanahyana plan to discuss the inflation target and resulting monetary policy, but Titanun made no comment on whether the interest rate would be lowered again.
SOURCE: The Nation
Keep in contact with The Thaiger by following our
Facebook page
.
Domestic tourism stimulus package registration starts July 15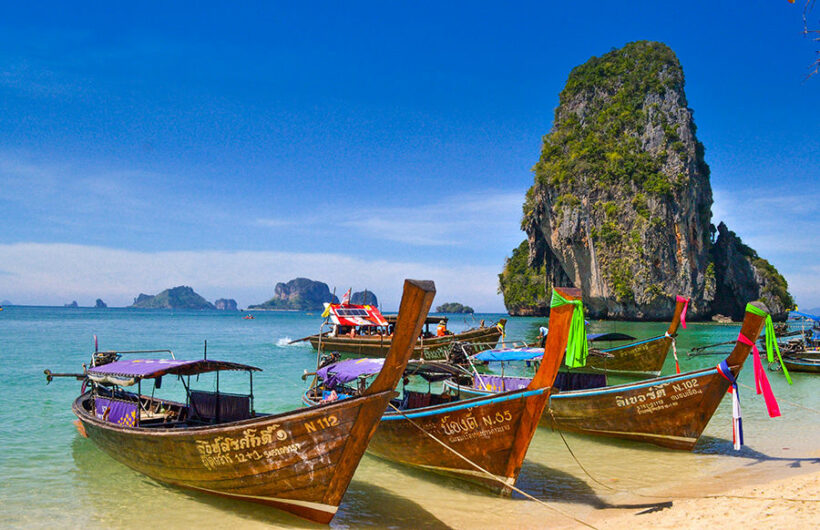 Thai nationals, who are 18 years or older, can start registering for the domestic tourism stimulus package on July 15. The government's "Rao Tiew Dauy Kan" (We Travel Together) scheme entitles 5 million Thais to discounts on hotels and eating out, while 2 million can get rebates on flight tickets. A report in the Nation Thailand says the arrangement will be in place until October 31.
The Thai government is aiming to kick-start a 'safe' domestic tourism whilst slowly prising open its borders to foreigners, and the risk of new infections.
Interested travellers must register through the official website, using the "Pao Tung (Wallet)" app. Discounts and rebates will be available until the allocated quota is used up. Hotel discounts will be for one room over five nights and can be spread over different hotels. If a guest wants to book five rooms in any one hotel, they will only receive a discount for one night. It's understood the cost of a room will be reduced by 40% or a maximum of 3,000 baht.
Travellers can register between 6 am and 9 pm and will receive a confirmation via SMS. Once the text is received, hotel accommodation must be booked through officially-sanctioned channels and online travel agencies in order to qualify for a discount. Confirmed bookings will then appear in the "Pao Tung" app, along with details of the non-refundable payment that needs to be made through the app.
On arrival at their hotel, travellers will again need to use the app to check-in and use the 600 baht electronic voucher, which will appear in the app. With this, they can receive discounts at participating restaurants and attractions. A 600 baht credit will be added to the app for every night they stay at the hotel, with vouchers expiring at 11.59 pm on the day of departure. Vouchers can be used in any province in the country, with the exception of a person's home province (determined by their house registration book).
Those taking domestic flights can register for a 40% rebate on the cost of their ticket, up to 1,000 baht. The full cost must first be paid upfront, with the refund later credited back to their "Pao Tung" wallet.
SOURCE: Nation Thailand
Keep in contact with The Thaiger by following our
Facebook page
.
US ambassador meets deputy PM to discuss Thailand's "great investment potential"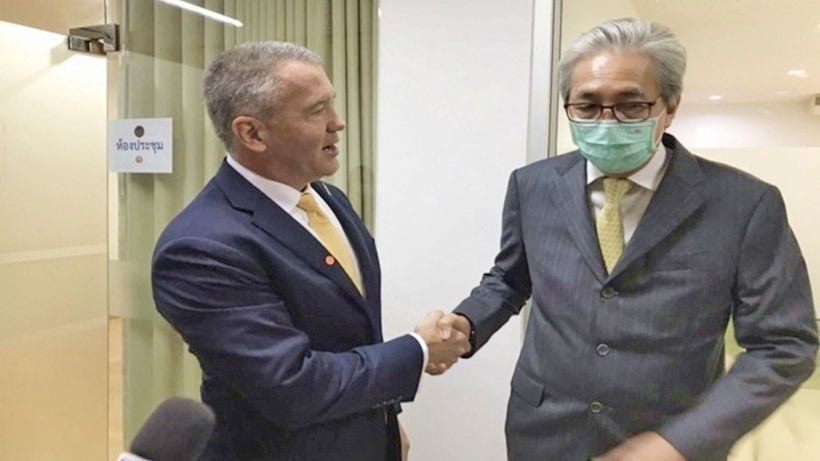 US Ambassador to Thailand Michael George DeSombre, who raised eyebrows in May when he described the US as "a better friend than China," has praised the kingdom's "great investment potential", highlighting the expansion of current projects and further support for industry as ways to promote further cooperation. Deputy PM Somkid Jatusripitak welcomed the ambassador to the open discussion amongst key trade officials.
The US Ambassador chose not to wear a facemark during the visit.
The DPM and the ambassador discussed cooperation between the 2 nations, to help strengthen the economies of both countries and promote more US investment in Thailand. The ambassador says Thailand has huge potential and suitability for US companies to invest, especially as part of the supply chain of the South East Asia region.
Somkid says DeSombre is enthusiastic about the development of mutual economic relations, revealing that the ambassador proposed ideas on what industries should receive more support from both sides.
The ambassador expressed confidence that Thailand will become a technological hub in the region, with immense growth potential in the manufacturing and service sectors, as well as stock exchanges that could connect to Hong Kong and Shenzhen.
"Thailand provides excellent medical services, an area which could be expanded to reach more clients and patients…. related agencies are ready to develop mutual exchange packages through the Board of Investment, to promote competitiveness and attract investment."
The DPM said Thailand doesn't need standalone investment from individual companies, but rather demands investment packages, which the ambassador says he'll be proposing soon.
Somkid also stressed that he's still working on the country's domestic and international economic affairs, while declining to comment regarding the recent political developments in ruliing Palang Pracharath Party.
Thailand's economic ministers will meet on Friday to discuss 2 main economic packages.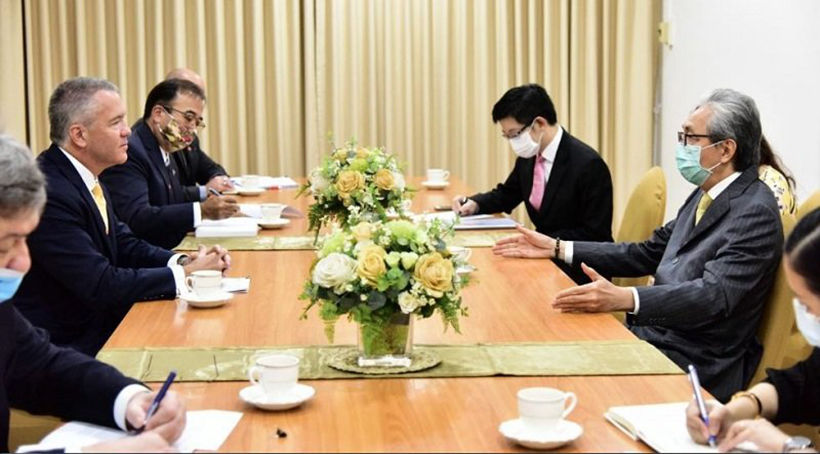 SOURCE: NNT
Keep in contact with The Thaiger by following our
Facebook page
.
Thai PM expresses concern over "travel bubbles"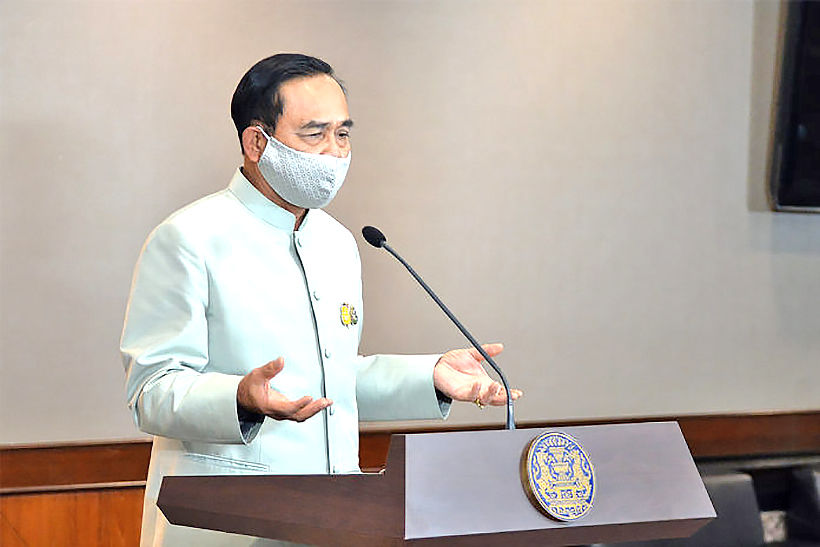 PM Prayut Chan-o-cha has expressed serious concerns about the resumption of international travel under the "travel bubble" scheme, stressing that Thailand must implement a vigorous arrivals screening protocol. The scheme is a proposed limited resumption of international travel to and from countries with a reciprocal agreement.
The Thai government has indicated it has taken a risk-averse stance with future Covid-19 legislation after largely getting the local outbreak under control in late May, early June. There hasn't been a locally transmitted case in Thailand for 40 days.
Prayut discussed the proposed scheme with the media, saying Thailand must be prepared to allow the resumption of some international travel, with the other countries involved to be carefully considered, and adding that a full agreement must be reached, to ensure compliance with public health measures at the national level.
The PM says the government is concerned about the prospects of international aviation and the country's external revenue.
During this long weekend, the Ministry of Finance expects up to 10 billion baht in cash flow from domestic economic activities. The PM says Thais are now making more domestic trips, with many hotels reporting a slow return of customers, thanks to the further easing of Covid-19 restrictions. But tourist locations, like Pattaya and Phuket, remain quiet due to their popularity with foreign visitors.
The PM stressed that all businesses "must remain strict with their precautionary measures in order to minimise the risk of a new outbreak of the virus".
SOURCE: Press Release from Thai National News Bureau
Keep in contact with The Thaiger by following our
Facebook page
.