Clean Up to the Countdown – Crackdown on illegal software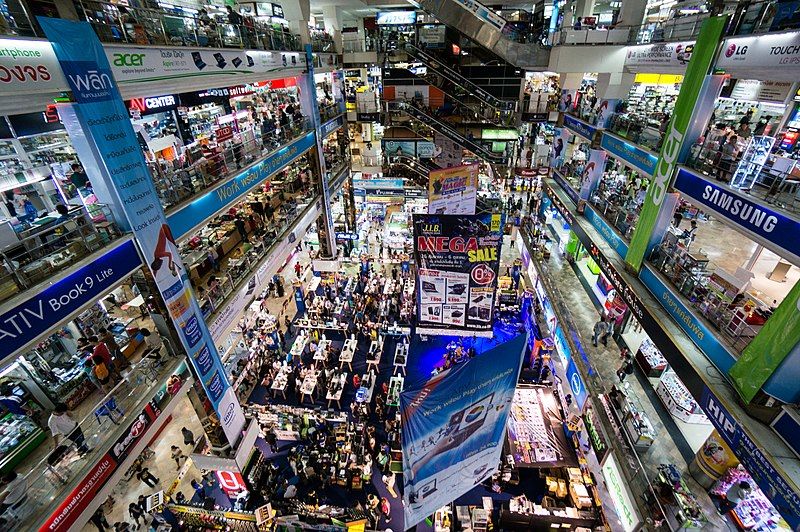 PHOTO: Pantip Plaza, Bangkok
The Clean Up to the Countdown campaign aims to encourage top executives to legalise their corporate software before midnight on December 31, 2019."
BSA The Software Alliance is partnering with Thai police and chief executives on a campaign to crackdown illegal software in the workplace by the end of 2019. Many companies still use illegal, pirated or copied computer software.
This campaign will target 10,000 companies across Thailand that are thought to be using illegal software. This includes corporations in a variety of business sectors, such as manufacturing, construction, banking and finance, engineering, architecture, media, design, IT and healthcare. Many of these companies are known users of software, but lack license agreements from software providers.
The Nation reports that the BSA is working with police to ramp up enforcement against corporations using illegal software and has already helped identify nearly 10,000 companies in 10 provinces suspected of using illegal software.
The Economic Crime Suppression Division wants to see business leaders take a proactive approach to cleaning up their corporate software assets so that they can enter 2020 fully legal and compliant. From now until the end of the year, it will continue to raid companies suspected of not complying with Thai laws protecting software copyright.
While ECD enforces the Thai laws, BSA is contacting thousands of corporate leaders in Thailand to offer guidance and advice in addressing illegal software use in the workplace.
BSA Senior Director Tarun Sawney believes that some CEOs may be aware their company is using illegal software and are wary of investing in genuine software.
"But there are other CEOs whose companies have hundreds or thousands of PCs, who simply may not be aware of the type of software running on their corporation's PCs, and whether it is legal or not."
"BSA wants to help CEOs do the right thing but this requires that CEOs take a hands-on approach to addressing the risk of using illegal software in business operations. Our advice is that CEOs treat the risk of illegal software with the utmost importance. This means being hands-on and proactive. CEOs can and should control this risk factor."
The solution, according to the software industry, includes a better effort by CEOs at self-policing their own use of software by corporations in Thailand. The Clean Up to the Countdown campaign is a part of Legalize and Protect initiative launched earlier this year. So far, the initiative has helped thousands companies in Thailand legalize their software assets and protect data from malware and hackers.
SOURCE: The Nation
Keep in contact with The Thaiger by following our Facebook page.
Never miss out on future posts by following The Thaiger.
16 Thai Navy officials investigated for alleged involvement in drug trafficking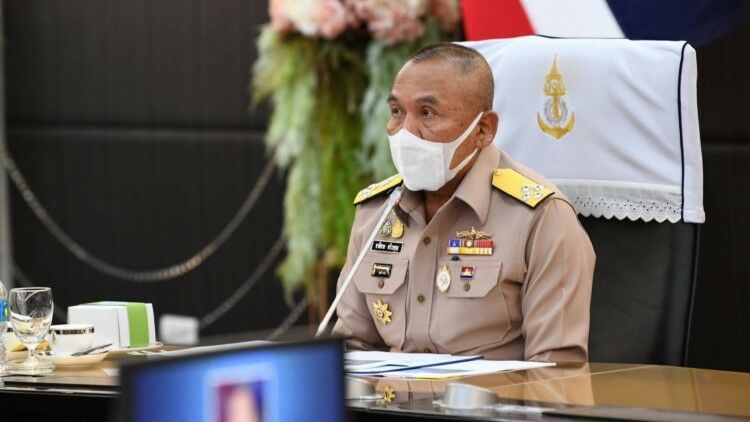 The Royal Thai Navy is investigating 16 of its officials for alleged involvement in a drug trafficking operation earlier this month in the Isaan province Nong Khai which borders Laos. If the officials are found guilty, the Navy will immediately take both disciplinary and legal action, according to a spokesperson.
Local officials reportedly seized 2 million amphetamine tablets and 116 kilograms of methamphetamine from a suspect who allegedly smuggled the drugs across the Mekong River, which borders the province. The suspect allegedly fled the scene.
2 Navy officers took the drugs from local officials, saying they would secure the evidence and hold a press conference, which never happened, according to a complaint filed with the Anti-Corruption Police by the Crime Victims Assistance Club chairperson.
"About 20 minutes after the drug seizure, two men who claimed that they were officials from Navy's Mekong Patrol Operation Command took the drugs from Nong Khai officials, saying that they would secure the evidence and later hold a press conference on the drug seizure… However, the press event was later cancelled."
SOURCE: Nation Thailand
Catch up with the latest daily "Thailand News Today" here on The Thaiger.
Keep in contact with The Thaiger by following our Facebook page.
Never miss out on future posts by following The Thaiger.
Police arrest man suspected of producing ketamine drug cocktail linked to 11 deaths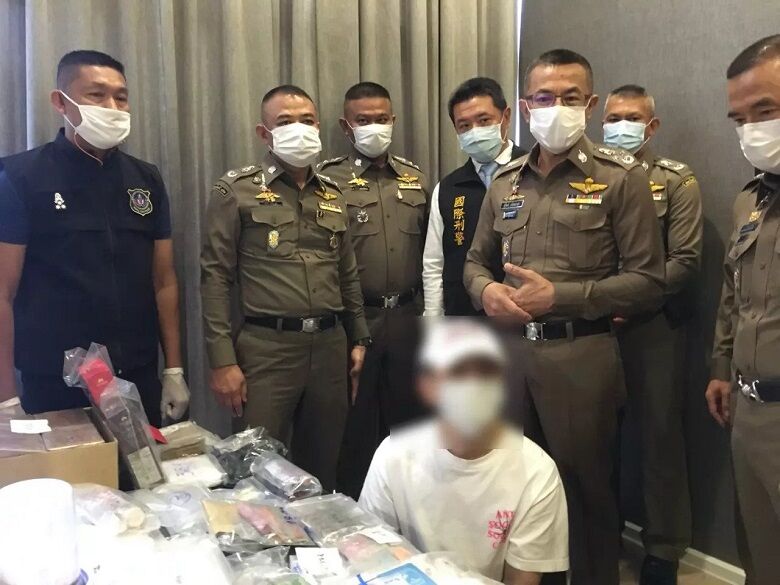 In the ongoing investigation into the ketamine-based drug cocktail linked to 11 deaths in Bangkok, police arrested a man who allegedly mixed large amounts of narcotics to make the drug cocktail known as "K powdered milk." Police say the cocktail is ketamine mixed with methamphetamine, heroin and pharmaceutical pills for anxiety and sleeping.
38 year old Taiwan national Chou Yi Sen, aka "Lupin Taiwan," was arrested yesterday after police raided his condominium in Bangkok's Ratchathewi district. Chou allegedly admitted to mixing the drugs to make "K powdered milk" and police say the formulas for the drug mixture were found on his cell phone.
Earlier this month, 11 people died after taking the drug cocktail. The Bangkok Post says dozens more people are still in the hospital after taking the "K powdered milk." Police have arrested numerous suspected drug dealers who ran small scale and large scale operations.
Chou allegedly ran the drug operation from various locations in Bangkok, selling the drugs overseas using the cryptocurrency Bitcoin as well as to buyers in Thailand. Police also searched Chou's rooms at other condominium the Huai Khawang, Wang Thong Lang and Klong Toey districts, seizing a variety of illicit drugs and equipment as well as a pistol with 8 bullets.
Altogether, police seized 4 kilograms of ketamine, 376 ecstasy pills, 4 kilograms of crystal methamphetamine, 8 kilograms of heroin, 48 LSD tabs, 11.6 grams of cocaine, 2 bottles of Dormicum sleeping pills and 265 Five Five sleeping pills. Police say they also seized 2 plastic sealing machines, 2 mixers that appeared to have drug-like residue and 2 digital scales.
SOURCE: Bangkok Post
Catch up with the latest daily "Thailand News Today" here on The Thaiger.
Keep in contact with The Thaiger by following our Facebook page.
Never miss out on future posts by following The Thaiger.
Police in Bangkok arrest 3 people for allegedly selling cannabis cookies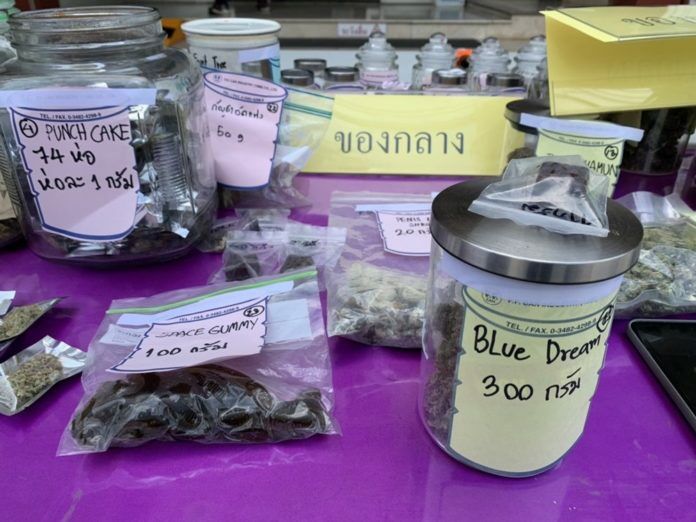 Police in Bangkok arrested 3 people for allegedly making cannabis cookies and selling them through the messaging application LINE under a chat group called "The Hippy Cookie." Police raided a condominium room in the Bang Na district and seized 13 "foreign types" of cannabis, 46 food products made with cannabis and 3 types of hallucinogenic mushrooms.
Using the LINE messaging app, the suspects allegedly sold cannabis and cannabis food products. The suspects allegedly sent the cannabis to buyers using a food delivery service.
An investigator joined the chat group and posed as a buyer, ordering 5 grams of cannabis for 3,500 baht. When the cannabis was sent through the food delivery service, police asked the driver to return the package to the suspects. Police say a suspect came down to receive the returned package. Investigators then searched the suspect's condominium room.
One of the female suspects allegedly told the police that she used to sell cookies (regular cookies), adding that she has an interest in cannabis. She then studied how to make cannabis cookies and contact cannabis suppliers in Thailand before starting the illegal business with her boyfriend and a friend. She allegedly told police she started the business a year ago and has more than 100 regular customers.
The suspects were charged with illegally processing and distributing narcotic drugs. Parts of the cannabis plant with high amounts of the psychoactive component tetrahydrocannabinol, such as the buds, are still classified in Thailand as a Category 5 narcotic.
SOURCE: Pattaya News
Keep in contact with The Thaiger by following our Facebook page.
Never miss out on future posts by following The Thaiger.