40 killed in two mosques. "One of New Zealand's darkest days," NZ PM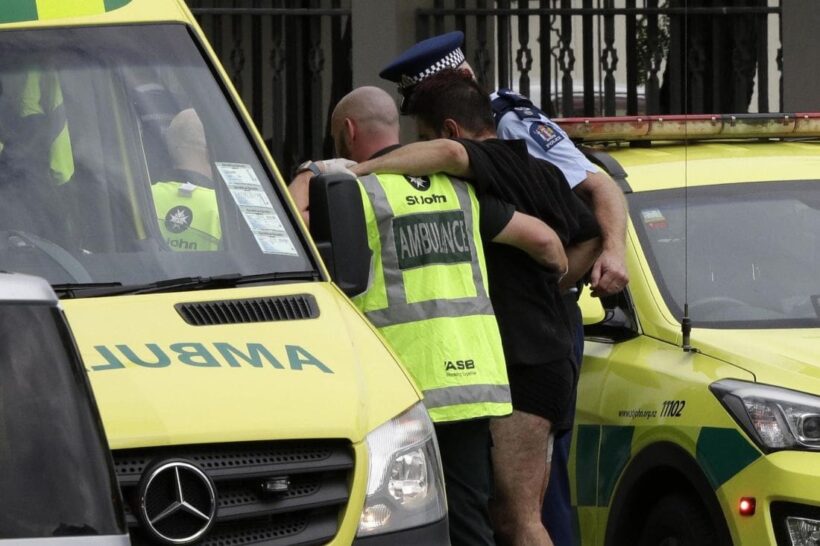 At least 40 people have been killed and more than 20 seriously injured after gunmen opened fire in two mosques in Christchurch around lunchtime today. New Zealand's Prime Minister Jacinda Ardern described the incident as a terrorist attack saying the suspects held "extremist views" that have no place in New Zealand.
She confirmed that thirty people were killed when gunmen stormed the al Noor mosque on Deans Avenue, Christchurch. Ten more people died at the Linwood mosque on Linwood Avenue, including three who were found outside the building.
Both mosques are in Christchurch's city centre. A total of 48 patients, including young children with gunshot wounds, were admitted to Christchurch hospital for treatment.
The NZ Police Commissioner Mike Bush says four people have been taken into custody, three men and a woman. At least one is believed to be an Australian citizen.
Police do not believe there are any other suspects.
Two IEDs (improvised explosive devices) were attached to vehicles as part of the attack. Bush these had now been "made safe".
Police were still treating the incident as ongoing as the sun set on Christchurch this evening. Christchurch residents are being told to stay indoors and monitor the police website and social media.
New Zealand's PM Jacinda Ardern described the attack as "one of New Zealand's darkest days."
"What has happened here is an extraordinary and unprecedented act of violence."
Police said they have mobilised every national police resource to respond to the incident.
Authorities say they will discuss possible motivations or the causes of this incident at a later stage. However, in a Facebook post just before the attack, the account believed to belong to one of the attackers posted a link to an 87 page anti-Muslim manifesto that was filled with anti-immigration propaganda and explanations for an attack.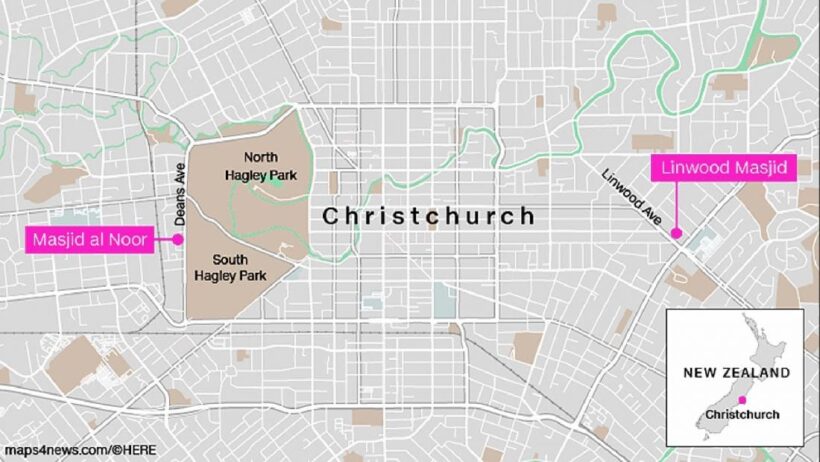 Australian PM Scott Morrison said that at least one of the individuals taken into custody is an Australian born citizen. He called shooting as being at hands of a "extremist right wing, violent terrorist" at a press conference Friday.
It is the busiest day for many mosques when Muslims convene for Friday prayers around lunchtime.
A witness inside one of the mosques says the gunmen came from the backside of the building. Gunshots went on for a long time.
"We had to jump the wall to escape. I saw lots of broken glass and bricks on the backside of the mosque."
"I came to the street I saw one person got shot on his chest."
He says that ambulances and police then arrived on the scene. He said that he had a friend in another mosque in the area had told him a gunman had opened fire there as well and five people were already  dead.
Another witness said he was driving by the scene and saw a man "with his 3 or 4 year old daughter" who had been shot in the back.
"He was screaming to get her to the hospital and the ambulance couldn't come in until it was secured so I just got my truck and loaded up him, and his daughter, and this other guy had been shot in the leg, and took them to the hospital"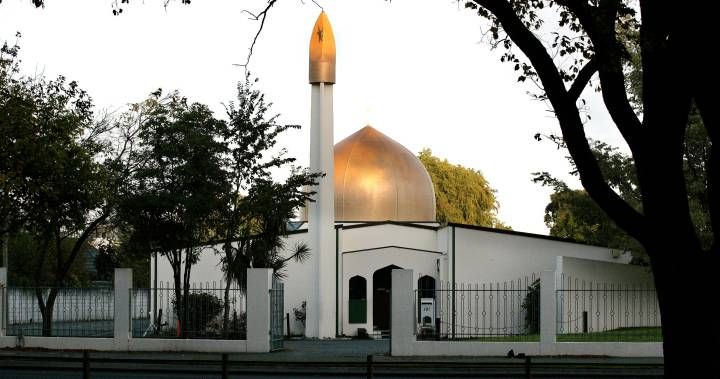 Find more SE Asian News courtesy of The Thaiger.

Broke? Find employment in Southeast Asia with JobCute Thailand and SmartJob Indonesia. Rich? Invest in real estate across Asia with FazWaz Property Group or get out on a yacht anywhere with Boatcrowd. Even book medical procedures worldwide with MyMediTravel, all powered by DB Ventures.
Rock Thailand, Japanese start-ups eye Thai businesses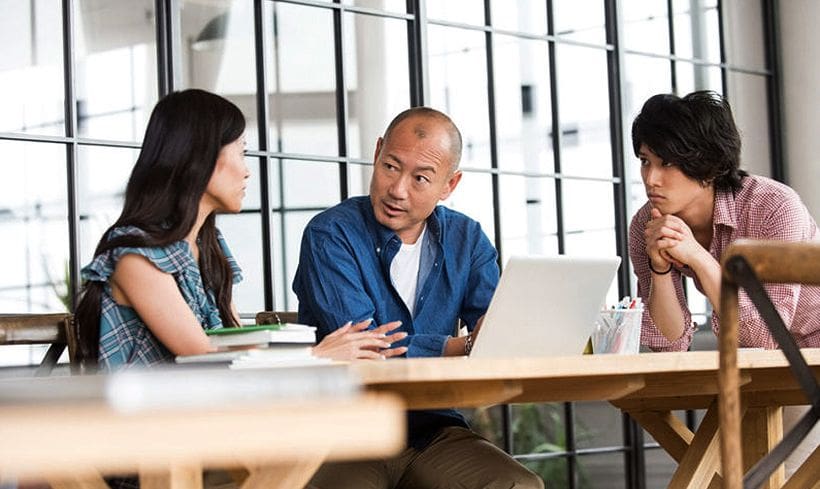 Noting Thailand as the new south east Asian regional innovation hub, the Japanese Embassy in Bangkok, in collaboration with Thailand's Ministry of Digital Economy and Society, CP Group and True Corporation, launched Rock Thailand, a start-up incubation project.
Rock Thailand is being used to open a stage for 10 top technology start-ups from Japan to present their business models to 20 key Thai enterprises and take part in its networking session.
Japanese ambassador to Thailand, Shiro Sadoshima, said the Rock Thailand event is being held as part of Japan's Open-Innovation Columbus project to support Japanese start-ups in the areas of innovation and knowledge exchange. The project began with the initiation of talks between leading Thai enterprises and Japanese start-ups.
Japan aims to promote cooperation between its start-ups and the Thai business community, said Pichet Durongkaveroj, minister of Digital Economy and Society, adding that this is what has led to the Open Innovation Columbus Project.
This is in line with the government's Thailand 4.0 policy, which aims to drive the economy through innovations and digital transformation, including the Smart City project and development of the Eastern Economic Corridor (EEC).
Thailand is being seen as the new innovation hub of the region outside Japan – both in terms of trade and investment. Under the regime, small and medium enterprises stand to benefit from the use of Internet of Things (IoT) technology to connect businesses in Japan, Thailand, Cambodia, Laos, Myanmar, Vietnam and the global market.
Suphachai Chearavanont, CEO of CP Group, said the corporation attaches importance to the nation's digital transformation.
"Our vision is not just for our group of companies, but for Thailand as a whole. Thailand needs to invest in research and development for start-up businesses and their ecosystem.
"The collaboration with the Embassy of Japan and the Digital Economy and Society Ministry enables us to exchange views with successful Japanese start-ups. We believe the power of leading start-ups from Japan will support us in developing innovations and advanced technologies and escalate the country to its Thailand 4.0 vision," he said.
The event was co-hosted by CP Group and True.
EC claims yesterday's ballots are safe and secure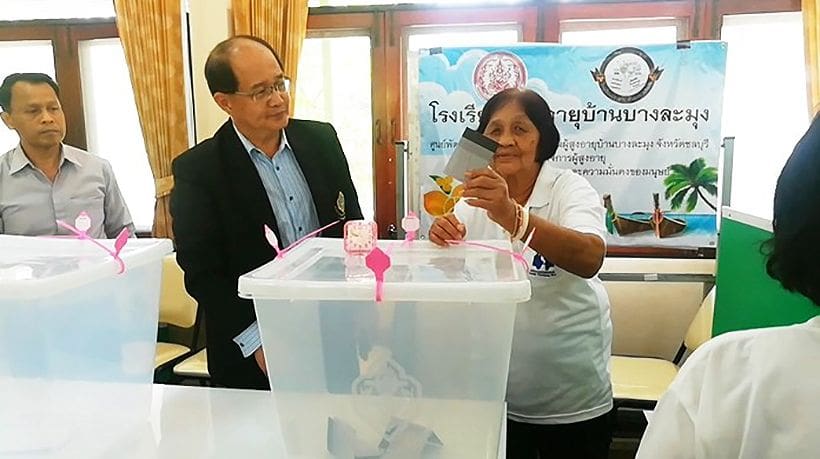 PHOTO: Pattaya Mail
The Election Commission says all yesterday's ballots are secure. They've told a suspicious media that they, and members of political parties, are allowed to check the security of yesterday's paper ballots at Thai Post offices and police stations around the country where they are being stored before heading to Thailand Post's HQ in Bangkok today.
The EC claims that, following the closure of polling stations around the country in yesterday's pre-election ballot at 5pm, the ballots were sealed in boxes and signed by local EC officials.
The EC, trying to allay fears from voters, candidates and the media, say the procedure is exactly the same as in the past. They say by sending them to Bangkok as soon as possible will prevent any local issues with the security of the ballots.
The advance ballot papers will eventually end up in the country's voting constituencies where they will be added to next week's main election day ballots for the big count.
They say all yesterday's ballots will be sent out to the 350 constituencies to join the other local ballots. Yesterdays voting papers will be escorted by police, CCTV and a GPS tracking system, as well as being accompanied by police escort.
Although the Election Commission and Government turned down the opportunity to host international observers for the conduct of the election, they say the Thai media are invited to monitor the storage and movement of the ballots.
Will it be same same but different after this Sunday's vote?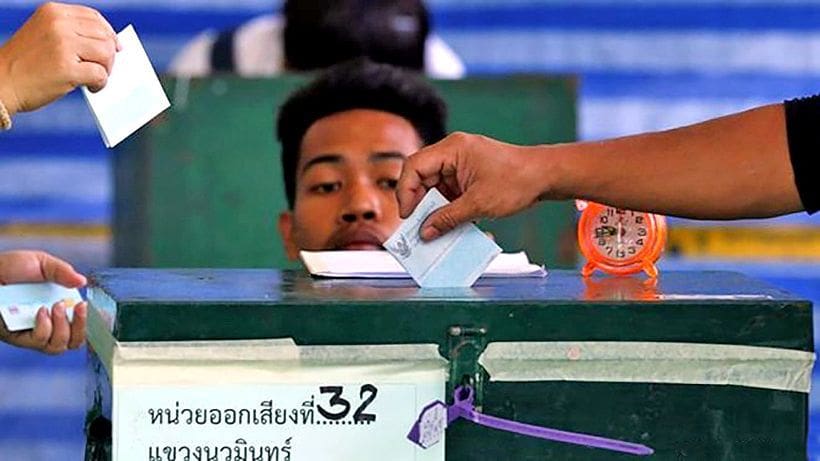 Thailand's military junta, which has ruled the Land of Smiles since snatching control in a coup in 2014, is now trying to bring its leader, Prayut Chan-o-cha, back as an 'elected' PM in next week's election.
The NCPO has cobbled together an ambitious economic plan that's rests on a 1.7 trillion baht (US$54 billion) spending spree to revive competitiveness in an economy that remains hamstrung by depressed business confidence and investment.
High speed rail links, an expanded economic corridor to the east of the capital, spending on airports and new infrastructure in the capital  – these are a few of the Junta's favourite things.
Economic growth is lagging its peers in the region, productivity has weakened and companies are reluctant to invest whilst the elephant remains in the room – political uncertainty and a whiff of military tampering.
The return of democracy this Sunday has its own risks. When the official results are eventually announced, perhaps weeks following the poll, there will be some sort of transition from military rule to civilian rule. If the Palang Pracharath party – pro-military and pro-Prayut – is able to convince voters to keep marching along, then the transition will be relatively simple.
If, however, and more likely, that a coalition of pro-democracy parties is able to form a majority in the country's lower house of Parliament, the transition may become 'messy'.
The new government will crow loudly that they have a mandate to unravel some of the long-term economic plans, and even the constitution, that was put in place by the NCPO during their half decade in power.
But the military-appointed upper house of review, the National Legislative Assembly, will likely quash any changes to the military's 'vision'.
And on we will go – more political uncertainty, more unrest, and potentially, more protests in the future.
Groundhog Day.
Thailand's establishment elites, principally based around Bangkok and parts of the south, have dueled for power with the populist alliances of former premier (and now fugitive) Thaksin Shinawatra for over a decade, a fault line that could bring gridlock to the next parliament.
Thaksin and his proxy parties have prevailed in each election since 2001, only to be unseated by the military or the courts each time, most recently in 2014 when the Yingluck Shinawatra government was kicked out of office.
The ongoing instability weighs heavily on Thailand's competitiveness and investment allure.
Thailand hasplunged 10 places on the World Economic Forum's global competitiveness index in the past 11 years, the biggest drop among South East Asia's top economies – to rank 38 out of 140 countries in 2018.
The index measures everything from the openness of the economy and quality of infrastructure to the strength of institutions and innovation.
But Prayut has cut red tape, making Thailand one of the 10 most improved nations in the World Bank's Doing Business 2018 rankings as it vies with neighbours such as Vietnam for investment.
Now it's the Thai voters who take the next step in this achingly slow politically drama that casts a long shadow over the future of Thailand.